Some of the most amazing things to come out of the HuBMAP Consortium are the images of healthy human tissues generated by our researchers.  
Here, we collected them in one place to celebrate the work of these talented individuals.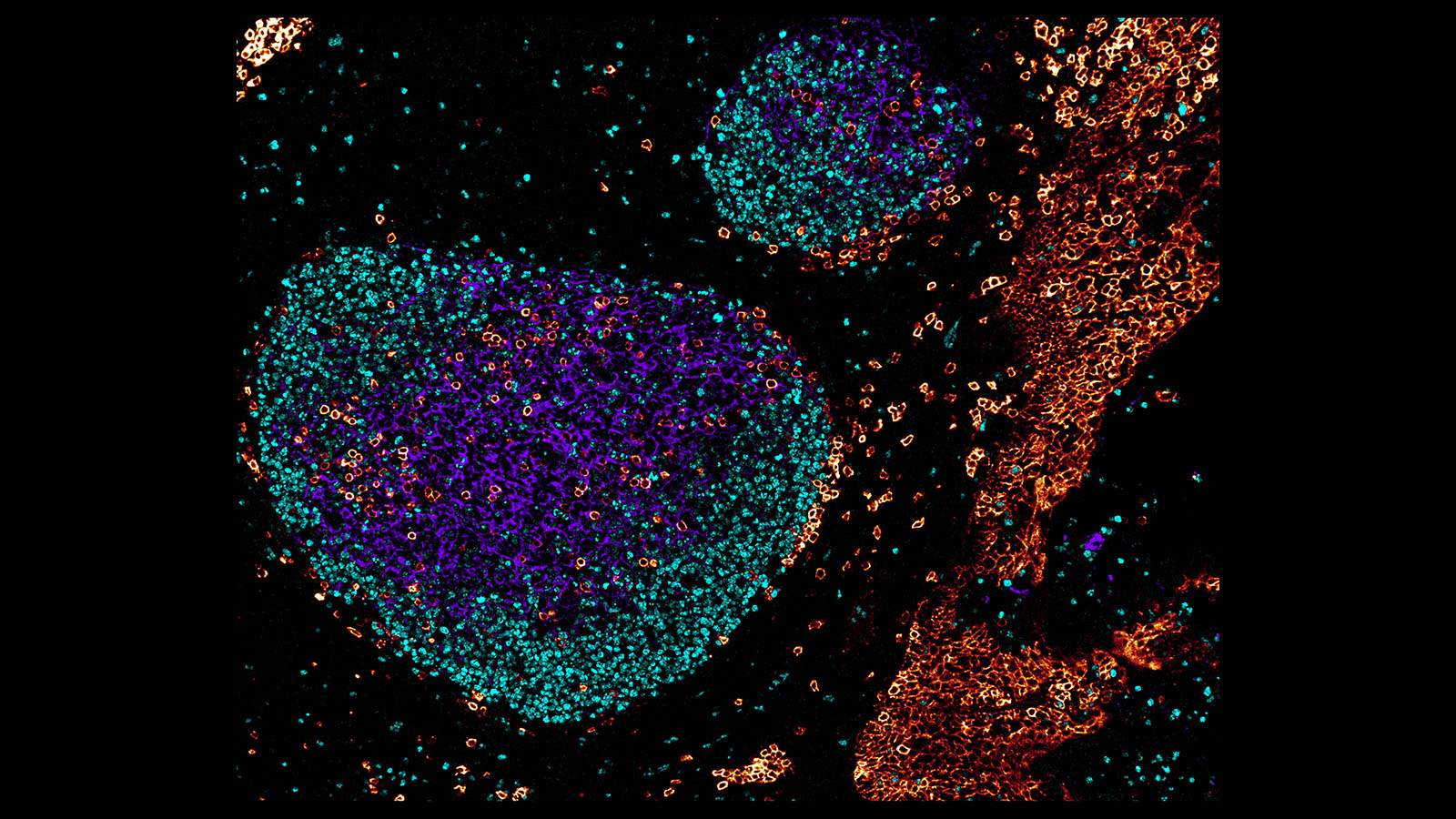 Confocal microscopy image of a human tonsil by Dr. Andrea Radtke in the Germain lab at NIAID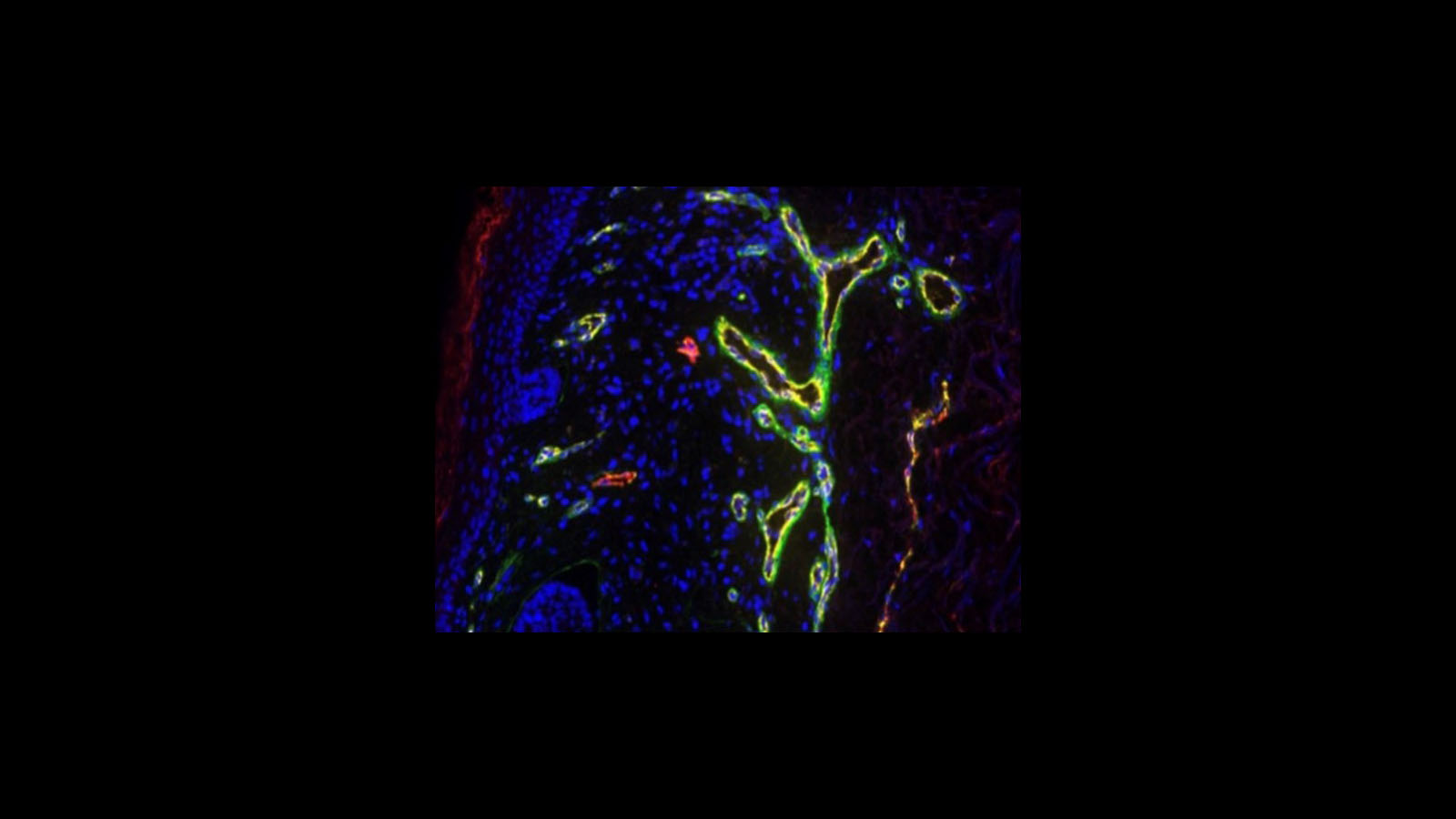 Cell DIVE multiplexed immunofluorescent image of skin courtesy of Dr. Fiona Ginty, Chrystal Chadwick, and Liz McDonough at GE Research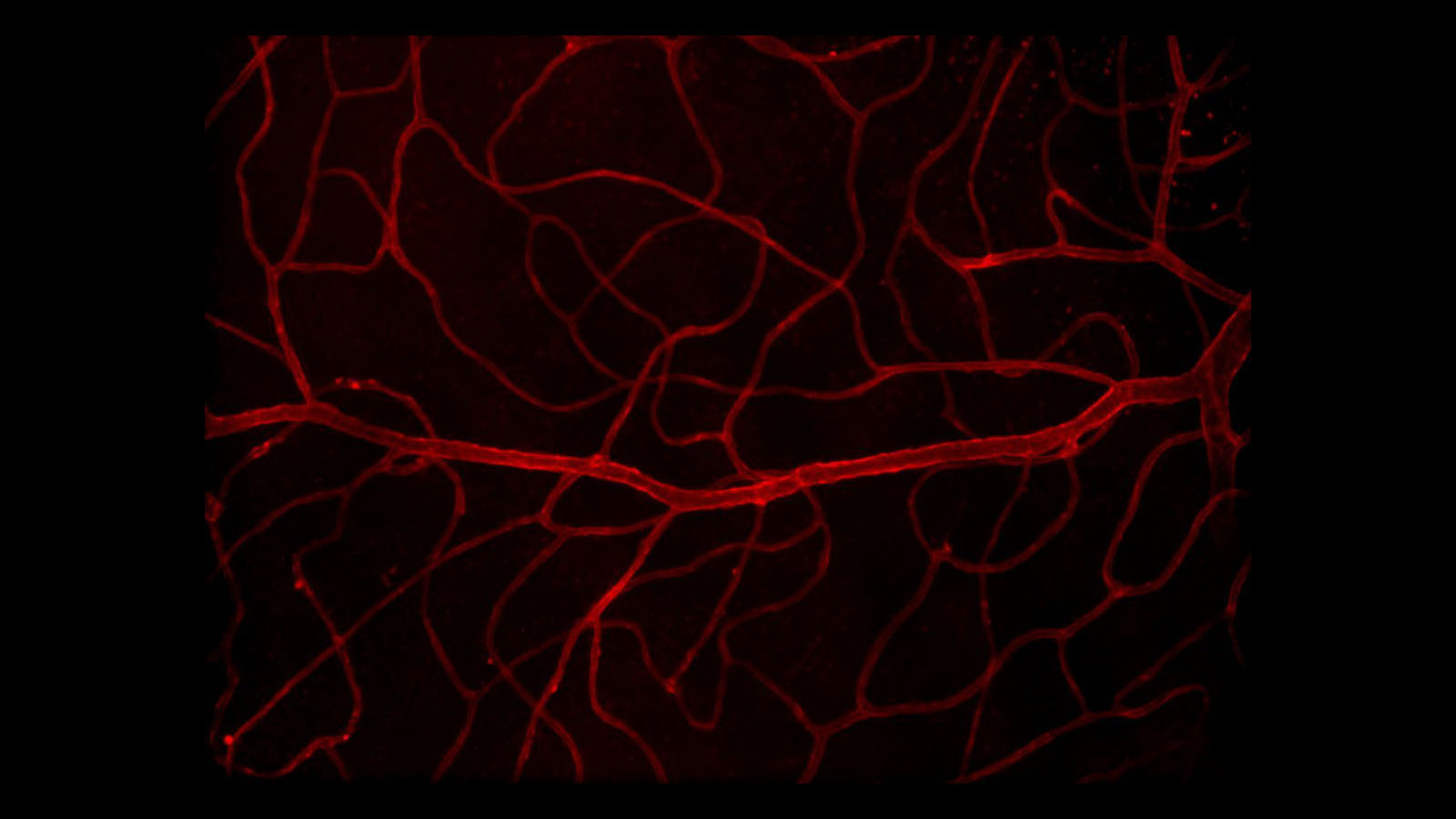 3D microscopy image of vasculature in human retina courtesy of Dr. Angela Kruse of the Spraggins Lab at Vanderbilt University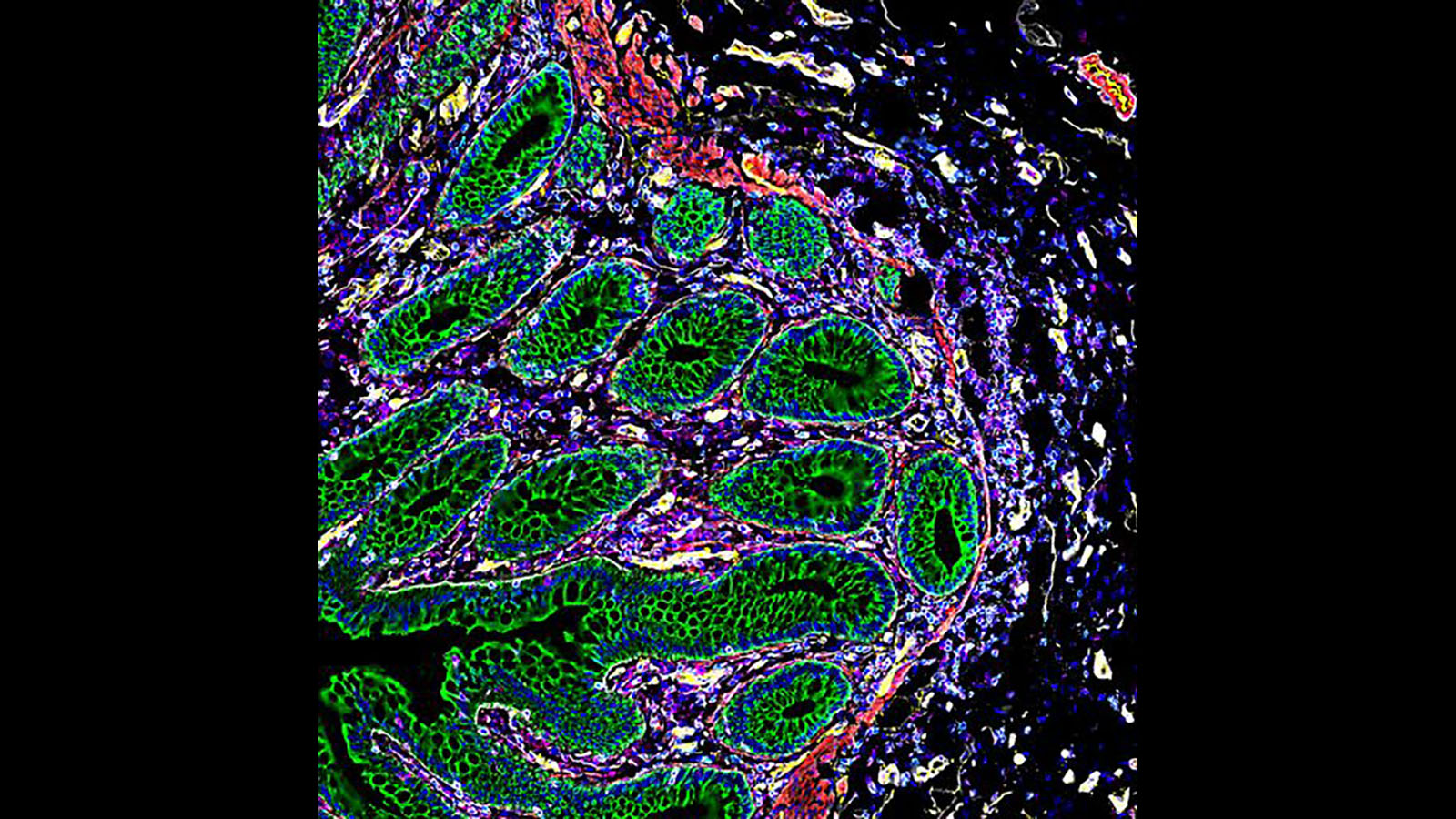 #CODEX image of healthy human intestine courtesy of Dr. John Hickey at the Nolan lab at Stanford University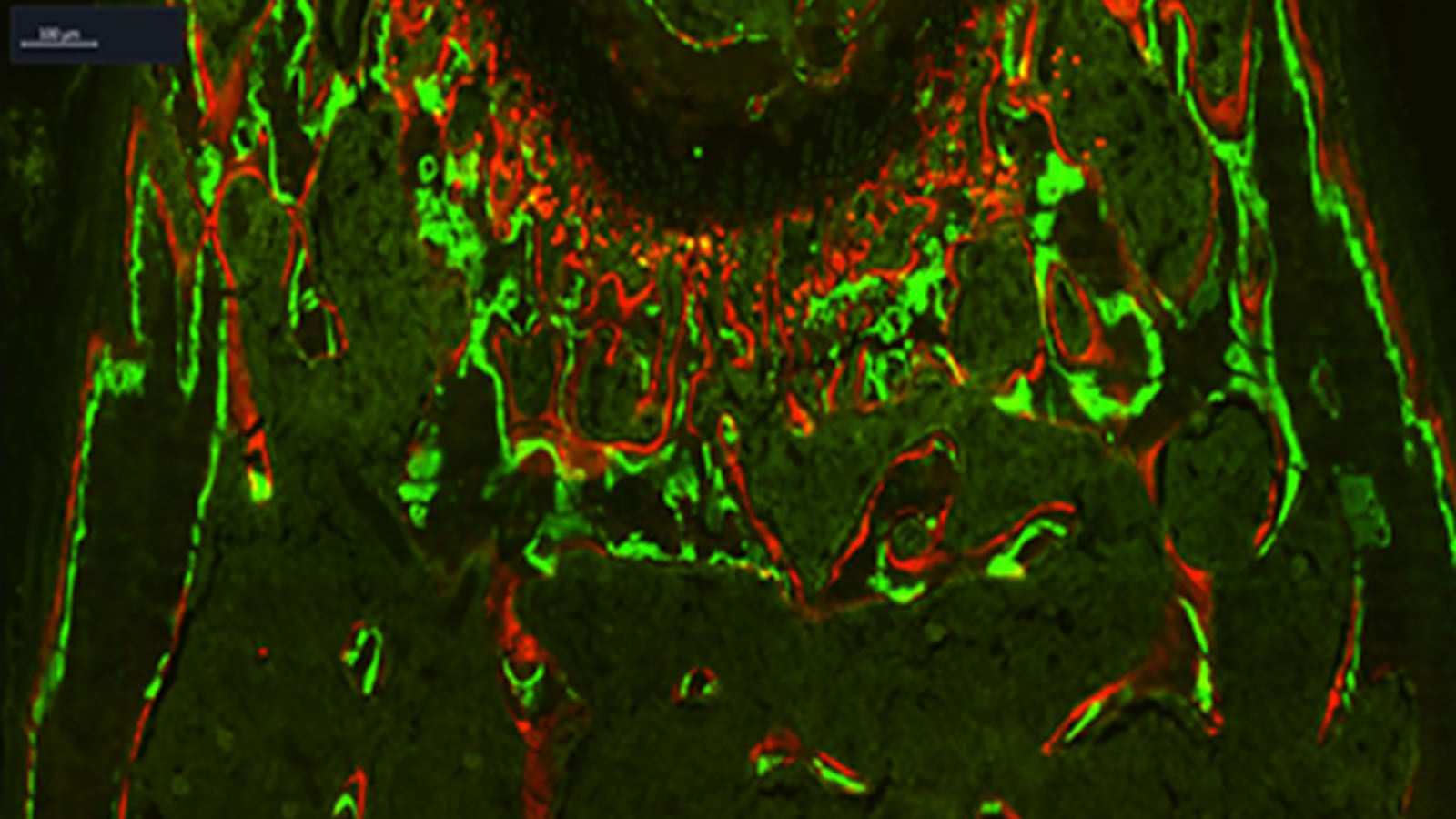 Image of a femur made with fluorescent dyes courtesy of Dr. Peter Maye at UConn.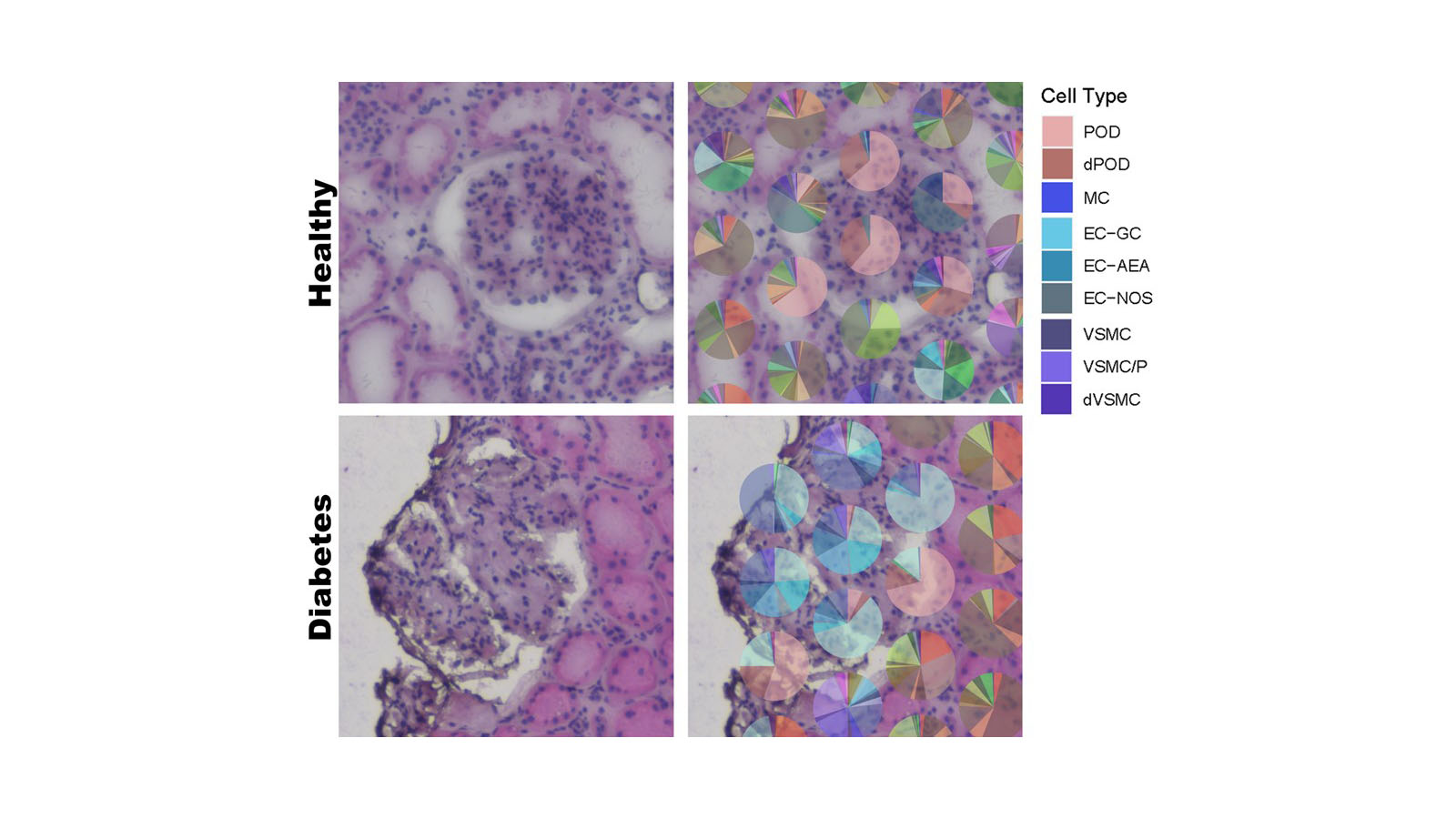 Spatial transcriptomics image of both healthy and diabetic kidneys from Dr. Sanjay Jain's lab at Washington University in St. Louis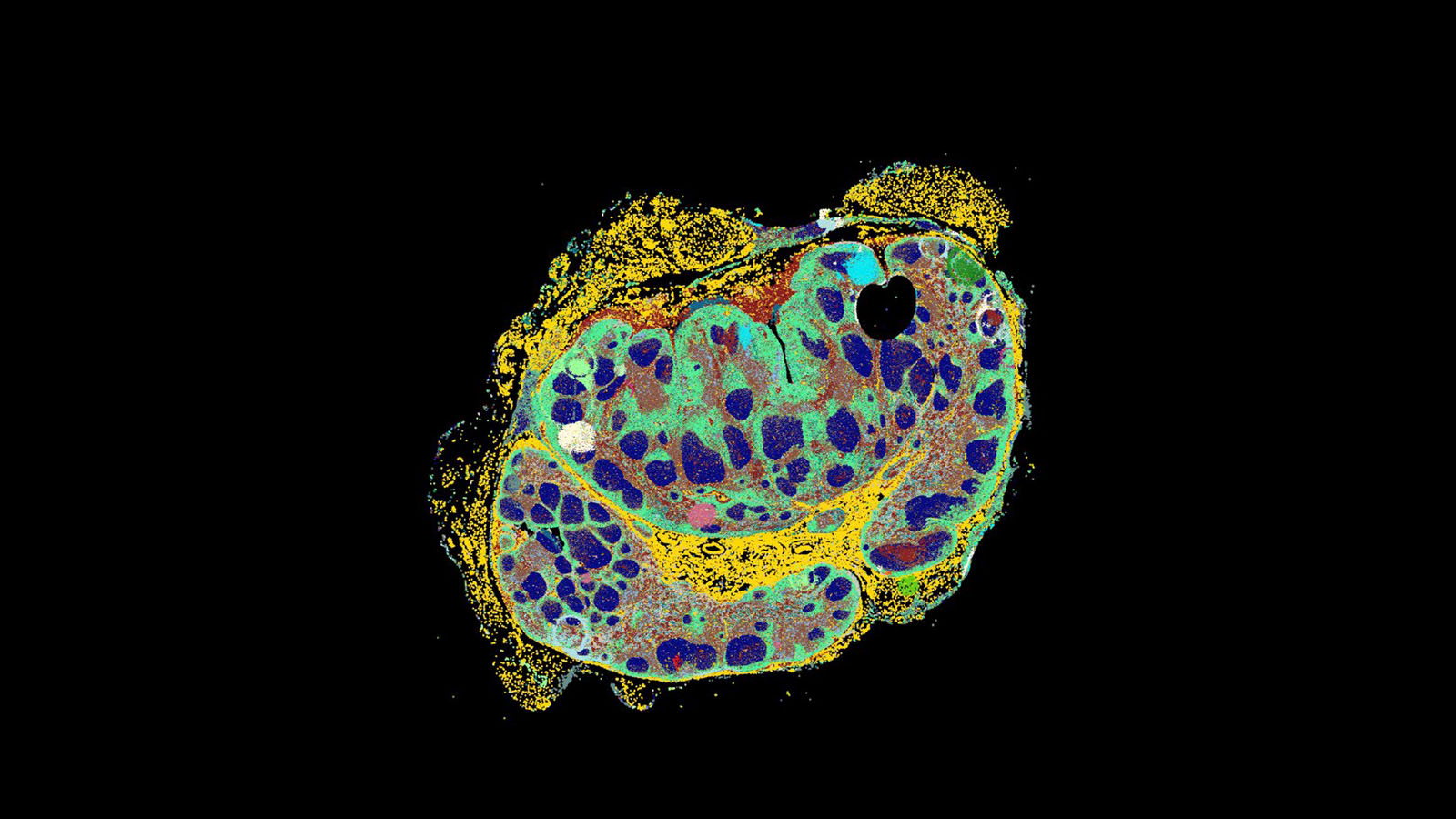 CODEX image of a lymph node from Archie Enninful at Rong Fan's lab at Yale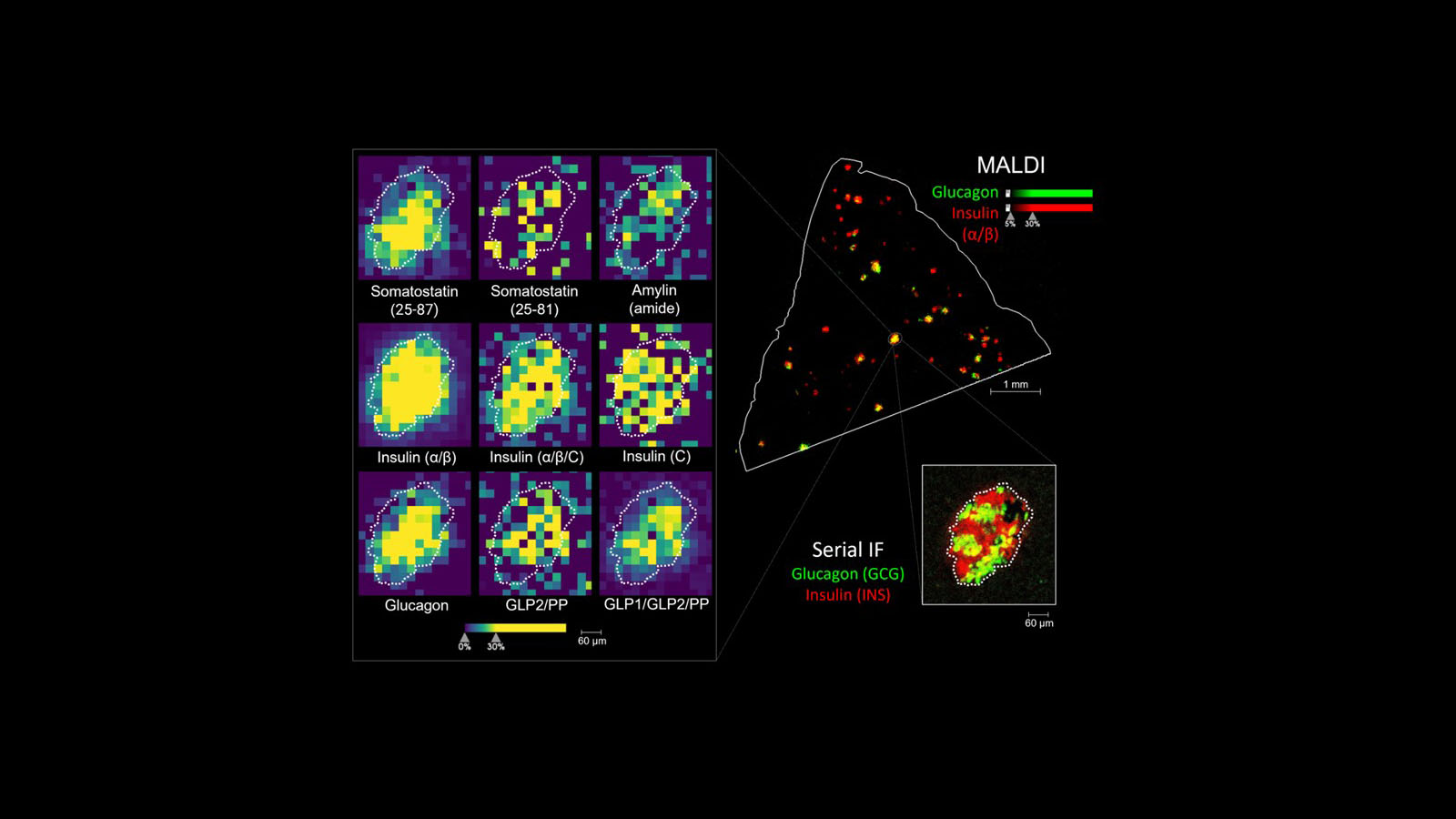 MALDI and serial immunofluorescent images of human pancreas from Dr. Kevin Zemaitis at PNNL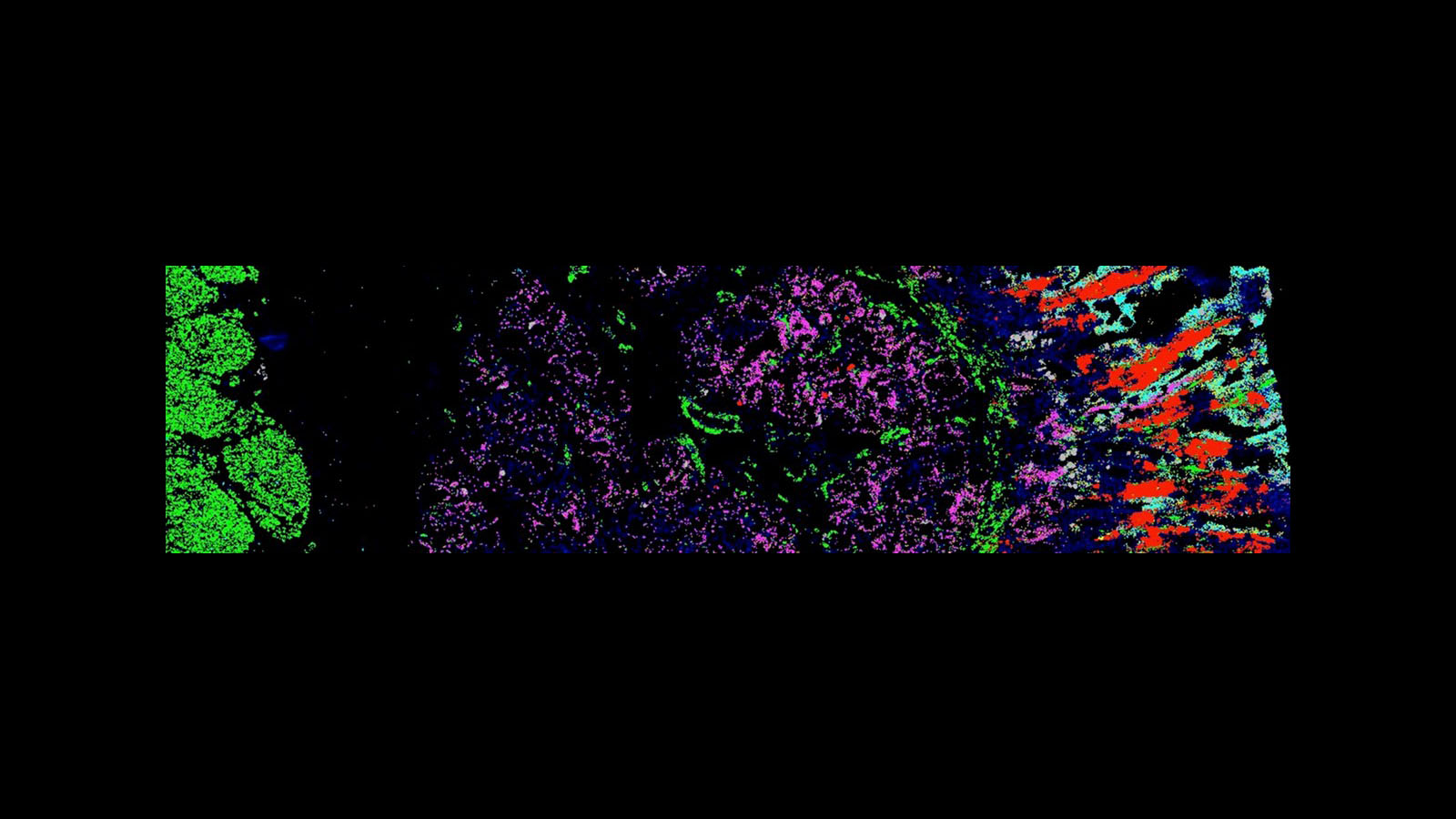 Molecular Cartography image of RNA within polyps from familial adenomatous polyposis patients, courtesy of Dr. Chenchen Zhu at the Snyder Lab at Stanford University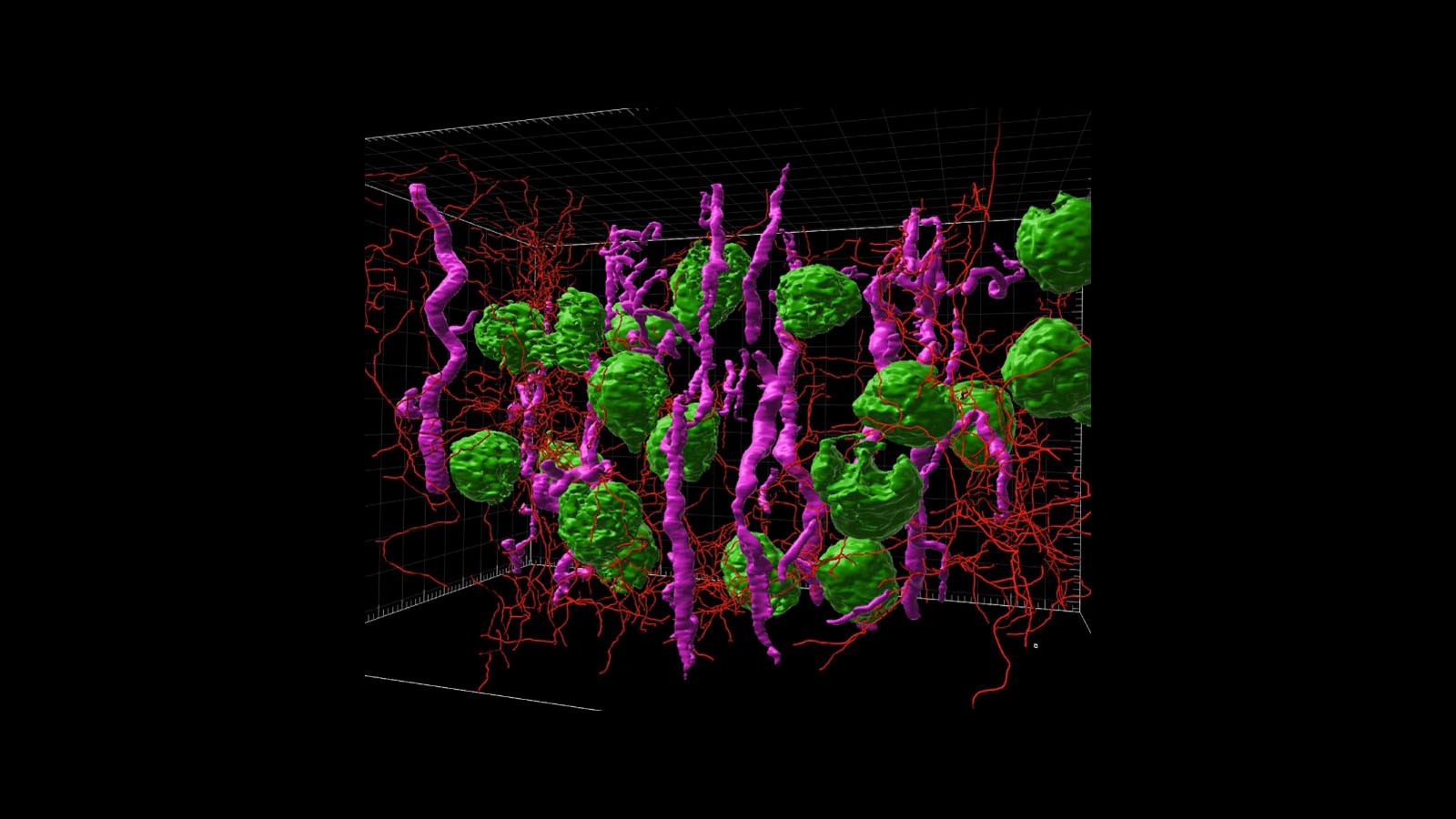 3D rendered light sheet microscopy image from human kidney cortex courtesy of Drs. Praveen Krishnamoorthy, Bo Zhang & Sanjay Jain at Washington University of St. Louis .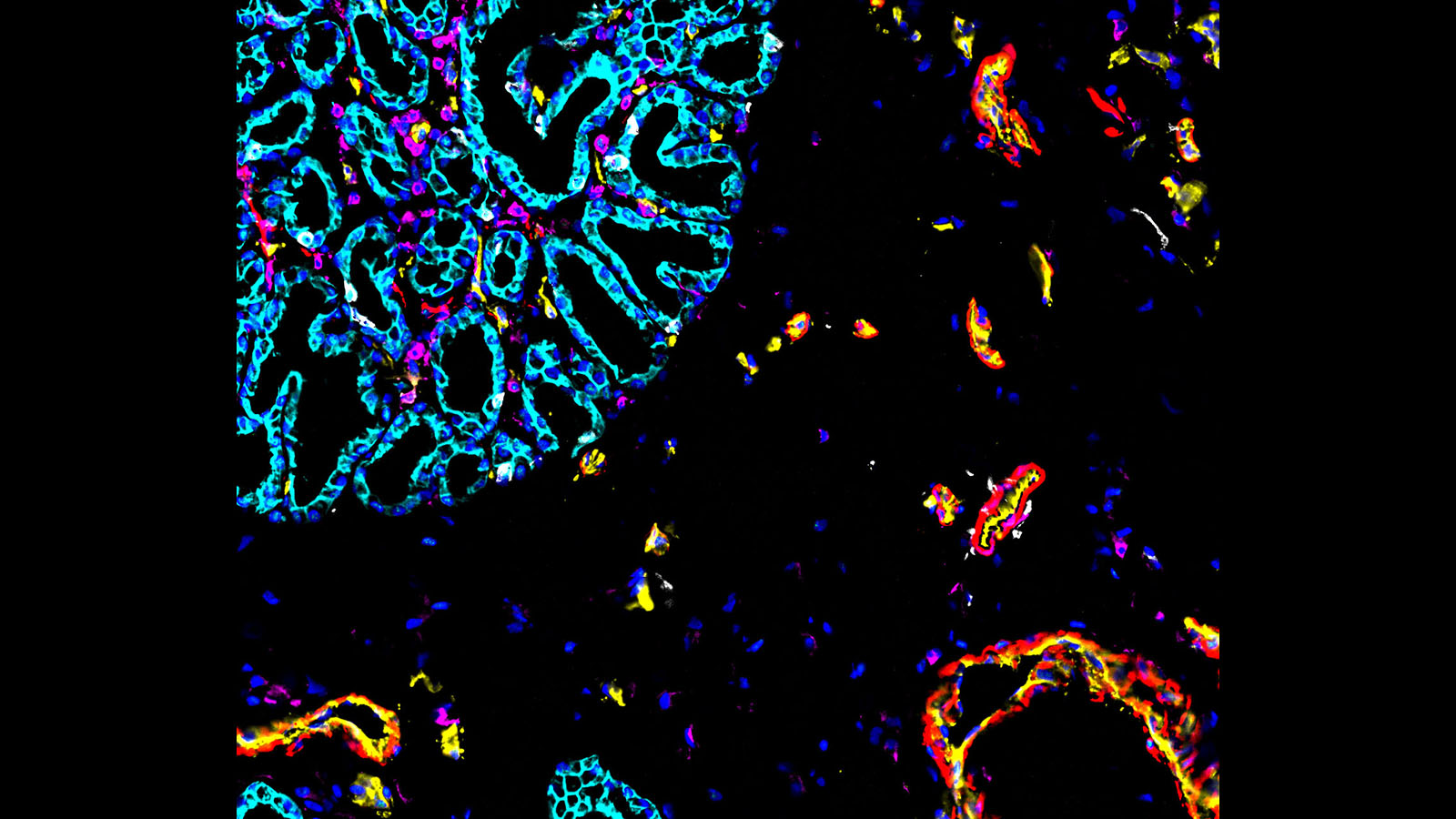 CODEX image of human intestine from Dr. John Hickey at Stanford University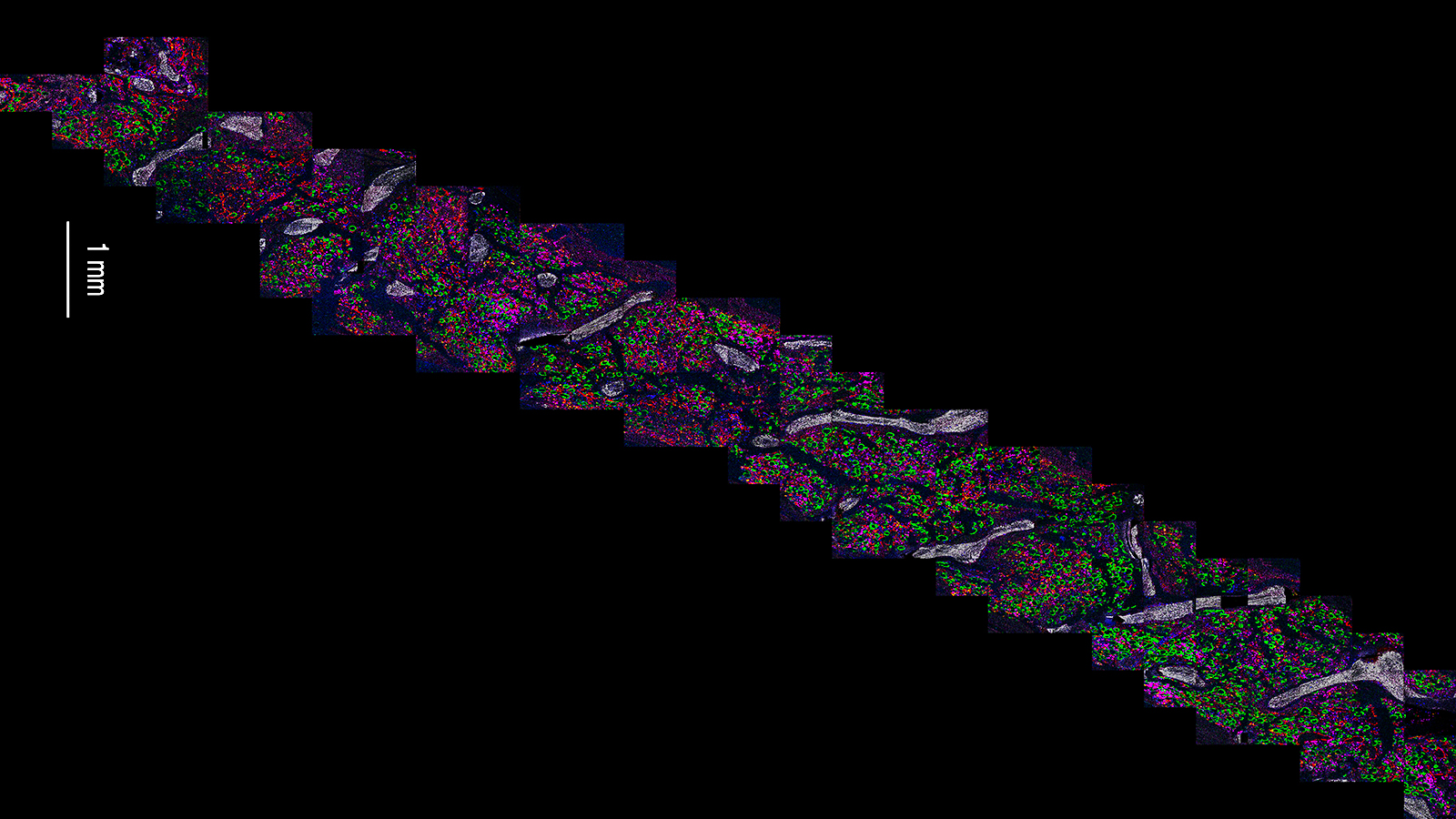 MIBI-TOF image series of healthy human bone marrow core, courtesy of Dr. Patricia Favaro from the Bendall lab at Stanford University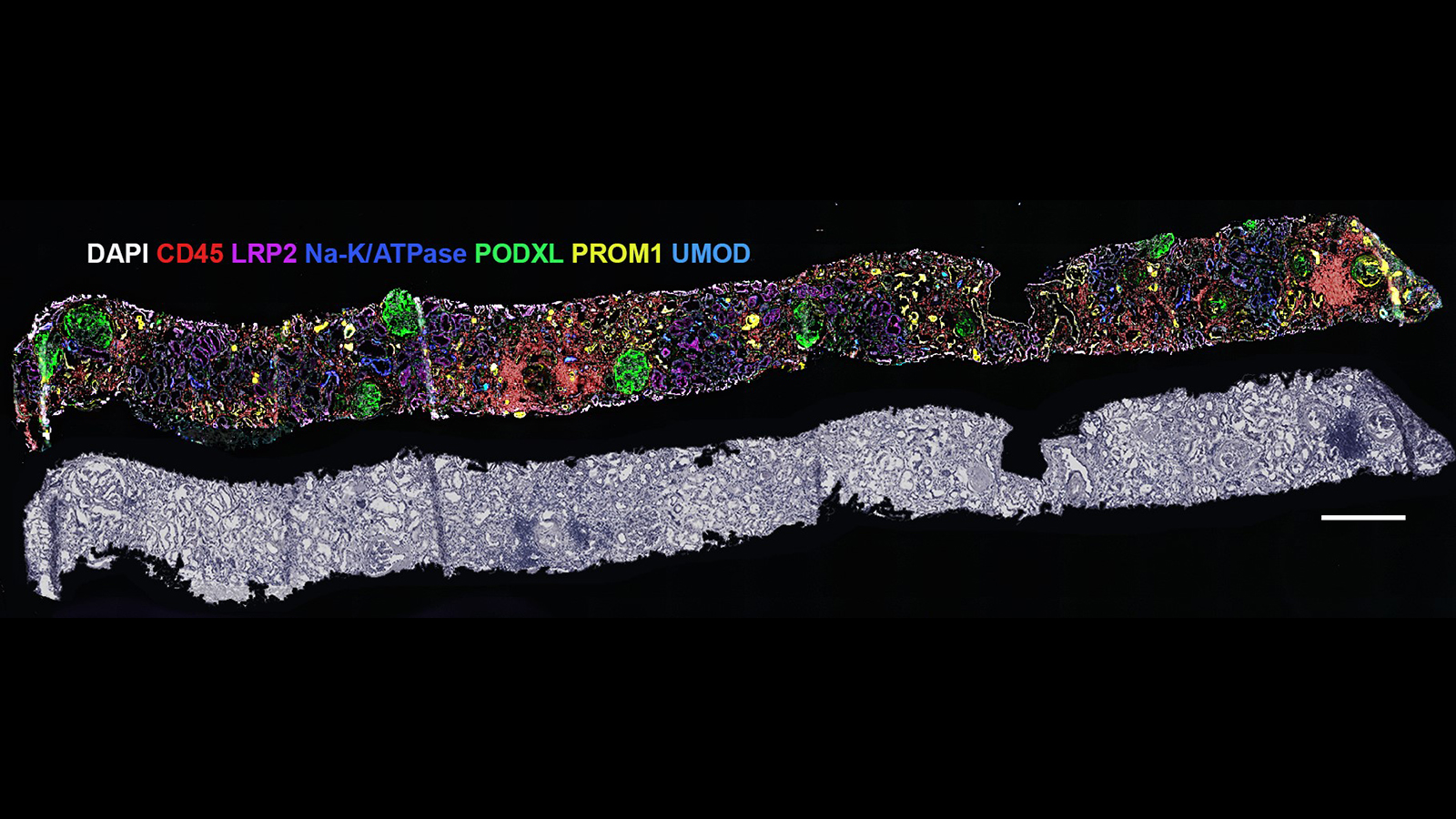 CODEX image of healthy human kidney, courtesy of Drs. Tarek Ashkar (Indiana University) and Sanjay Jain (Washington University at St. Louis)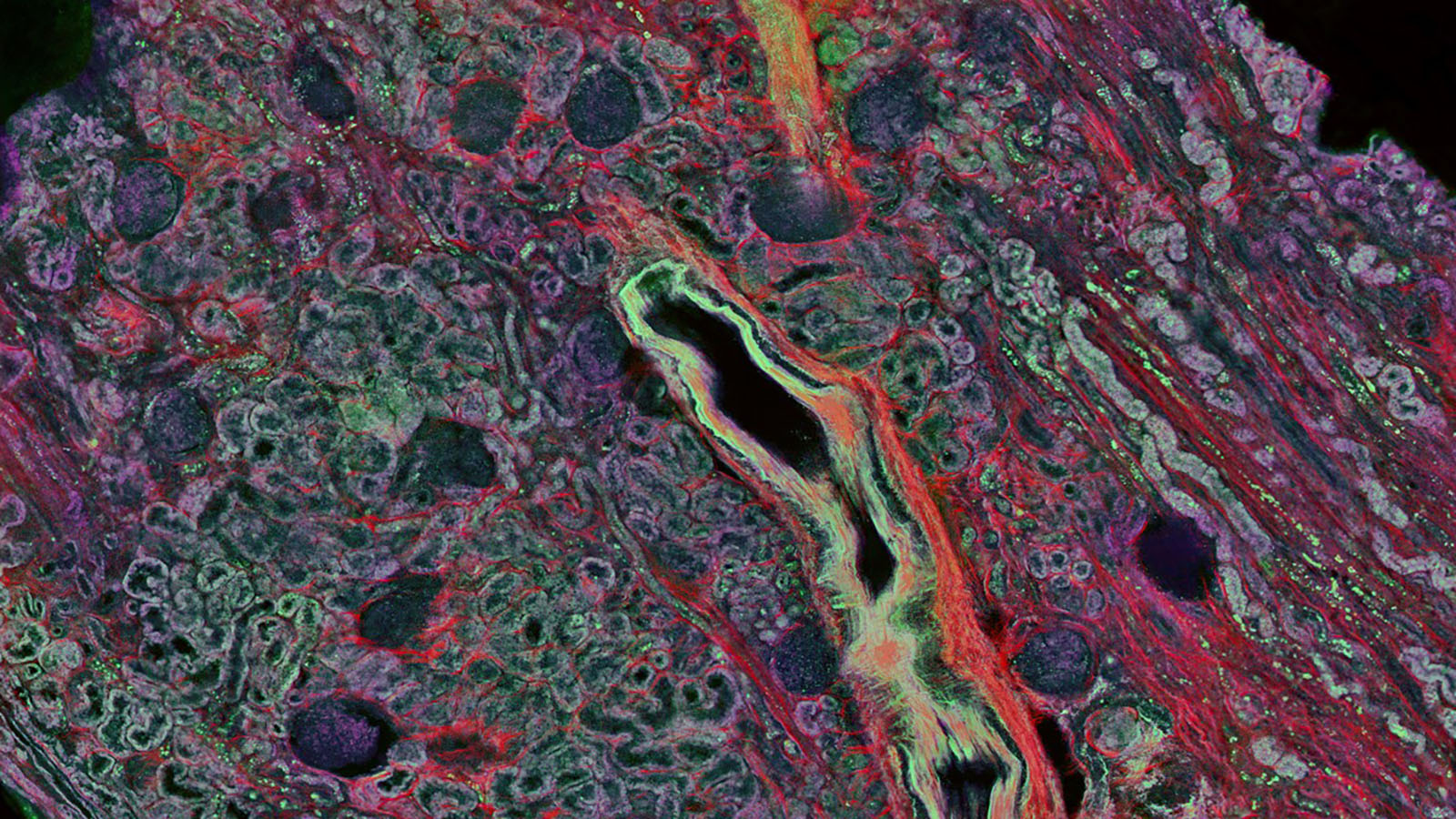 Autofluorescence image of human kidney cortex from Anthony Fung @UCSD showing the variations in cellular metabolism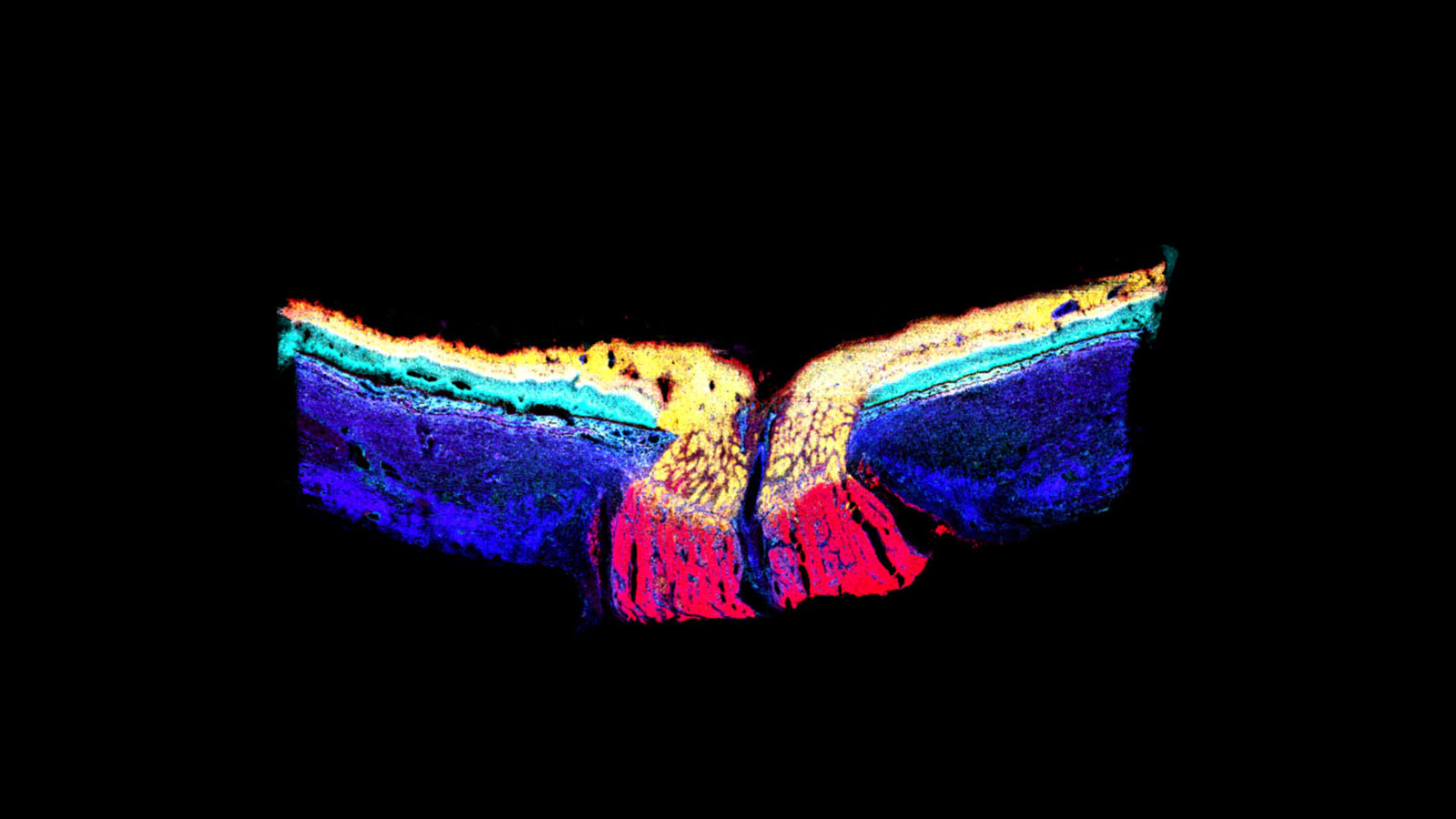 MALDI IMS image of a human optic nerve courtesy of Dr. David Anderson at Vanderbilt University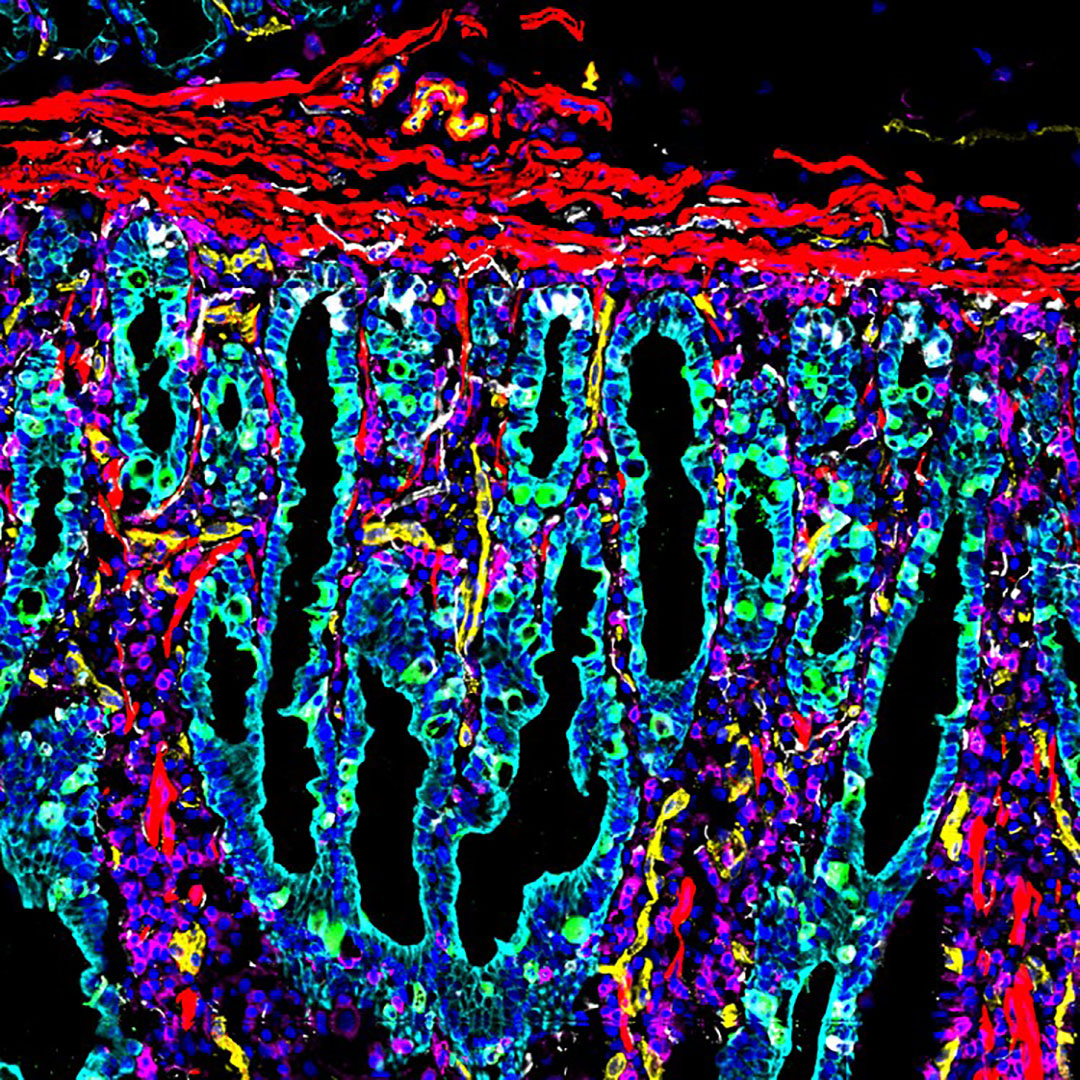 CODEX image of small intestine from Dr. John Hickey at Garry Nolan's lab at Stanford University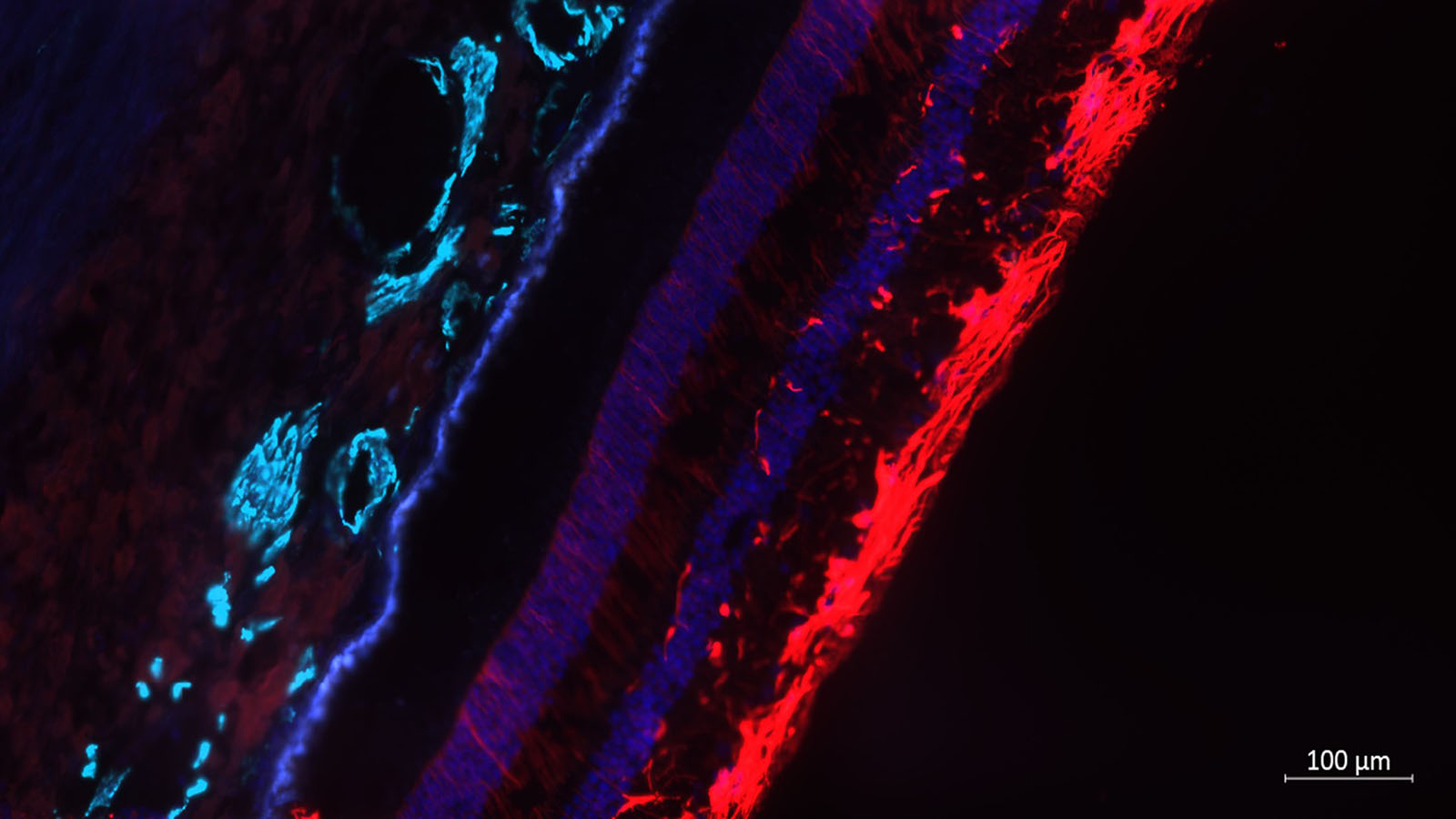 Image of a human retina from Dr. Angela Kruse at Vanderbilt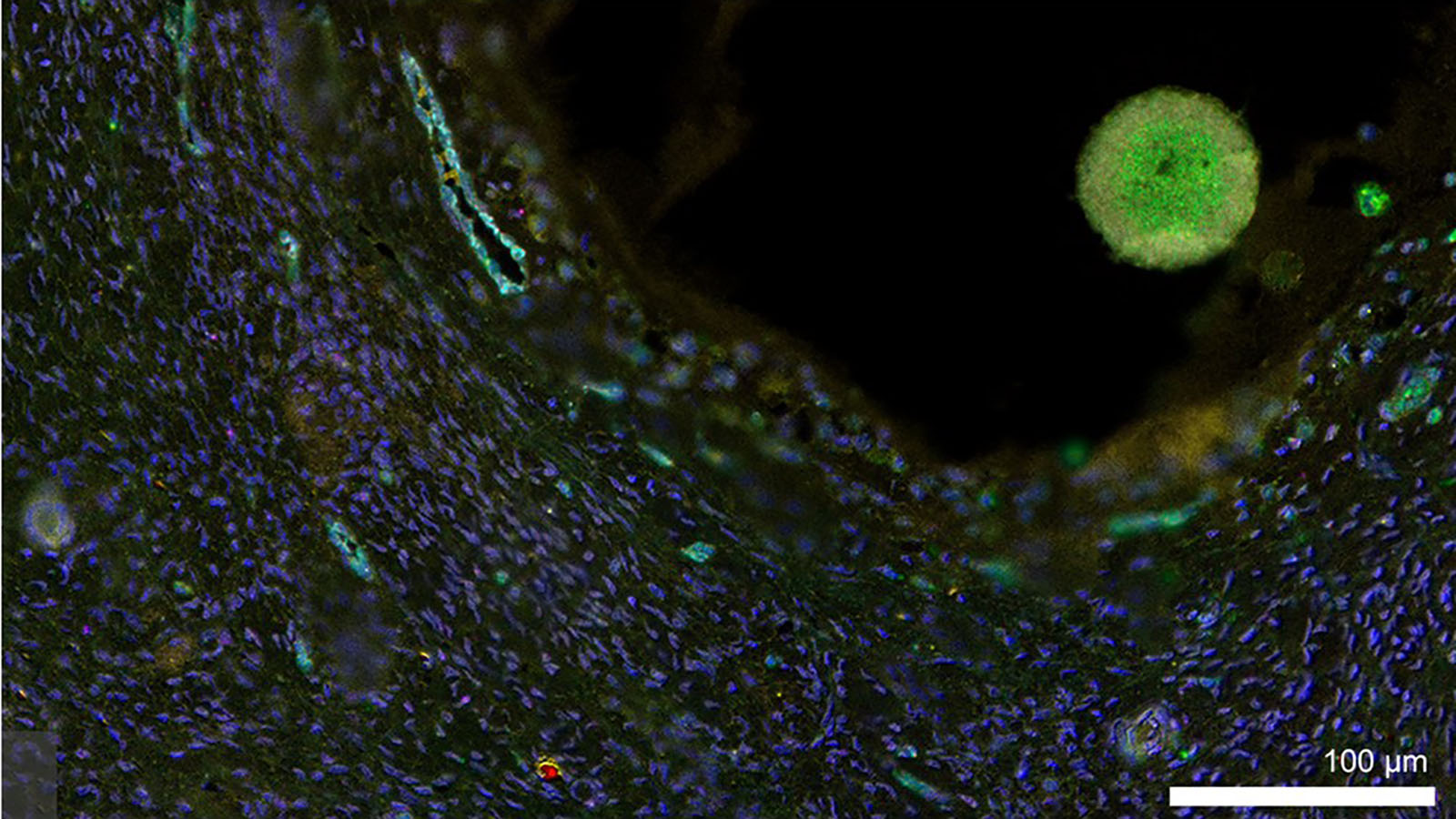 Microscopic image of an oocyte within its follicle, courtesy of Elizabeth Tsui in Dr. Monica Laronda's lab @Northwestern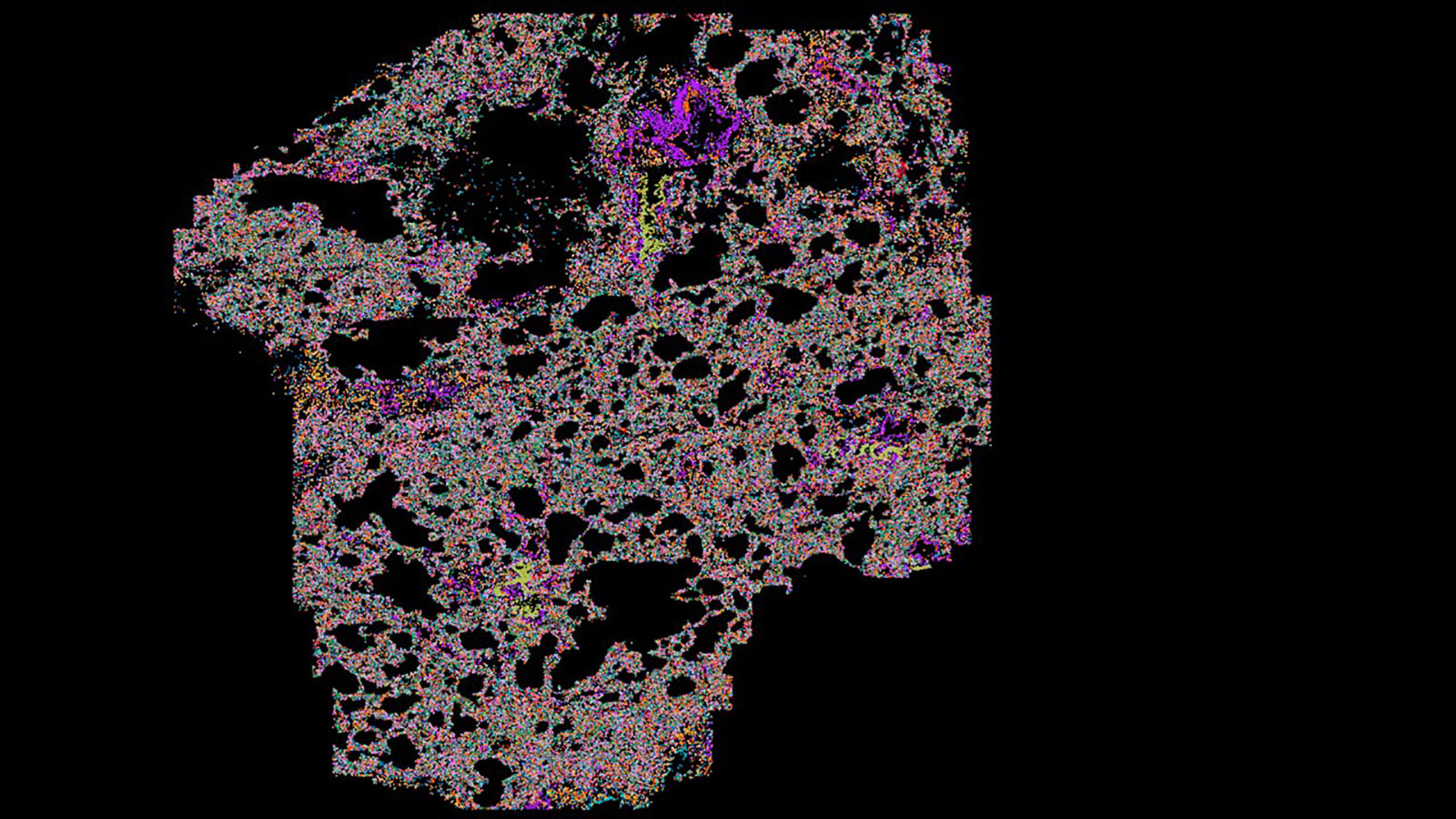 MERFISH image of healthy human lung courtesy of Drs. Quan Shu, Colin Kern, Jamie Verheyden, and Xin Sun at UCSD, and Dr. Gloria Pryhuber at URMC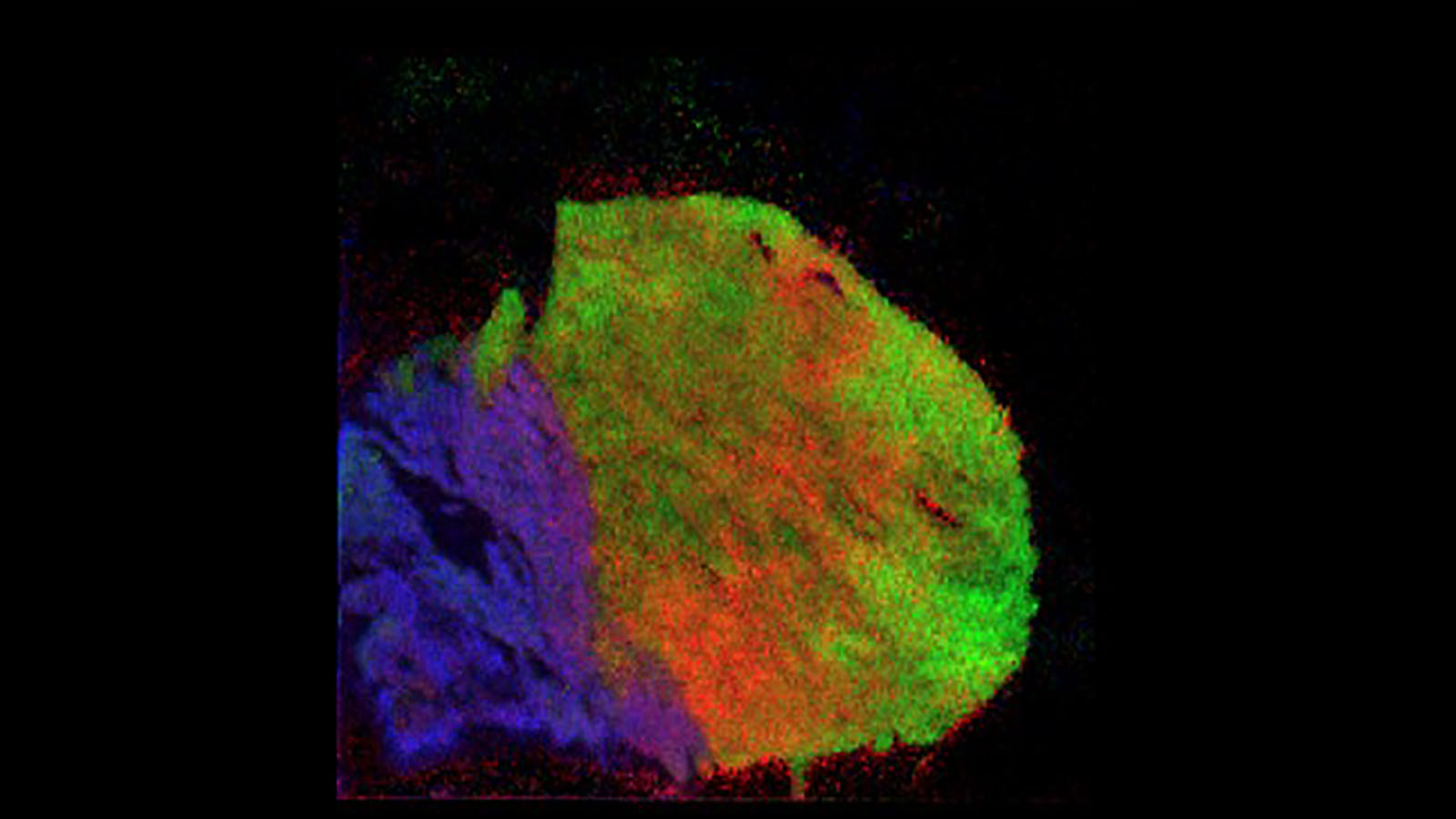 DESI image of mouse heart courtesy of Taruna Neelakantan from Columbia University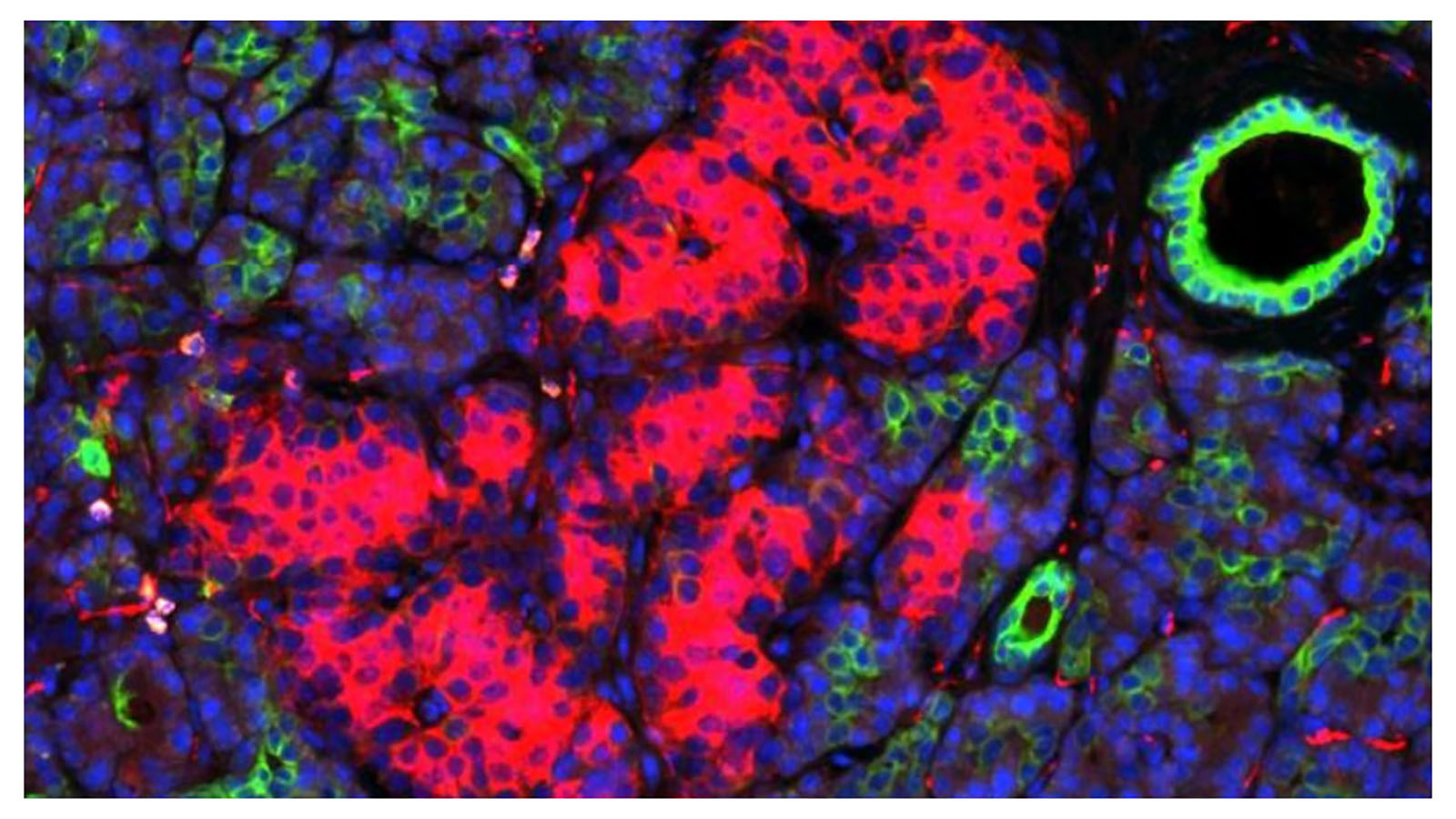 Nanostring GeoMX transcriptome image of human pancreas from Dr. Martha Campbell-Thomson at University of Florida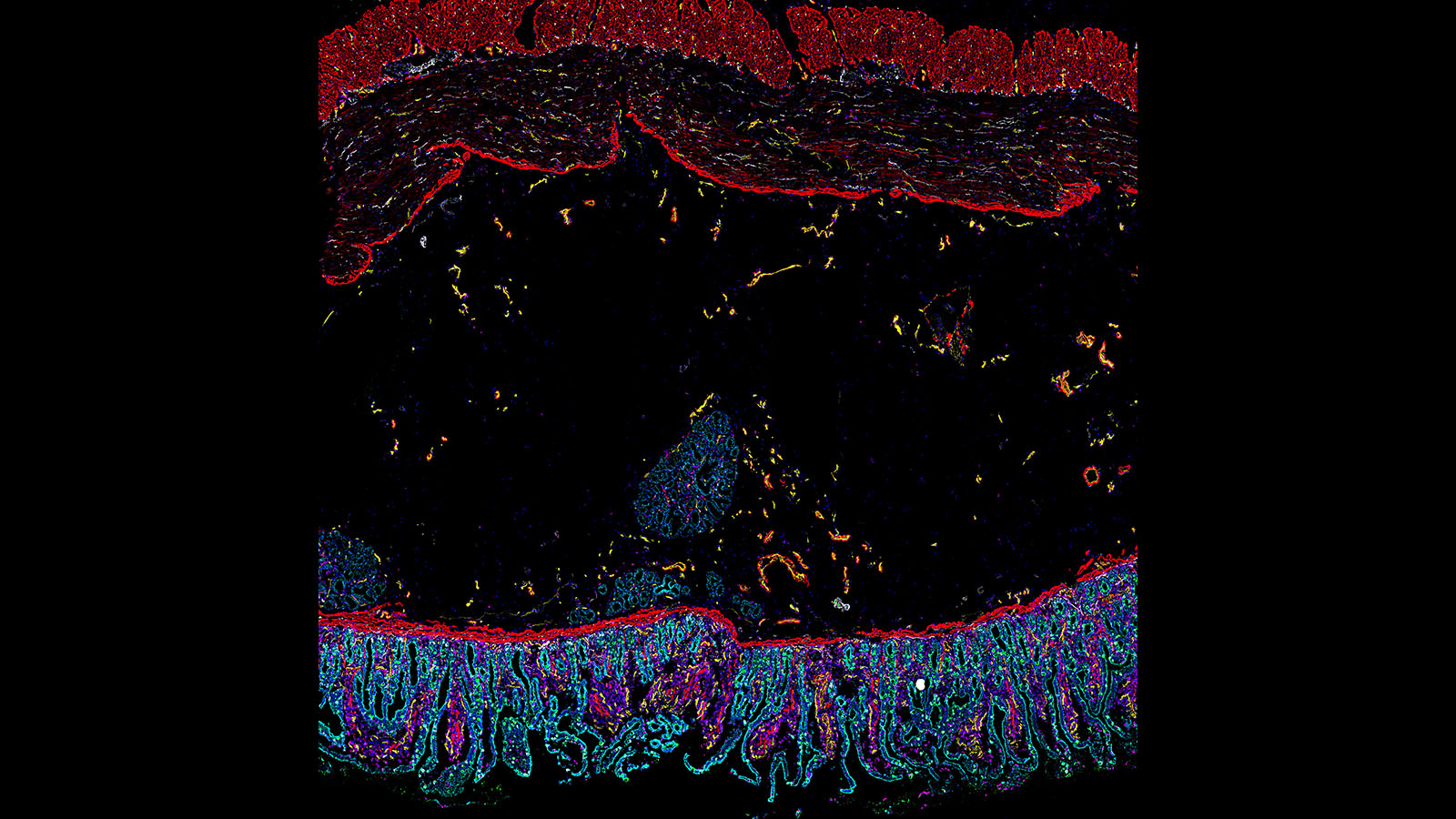 CODEX image of human intestine from Dr. John Hickey at Stanford University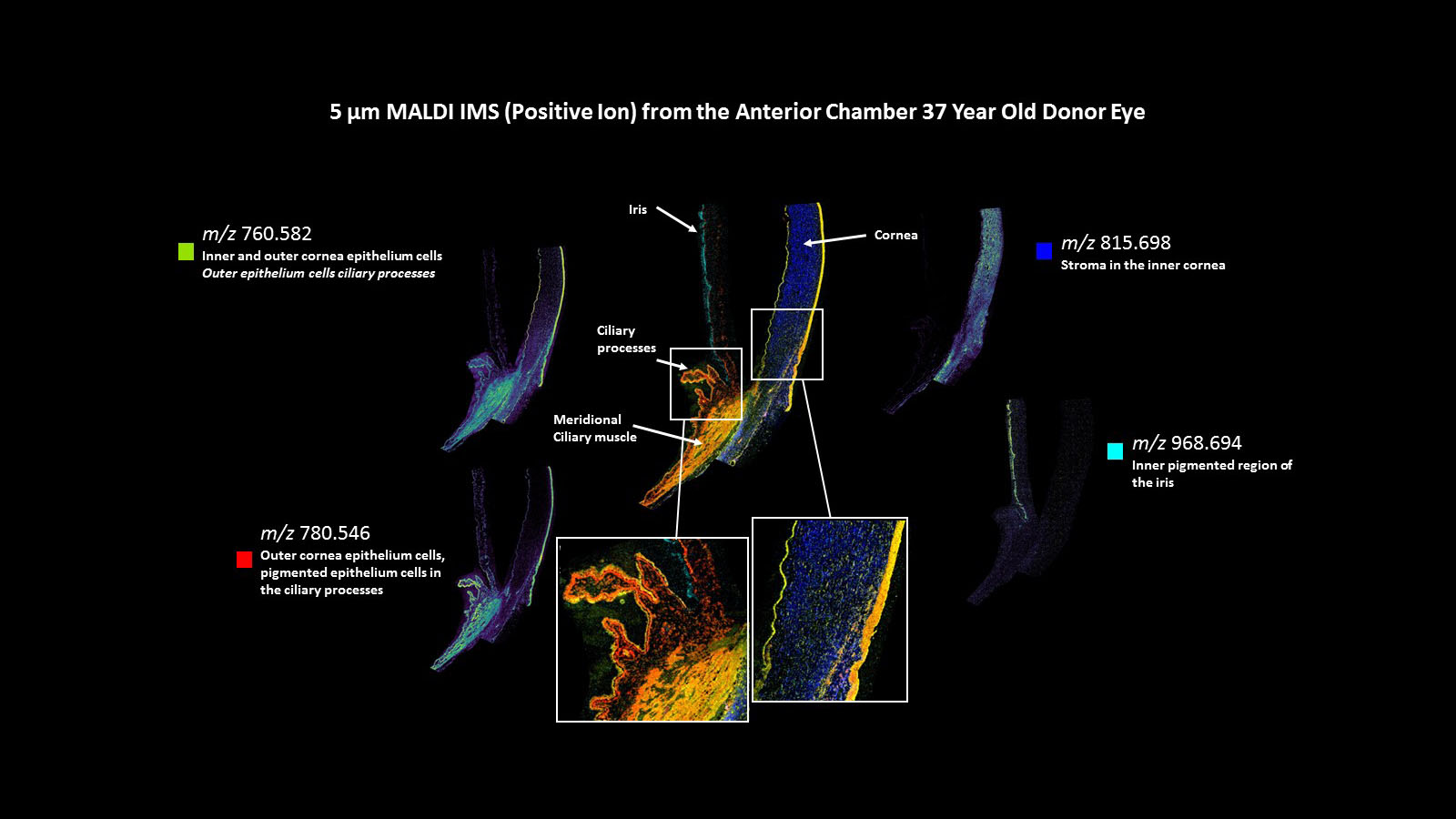 MALDI IMS image of the human cornea, courtesy of Dr. David Anderson from Vanderbilt University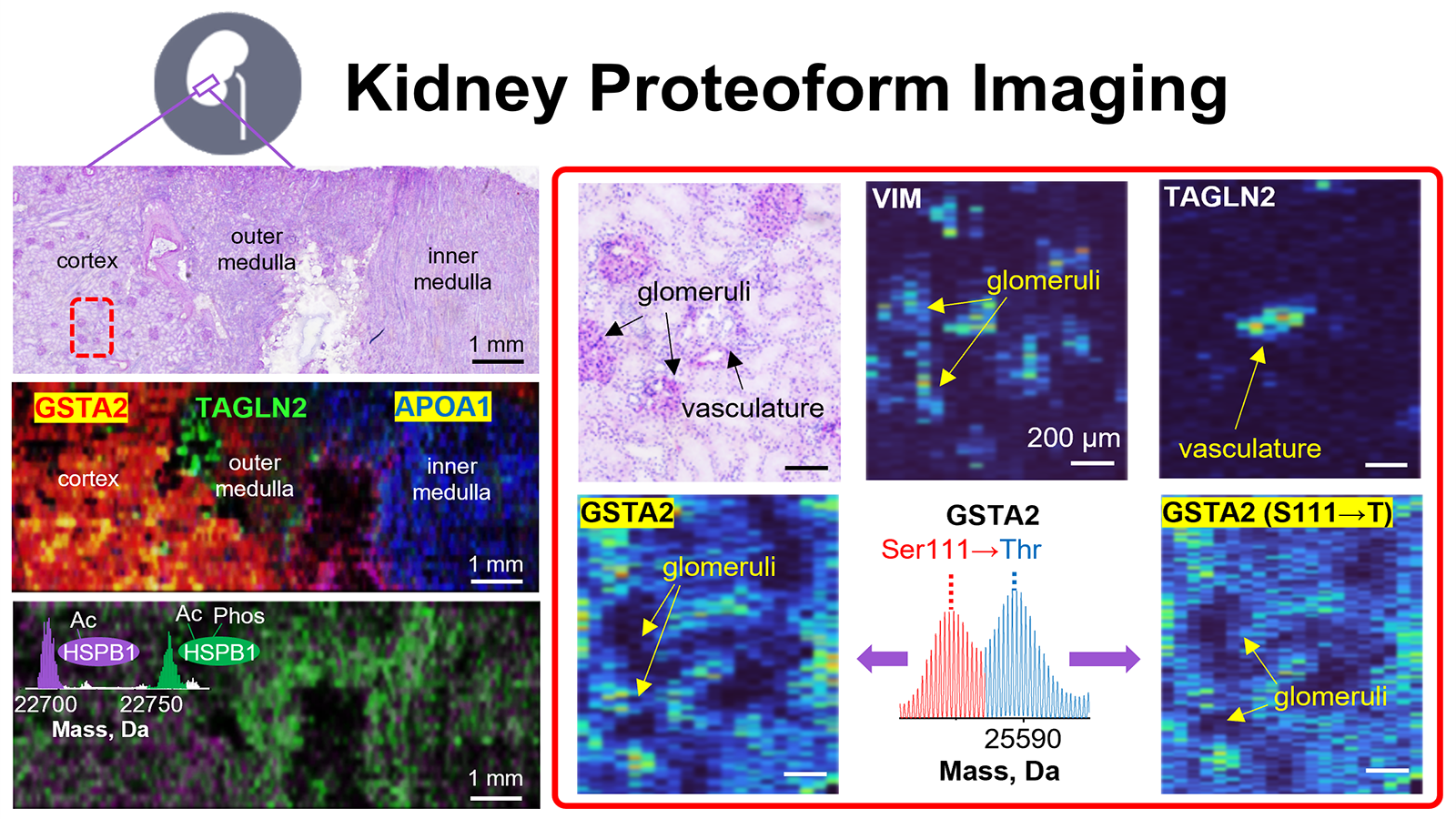 Proteoform imaging mass spec (PiMS) image of human kidney courtesy of Dr. Neil Kelleher at Northwestern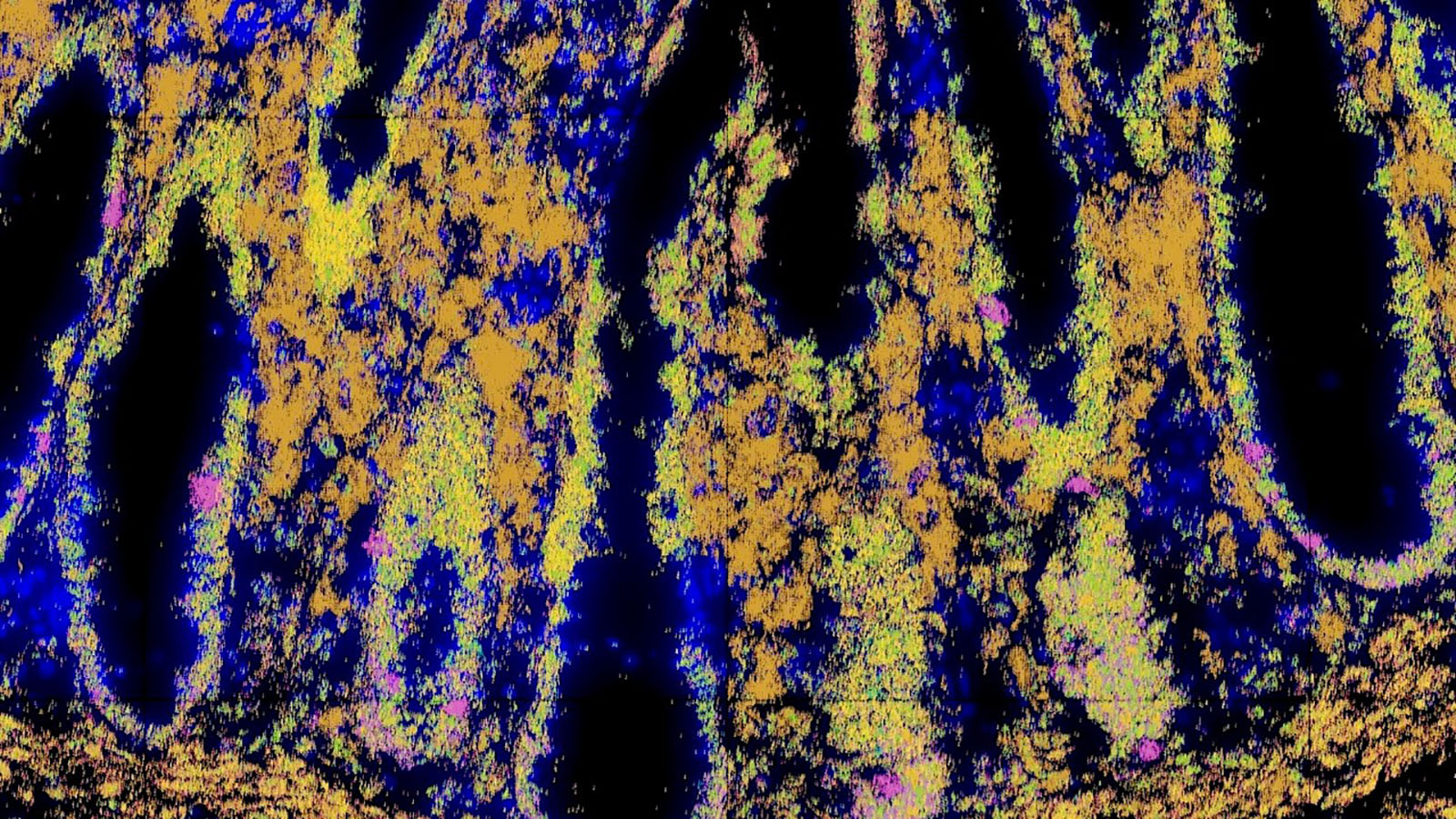 Molecular Cartography image of colon cells courtesy of Dr. Chenchen Zhu at Stanford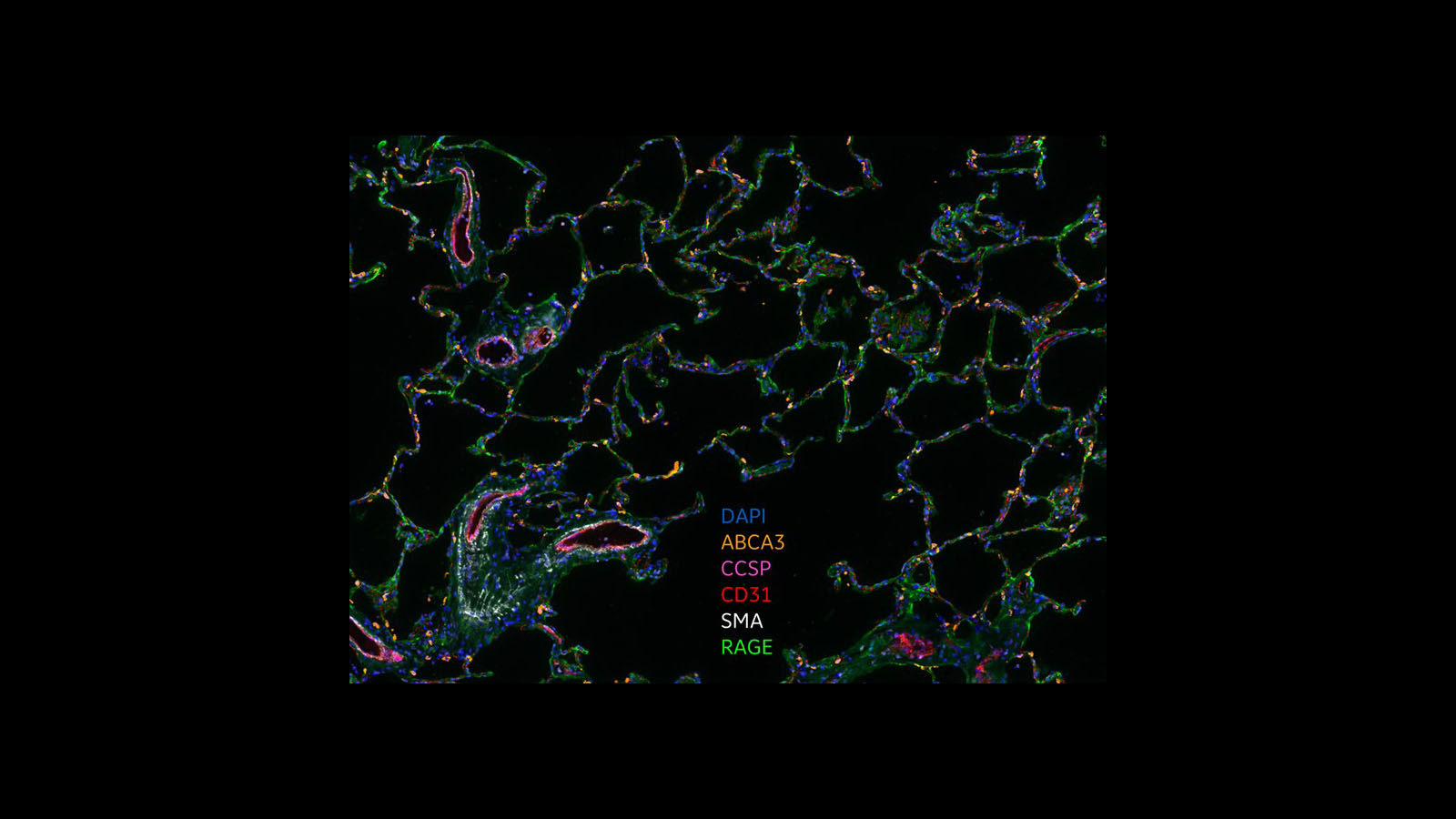 CellDIVE image of alveolar parenchyma cells from GE Research and University of Rochester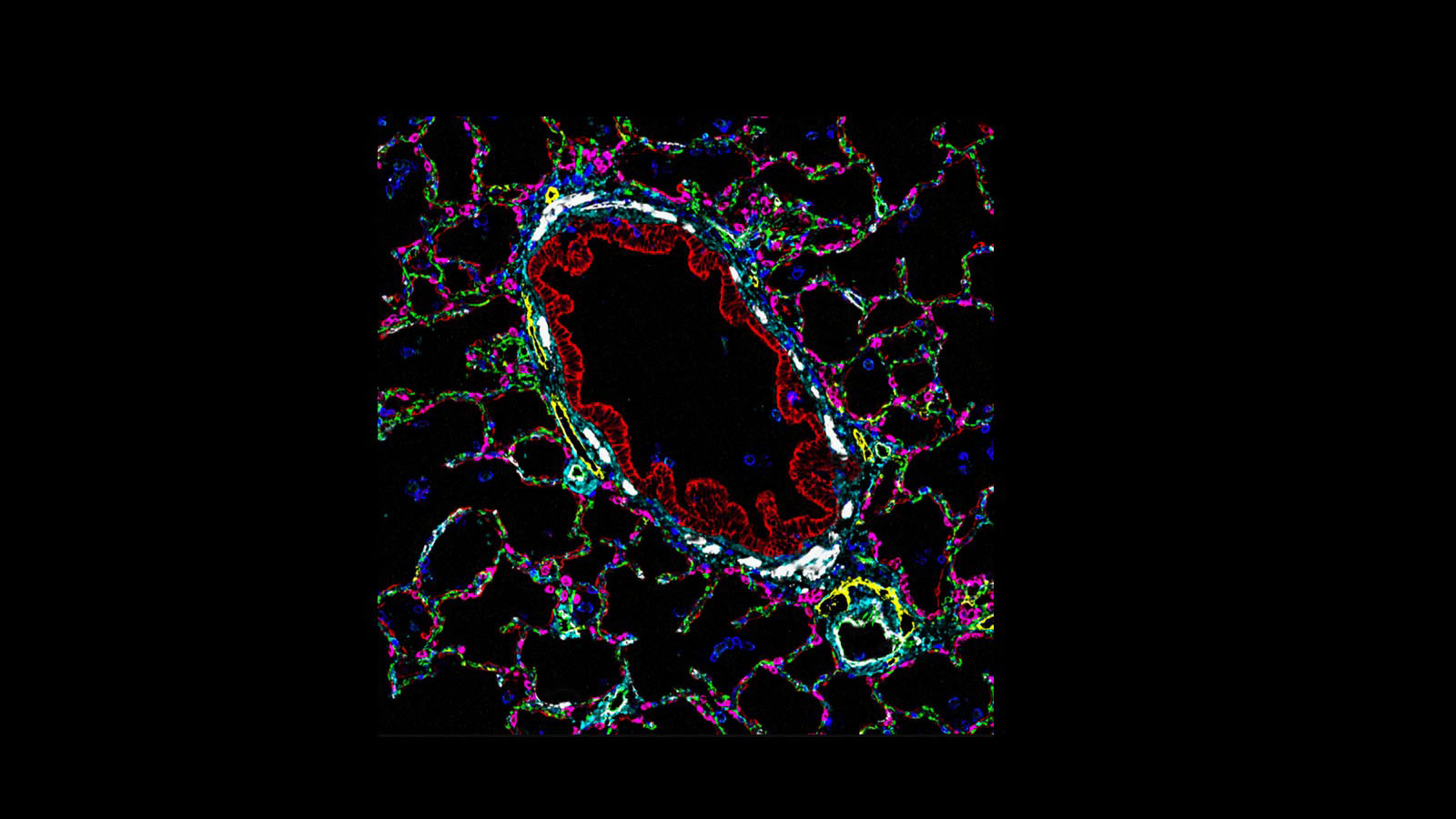 CODEX image of lung and small pulmonary arterial cells courtesy of Dr. Gloria Pryhuber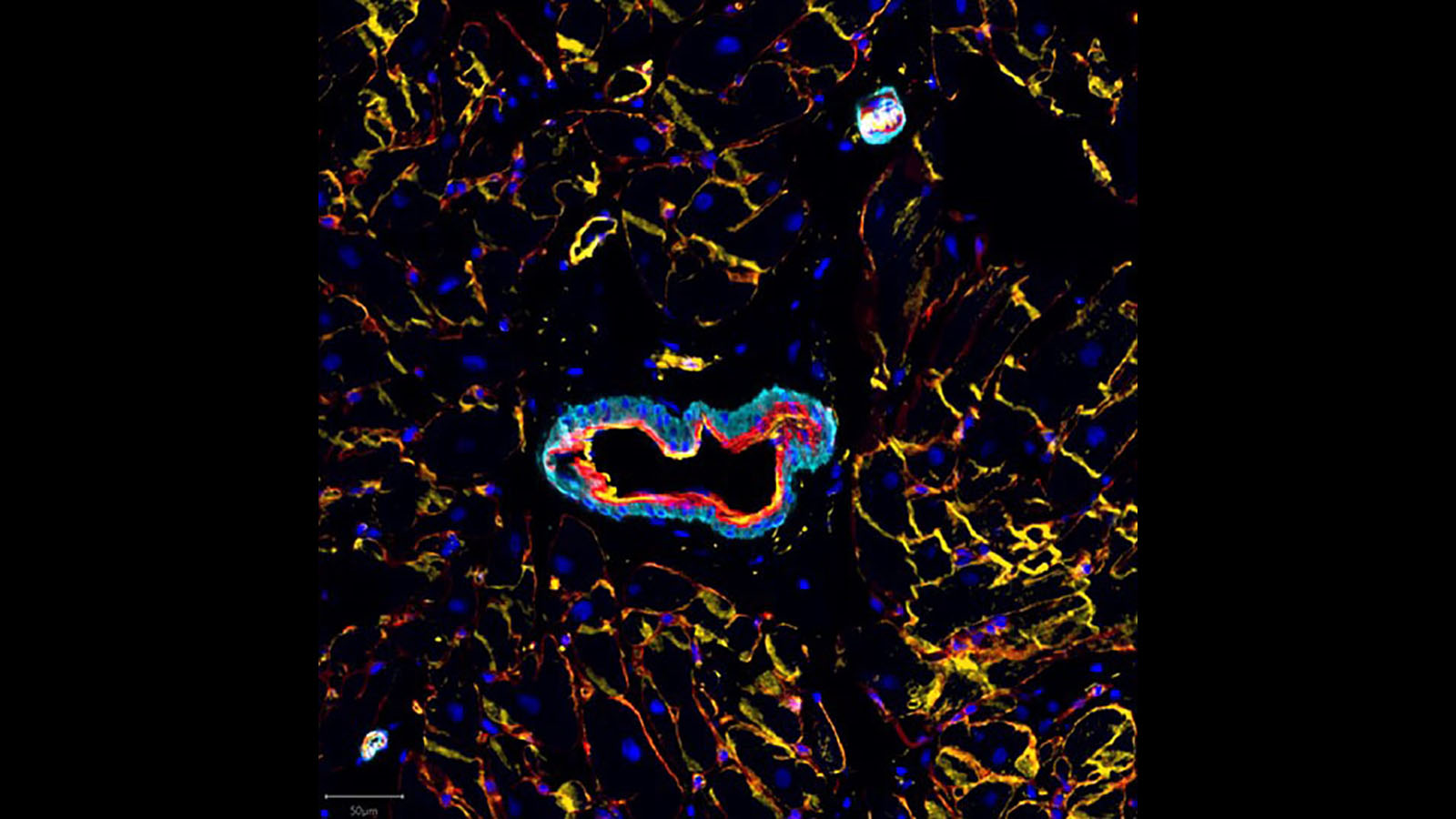 CellDIVE image of blood vessels from Drs. Liz McDonough and Fiona Ginty at GE Research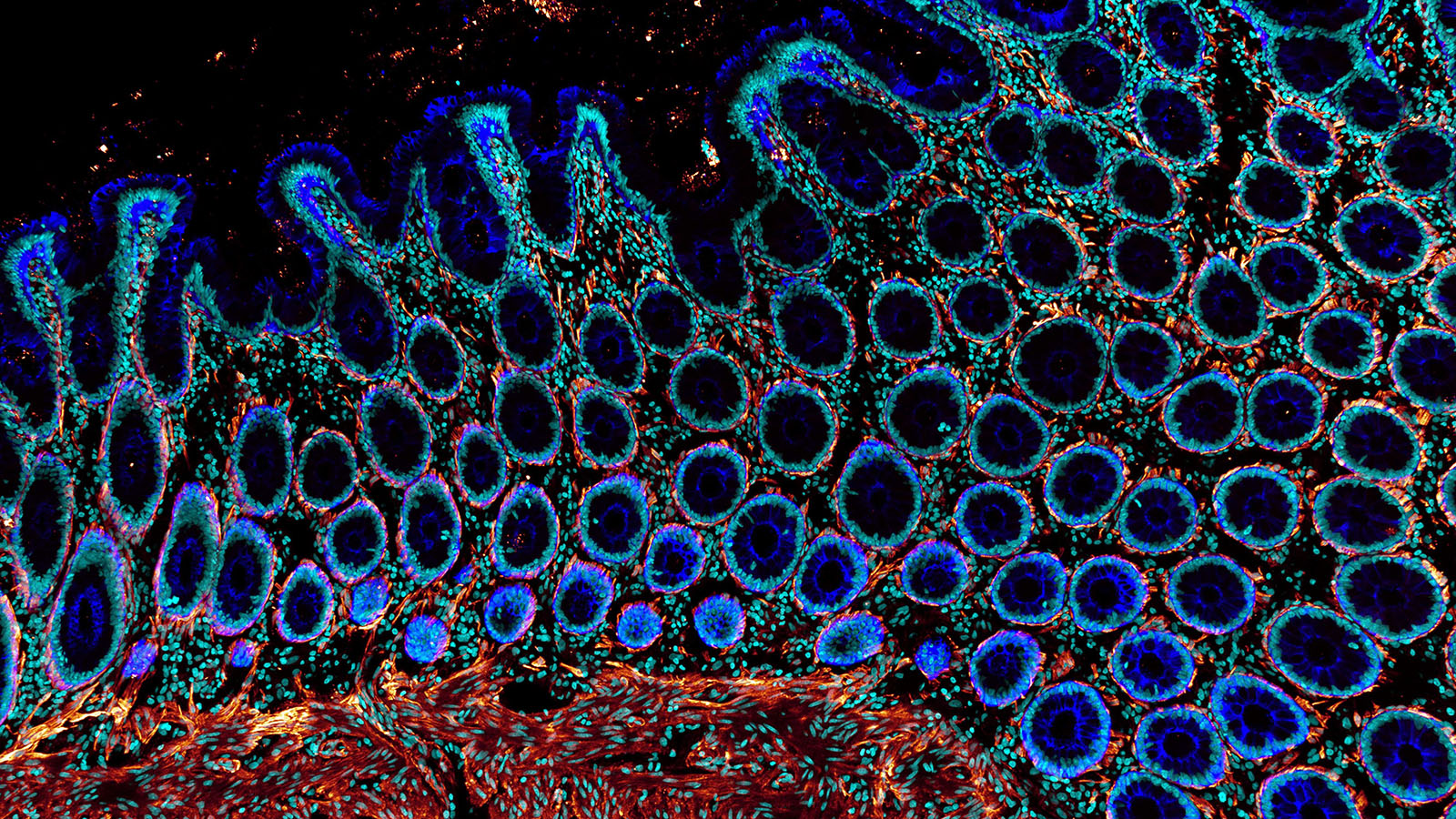 Confocal microscopy image of human colon from Dr. Andrea Radtke of the Germain lab at NIAID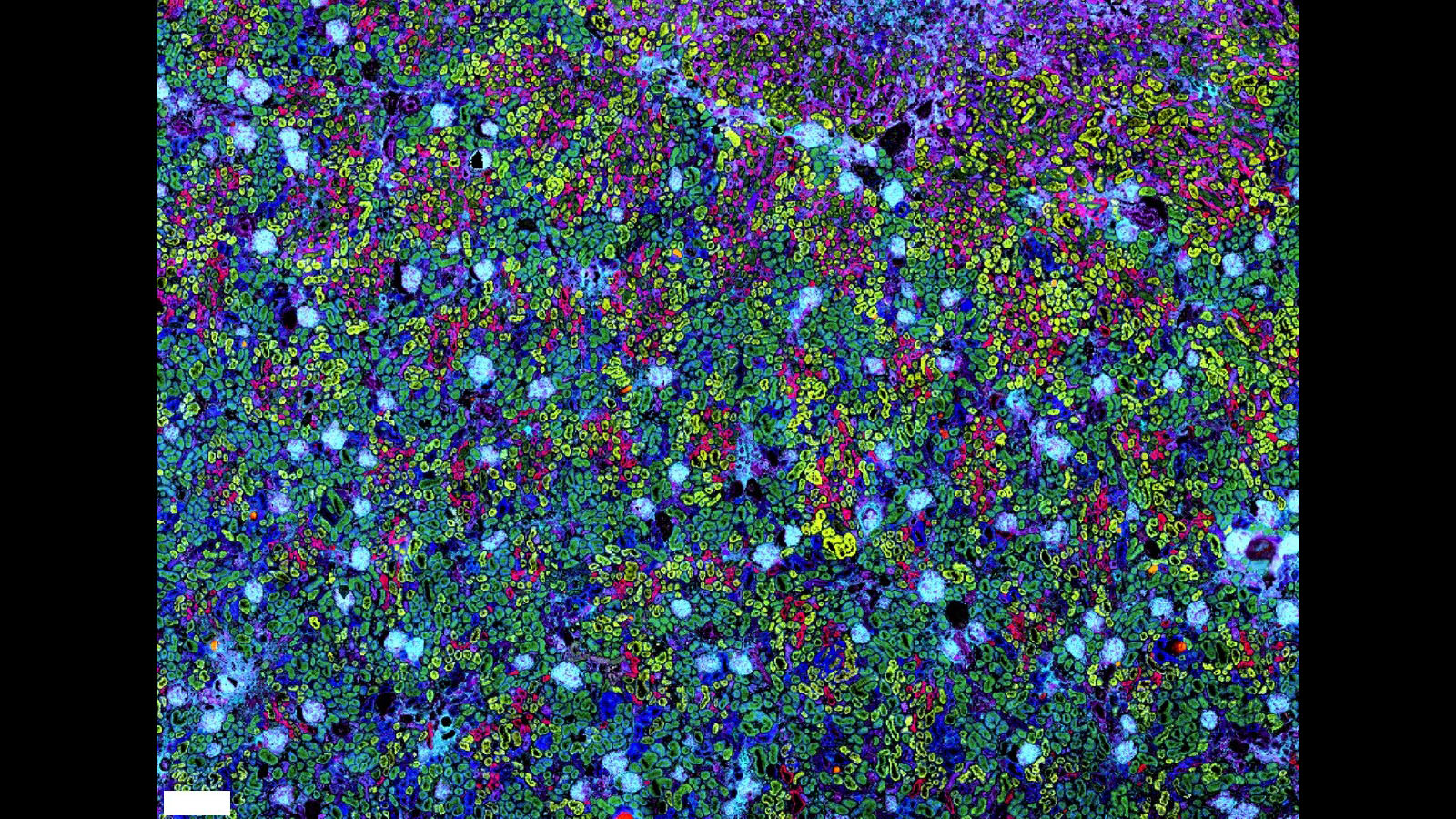 MALDI IMS image of human kidney from Dr. Martin Dufresne of Vanderbilt University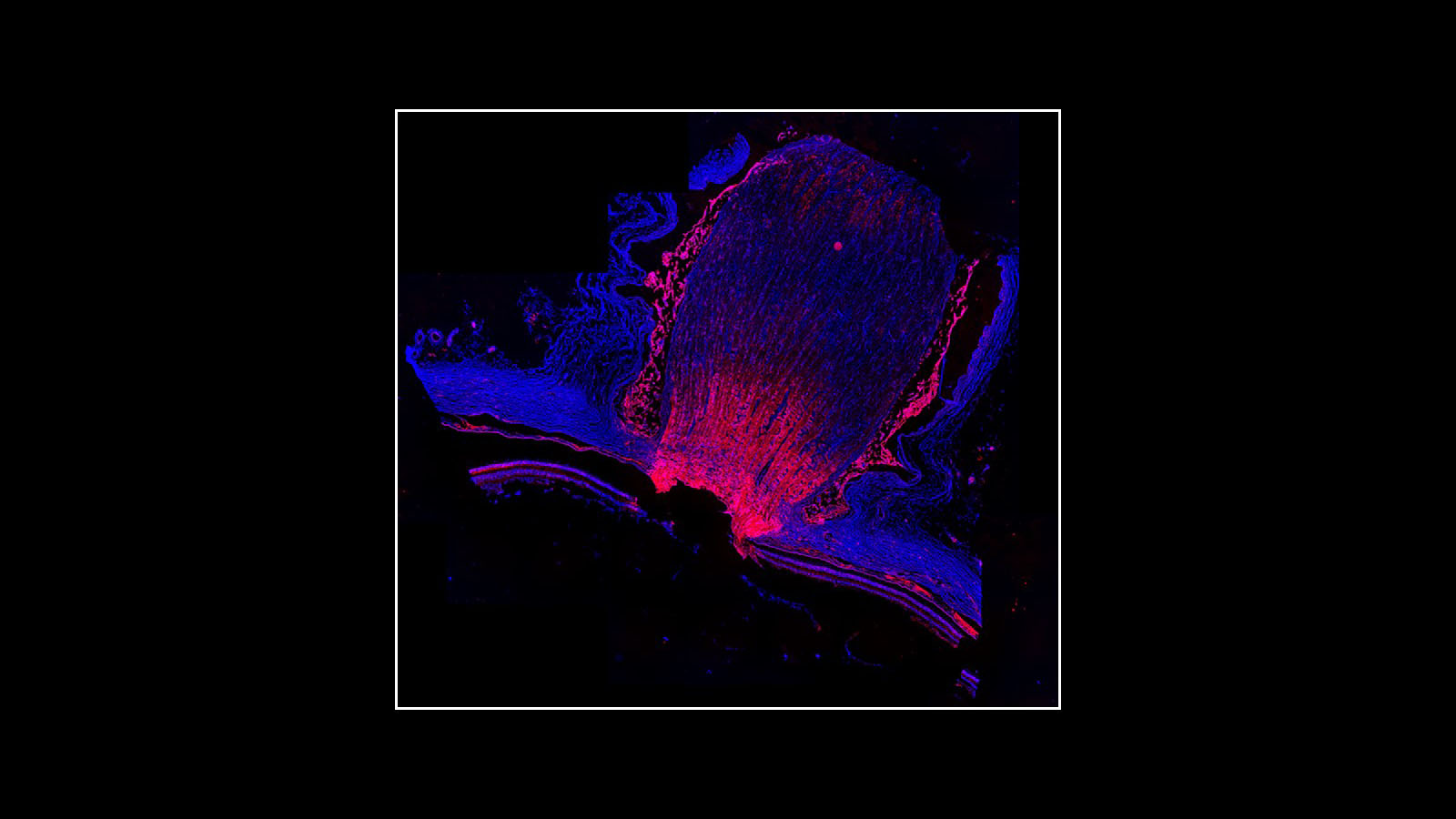 Immunofluorescence image of the human optic nerve, courtesy of Dr. Angela Kruse of Vanderbilt University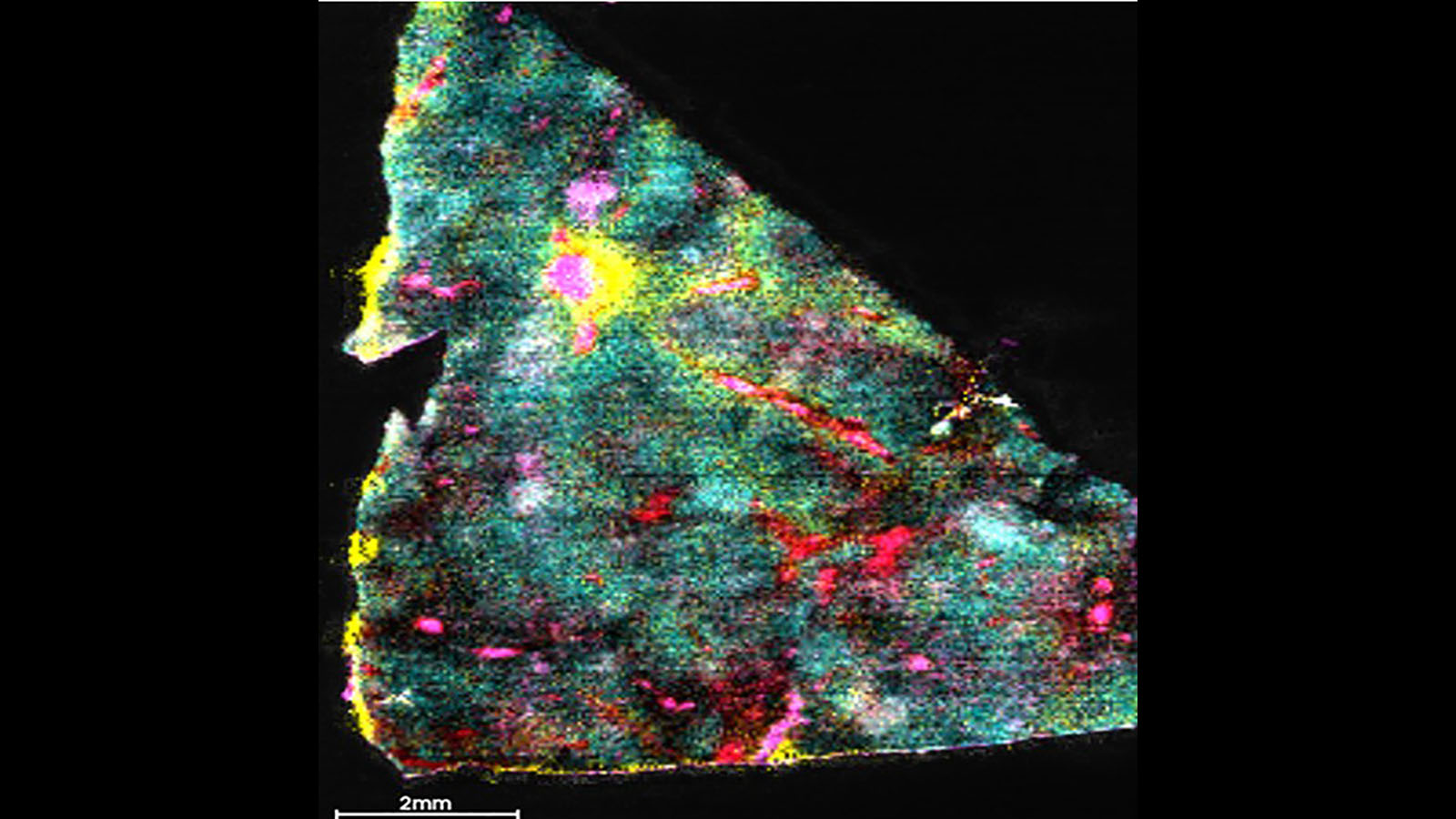 DESI image of lipids within a human liver, courtesy of Dr. Presha Rajbhandari at Columbia University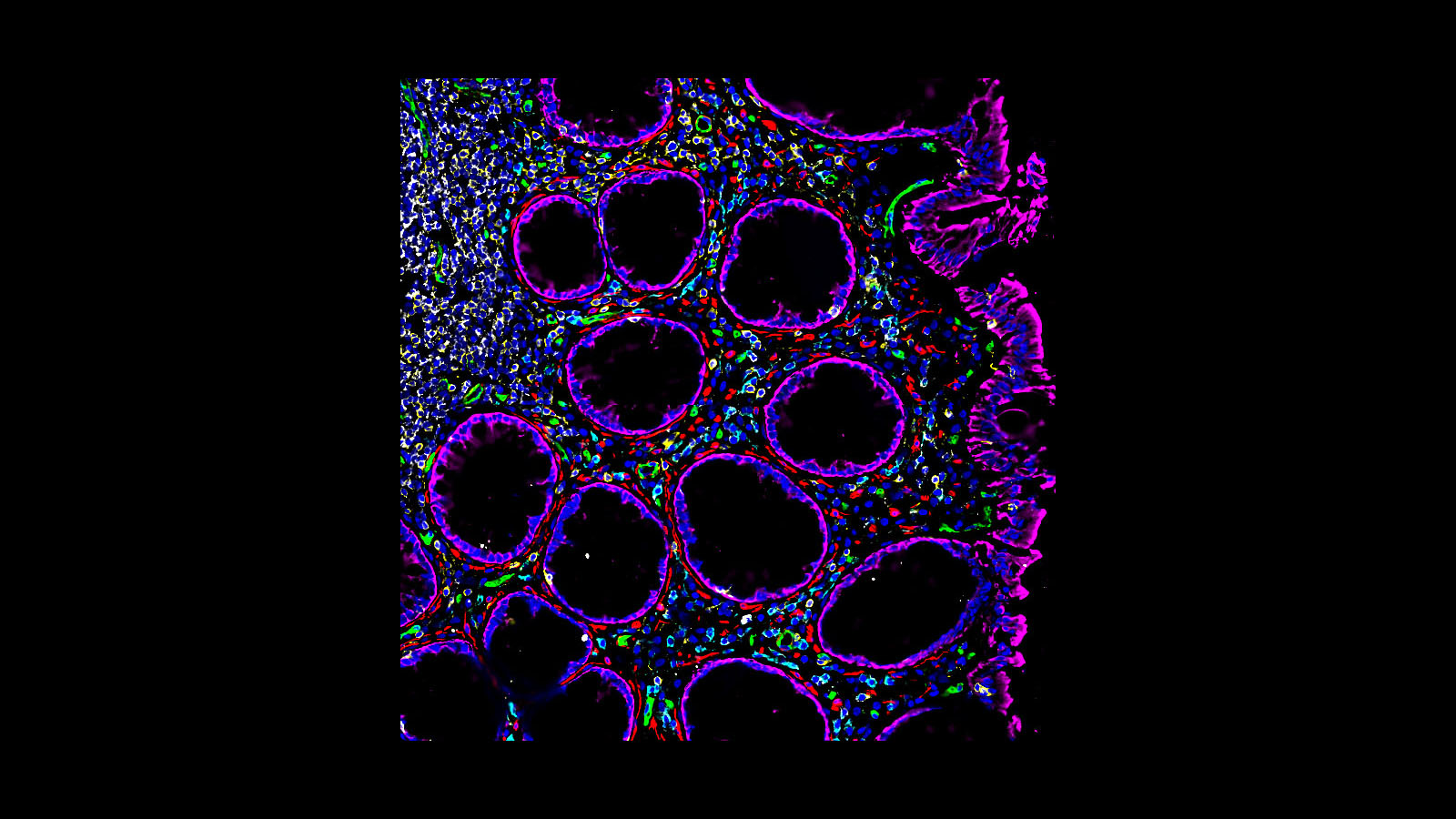 CODEX image of a healthy human colon courtesy of Dr. John Hickey of Garry Nolan's lab at Stanford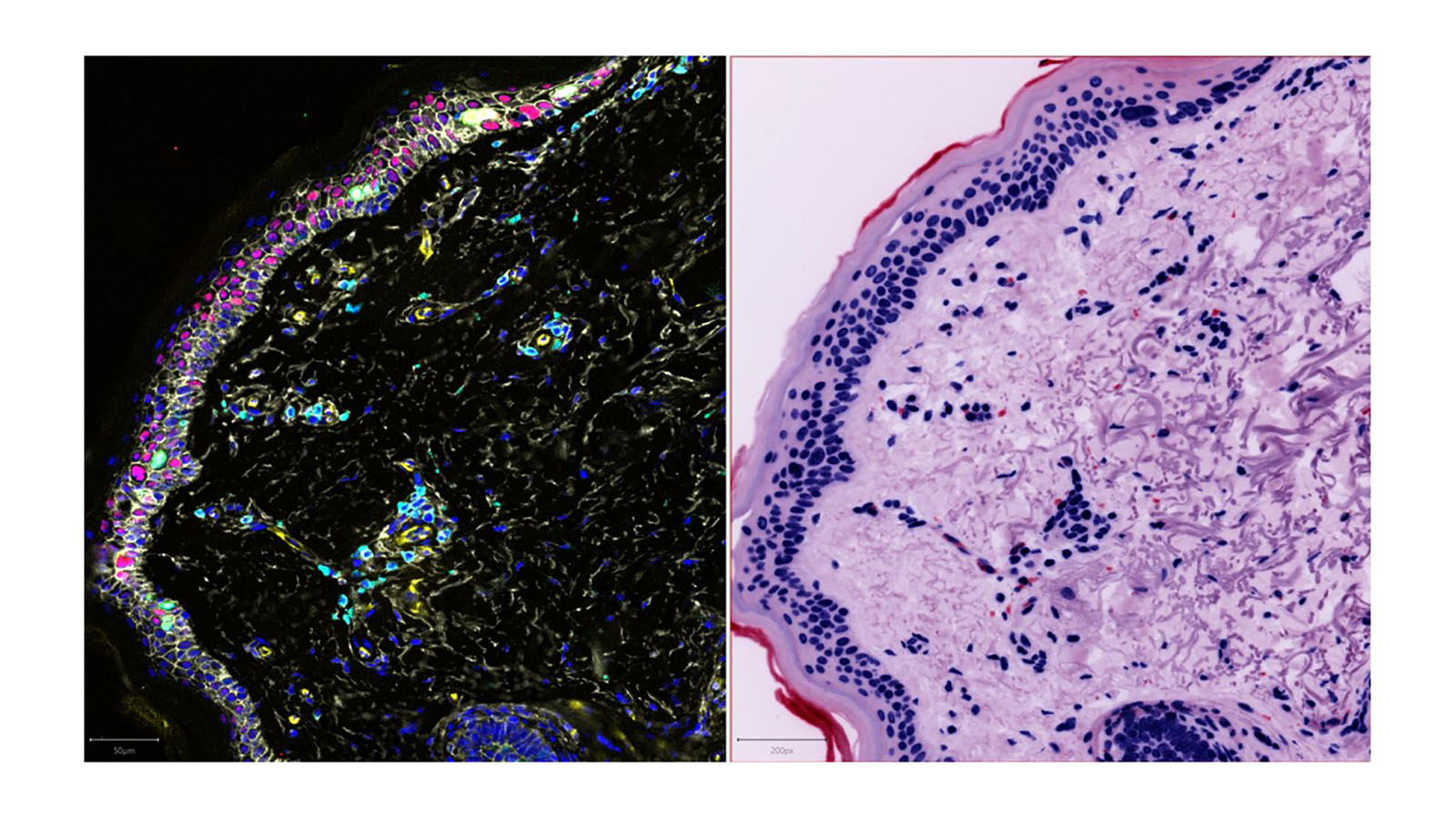 CellDIVE and H&E staining image of photoaging in response to sun exposure, courtesy of Dr. Fiona Ginty's lab at GE Research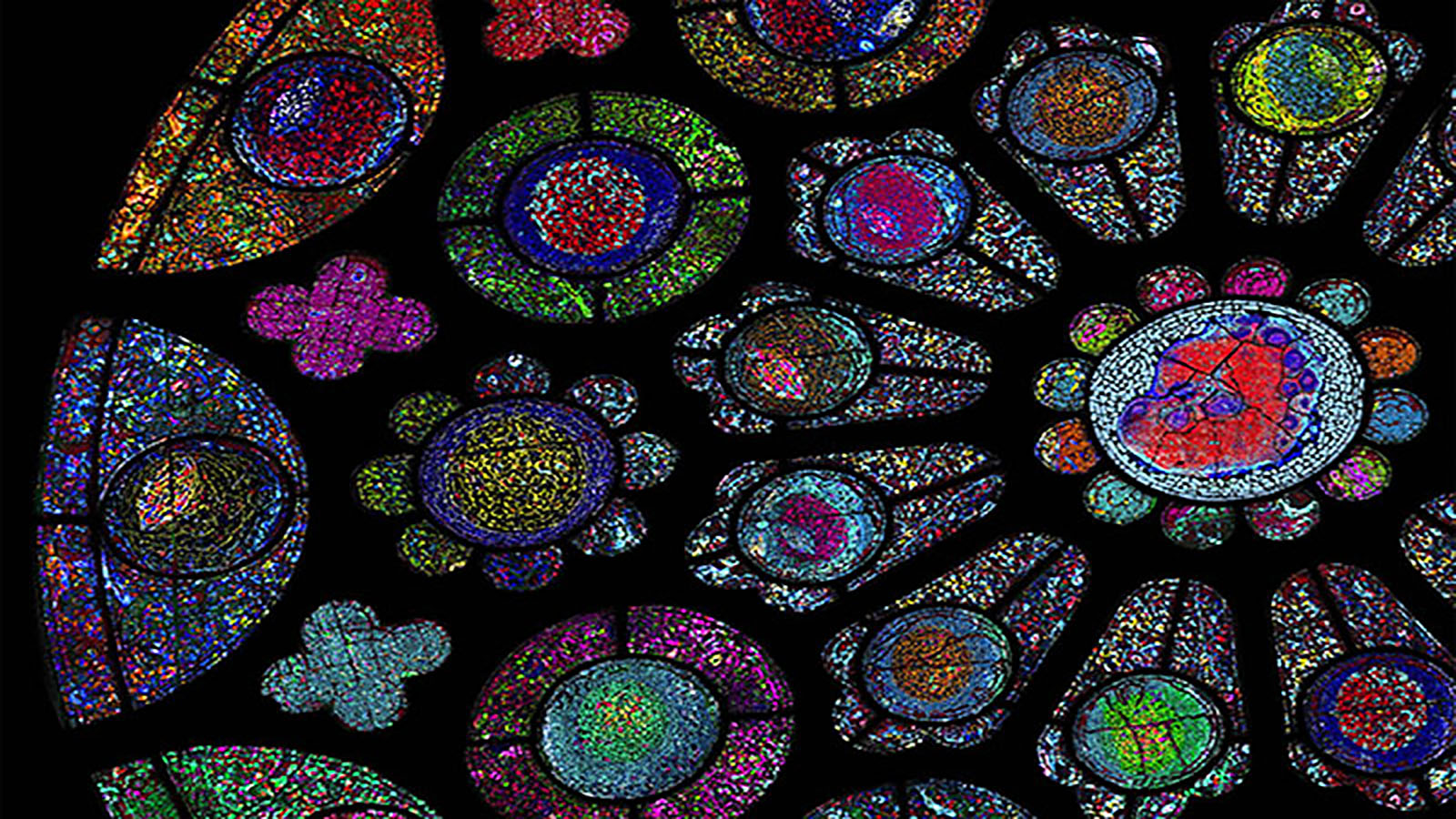 Highly multiplexed immunofluorescent image from a collaborative effort from 6 components of HuBMAP and external researchers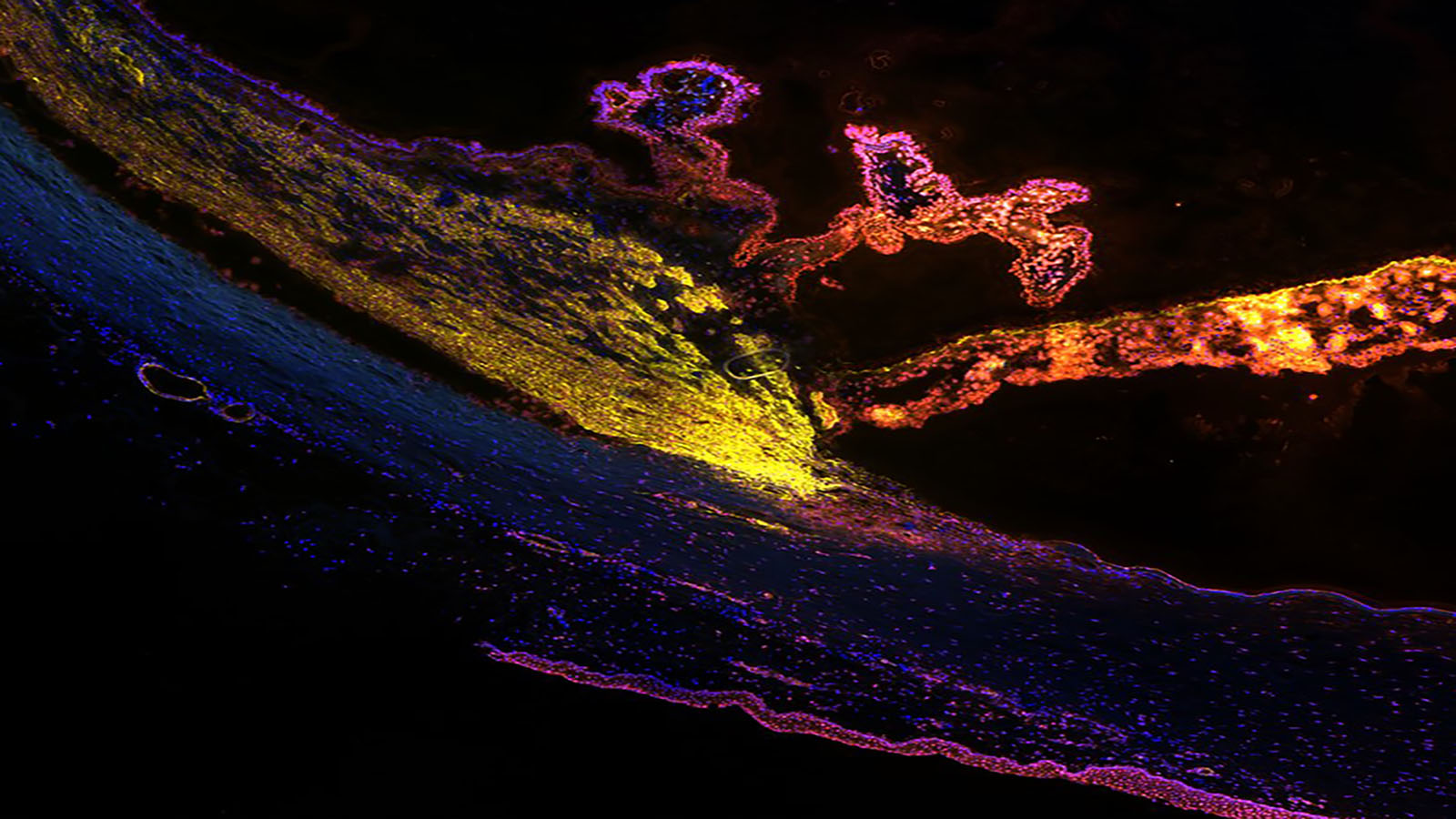 Multiplexed immunofluorescence image of the eye, courtesy of Dr. Angela Kruse of Vanderbilt University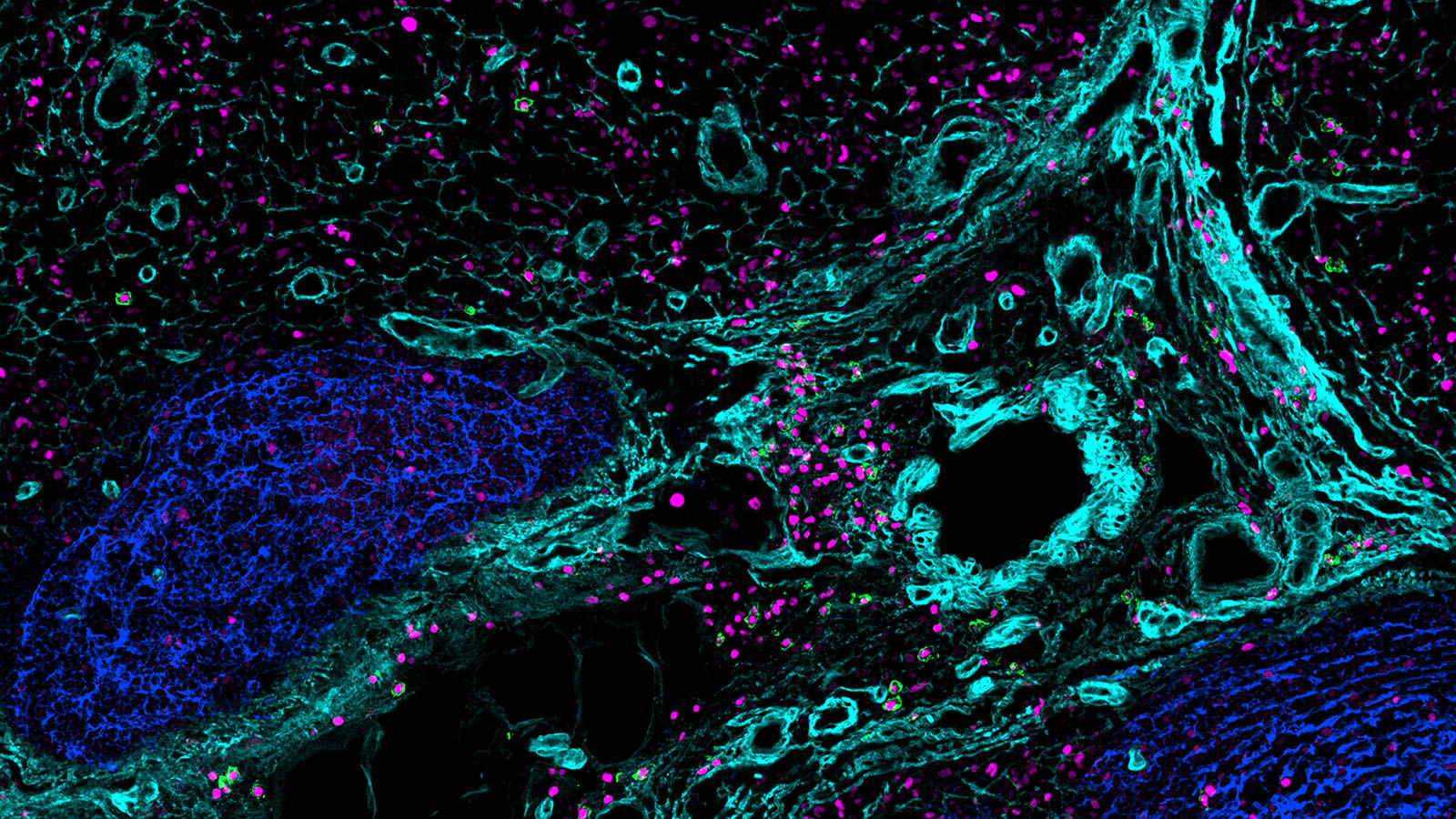 IBEX image of B cells, courtesy of Andrea Radtke at NIAID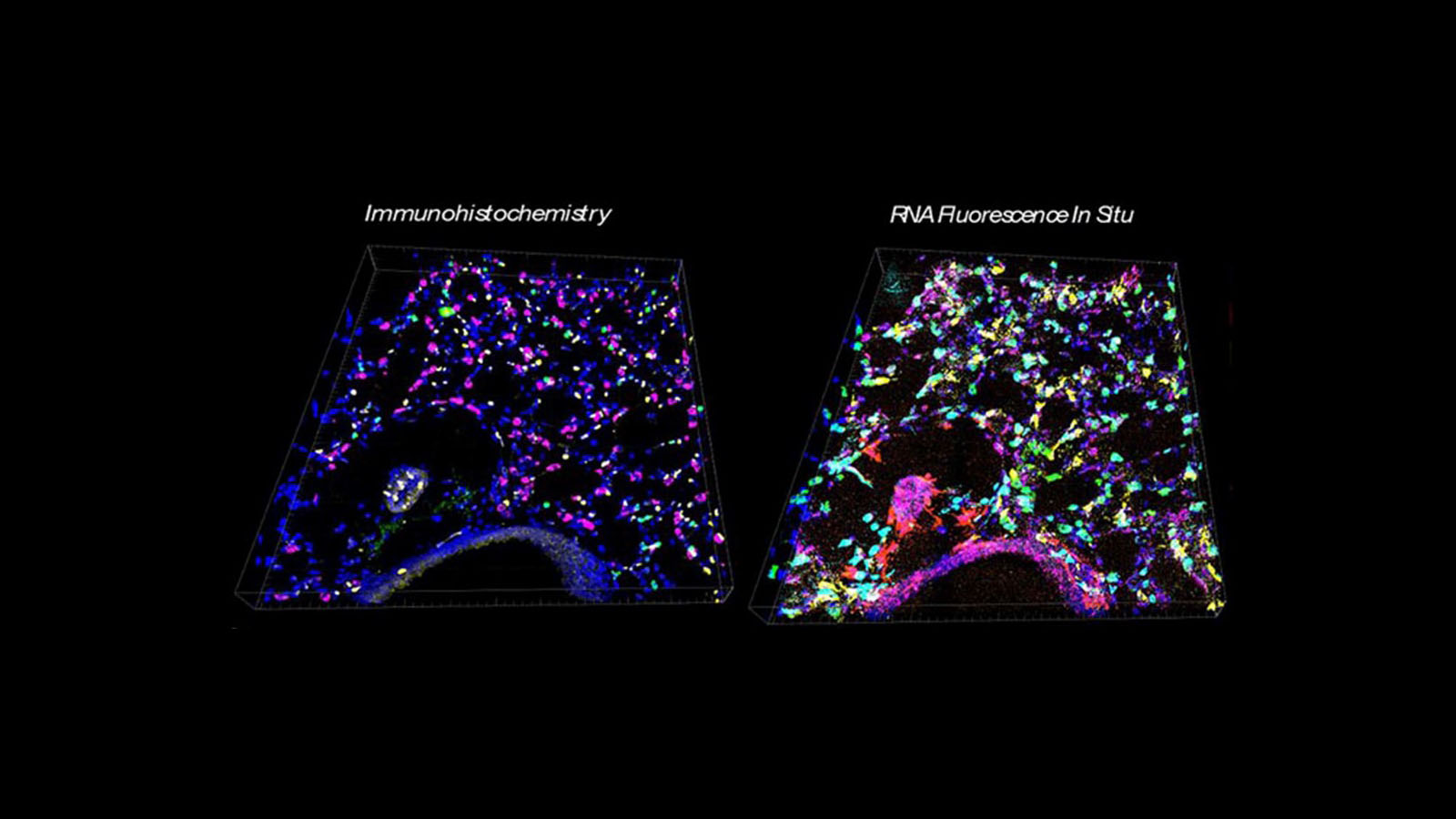 IHC and RNA fluorescence images of mouse lung, courtesy of Peter Chou at Stanford University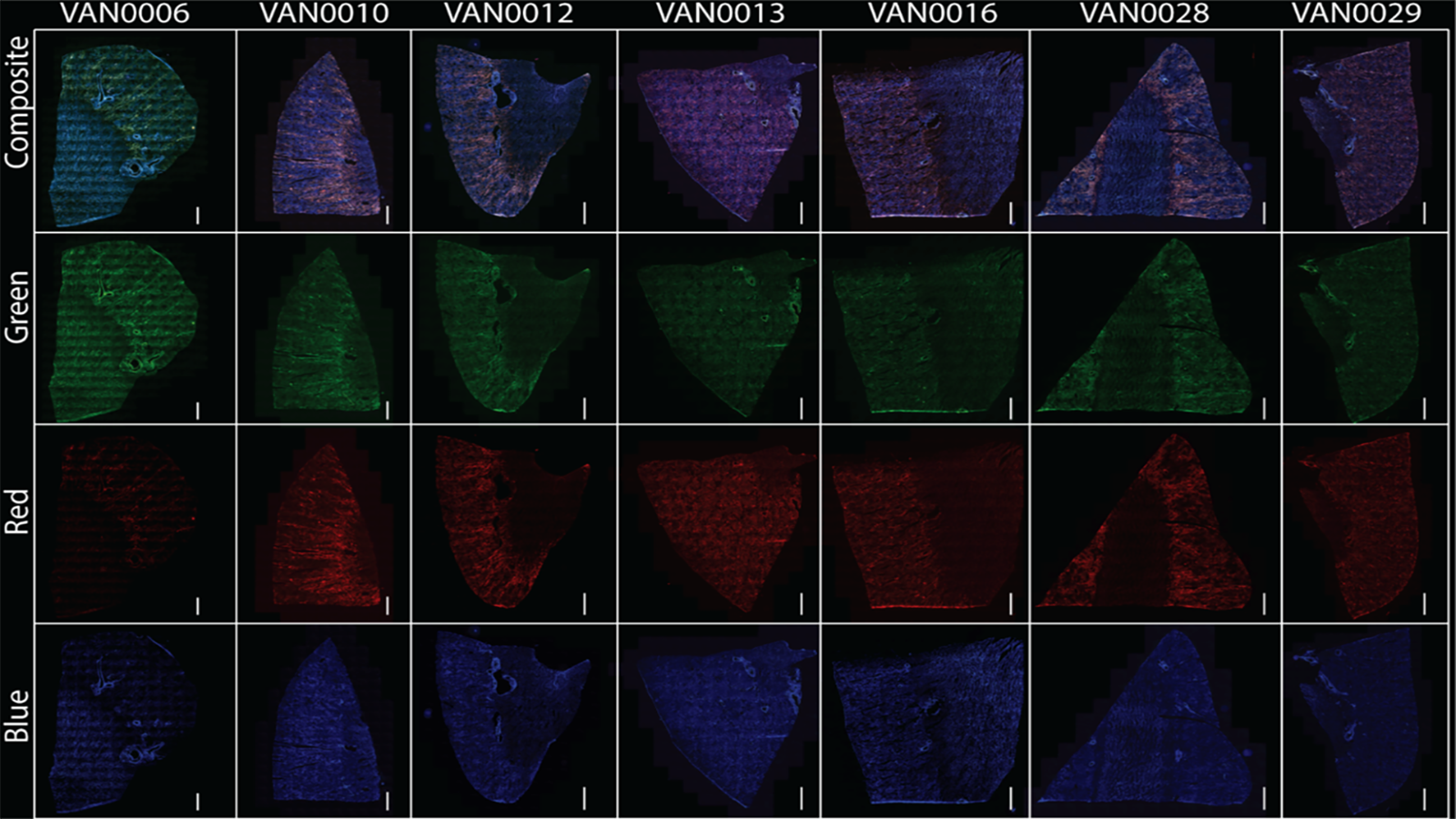 Autofluorescent images of kidneys courtesy of Dr. Elizabeth Neumann of Vanderbilt University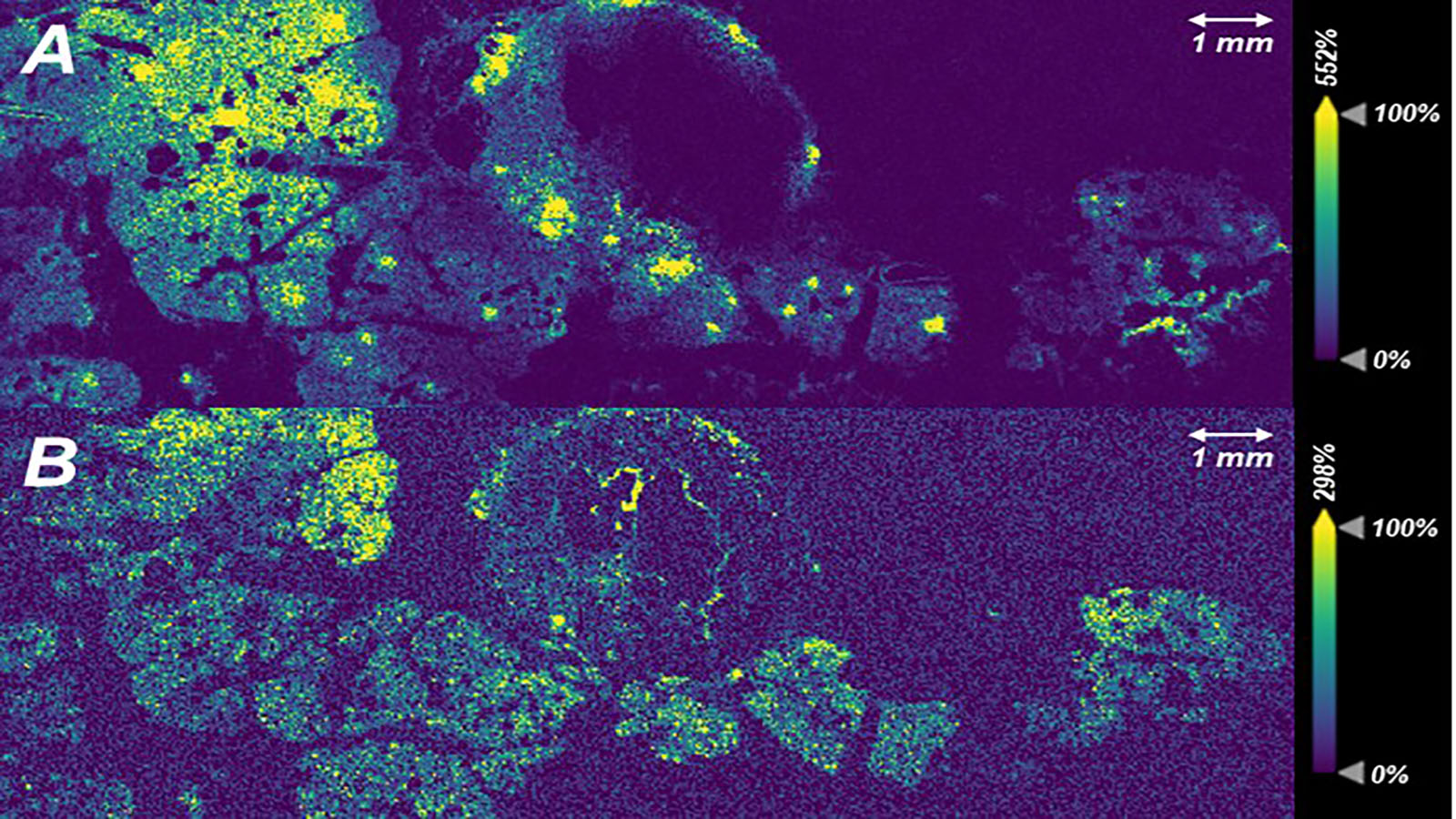 MALDI-IMS image of pancreas courtesy of Kevin Zemaitis of PNNL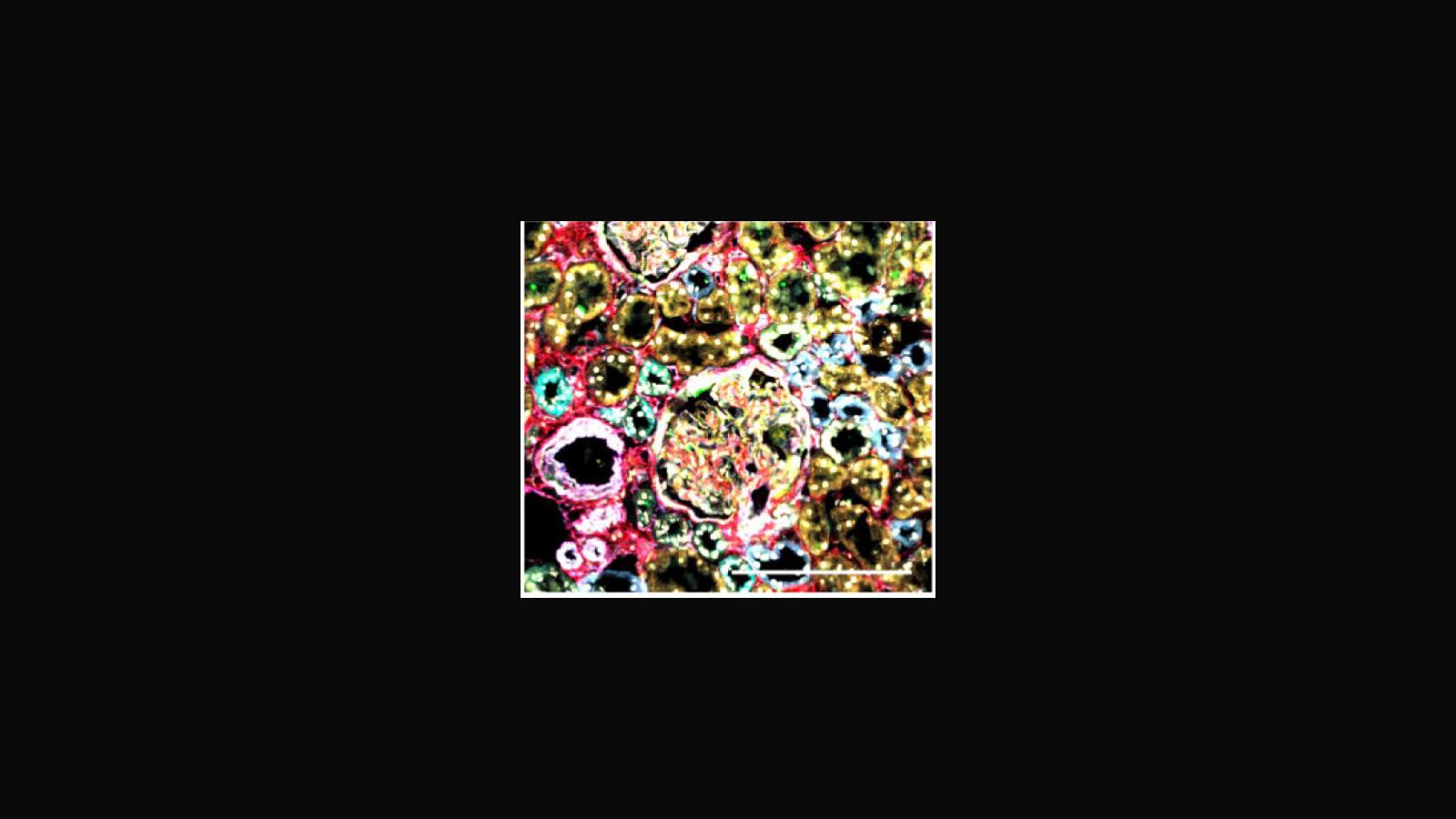 Immuno-SABER image of kidney courtesy of Matt Serrata in Peng Yin's lab at Harvard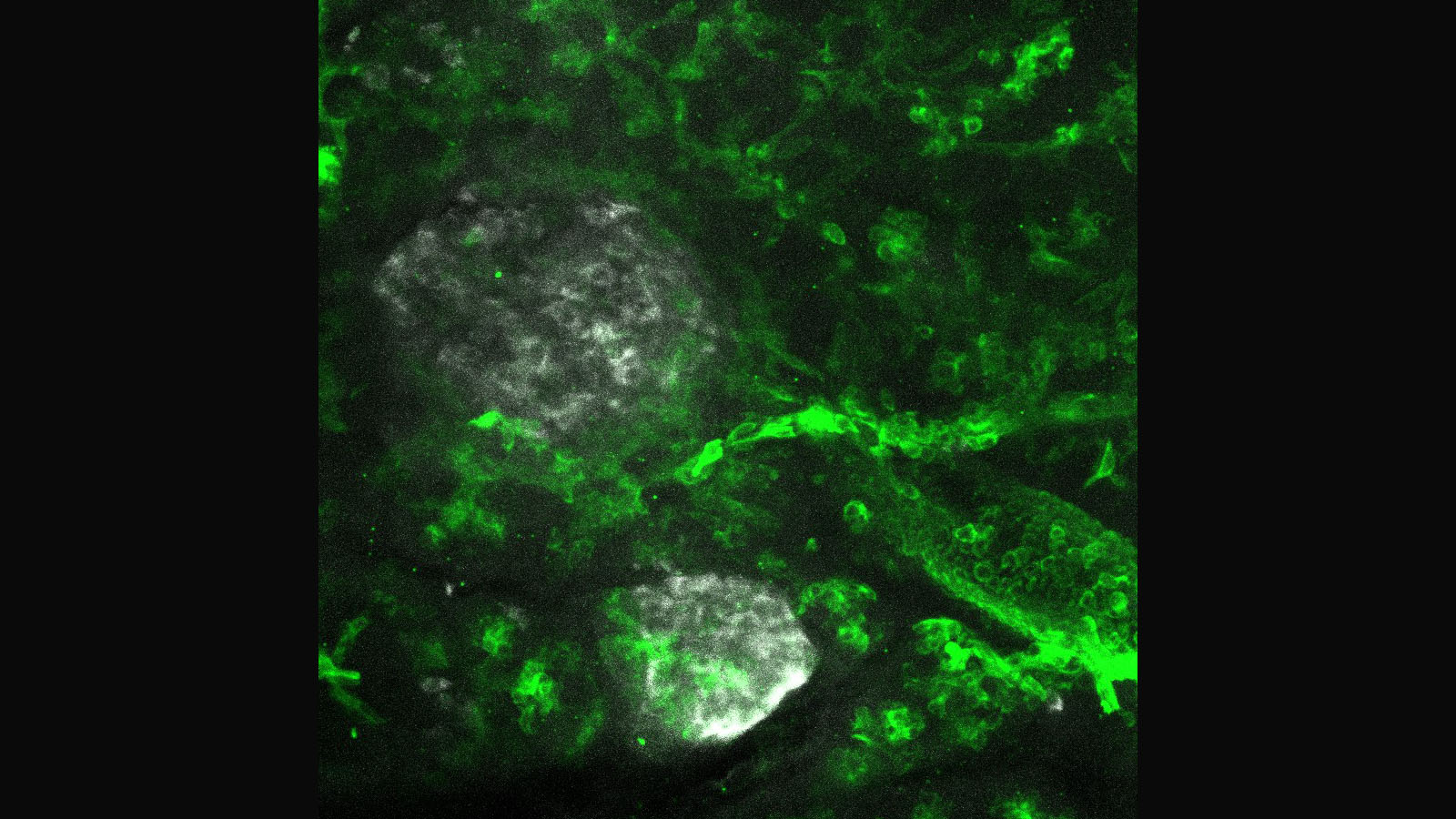 Confocal image of healthy human pancreas from Martha Campbell-Thompson at University of Florida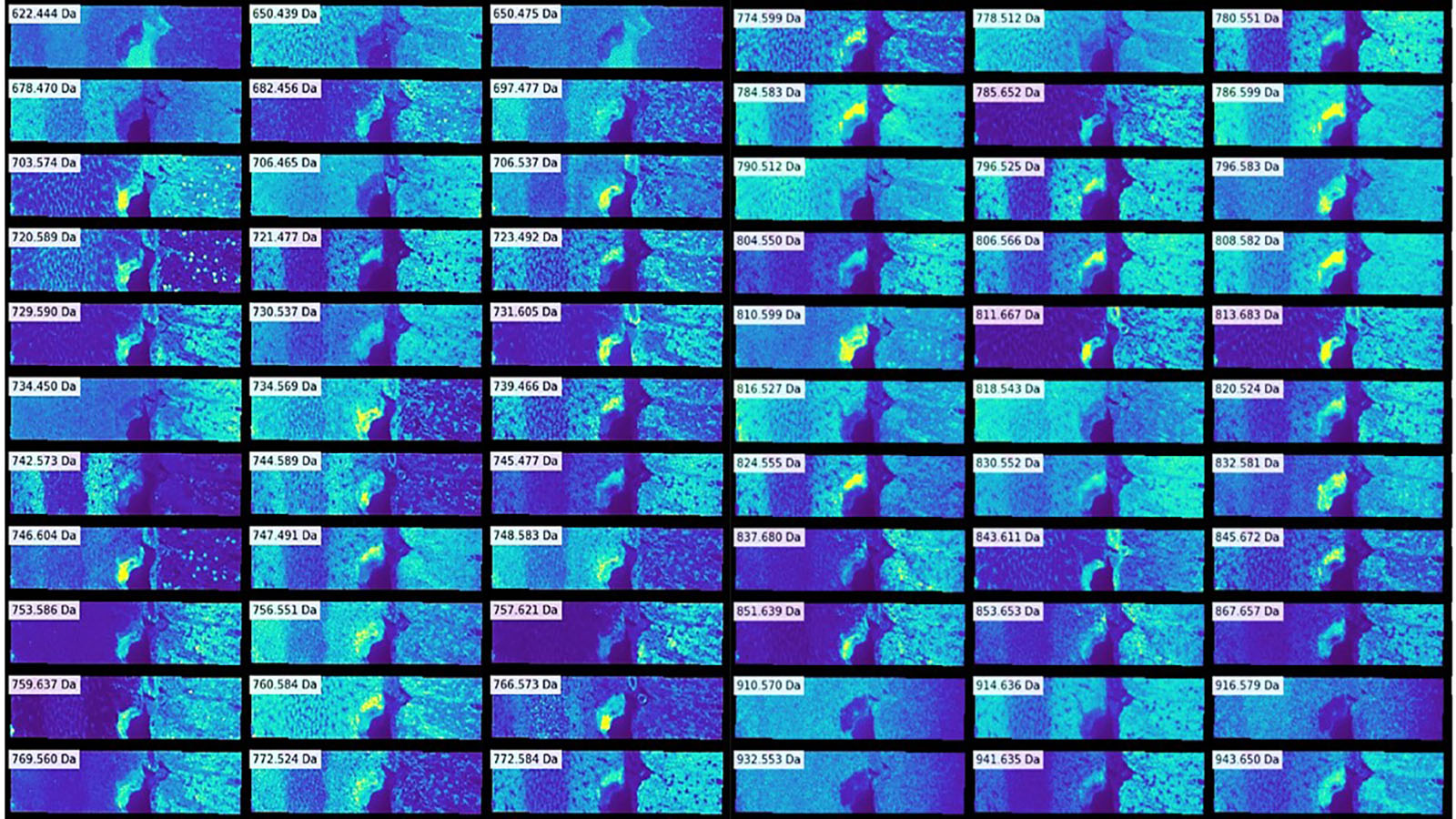 Mosaic of Imaging Mass Spec images of human kidney, courtesy of Dr. Elizabeth Neumann of Vanderbilt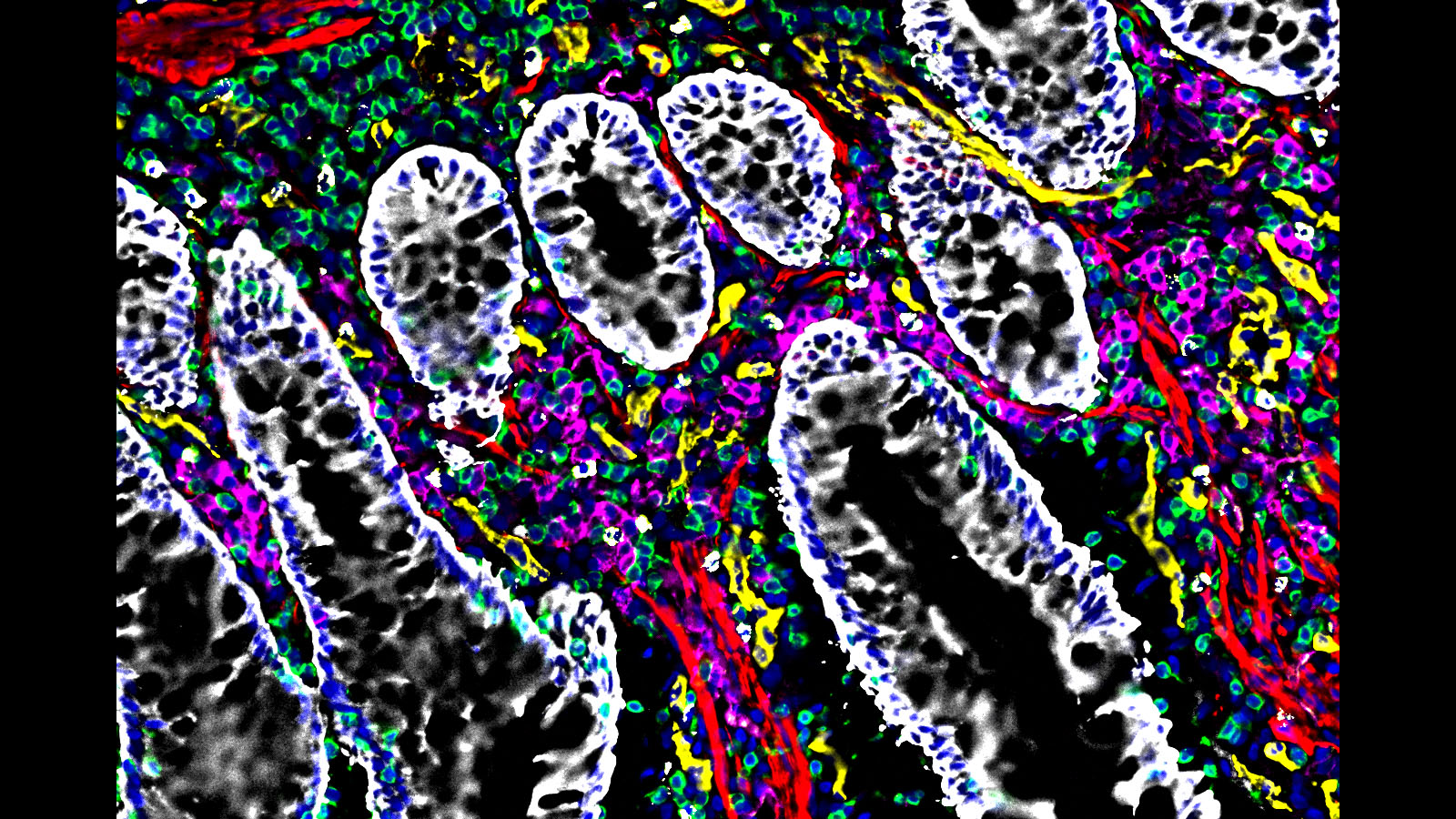 #CODEX image of the intestine courtesy of @stanford researcher Dr. John Hickey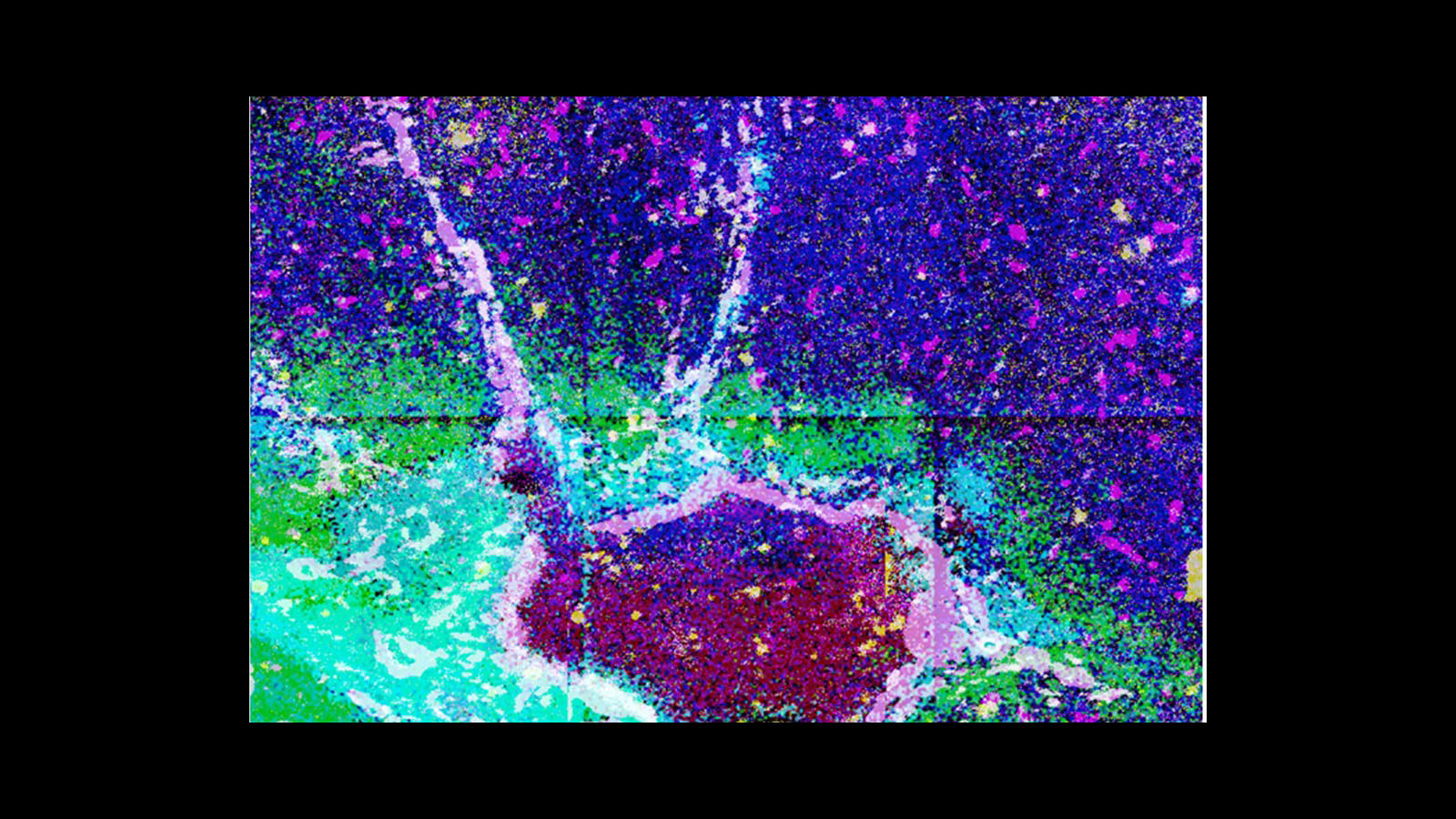 Integrated multiomics data from Imaging Mass Spec experiments from the liver, courtesy of Drs. Hua Tian (Penn State) and Brent Stockwell (Columbia University)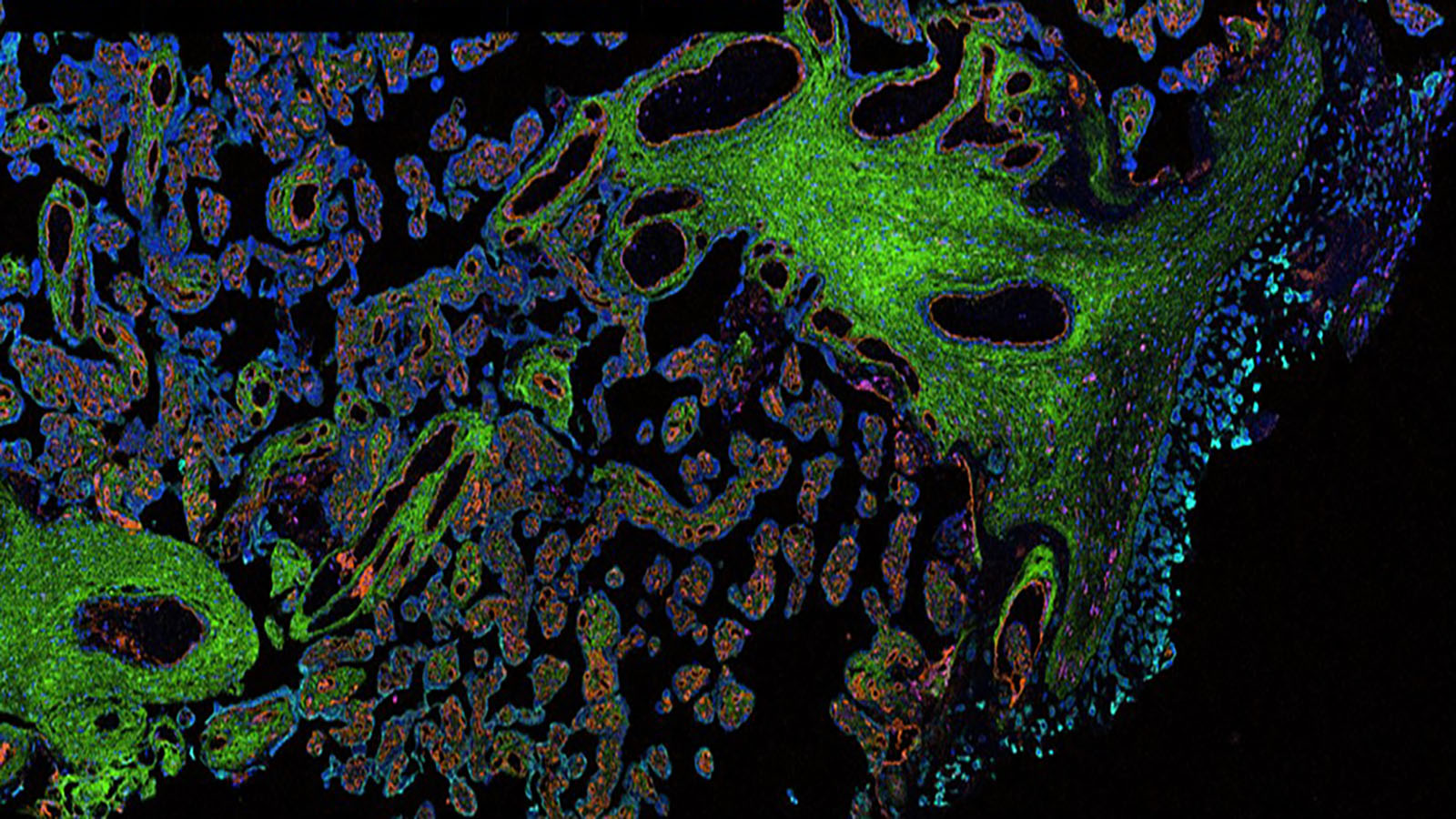 IMC image of placental trophoblasts courtesy of Dr. Santhosh Sivajothi of Jackson Labs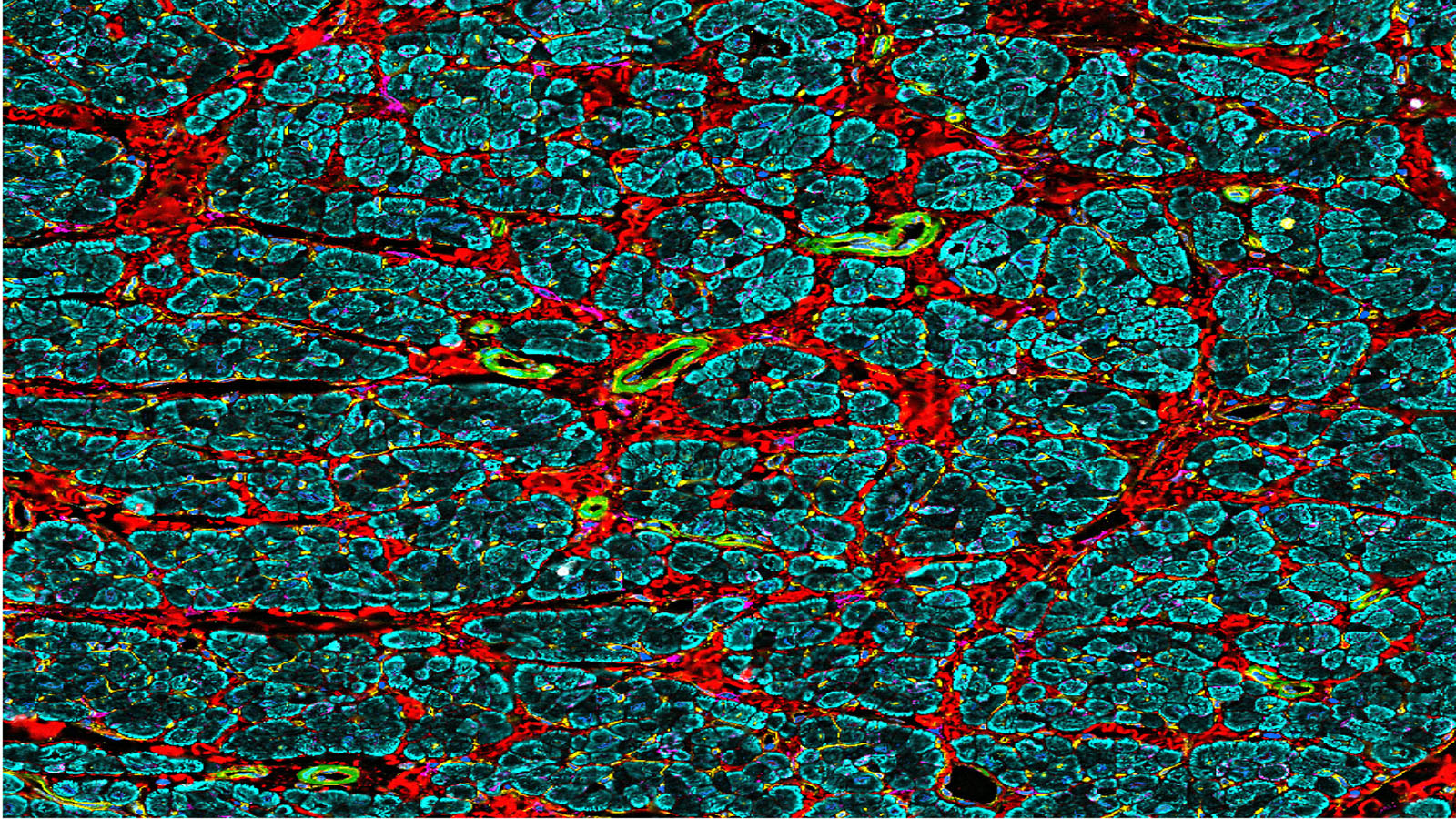 CODEX image of the left atrium of the heart from Dr. Kai Tan at CHOP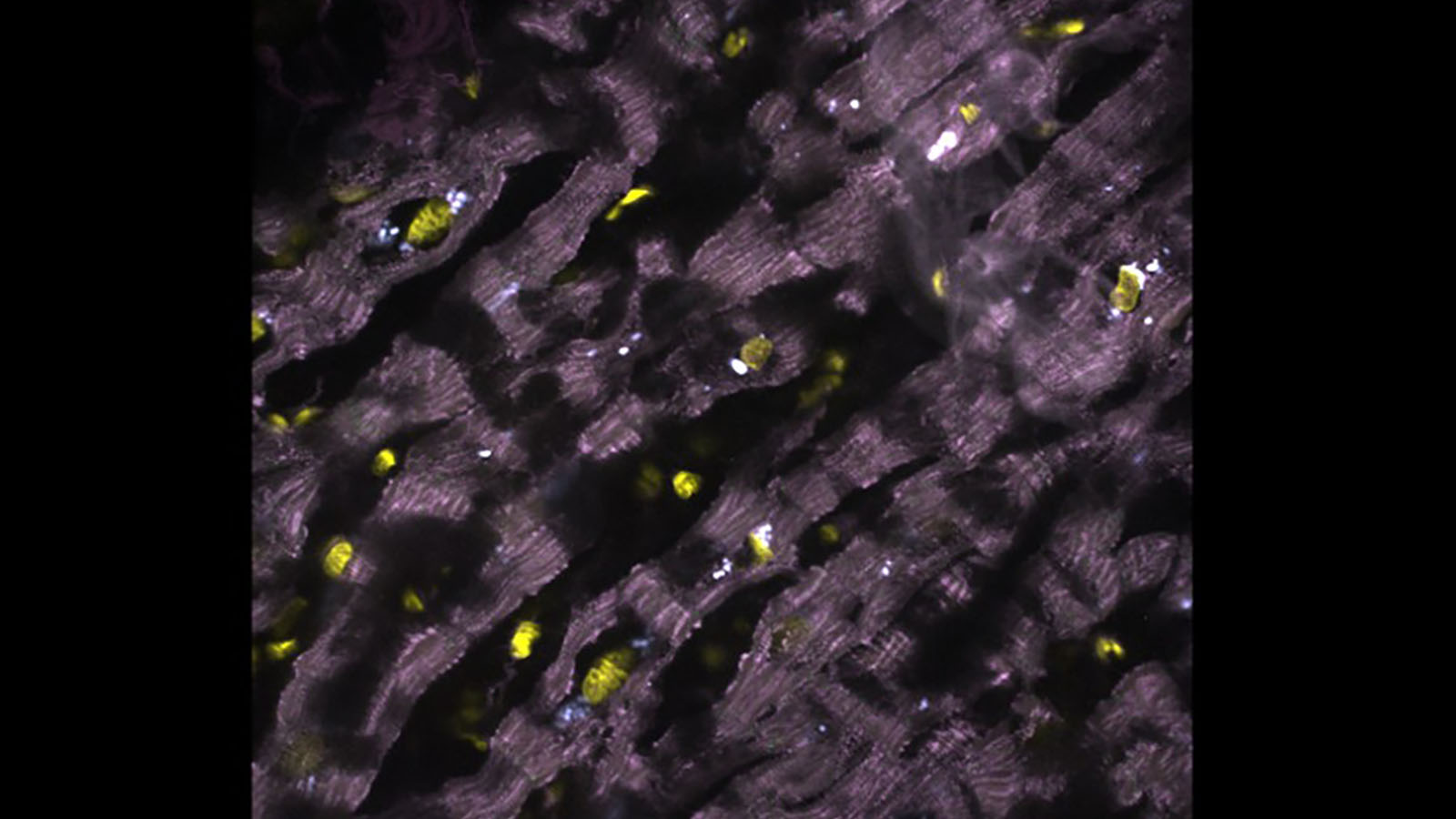 seqFISH image of healthy human heart, courtesy of Long Cai's lab at CalTech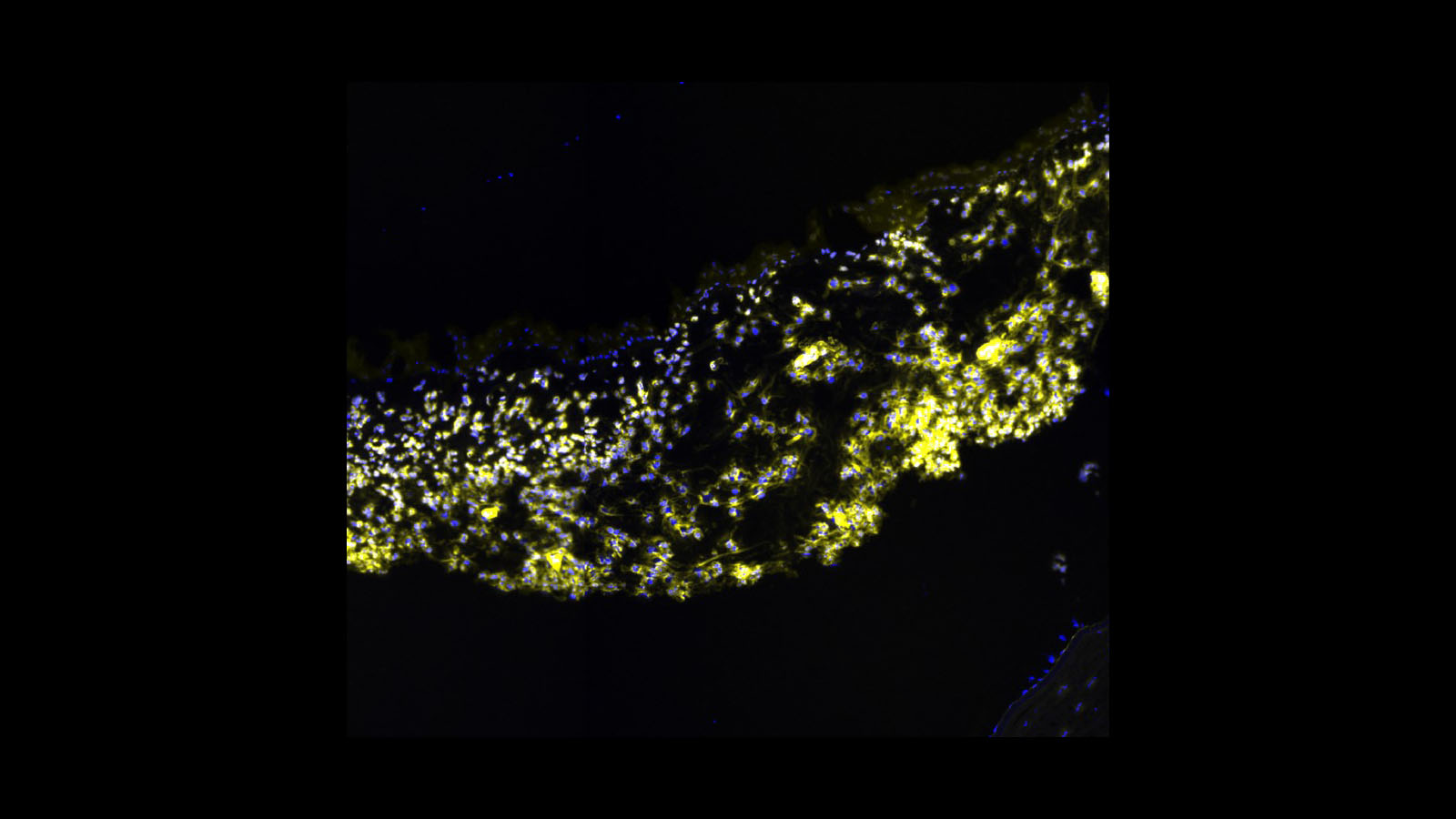 Fluorescent microscopy image of the human iris, courtesy of Dr. Angela Kruse from Vanderbilt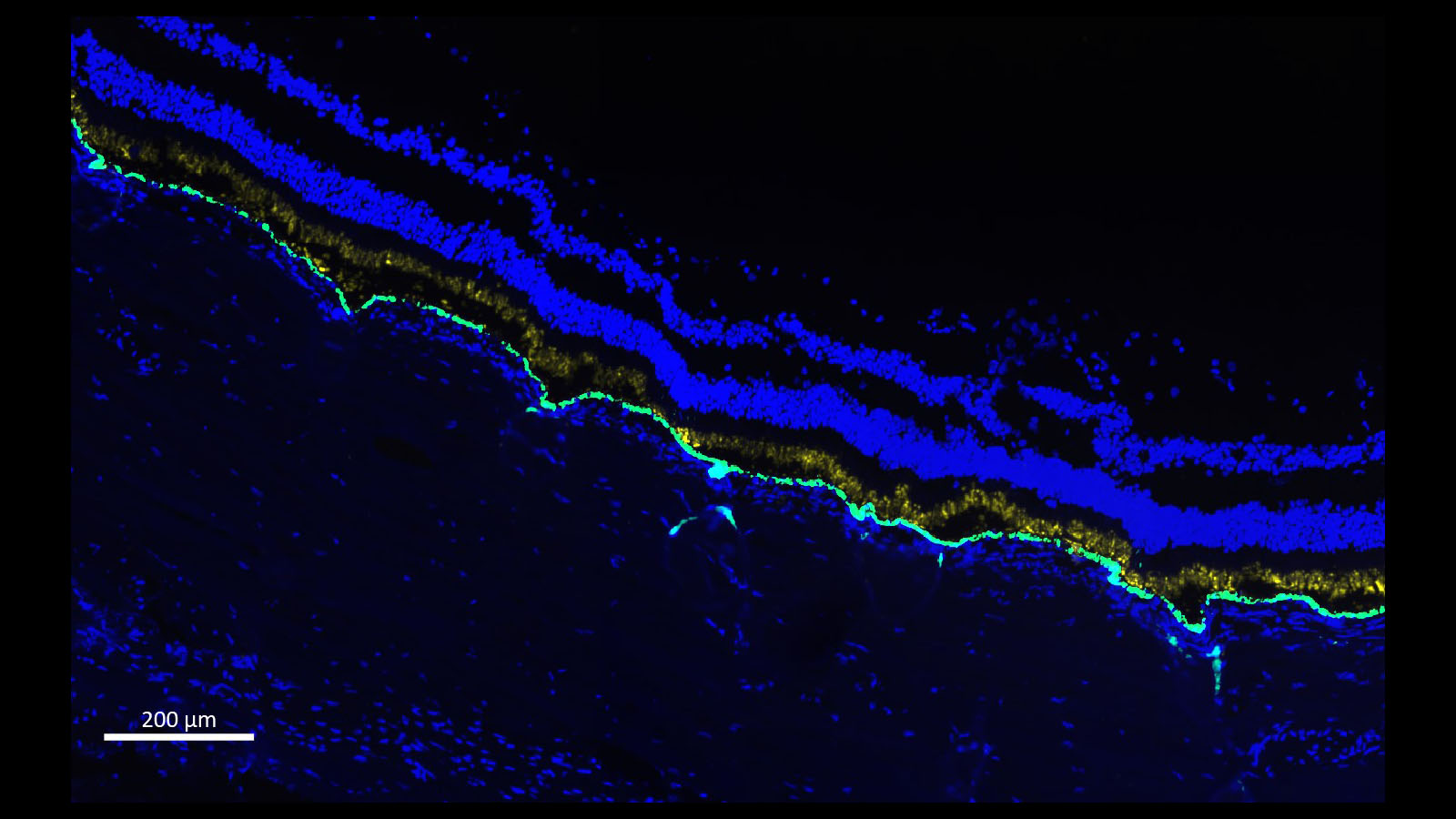 Fluorescent microscopy image of human retina, courtesy of Dr. Angela Kruse of Vanderbilt University