The Human BioMolecular Atlas Program
Program Snapshot
In organisms consisting of multiple cell types, diverse cells with different functions and structures develop as we grow and age. The organization and variability of these cells have a profound impact on the function of different tissues, process of aging, and emergence of diseases and conditions. Recently developed technologies are allowing researchers to explore cells on the individual (single cell) level and provide an opportunity to establish a census of cells in human tissues and to study functional interactions among single cells. The Human BioMolecular Atlas Program (HuBMAP) aims to facilitate research on single cells within tissues by supporting data generation and technology development to explore the relationship between cellular organization and function, as well as variability in normal tissue organization at the level of individual cells.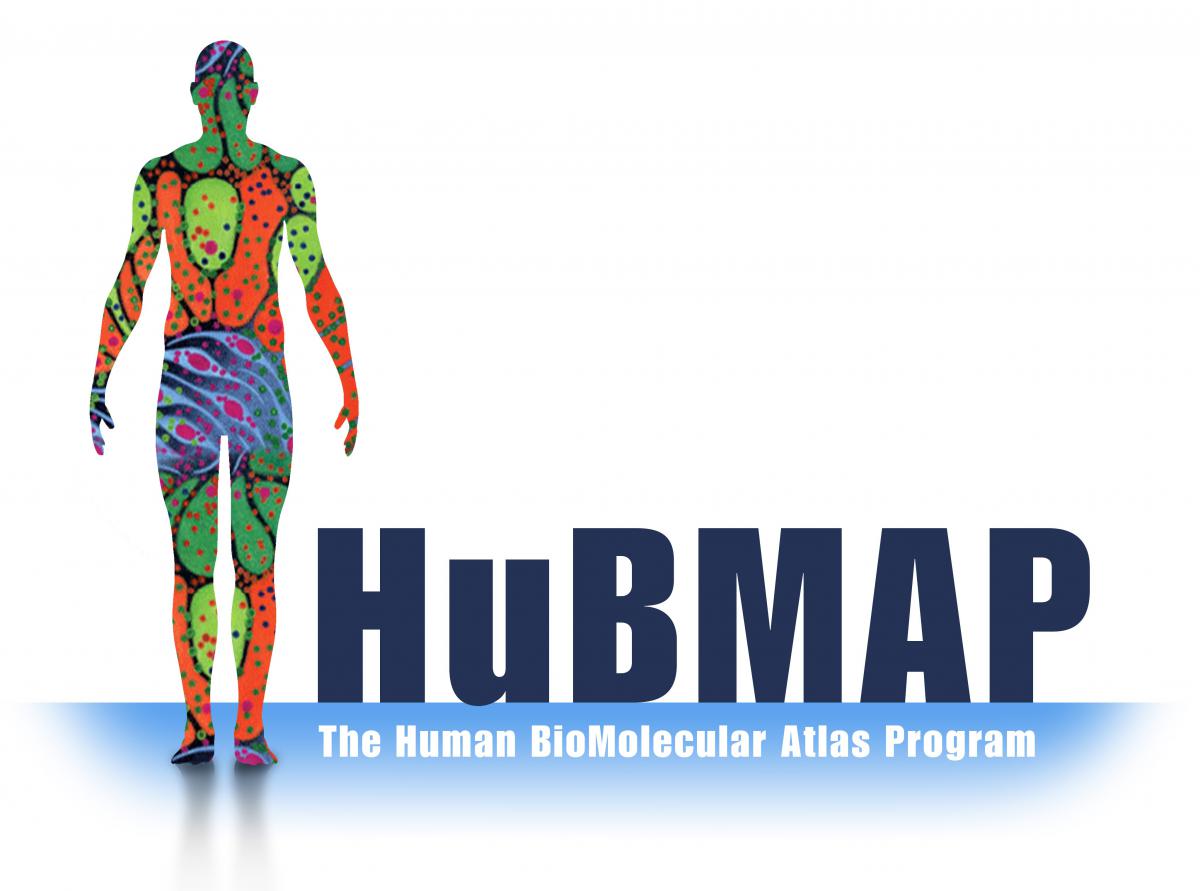 The overall goal of the NIH Common Fund Human Biomolecular Atlas Program (HuBMAP) Program is to catalyze development of a framework for functional mapping the human body with cellular resolution to enhance our understanding of organization-function by: (1) accelerating development of the next generation of tools and techniques for constructing high-resolution spatial tissue maps that quantify multiple types of biomolecules, (2) generating foundational 3D tissue maps using validated high-content, high-throughput imaging and omics assays, (3) establishing an open data platform that will develop novel approaches to integrating, visualizing and modeling imaging and omics data to build multi-dimensional maps, and making data rapidly findable, accessible, interoperable, and reusable by the global research community, (4) coordinating and collaborating with other funding agencies, programs, and the biomedical research community to build the architecture and tools for mapping the human body with cellular resolution, and (5) supporting projects that demonstrate the value of the resources developed by the program to study individual variation and tissue changes across the lifespan and the health-disease continuum.
HuBMAP will scale-up the scope of tissues, technologies, data management and community engagement over the course of the program. The program will have four stages: a setup phase in Fiscal Year (FY) 2018, a scale-up phase FY19-21, a production phase FY22-24 and a transition phase in FY25. All activities are pending the availability of funds. The four research initiatives that compose the program are:
Technology Development:

Transformative Technology Development - This set of initiatives, the first of which will be issued FY18, seeks to establish proof of principle and validation of the next generation of tools, techniques and methods that will be foundational for mapping the human body with micron resolution.
Rapid Technology Integration- This set of initiatives, which will start in FY19, will focus on nimble integration of promising imaging and omics technologies into HuBMAP that have the potential to enhance data collection and validation during the program, and expanding throughput, multiplexing or discrimination of different classes of biomolecules.

Tissue Mapping Centers - These Centers, which will be initially funded in FY18, will build, benchmark, standardize, validate and generate extensive data from high-content, high-throughput imaging and omics technologies to produce 3D human tissue maps with high spatial resolution. Centers will be expected to integrate and optimize all parts of the data generation pipeline, from tissue collection and preservation through to data integration, analysis and interpretation.
HuBMAP Integration, Visualization, and Engagement (HIVE) - This multi-component collaboratory, which will be funded in FY18, will have responsibility for: 1) managing the data generated by the Consortium, 2) coordinating internal and external Consortium activities, 3) developing novel tools for visualizing, searching and modelling data and 4) building an atlas of tissue maps.
Demonstration Projects - The goal of this initiative, which will start half way through the program, is to demonstrate how HuBMAP resources, in combination with new or other datasets or biospecimens as needed, can be used to build better statistical and analytic tools and models of cellular organization and communication in tissues.
Download the flyer here.
program-snapshot
This page last reviewed on September 26, 2018
Connect with the NIH Common Fund