Program Snapshot
The goal of the NIH Common Fund's Nutrition for Precision Health, powered by the All of Us Research Program, is to develop algorithms that predict individual responses to food and dietary patterns. Nutrition plays an integral role in human development and in the prevention and treatment of disease. However, there's no such thing as a perfect, one-size-fits-all diet. The NPH program will build on recent advances in biomedical science including artificial intelligence (AI), microbiome research, as well as the infrastructure and large, diverse participant group of the All of Us Research Program. These advances provide unprecedented opportunities to generate new data to provide insight into personalized nutrition also referred to as precision nutrition.
In addition, the first ever Strategic Plan for NIH Nutrition Research emphasized opportunities to improve our understanding of how individual human biology and molecular pathways influence relationships among diet and environmental, social, and behavioral factors to influence health. Designed to implement aspects of the Strategic Plan, the Nutrition for Precision Health program will conduct a study nested in the All of Us Research Program to explore how individuals respond to different diets. The NPH study is the first ancillary study to leverage the All of Us infrastructure to answer scientific questions important to participants like understanding more about the role of nutrition in health.  High-quality nutrition studies such as the NPH study will help individuals and their health care providers create healthy, precise, and effective diet plans. 
The objectives of the study are:
To examine individual differences observed in response to different diets by studying the interactions between diet, genes, proteins, microbiome, metabolism and other individual contextual factors
To use artificial intelligence (AI) to develop algorithms to predict individual responses to foods and dietary patterns
To validate algorithms for clinical application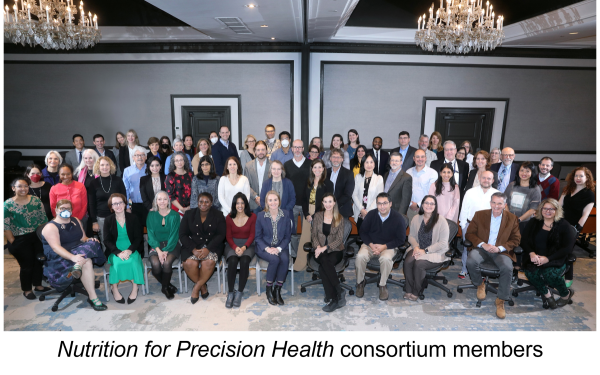 The Nutrition for Precision Health program includes several integrated components: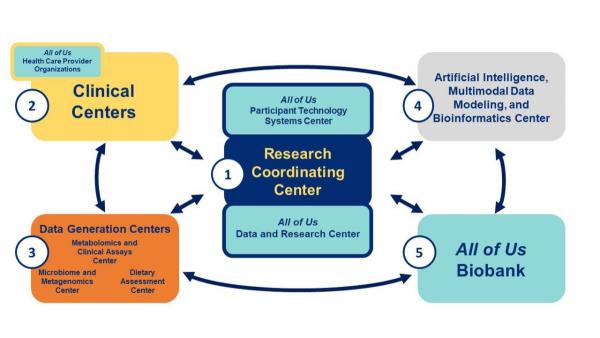 Nutrition for Precision Health, powered by the All of Us Research Program is a service mark of the U.S. Department of Health and Human Services (HHS).
NPH Center and Site Locations
Click the image below to view the interactive location map, detailing the NPH Centers and Sites.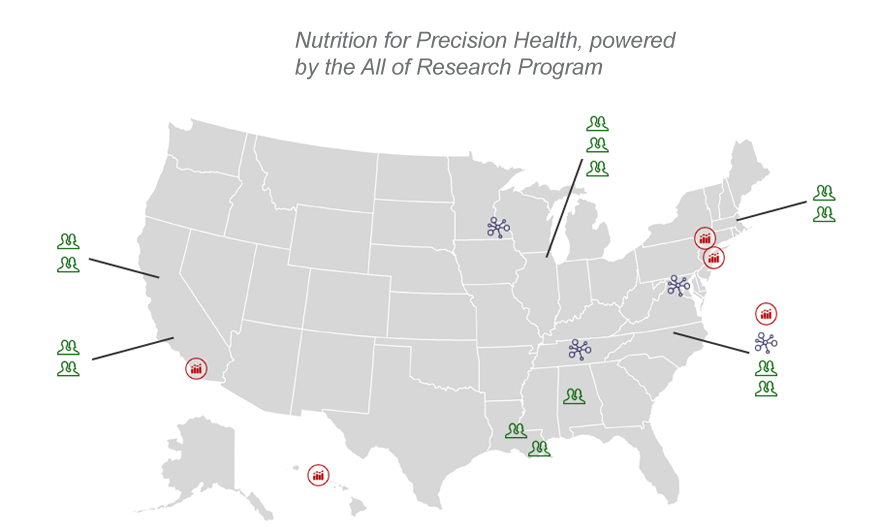 Stay Connected Sign Up for the NPH listserv
Join our listserv to receive updated and announcement about the program.
Enrollment is Now Open for NPH
Participate in a study to help researchers predict how our bodies respond differently to food. More information can be found here.
Request for Applications NEW!
The AIMINGS AI for Precision Nutrition Pilot Program, part of the NPH Consortium, released a new funding opportunity. As the AI Center for the NPH consortium, AIMINGS (Artificial Intelligence, Modeling, and Informatics for Nutrition Guidance and Systems) is developing AI, machine learning (ML), Big Data methods, and other data science approaches to better understand and improve precision nutrition.
This call for proposals seeks research projects that develop and utilize AI and other computer-aided approaches to facilitate precision nutrition.
This is a great opportunity for investigators to receive funding for a project that can eventually enhance into a larger project or an R01 application. Awardees will be connected with a community of researchers working on AI for precision nutrition, a new and emerging field.
Proposals are welcome from applicants anywhere in the US from diverse backgrounds and at varying career levels. Applicants who are in the early stages of their careers and investigators that are underrepresented in the scientific workforce are strongly encouraged to apply. Applicants cannot be current members of the NPH consortium.
Interested applicants are encouraged to attend the applicant webinar prior to submitting. The webinar will be held on July 20th between 3:30pm and 4:30pm ET. Questions should be emailed to AIMINGSTeam@gmail.com by July 13th as the AIMINGS team will do their best to cover submitted questions during the webinar. Registration is required and can be found here. 
The deadline to apply to the RFA is October 12, 2023.