HuBMAP Highlights
The Human BioMolecular Atlas Program (HuBMAP) Presents Its First Data Release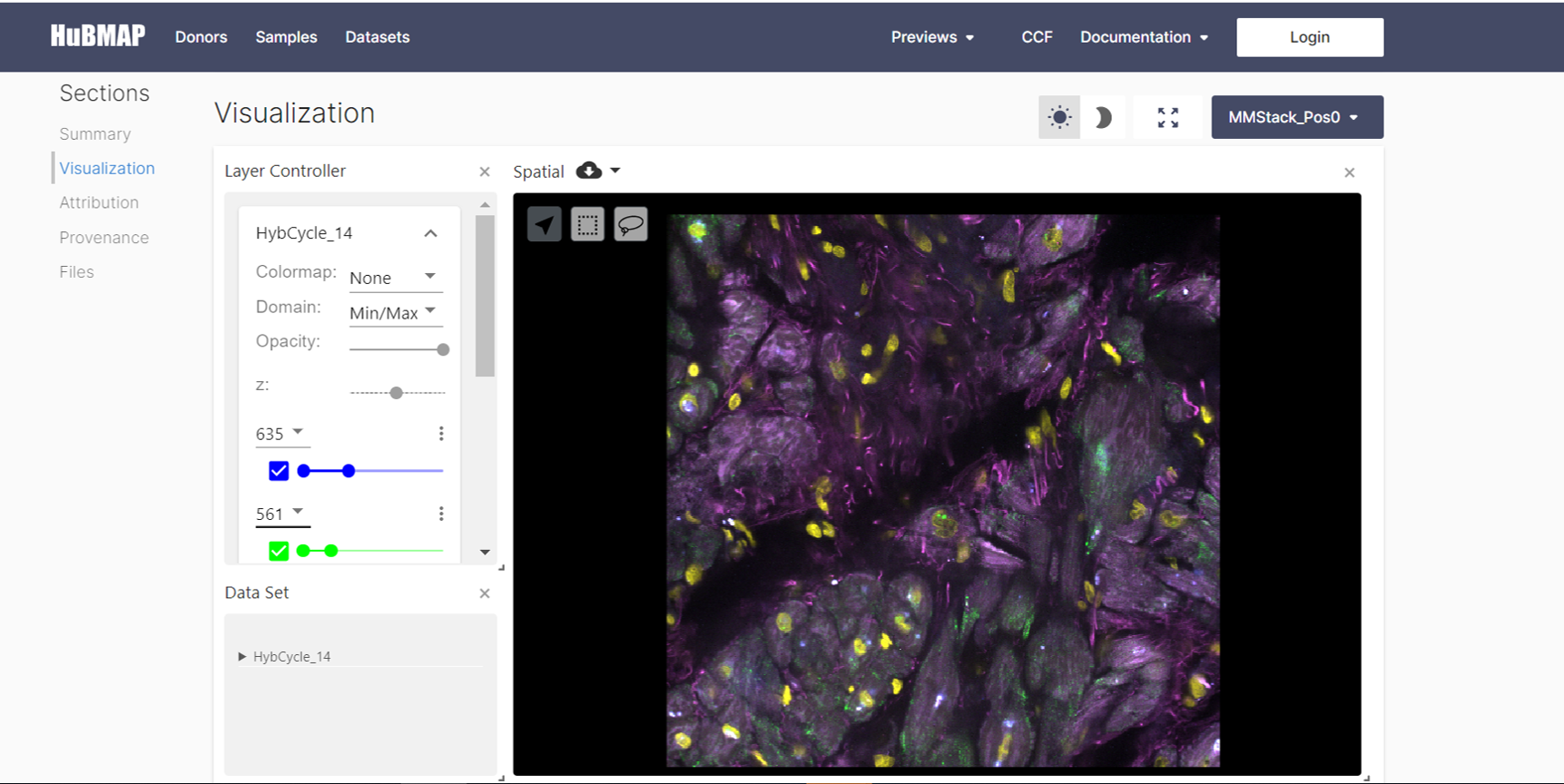 An adult human body is made up of trillions of cells. How those cells interact with each other and arrange into tissues and organs directly impacts our health. A new Common Fund program – The Human BioMolecular Atlas Program (HuBMAP) – is creating cutting edge tools to collect molecular and imaging data, enabling the generation of 3D tissue maps, as well as the construction of an atlas which will display the relationships among cells in the human body. Together, the maps and atlas could lead researchers to a better understanding of how the relationships among our cells influence health.
HuBMAP researchers form 18 different collaborative research teams across the United States and Europe and work closely with other researchers around the world. They recently issued an initial data release, which includes data at the level of individual cells from microscopy, mass spectrometry, and sequencing assays from seven organ types – heart, kidney, large and small intestines, lymph nodes, spleen, thymus. These datasets could be used by researchers in cell and tissue anatomy, pharmaceutical companies developing therapies, or even parents showing their children how amazing the human body is.
The tools and maps generated by HuBMAP researchers are openly available and can be found at https://portal.hubmapconsortium.org/. The current release is just the beginning. HuBMAP aims to continually release new datasets to serve as a foundation for future applications of anatomical data to diagnose, study, and treat disease.
DataPortal
Anchoring in a Sea of Data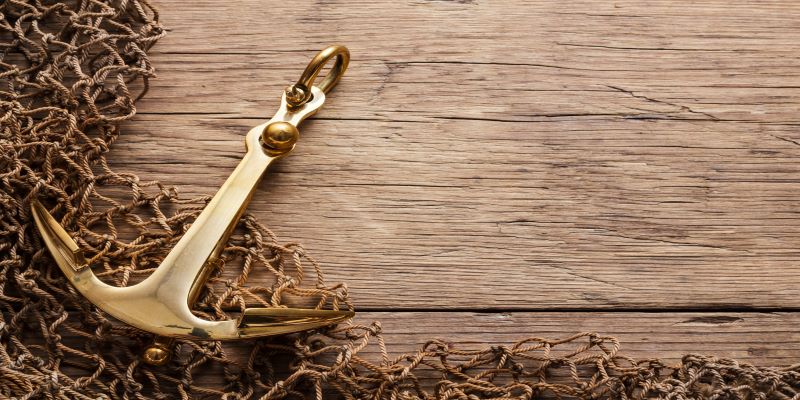 The NIH Common Fund Human BioMolecular Atlas Program (HuBMAP) brings together molecular and cellular biologists, pathologists, and bioinformaticians to create a framework for mapping the human body at cellular resolution.  These scientists not only need to develop the tools necessary to study cells and tissues, but also must be able to integrate those data together into a comprehensive atlas.
Rahul Satija, PhD, and colleagues at the New York Genome Center, developed a process that connects DNA, RNA, chromatin, and protein data from separate experiments.  It takes data from different types of experiments and looks for information that the data were generated from the same kind of cell.  Once a match is identified, the algorithm 'anchors' the data together, generating links between two datasets.  This anchoring allows the researchers to identify known or unexpected types of cells in a tissue.
Using this method on data from mouse brain tissue, as well as human blood cells, researchers were able to 1) separate out four different types of neurons in one area of a mouse's brain and find a region on a specific chromosome that instructs cells to become neurons, 2) find blood cells in different of developmental stages, and 3) identify different immune cells in a population by their cell surface proteins. 
By joining these data together, this new computational method has given researchers a novel tool to help build more complete biological atlases, leading the way to more discoveries about the intricacies of human cells and tissues.
Comprehensive Integration of Single-Cell Data.
Stuart T, Butler A, Hoffman P, Hafemeister C, Papalexi E, Mauck WM 3rd, Hao Y, Stoeckius M, Smibert P, Satija R.  Cell. 2019 Jun 13;177(7):1888-1902.e21. doi: 10.1016/j.cell.2019.05.031. Epub 2019 Jun 6.  PMID: 31178118
---
Do You Know Where Your Proteins Are?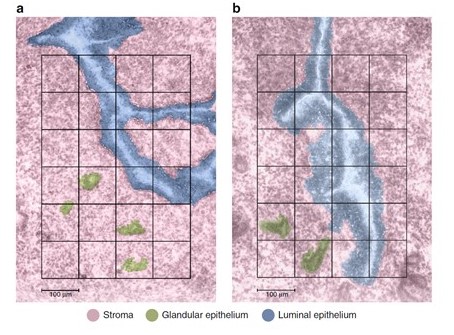 Multicellular organisms are composed of many different cell types, each having a specialized role in the organism's survival. In order to specialize, cells produce certain proteins with specific functions that ensure the health and well-being of the organism. Cell mapping projects, such as the NIH Common Fund Human BioMolecular Atlas Program (HuBMAP), are developing technologies that will allow researchers to map proteins to distinct cell types within tissue samples. By mapping their proteins, researchers will be able to find various cell types in the body and thus will better understand what makes a normal cell "healthy."
HuBMAP researcher Dr. Kristin Burnum-Johnson helped develop Nanodroplet Processing in One Pot for Trace Samples (nanoPOTS), a platform that prepares tissue samples for Matrix-Assisted Laser Desorption/Ionization imaging mass spectrometry (MALDI-IMS) (Kelly, R, et al. 2019). MALDI-IMS is used to see where particular proteins and other biomolecules are located in cells. Following this, she and colleagues at Pacific Northwest National Laboratories (PNNL) developed an automated sample collection platform combining nanoPOTS with a cell isolation technique that harvests certain types of cells. Dr. Burnum-Johnson and her team used this novel platform to map more than 2000 proteins in mouse uterine tissue during the process of preparing for embryo implantation. The researchers used uterine tissue because there are three easily distinguishable cell types in the uterine cavity. These cell types - luminal epithelial cells, stromal cells, and glandular epithelial cells – each have a unique set of proteins involved in embryo implantation and make a good test case for mapping. The combination of the automated sample collection platform with MALDI-IMS imaging allows researchers to quickly collect data about many more proteins within a particular tissue sample than ever before. Once protein data are captured, molecular maps are generated by a data visualization tool developed by PNNL, called Trelliscope (more information at - http://deltarho.org/docs-trelliscope/). The resulting images show where the different cells are in relation to each other.  
This cutting-edge technique will allow researchers to find the locations of proteins in cells, giving a clearer understanding of where the proteins in your cells are, and how they are keeping your cells healthy.
Video from Pacific Northwest National Laboratory about nanoPOTS here
Tutorial for using Trelliscope to analyze and visualize large complex data in R here
Automated mass spectrometry imaging of over 2000 proteins from tissue sections at 100-μm spatial resolution. Piehowski PD, Zhu Y, Bramer LM, Stratton KG, Zhao R, Orton DJ, Moore RJ, Yuan J, Mitchell HD, Gao Y, Webb-Robertson BM, Dey SK, Kelly RT, Burnum-Johnson KE. Nat Commun. 2020 Jan 7;11(1):8. doi: 10.1038/s41467-019-13858-z.
---
Amplifying the Light with Immuno-SABER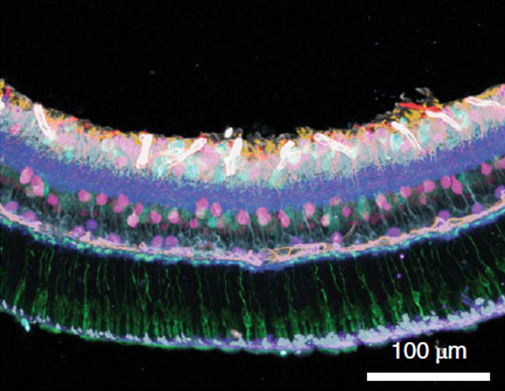 Until recently, scientists had to be satisfied with dissecting a population of cells from a specific tissue containing many different cells to draw conclusions about single cell types. With the advent of single-cell analysis techniques, scientists can now identify and study individual cells without worrying about interference from other cell types. Dr. Peng Yin and colleagues at Harvard University, members of the Human BioMolecular Atlas Program (HuBMAP) Consortium, published details of a new single-cell analysis technique called Immunostaining with Signal Amplification By Exchange Reaction (Immuno-SABER). Immuno-SABER allows researchers to simultaneously visualize many proteins in the same tissue sample by combining recognition of proteins by antibodies with signal amplification using DNA as a tool.
Immuno-SABER addresses one of the key challenges in identifying and amplifying specific biomolecules in a milieu of many others. DNA-barcodes act as 'docking-sites' for different colored fluorescent molecules bearing complementary DNA, and by varying the number and sequence of the barcodes a wider range of different protein targets can be imaged. With different DNA-barcodes attached to antibodies, the signal can be amplified and multiplexed. Yin and collaborators showed they could amplify the signal, as well as image ten protein targets simultaneously within either human tonsils, or mouse retinal cells. 
Immuno-SABER is open-source, economical, and designed to be compatible with standard workflows. Yin and his colleagues predict this novel technique could be useful for tissue atlas projects, biomarker screening, or as a complement to another high throughput technique called single-cell RNA-seq analysis that is commonly used to study individual cells. 
Reference:
Immuno-SABER enables highly multiplexed and amplified protein imaging in tissues. Saka SK, et al.  Nature Biotechnology. 2019 Sep Epub 2019 Aug 19. Vol 37(9):1080-1090. doi: 10.1038/s41587-019-0207-y. 
ImmunoSABER
This page last reviewed on September 1, 2020
Connect with the NIH Common Fund