SPARC Components
SPARC2 (SP2)
Next Generation Tools and Technologies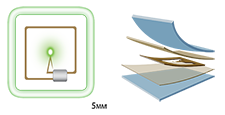 SPARC2 supports the development of tools and technologies to facilitate the progress of other SPARC components, particularly SPARC1. The scope encompasses a wide range of capabilities, spanning the fields of photonics, systems engineering, virology and genomics, device design and manufacture, surface chemistry, tissue engineering, neural interfacing, biomarker sensing, and more.
It is expected that SPARC2 teams will make promising next-generation mapping technologies freely available and that other SPARC teams will adopt these technologies into their research plans. Moreover, documentation, data, and training pertaining to these technologies will be available through the efforts of SPARC4. Ultimately, the knowledge produced by the SPARC program – the comprehensive maps and new insights into translation from animal models to human patients – is expected to inform the next generation of neuromodulation therapies.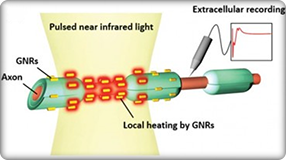 View currently and previously funded research
Hide currently and previously funded research
Currently and previously funded research:
Specific objectives for Technologies to Understand the Control of Organ Function by the Peripheral Nervous System projects differ based on the respective funding opportunities listed below. These technology projects, examples also listed below, are available for partnering and collaborating activities within and outside the SPARC consortium.
(RFA-RM-15-002) Twelve projects funded through 2-year, U18 Research Demonstration Cooperative Agreements
DEVELOPMENT OF A NOVEL MULTI-MODAL SPINAL ROOT INTERFACE: The goal of this project is to develop and perform initial validation testing on a novel spinal root neural interface that is expected to yield a full concert of neural control signals from the sympathetic, parasympathetic, and somatic motor and sensory pathways that innervate the bladder and lower urinary tract.
(RFA-RM-16-003) Six projects funded through 2-year, OT2 awards
HIGHLY-COMPLIANT MICRONEEDLE ARRAYS FOR PERIPHERAL NERVE MAPPING: This project aims to develop a novel nerve interface combining stretchable substrates with high-density needles to improve studies of organ function and demonstrate the tool in the bladder.
(RFA-RM-17-010) Four projects funded through 3-year, OT2 awards
INFRARED NEUROMODULATION REVEALS A NEW UNDERSTANDING OF GANGLION ORGANIZATION: (Fig below) Selective block of an individual slower-conducting axon in Aplysia californica. This project will first create new devices to efficiently and precisely deliver infrared (IR) light to nerves and ganglia in animals. Second, the safety, selectivity, and repeatability of infrared neuromodulation (IRN) will be assessed. Third, an understanding of how IRN works will be developed by conducting mechanistic studies that include creating sophisticated models of IRN's effect on electrophysiology and experiments to test formulated hypotheses. Fourth, because IRN has unmasked a spatial organization to ganglionic function, this organization will be mapped in detail and will provide an unprecedented understanding of ganglionic function.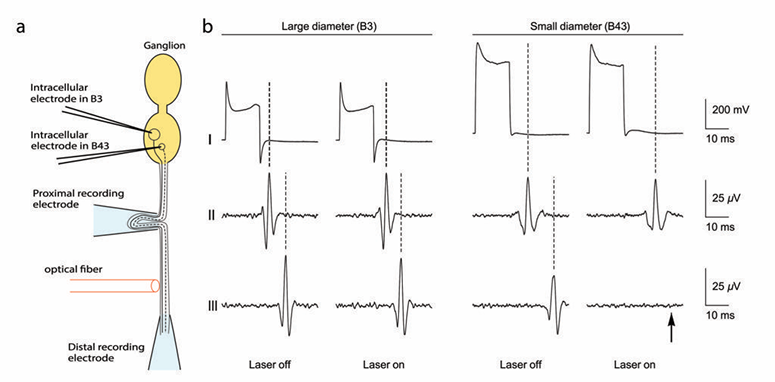 View publications
Hide publications
Publications:
Chronic interfacing with the autonomic nervous system using carbon nanotube (CNT) yarn electrodes: McCallum, et. al. used carbon nanotube (CNT) yarn electrodes to chronically record neural activity from the glossopharyngeal and vagus nerves while maintaining a high signal-to-noise ratio (>10 dB). Furthermore, hypoxic and gastric extension events were detected based on the processed neural activity obtained. These results establish a novel, chronic platform neural interfacing technique with the potential to regulate internal organ function and monitor patient health.
Electrical stimulation of gut motility guided by an in silico model: (Fig 2) Barth, et. al. developed an integrated neuromechanical model of the enteric nervous system (ENS) that included a network of enteric neurons, smooth muscle fibers, and interstitial cells of Cajal (ICC). The team increased intrinsic peristalsis, reduced colon transit time, and modulated ICC pacemaker frequency by applying 0.5 Hz sinusoidal currents to stimulate ENS-mediated motility. This work demonstrates an in silico gastrointestinal (GI) neuromuscular model to enable GI neuromodulation parameter optimization and suggests that low frequency sinusoidal currents may improve the efficacy of GI pacing.
sp2
This page last reviewed on January 15, 2020
Connect with the NIH Common Fund