Birthing Biomarkers: Researchers Discover Metabolites associated with Pregnancy Complications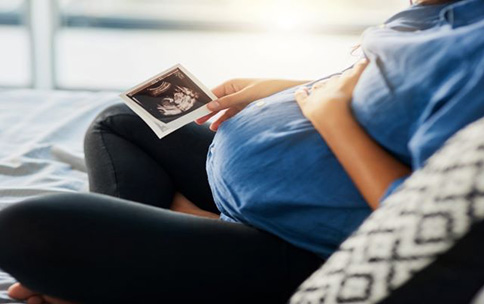 Pregnancy complications, defined as health problems the at arise during pregnancy, can have detrimental effects on both infants and pregnant women. Hypertensive disorders of pregnancy, for example, occur when a pregnant woman has high blood pressure. This type of complication affects about 10% of US pregnancies and can lead to poor birth outcomes, including infants being born small for their gestational age. Preterm birth, another type of pregnancy complication, occurs when a baby is born before 37 weeks of pregnancy. Babies born preterm are at increased risk of health challenges such as vision problems or developmental delay.
Identifying biomarkers associated with pregnancy complications could help diagnose or treat these conditions and, ideally, lead to fewer health problems for pregnant women and infants. Though there are some biomarkers associated with hypertensive disorders of pregnancy and preterm birth, researchers are still searching for biomarkers that can help clinicians diagnose or manage these complications.
Metabolites, which are molecules produced as a result of the chemical reactions that occur in our cells, can serve as disease biomarkers. A goal of the Common Fund's Metabolomics program is to facilitate new ways to diagnose or treat diseases by improving the identification and analysis of metabolites. In research supported by the Metabolomics program, Dr. Susan Sumner and colleagues identified hundreds of metabolites associated with either hypertensive disorders of pregnancy or preterm birth. By analyzing first trimester serum samples from 213 women, the researchers found that several of the metabolites they identified significantly improved the ability of computational models to predict the risk of pregnancy complications. Though more research is needed to determine whether these metabolites will help in the management of pregnancy complications, this work paves the way for the identification of biomarkers that could improve the care of women at risk for hypertensive disorders of pregnancy or preterm birth.
Reference