Overview
Highlights
Breakthrough Technique Expands the Capabilities of Microscopes
Pioneer and Transformative Research Awardee Dr. Edward Boyden has developed a novel microscopy technique to allow very high resolution imaging using conventional microscopes. Read more here.
---
Transformative Research Awardee Uses New Technology to Discover New Antibiotics
Using a newly developed technology, a research team led by Dr. Kim Lewis of Northeastern University in Boston has discovered 25 new antibiotics, with one in particular very promising for potential future use to treat an array of difficult to treat human infections including MRSA (Methicillin-resistant Staphylococcus aureus), which in 2013 alone caused 480,000 infections. Read more.
---
2014 High Risk-High Reward Research Symposium
The High Risk-High Reward Research Symposium took place in December 2014. To view the archived Symposium, please use the links below:
View the speaker and poster abstracts
---
2014 High Risk-High Reward Research Awards Announced!  
The NIH has announced 85 awards to support exceptional innovation in biomedical research. In 2014, the NIH is awarding 10 Pioneer Awards, 50 New Innovator Awards, 8 Transformative Research Awards, and 17 Early Independence Awards. The total funding, which represents contributions from the NIH Common Fund and multiple NIH institutes and centers, is approximately $141 million. Read the press release here.​
---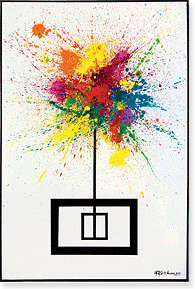 Program Description
The Common Fund's NIH Director's Transformative Research Award initiative, formerly known as the Transformative Research Project (TR01), is created specifically to support exceptionally innovative and/or unconventional research projects that have the potential to create or overturn fundamental paradigms. These projects tend to be inherently risky and may not fare well in conventional NIH review. As compared to the other NIH Director's Awards - the Pioneer, New Innovator Award, and Early Independence Awards - the primary emphasis of the Transformative Research Awards initiative is to support research on bold, paradigm-shifting, but untested ideas, rather than to support exceptionally creative individuals who wish to pursue new, potentially high impact research directions.
To facilitate submission and identification of bold, high impact ideas that are compelling despite the risks involved, the Transformative Research Awards initiative is also piloting novel approaches to application instructions and review. Applicants are instructed to focus their research strategies on significance and innovation without expectations of providing preliminary data. The review uses a multi-phase, Editorial Board style process with explicit emphasis maintained on significance and innovation.
The NIH encourages Transformative Research Award applications from investigators in all disciplines relevant to the NIH mission, including the biological, behavioral, clinical, social, physical, chemical, computational, engineering, and mathematical sciences. Applications from individual investigators or teams of investigators are welcome. Large budget requests, up to the entire funds set aside for the initiative, will be considered.
INQUIRIES
For more information about the Transformative Research see the 2015 Frequently Asked Questions, or e-mail your questions to Transformative_Awards@mail.nih.gov.