Don't Sweat It: Harnessing the Power of Brown Fat to Burn Calories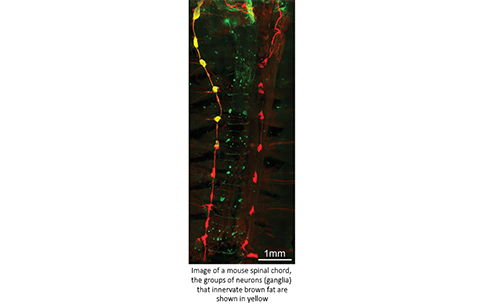 SPARC1 projects are mapping the innervation of organs and tissues, identifying new targets for future neuromodulation therapies
What if you could burn extra calories without breaking a sweat? It may sound counterintuitive, but a specific type of fat – called brown fat – has the potential to do just that. Brown fat is abundant in infants, where it helps regulate body temperature by converting energy stored in fat and sugar into heat. For decades scientists thought that brown fat didn't have an active role later in life, but that view has changed in recent years with the discovery of brown fat deposits in adults that are activated by drops in temperature. When faced with cold temperatures, the nervous system sends electrical signals that tell brown fat cells to burn more calories, which helps raise the body's core temperature to a more comfortable level. If scientists could figure out a way to regulate the intricate network of nerves that send these signals in order to harness brown fat's calorie-burning potential this knowledge could be applied in a variety of ways – from treatments for health conditions related to energy regulation, such as diabetes, to enhancing the healthy effects of exercise.
To do this, we would need to know more about the locations of the nerves by finding a way to see through brown fat to map the neurons that innervate it. A team at SPARC awardee institution Louisiana State University, led by Dr. Heike Münzberg, used a combination of mouse genetics and fluorescent tracers to light up the neurons. They then made them visible using a recently developed chemical process for "clearing" the intact tissue containing the nerves. This process enables high-resolution imaging and 3D reconstruction of the specific neurons that innervate brown fat, without disturbing their location in the tissue. Improved understanding of brown fat innervation patterns could lead to neuromodulation strategies to precisely control the metabolic activity of brown fat by regulating the nerves' electrical signals. These new tissue-clearing and circuit-tracing methods are being used to visualize and map innervation of other organs and tissues, bringing us closer to identifying precise targets for neuromodulation therapies that could be used to treat a variety of diseases and conditions.
Reference
Sympathetic innervation of the interscapular brown adipose tissue in mouse. François M, Torres H, Huesing C, Zhang R1, Saurage C, Lee N, Qualls-Creekmore E, Yu S, Morrison CD, Burk D, Berthoud HR, Münzberg H. Ann N Y Acad Sci. 2019 Jun 11.