CryoEM Enables a Clearer Picture of Neuropeptide Signaling and Neuropsychiatric Disorders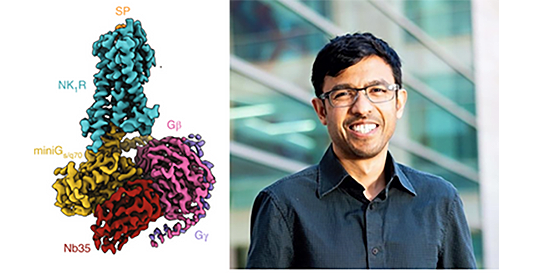 Neuropeptides are important molecules in the body that act as signals and enable nerve cells, or neurons, in the brain and nervous system to communicate with each other. Substance P was one of the first neuropeptides to be identified and is known to play an important role in things like pain, mood, respiration, and nausea. To deliver its message to a neuron, Substance P interacts with a specialized protein located on the neuron's surface, called neurokinin 1 receptor (NK1R). How Substance P interacts with NK1R remains poorly understood, making it difficult to design drugs that target NK1R and treat challenging neuropsychiatric issues such as pain, inflammation, and mood disorders.
One way to study interactions between molecules and proteins like Substance P and NK1R is by collecting detailed images of their architecture. Cryoelectron microscopy (cryoEM) is a method used to image biological molecules that have been frozen, without the use of structure-altering dyes or fixatives necessary in other methods. Due to recent advances in cryoEM, researchers are obtaining detailed images of molecules that could not be obtained using previous methods such as X-ray crystallography. The NIH Common Fund's Transformative High-Resolution Cryoelectron Microscopy (CryoEM) program is broadening access to cryoEM for biomedical researchers by creating national service centers and cultivating a skilled workforce through cryoEM training materials.
The Stanford-SLAC Cryo-EM Center (S2C2), one of three Common Fund-supported National Centers for Cryoelectron Microscopy, was accessed by a team of researchers led by Dr. Aashish Manglik to study how Substance P interacts with NK1R. The state-of-the-art cryoEM equipment and technical support made available by S2C2 allowed Dr. Manglik's team to collect images of Substance P delivering its message inside the cell through interactions with NK1R. From these images, the researchers found that interaction with Substance P causes NK1R to shift into an unexpected arrangement. They also gained insight on how different molecular parts of Substance P come into contact with NK1R to influence this arrangement and the signal ultimately delivered to the inside of the cell. This knowledge, enabled by the CryoEM program, may one day lead to the design of better therapies for neurological and psychiatric diseases.
Reference
The specific research projects listed here were not financially supported by the Common Fund's CryoEM program but did use resources funded by the CryoEM program.
Harris JA, Faust B, Gondin AB, Dämgen MA, Suomivuori CM, Veldhuis NA, Cheng Y, Dror RO, Thal DM, Manglik A. Selective G protein signaling driven by substance P-neurokinin receptor dynamics. Nat Chem Biol. 2022 Jan;18(1):109-115. doi: 10.1038/s41589-021-00890-8. Epub 2021 Oct 28. PMID: 34711980