Frequently Asked Questions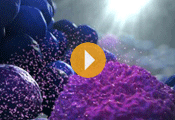 Learn more about Unlocking the Mysteries of Extracellular RNA Communication here
FAQs specific for RFA-13-014: Defining a Comprehensive Reference Profile of Circulating Human Extracellular RNA (U01)
1. What is meant by "extracellular RNA"?
Most RNA works inside cells to translate genes into proteins that are necessary for living organisms to function. Other types of RNA control which proteins and the amount of those proteins the cells make. Until recently, scientists believed RNA worked mostly inside the cell that produced it. Now, recent findings show cells can release RNA in the form of extracellular RNA (exRNA), to travel through body fluids and affect other cells. ExRNA can act as a signaling molecule, communicating with other cells and carrying information from cell to cell throughout the body. The cells that produce exRNAs can be endogenous (part of the body) or from exogenous sources, including microbes living in our bodies or from food products, such as plants that we eat. ExRNAs include microRNA, mRNA, and long non-coding RNA which are secreted and found in all body fluids examined, including blood, saliva, urine, breast milk, cerebral spinal fluid (CSF), amniotic fluid, ascites, and pleural effusions. When in circulation, exRNAs may be encapsulated in extracellular vesicles (EVs) or associated with lipids or proteins.
2. Why do scientists want to study exRNAs?
Very little is currently known about exRNAs and the roles they play in human health and disease. Do cells send "messages" to distant cells using exRNA? Do diseased cells release specific exRNAs that could cause healthy cells to become diseased? Do exRNAs from the foods that we eat or the microbes on our bodies affect our own cells? Could some exRNAs make us more susceptible to disease, or conversely, could some exRNAs protect us from disease? There is a tremendous opportunity to learn more about this entirely new paradigm of intercellular and inter-species information exchange to catalyze research in this nascent field. Researchers hope to use some kinds of exRNA as biomarkers, or indicators of the presence, absence, or stage of a disease. These biomarkers may enable scientists to understand and diagnose diseases earlier and more effectively. Scientists may also be able to harness the power of exRNAs to develop novel molecular treatments for diseases.
3. What diseases have been linked to changes in exRNAs?
Although the study of exRNA is still in the very early stages, current research is exploring the association between various diseases and changes in exRNAs. These diseases include several types of cancer, neurological disorders, heart disease, kidney disease, and more. It is currently unknown what impact disease-specific exRNAs may have on other cells in the body. Additionally, exRNAs derived from exogenous sources, such as microbes or food, may affect health and disease risk. More research is needed before scientists will be able to understand the relationship between exRNAs and disease.
4. What is the goal of the NIH Common Fund program on Extracellular RNA Communication?
The Common Fund Extracellular RNA Communication (ERC) Program (http://commonfund.nih.gov/exrna/) has been developed to address critical issues in exRNA research.  Both fundamental scientific discovery and innovative tools and technologies will be required to advance the field.  The ERC program consists of five integrated initiatives:
ExRNA biogenesis, distribution, uptake, and function (RFA-RM-12-012): To discover basic fundamental principles about how cells make and release exRNA (biogenesis), how and where exRNA travels through body fluids to other cells (distribution), how cells take in exRNA that is traveling through body fluids (uptake), and how exRNA changes the function of cells (function). This initiative is also supporting the development of molecular tools, technologies, and imaging modalities to enable these studies
Reference profiles of human exRNAs (Funding Opportunity Announcement anticipated late summer/early fall 2013): To generate a reference catalog of exRNAs present in the body fluids of normal healthy individuals that would facilitate disease diagnosis and therapeutic outcomes
Clinical utility of exRNAs for biomarker development (RFA-RM-12-013): To develop reliable, well-defined and clinically relevant biomarkers derived from extracellular RNA that measure tangible benefits for patients in terms of how they feel, function, and survive in clinical trials
Clinical utility of exRNAs for therapy development (RFA-RM-12-014): To develop and demonstrate the potential for clinical utility of exRNAs as therapeutic agents, and to develop tools and technologies to enable engineered RNAs to be packaged into extracellular vesicles or associated with RNA-binding proteins for use as extracellular delivery vehicles
Data management and resource repository for exRNA (RFA-RM-12-010): To integrate the efforts of all of the funded components of the ERC program and serve as a community-wide resource for ExRNA standards, protocols, and data.
5. What research is being supported by the Extracellular RNA Communication program?
Awards for four initiatives are expected to be announced in August, 2013. Once announced, information on all awards can be found on the Extracellular RNA Communication program website (http://commonfund.nih.gov/exrna/), under the "Research Funding" menu at the top of the page.
6. If I'm not part of the ERC Program Consortium, can I still access the data?
Yes, you can!  One of the goals of the ERC Program is to generate a community wide exRNA Atlas and database of tools and technologies. Once developed, the exRNA Atlas can be accessed through the Extracellular RNA Communication website (http://commonfund.nih.gov/exrna/). The exRNA Atlas will be accessible to the broader scientific community with tools to facilitate data mining by both novice and experienced researchers. Data generated from this program also will be deposited into NCBI's dbGaP (http://www.ncbi.nlm.nih.gov/gap).
FAQs specific for RFA-13-014: Defining a Comprehensive Reference Profile of Circulating Human Extracellular RNA (U01)
1. In preparing applications responsive to this FOA, what key elements should we consider?
The purpose of this FOA is to support projects that will generate reference profiles of both short and long non-coding regulatory extracellular RNAs (exRNA), including any environmentally-derived exRNA (e.g. from diet, microbiome), from a diversity of healthy human body fluids including blood, saliva, urine, breast milk, semen, amniotic fluid, cerebrospinal fluid, ascites and pleural effusions. 
These body fluids should be derived from healthy human subjects to serve as reference data for future analyses of the role of exRNAs in normal biological processes and in disease conditions. The profiles should include exRNAs in vesicles and exRNAs bound to carrier proteins such as lipoproteins and Argonaute and also include environmentally derived exRNA species such as from the diet. 
Studies using existing human biospecimen collections are strongly encouraged. This FOA is only for studies related to human samples; animal or other non-human disease model studies are not responsive to this FOA.
2. What kind of expertise is desirable for this FOA?
Applicants are encouraged to assemble a multidisciplinary team including experts in exRNA biology, high-throughput sequencing, biostatistics and bioinformatics. The team should also include investigators familiar with all aspects of the parent studies from which samples are to be derived. A collaborative effort rather than a fee for service type arrangement would be deemed responsive. 
A multidisciplinary and collaborative team of investigators is strongly encouraged that have demonstrable experience and expertise in RNA sequencing methodologies, and in the annotation of RNA sequence data. Applicants should have experience and current capability regarding production level RNA-seq or related relevant assays.
3. What role does the NIH have in this cooperative agreement? 


The role of NIH staff in this cooperative agreement is spelled out in Section VI of the FOA and will be defined further in the terms and conditions of award. In brief, the NIH ERC Program working group members will have substantial scientific and programmatic involvement during the project period of this award through technical assistance, advice and coordination. However, the role of NIH ERC Program working group members will be to facilitate and not to direct the activities.
4. Do I have to submit a letter of intent? What should be in it? How should I send it?
No. Although a letter of intent is not required, is not binding, and does not enter into the review of a subsequent application, the information that it contains allows NIH CSR to estimate the potential review workload and plan the review. Letters of intent can be e-mailed, faxed, or sent as hard copy (e-mail is preferred). There is no need to send hard copy of a letter that has already been sent via e-mail or fax. All letters of intent should be sent to the contact indicated on the FOA.
Prospective applicants are asked to submit a letter of intent by October 22, 2013 that includes the following information:
Descriptive title of proposed research
Name, address, and telephone number of the Principal Investigator
Names of other key personnel
Participating institutions
Number and title of the funding opportunity
5. When is the receipt date for sending in an application?
The application receipt date is November 22, 2013. This is the receipt date and not a postmarked date. The application must be received by the Division of Receive & Referral of CSR on or before that date. There is no extension to that deadline. If you have served recently as a reviewer or advisory council member, normally you get an extension to your own submission deadline; however, extensions do not apply for this FOA. The continuous submission policy does not apply to this FOA.
6. How will applications be reviewed?
Upon receipt, applications will be evaluated for completeness by the Center for Scientific Review and responsiveness by components of participating organizations, NIH. Please see Sections IV (Application and Submission Information) and Section V (Application and Review Information) for more details. Reviews are anticipated to occur between January and March 2014. Questions regarding the review process can be directed to Dr. Richard Pannier at pannierr@csr.nih.gov.
7. What sort of milestones will be expected for these proposals?
The use of milestones should provide clear indicators of a project's continued success or emergent difficulties. Milestones are different from specific aims. The milestones must provide objective and quantitative outcomes by which to justify advancing the project. The application must include a strong rationale for the choice of models, parameters, and quantitative go/no-go decisions to be made by NIH staff, based upon accepted practices in the specific field. Please see examples of milestones at the ERC Program URL http://commonfund.nih.gov/exrna/milestones
8. Who will develop the Milestones Funding Plan?
The applicant should provide the proposed milestones when the application is submitted. Subsequent to peer review and prior to award, these milestones will be incorporated into a Milestone Funding Plan. This is a negotiated process between the Program Director, the Principal Investigator and Business Official. Once the Milestones Funding Plan have been developed and approved, the business official should submit a signed copy of the milestones to the NIH Grants Management Office.
9. Does the applicant need to provide a letter of collaboration or support from the exRNA Data Management and Resource Repository (DMRR)?
No, applicants do NOT need to include a letter of collaboration or support from the DMRR in their applications since the DMRR will be required to work with all funded PIs.