The Patient-Reported Outcomes Measurement Information Systems (PROMIS®) program has transitioned from the Common Fund. An original NIH Roadmap program, the goal of this 10-year project was to develop an efficient state-of-the-art assessment system for self-reported health.  This program developed next generation patient-reported outcome (PRO) measures using large item banks and computerized adaptive testing, which allowed for well-organized and effective assessment of PRO in clinical research in a wide variety of chronic diseases.The second phase of PROMIS studies (PROMIS II), funded from 2009-2014, continued the agenda of PROMIS I (2004-2009), in addition to incorporating novel features that included longitudinal analyses and more socio-demographically diverse samples.
The second stage also involved increased emphasis on pediatric populations and evaluation of PROMIS item banks for clinical research and population science. The PROMIS program represented a paradigm shift in how assessments for PRO were created and used in clinical research.
PROMIS® is a publicly available system of highly reliable, precise measures of patient-reported health status for physical, mental, and social well-being. This web-based resource can be used to measure health symptoms and health-related quality of life domains such as pain, fatigue, depression, and physical function, which are relevant to a variety of chronic diseases, including cancer. PROMIS was successful in addressing the lack of standardization in patient-reported outcomes (PROs); although many ways to measures PROs existed, there had been little comparability among them. http://www.nihpromis.org/default. 
PROMIS has had a substantial impact, with approximately 70 domains measuring pain, fatigue, depression, anxiety, sleep disturbance, physical function, social function, and sexual function, among other areas, available for use today. Measures were developed for children and adults, and has been translated into >40 languages (including English and Spanish). The work surrounding PROMIS has resulted in over 400 publications. More than 100 NIH grants have supported investigations using PROMIS instruments. PROMIS is available in a variety of forms, including paper and pencil, web and mobile platforms, as well as via electronic health record (EHR) data capture. Researchers both in the US and internationally are using PROMIS at accelerating rates, with substantial integration beginning in clinical settings.
 PROMIS is currently supported by a trans-NIH cooperative agreement grant (U2C CA186878) led by the National Cancer Institute with funding from 12 other NIH Institutes and Centers. PROMIS tools are accessible through the HealthMeasures website and are available for use in clinical research and care. For more information, please visit http://healthcaredelivery.cancer.gov/pcar/. 
PROMIS was supported by the Common Fund from Fiscal Year 2004 to Fiscal Year 2014. 
Informational Video on PROMIS!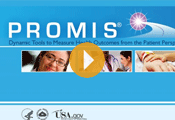 Learn more about dynamic tools to measure health outcomes from the patient perspective. View the feature here