Real-Time Virus Genetic Data Helped Nigeria Respond to a Lassa Fever Outbreak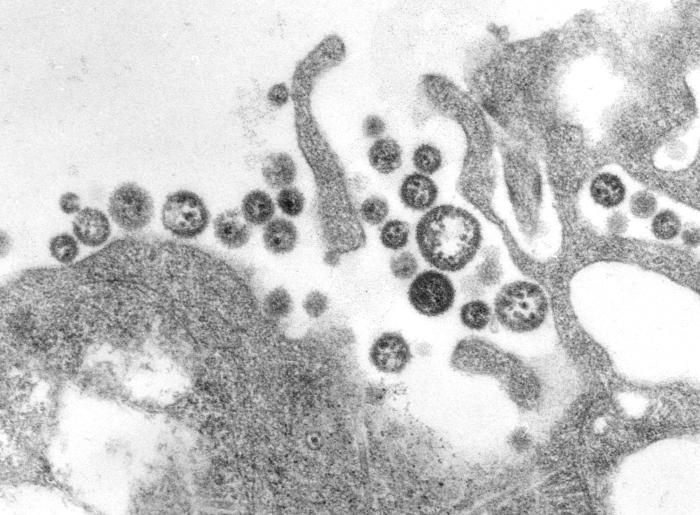 Lassa fever is an infectious disease that can cause life threatening hemorrhaging (bleeding) throughout the body. The fever is caused by Lassa virus, which is normally transmitted to humans through contact with food or household items contaminated with urine or feces from infected rodents. Lassa fever is commonly found in parts of West Africa including Sierra Leone, Liberia, and Nigeria.

Confirmed Lassa fever cases in Nigeria spiked over 2017 to 2018. The Nigeria Centre for Disease and Control (NCDC) had little information to explain the increase in cases, which complicated mounting an effective response. There was concern that a particularly infectious strain of the virus or human-to-human transmission of the disease may have caused the spike in cases. This concern led a team of researchers, including members of the NIH Common Fund-supported Human Heredity and Health in Africa (H3Africa (link is external)) program, to conduct a genetic analysis of viruses in samples collected from Lassa-infected patients. Their results showed that the increase in cases was not due to a single virus strain or to human-to-human transmission. Instead, the virus genetic make-up from the 2018 season was consistent with a diverse range of virus strains previously observed in the rodent population in Nigeria. This means that people were still getting Lassa virus by contact with rodent droppings. Additionally, genetic differences in the virus differed by geographic region, and indicated that natural barriers to rodent movement, like rivers, helped prevent spread of the disease. The researchers reported their findings to the NCDC and other public health officials in real time to help respond to the high number of Lassa fever cases in Nigeria. 
Furthermore, this study is a great example of how modern research approaches can impact genomic research and public health in Africa. The findings from this study have the potential to improve the health of African populations. 
Reference:
Genomic Analysis of Lassa Virus during an Increase in Cases in Nigeria in 2018.
Siddle KJ, Eromon P, Barnes KG, Mehta S, Oguzie JU, Odia I, Schaffner SF, Winnicki SM, Shah RR, Qu J, Wohl S, Brehio P, Iruolagbe C, Aiyepada J, Uyigue E, Akhilomen P, Okonofua G, Ye S, Kayode T, Ajogbasile F, Uwanibe J, Gaye A, Momoh M, Chak B, Kotliar D, Carter A, Gladden-Young A, Freije CA, Omoregie O, Osiemi B, Muoebonam EB, Airende M, Enigbe R, Ebo B, Nosamiefan I, Oluniyi P, Nekoui M, Ogbaini-Emovon E, Garry RF, Andersen KG, Park DJ, Yozwiak NL, Akpede G, Ihekweazu C, Tomori O, Okogbenin S, Folarin OA, Okokhere PO, MacInnis BL, Sabeti PC, Happi CT. N Engl J Med. 2018 Oct 17.
Photo: This transmission electron microscopic (TEM) image depicted numbers of Lassa virus virions adjacent to some cell debris by
C. S. Goldsmith
---
Medical Education Partnership Initiative (MEPI) Program Highlights
Formation of the African Forum Research and Education in Health Organization
The NIH Common Fund's Medical Education Partnership Initiative's (MEPI) goals are to improve healthcare in Africa by strengthening in-country medical education systems; and building clinical and research capacity in Africa. In a recent article, authors described how MEPI's key achievements helped launch the African Forum Research and Education in Health (AFREhealth). This organization aims to improve health professionals' education and research capacity in Africa, which will improve health outcomes and reduce health disparities among African countries. MEPI has inspired the development of AFREhealth by increasing the capacity of better trained doctors, creating an in-country shared research resources and experiences, and promoting retention of medical students and faculty at African institutions. Also, MEPI established research support centers that facilitated training in grant writing, scientific writing, and research administration; which help to build a sustainable research environment. These initiatives give organizations such as AFREhealth an opportunity to leverage MEPI's efforts by expanding research collaborations and joint learning in African countries. AFREhealth will contribute to increasing the numbers and quality of health care professionals as they work to address Africa's key health priorities including Tuberculosis, HIV, and Malaria. 

Reference:
Medical Education Partnership Initiative gives birth to AFREhealth (link is external). The Lancet Global Health. Volume 5, No. 10, e965–e966, October 2017. 
---
Household Air Pollution Investigation Network (HAPIN) Program Highlights
The Implementation Science Network (ISN) recently funded three proposals supporting research, evaluation and Implementation Science approaches for adoption and sustained use of clean cooking technologies in Low and Middle Income Countries. More information on the ISN and the funded proposals.
Awards from the first funding opportunity for the HAPIN initiative, the Household Air Pollution (HAP) Health Outcomes Trial, will be announced in September – October 2016. The HAP Health Outcomes Trial sought applications from institutions/organizations to conduct a clinical trial across three or more Low and Middle Income Country settings to test improved stove and fuel interventions on health outcomes in exposed populations and to establish a biomarker center for the development and validation of clinical, physiological, chemical, biochemical and/or microbiological markers of exposure and pathophysiological responses to household air pollution.