Regenerative Medicine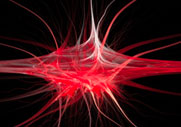 About Regenerative Medicine
Regenerative medicine aims to enable the body to repair tissues and organs that are not functioning properly due to age, disease, damage, or congenital defects. Many regenerative strategies are being investigated including cell therapy, tissue and biomaterials engineering, and transplantation.
How is NIH Common Fund ARRA-funding regenerative medicine-related research?
NIH Common Fund ARRA funding is supporting several research projects that are investigating a variety of approaches to regenerative medicine including the conversion of adult stem cells into embryonic stem cell-like cells, and the generation of neurons (nerve cells) from non-neuronal cells.
Researcher
Research Description
Dr. Fernando Camargo
Children's Hospital Boston
Dr. Fernando Camargo and colleagues are developing a novel experimental paradigm for studying stem cell biology in which individual stem cells are tagged and their activity, lifespan, and differentiation within the context of highly complex cell populations is monitored. Understanding how tissues are normally maintained by their resident stem cells is key to advancing and applying regenerative medicine.
Dr. Karon Frances Cook
University Of Washington
Dr. Karon Frances Cook and colleagues are , to better understand the role of pain behavior in initiating and modulating chronic pain, are developing measures of pain behavior based both on self- and observer reports, and are assessing the relationship between pain behavior and future disability. These data will be used to evaluate whether particular pain behaviors (e.g. guarding) are more predictive of disability over time, and to identify patient subgroups with different trends in pain and disability over time (1RC1NR011804-01). This project is managed by the National Institute of Nursing Research (NINR).
Dr. Nobuaki Kikyo
University Of Minnesota Twin Cities
Dr. Nobuaki Kikyo and colleagues are working to identify factors derived from egg cells that can reprogram an adult nucleus into an embryonic state, and to apply these factors to reprogram the differentiation status of living cells. Understanding and manipulating this process will facilitate advances in regenerative medicine especially the creation of patient-derived rejection-free tissues for the purpose of transplantation (1R01DK082430-01). This project is managed by the National Institute Diabetes and Digestive and Kidney Diseases (NIDDK).
Dr. James L. Sherley
Boston Biomedical Research Institute
Dr. James L. Sherley and colleagues are investigating the conversion of human adult stem cells (ASCs) into embryonic stem cell-like cells with the goal of developing tools for the exact identification of human ASCs, and advancing ASCs as effective cellular medicines for human disease (3DP1OD000805-03S1).
Dr. Marius Wernig
Stanford University
Dr. Marius Wernig and colleagues are developing methods for generating neurons (nerve cells) directly from skin fibroblasts (non-neuronal cells). Neurons derived from a patient's skin cells could be used to model neurological diseases, or could be transplanted into the patient to treat neurodegenerative diseases such as Parkinson's disease (1RC4NS073015-01). This project is managed by the National Institute on Neurological Disorders and Stroke (NINDS).