Broadening Career Knowledge and Awareness in the Future Biomedical Research Workforce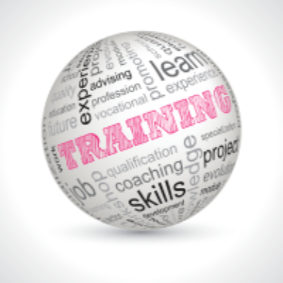 Historically, biomedical research training focused on preparing all trainees for academic positions: either PIs in a research setting or teaching professors. Increasingly, a shift toward preparation for a wider range of career options has emerged. As part of this shift, the NIH Common Fund issued "Broadening Experiences in Scientific Training" (BEST) awards to 17 institutions to develop innovative approaches for their trainees to prepare them for a broader expanse of careers in the biomedical research enterprise. Overall, the purpose of BEST awards was to expose trainees to the breadth of career paths available and provide them with information, or a working knowledge, to enter the dynamic biomedical research workforce landscape and ultimately strengthen the biomedical research enterprise. A cross-site evaluation was set up to assess the impact of BEST activities on 1) trainee confidence and knowledge to make career decisions, 2) influence of BEST activities to time in training, and 3) ability of the institutions to sustain activities deemed to be beneficial. BEST awardee institutions made great strides in collecting data on their activities and tracking participation for thousands of trainees. Using some of these data, the paper, The NIH "BEST" programs: Institutional programs, the program evaluation, and early data offers insight into the BEST programs.
The manuscript reports high levels of participation in a broad array of BEST activities. Survey data indicated that most graduate students and postdoctoral scientists had a high awareness of biomedical career options beyond traditional academic research-intensive positions. Interestingly, "Research in Industry," was most strongly considered as a prospective career path by graduate students. 
As NIH Common Fund support ended after 5 years, all BEST programs were successful in either securing funding for their BEST activities and associated staff, or integrating the activities into their graduate programs. While most BEST graduate students and postdoctoral scientists are still in training, participation in BEST activities did not increase training time for those who have completed training. Analysis of additional data over a longer-term will be critical to understanding career outcomes more fully, particularly for training time. By summer 2020, a dataset from the full cross-site evaluation will be made available to the research community allowing researchers to delve further into understanding BEST programs. Check the NIH Common Fund's Strengthening the Biomedical Research Workforce webpage for updates on the dataset.
Reference:
Lenzi, R. N., Korn, S. J., Wallace, M., Desmond, N. L., & Labosky, P. A. (2020). The NIH "BEST" programs: Institutional programs, the program evaluation, and early data. FASEB journal : official publication of the Federation of American Societies for Experimental Biology, 10.1096/fj.201902064. Advance online publication. doi:10.1096/fj.201902064
---
Internships Aid Career Exploration and Long Term Career Goals
The Broadening Experiences in Scientific Training (BEST) awards were intended to develop sustainable approaches to broaden graduate and postdoctoral training.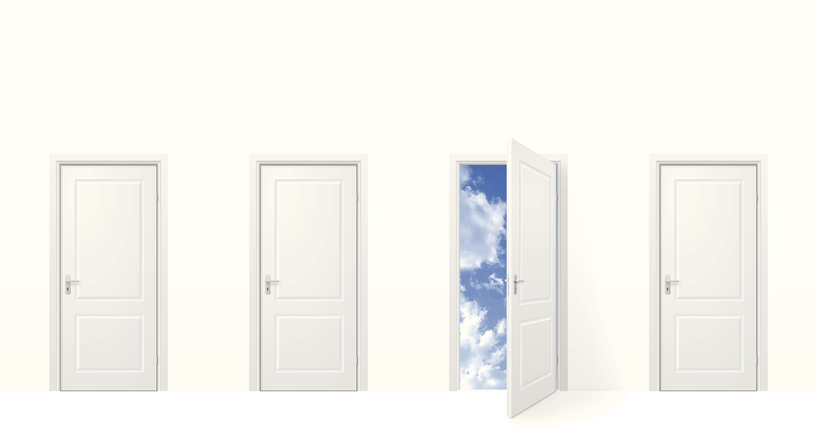 The goal was to create activities reflecting the range of career options trainees may eventually pursue. Many  BEST institutions incorporated internships in their suite of activities. While there are ample studies of internship experiences for undergraduates, research is lacking on the use of internships for biomedical graduate students and postdoctoral scientists. The extent to which an internship benefits the trainee, or the lab of the trainee, has not been well examines. Researchers at Michigan State University set out to understand the costs and benefits of internships by studying their BEST program participants' experiences with internships.
In their analysis, the Michigan State researchers found that graduate students and postdoctoral scientists who participated in internships reported gaining new skills and transferring those skills back to their research labs. They were also better able to define their own career path preferences. These findings were derived from structured interviews of 17 BEST graduate students and postdoctoral scientists who completed at least one internship as part of their involvement in BEST. Internships covered a wide range of career areas including intellectual property and patent law, research and innovation incubators, scientific writing, and technology transfer.
The researchers also found that, for the most part, participants thought they gained useful skills. Some examples included familiarity with business policies, knowledge of patent law, writing skills, and new statistical techniques . Participants described learning a host of soft skills over the course of their internships as well, like conflict-resolution  and time management. Over 80% said they were able to transfer their core research skills, such as parsing dense information to their internship role. Over 80% also said they were able to carry their internship learning into the academic/research lab context. Overall, the study found that internships opened new doors, closed a few doors trainees considered as relevant before the internship, and kept a few doors ajar for possible exploration in the future.
Exploring the Impact of Formal Internships on Biomedical Graduate and Postgraduate Careers: An Interview Study. Chatterjee, D., J. K. Ford, J. Rojewski and S. W. Watts. CBE—Life Sciences Education 2019 18:2.
Faculty Support Career Development of Their Trainees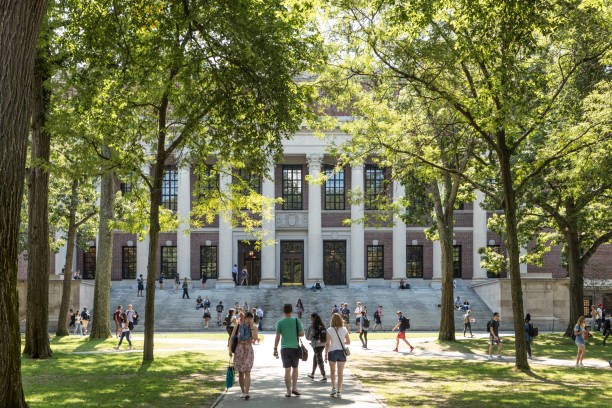 Faculty mentors are critical to the research training of graduate students and postdoctoral scientists, but there are little data about how faculty members value the time and effort their trainees spend on career development. To address this gap, seven NIH Broadening Experiences in Scientific Training (BEST) institutions conducted surveys of over 700 faculty at their institutions on faculty perceptions of professional and career development for trainees. BEST institutions are conscious that having faculty support activities for trainees is essential and learning more about what faculty believe and value will inform their program development.
Results from these surveys suggest that faculty are generally aware that a majority of biomedical trainees will ultimately pursue career paths outside of academia. In general, they also report that while they actively mentor trainees about non-academic career opportunities, the majority do not believe they have a good understanding of skills needed in non-academic career opportunities or the non-academic contacts to help their mentees. Faculty also responded that time spent on training for non-academic careers, like in BEST activities, was acceptable to them and valuable to both graduate and postdoctoral trainees. Interestingly, while the majority of faculty stated they talk with both graduate and postdoctoral scientists about a myriad of professional non-academic careers, most faculty were less sure that their fellow colleagues provided the same kind of discussion, resources, and opportunities. Overall, these findings support the need for BEST and BEST-like programs to help trainees explore expanded career opportunities and support faculty mentors that are not fully prepared to offer this training on their own.
Reference:
Faculty perceptions and knowledge of career development of trainees in biomedical science: what do we (think we) know? Watts SW et al. PLoS One. 2019 Jan 30. doi.org/10.1371/journal.pone.0210189
---
Classification of Career Pathways for Biomedical Trainees
A national movement is building to provide transparent information on career paths of biomedical graduate and postdoctoral alumni. One problem standing in the way is that institutions do not yet have an intuitive, complete, and replicable career classification (or "taxonomy") that concisely and decidedly describes alumni career outcomes.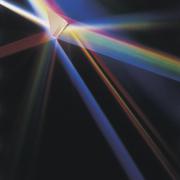 To address this problem, several members of the NIH BEST consortium, Association of American Medical Colleges Graduate Research Education and Training (GREAT) group, and Rescuing Biomedical Research (RBR), collaborated to propose a three-tier career taxonomy. The first tier includes five career sectors (e.g. Government or For-Profit), the second tier includes five career types (e.g. primarily research or primarily teaching), and the third tier defines 24 job functions (e.g. administration or regulatory affairs). The developed classification is also suitable for use in other academic disciplines beyond the biomedical research fields.
Using a uniform classification across institutions in reporting outcomes of alumni has many advantages. It is valuable for comparing outcomes between institutions and providing data to potential applicants to help select institutions that may more closely match their career ambitions. Furthermore, being aware of the outcomes of trainees should help the training and mentoring community comprehensively aggregate, analyze, and disseminate information about career outcomes to guide professional development programs, teaching curricula, and possibly influence faculty opinions.
Importantly, many BEST institutions have already reported their data publicly for several years on websites and in publications using a similar taxonomy. Many schools outside the BEST consortium are doing this too (e.g. Stanford, University of Pennsylvania), and it is likely to become a standard in the field soon. Several NIH BEST consortium institutions are piloting the newly developed taxonomy for their institution's doctoral alumni career outcomes and are contributing these data to populate a developing aggregated database. Combined data could be analyzed and reported to funding agencies, the public, science policymakers, and trainees to better understand and appreciate the full range of careers that Ph.D. trained scientists follow.
Evolution of a functional taxonomy of career pathways for biomedical trainees. Mathur, A., Brandt, P., Chalkley, R., Daniel, L., Labosky, P., Stayart, C., & Meyers, F. (2018) Journal of Clinical and Translational Science, 2(2), 63-65. doi:10.1017/cts.2018.22
---
Survey Shows Highly Transferable Skills and High Job Satisfaction for Science PhDs in Diverse Careers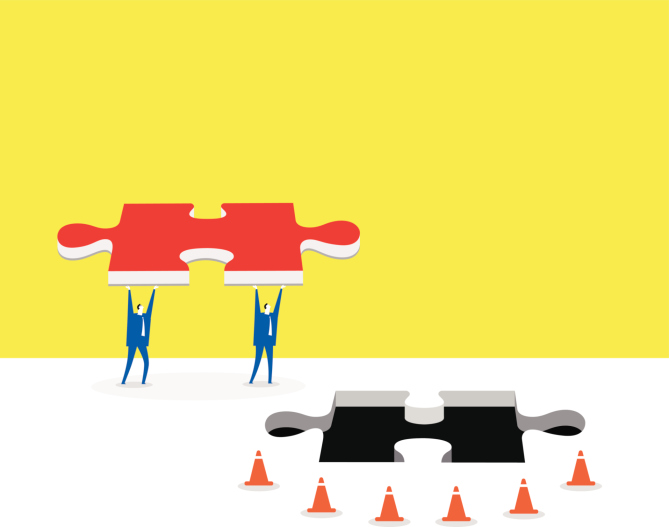 Recently, BEST researchers supported by the Strengthening the Biomedical Workforce program, analyzed a survey of science and engineering PhD graduates. Their goal was to determine if skills needed for chosen careers of PhD graduates matched well with skills they developed in PhD training. The original academic training model was designed as an apprenticeship; students earning a PhD in science or engineering acquired highly specialized skills and knowledge, which was commonly understood to prepare for them for independent academic positions. The assumptions regarding the natural progression of PhD scientists into faculty careers are now rapidly changing to reflect today's job market and variety of career choices. Many PhD graduates choose non-research-intensive careers; therefore, it is important to understand if current training systems are adequately preparing them for this option. Encouragingly, the researchers found that PhD training develops many transferrable skills crucial to success in a wide range of careers, including both research-intensive and non-research-intensive careers. This suggests that current training systems prepare PhD graduates for broad careers. However, some key differences did emerge. For example, respondents who rated themselves as proficient in creativity/innovation, career planning/awareness, and ability to work with others outside the organization, were more likely to be employed in research-intensive careers. On the other hand, respondents who had high ratings for project management, learning quickly, and time management skills were more likely employed in non-research-intensive careers. Importantly, job satisfaction in both research-intensive and non-research-intensive careers was relatively high, meaning that most respondents were satisfied or very satisfied with their chosen career path. This is good news for many graduate programs, as it indicates that PhD graduates are equipped with many transferable skills for a variety of career paths and they are happy in these positions. However, there are areas for improvement. For example, career planning and awareness ranked the lowest of all skills, suggesting an area for targeted growth in graduate education.
Reference:
An evidence-based evaluation of transferrable skills and job satisfaction for science PhDs. Sinche M, Layton RL, Brandt PD, O'Connell AB, Hall JD, Freeman AM, Harrell JR, Cook JG, Brennwald PJ. PLoS One. 2017 Sep 20; Vol. (9).
---
Stumbling Blocks to Diverse Biomedical Research Faculty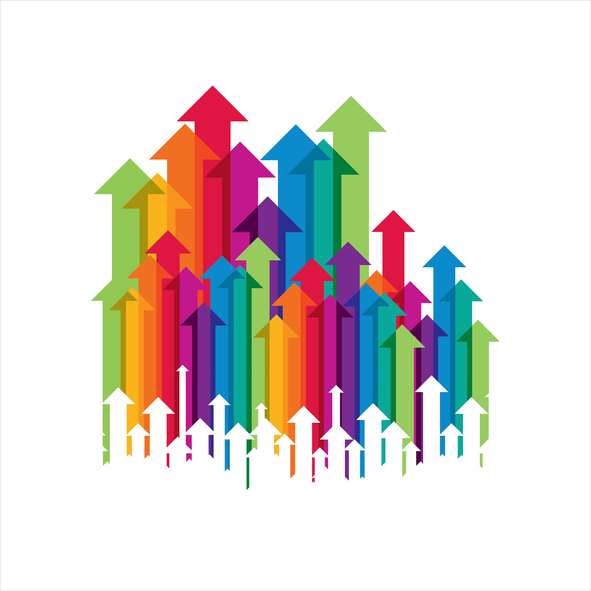 The Broadening Experiences in Scientific Training (BEST) awards are designed to support bold and innovative approaches to broaden biomedical research graduate and postdoctoral training beyond only faculty positions. Obviously, these training activities also include experiences for trainees interested in faculty positions. The BEST awardee institutions currently offer a multitude of trainee experiences, classes, professional development, and workshops that are useful for pursuing both the faculty career path and many other career paths. However, concerns persist over the disproportionate number of individuals from underrepresented groups in current faculty positions. Currently, underrepresented groups make up only about 4-6 percent of basic science faculty.
Researchers from Vanderbilt, part of the NIH BEST Consortium, examined nationwide data along the entire training pathway to faculty positions to understand where in the training pipeline were the greatest losses of underrepresented groups. They analyzed data from more than ten years of National Science Foundation (NSF) surveys and examined variables such as college majors, graduation rates, and postdoctoral appointments. Encouragingly, they found that regardless of underrepresented group status, trainees were equally likely to begin doctoral programs, receive doctoral degrees, and find postdoctoral positions. However, underrepresented groups did not continue in the training path is during undergraduate education. The time when URMs did not continue was during the transition from postdoctoral positions to tenure-track faculty. The authors recommend that focusing interventions on these targeted stages could enhance retention and recruitment of underrepresented groups into biomedical research faculty positions. .
Reference:
Survey of checkpoints along the pathway to diverse biomedical research faculty. Meyers LC, Brown AM, Moneta-Koehler L, Chalkley R (2018) PLOS ONE 13(1): e0190606.
---
BEST Researchers Study Career Outcomes of Postdocs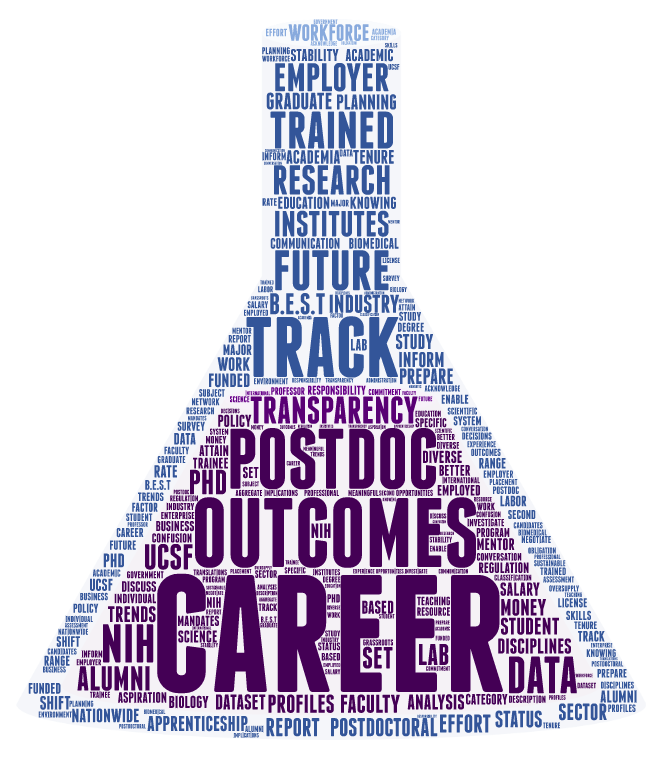 Postdoctoral scholars (or "postdocs") are often thought of as the engine that drives scientific research. They are highly educated and trained researchers, pursuing additional training and mentoring after their PhD training. They conduct much of the day-to-day work of biomedical research. And presumably they are aiming to move on to be independent faculty researchers, though reports suggest that only a minority actually end up in those positions. If this is true, where do postdocs really find employment? Researchers in the NIH BEST Consortium are beginning to find out by tracking career outcomes of postdocs from the University of California, San Francisco (UCSF).
From their tracking and analysis, the researchers found differences in employment outcome based on whether a postdoc had a PhD versus an MD/PhD, or whether they were employed in the United States or another country. For example, around one-quarter of postdocs went on to work in other nations, but only about half of these individuals gained faculty positions in research or teaching. UCSF postdocs with both an MD and a PhD were also more likely to work in faculty positions than in non-faculty positions, either in or outside the United States. Variations in outcomes were also found to be dependent on the lab in which postdocs trained. Knowing any of this type of information ahead of time could help prospective postdocs when they consider which labs might be best for their additional training time and their future career goals.
The UCSF researchers also found general confusion with understanding of "tenure-track" positions, which are jobs on track to be a permanent academic position and not temporary or conditional. Postdocs searching for jobs are often unaware that the term "tenure-track" is over-applied. The classification of "tenure-track" versus "non-tenure-track" in job descriptions is often incorrect and fails to acknowledge many nuances. This ends up misleading postdocs as they weigh their options for employment. Many who think they are in, or are applying to, a classical "tenure-track" position really are not. Interestingly, only 21% of the postdocs who attain faculty positions at UCSF were in a bona fide tenure track position. Overall more data are needed to inform postdocs and graduate students considering a postdoc position about the realities of career opportunities, according to the UCSF researchers. These data could enhance career development experiences that would better suit the actual careers the postdocs are ending up in and that are available. More data are also needed for better transparency, giving postdocs timely and relevant information to enable them the agency to prepare for their futures.
Reference:
Tracking Career Outcomes for Postdoctoral Scholars: A Call to Action. PLOS BIOLOGY. 2016 May 14(5):e1002458.
---
Enhancing Career Preparation for Biomedical Trainees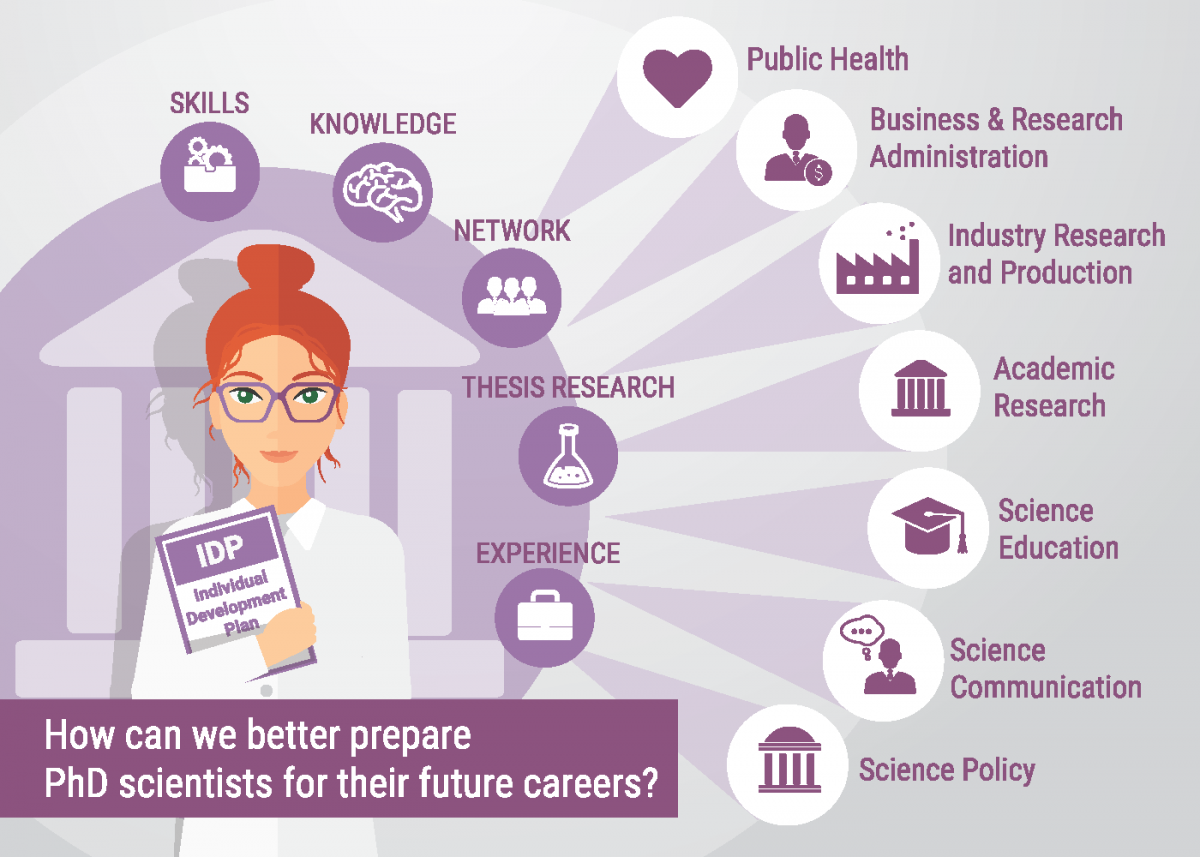 In a recent perspective, Dr. Cynthia Fuhrmann, a PI in the NIH BEST Consortium, suggests ways to strengthen biomedical career development. Dr. Fuhrmann highlights that the national conversation is progressing and moving away from ''should we be providing career development to PhDs?'' to ''how do we do so effectively?" In the present academic environment, trainees often lack knowledge about available career options. Furthermore, trainees can be unprepared to chart their own career path, to develop professional skills, or to cultivate other skills specific to their intended career path. All of this complicates their transition into any career within or beyond academia. Because of this, Dr. Fuhrmann argues that we need a "culture that encourages the career development of our trainees, and enhances our educational approach such that career exploration and development of our trainees can occur in synchrony with their research." The culture change is starting to happen and the academic community is beginning to understand and support the fact that traditional research-intensive positions are not the only means by which PhD graduates can meaningfully contribute to the biomedical research enterprise. To help enhance career preparation, Dr. Fuhrmann recommends that institutions embrace and support the fact that trainees seek a variety of scientific careers. To support this, institutions should work to better integrate professional skills and career development workshops, courses, and assignments into the required curriculum for all trainees. Ultimately, she recommends that institutions should invest in career development as a part of their academic mission. By doing these things, and gathering data and researching how well these efforts work, trainees will be better able to efficiently move into careers that will sustain our nation's biomedical enterprise. Institutions embracing this philosophy in their curricula will attract bright and talented trainees to their doors.
Reference:
Enhancing Graduate and Postdoctoral Education To Create a Sustainable Biomedical Workforce. Hum Gene Ther. 2016 Nov;27(11):871-879.
Image courtesy of Human Gene Therapy
---
Early Report on the BEST Consortium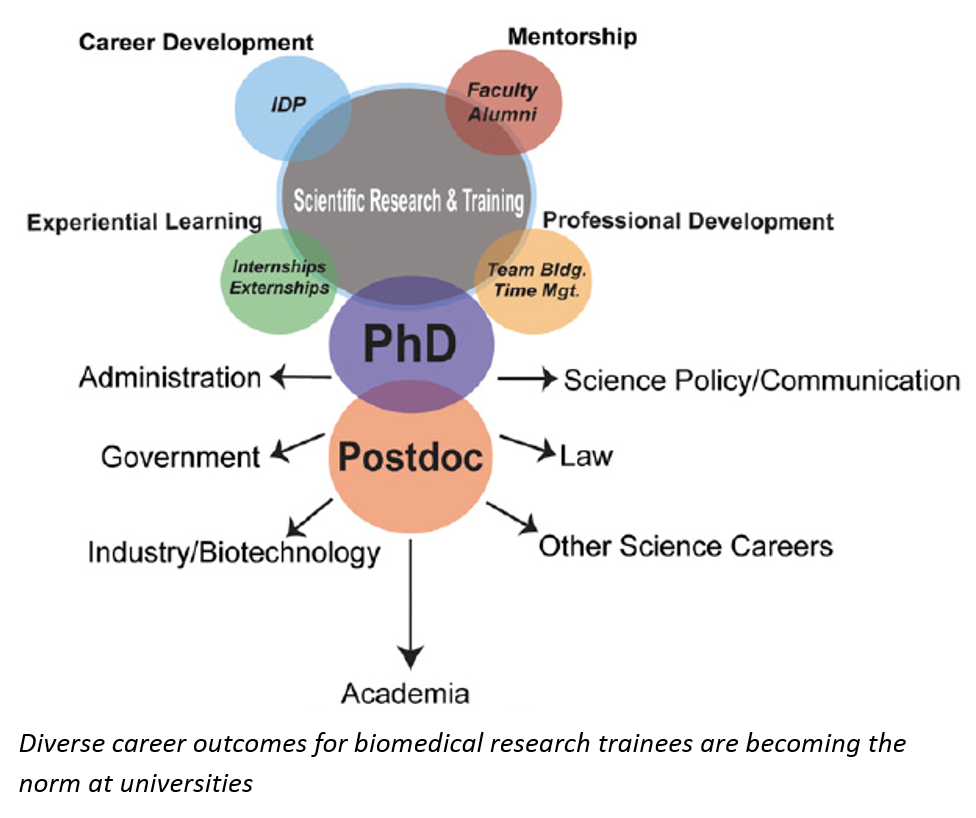 Members of the BEST consortium and NIH staff overseeing the BEST awards have published a paper describing the early experiences of the consortium and the scope of BEST programs. This report highlights how the 17 awardee institutions are sharing their experiences and working together to disseminate what they are learning to the scientific training community. While each program is unique, there are several common goals and activities, including commitment to the idea that all trainees (graduate students and postdoctoral fellows) should have the opportunity for career development support, fostering career and professional development skills, providing experiential learning, the importance of mentoring, and an emphasis on faculty engagement. Early results from the consortium indicate that the BEST institutions have implemented a number of innovative training paradigms. Many institutions have established dedicated career development offices, make use of external partners and internships to provide opportunities for trainees, host events such as career symposia and networking events, and track outcomes for graduates of their programs and postdoctoral scholars who train at their institutions. With the emphasis on evaluation and dissemination of evidence-based approaches for training, the BEST consortium will continue to share information with the biomedical research community via their website (Nihbest.org) as well as in future publications.
Reference:
The origin and implementation of the Broadening Experiences in Scientific Training programs: an NIH common fund initiative. Meyers et al. The FASEB Journal. Published online Oct. 2, 2015.
---
BEST PI Awarded for Inspiring Journey to Biomedical Research Success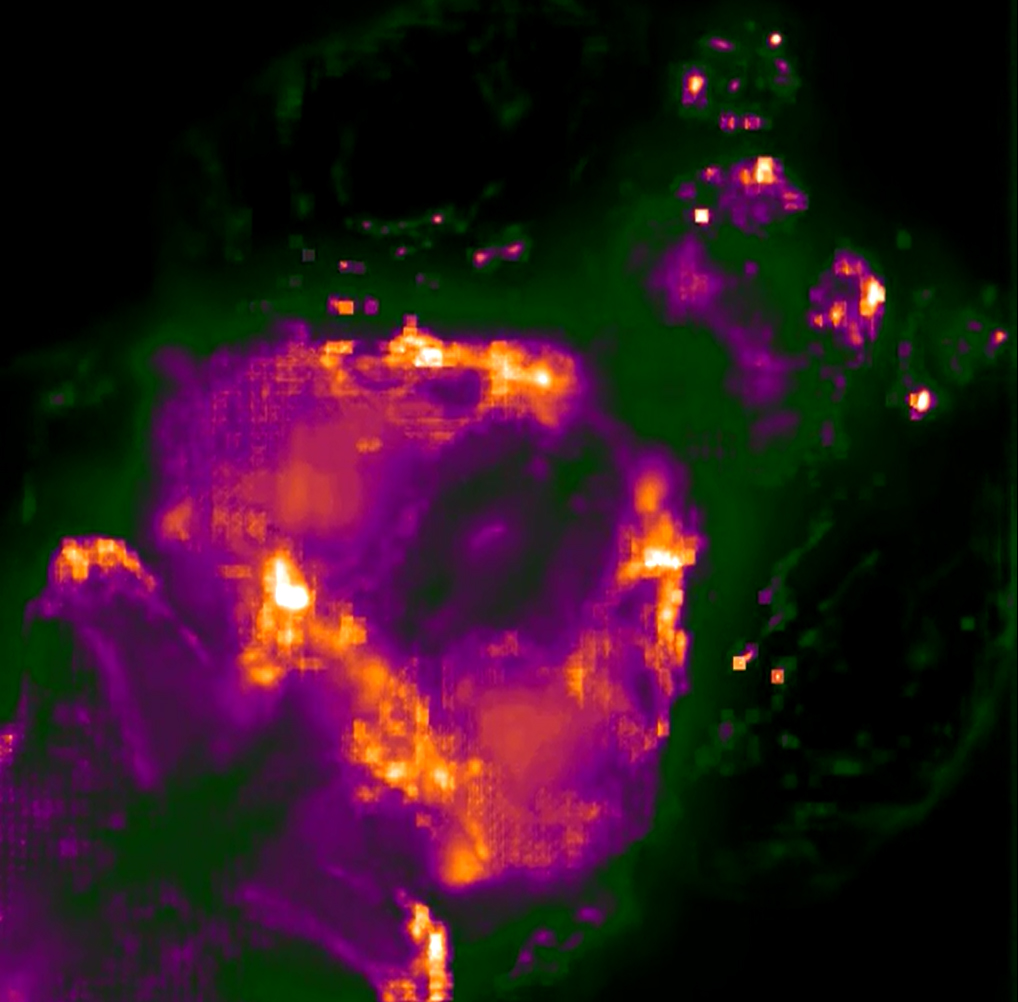 Dr. Avery August, a P.I. of a Broadening Experiences in Scientific Training (BEST) award, part of the Common Fund's Strengthening the Biomedical Research Workforce Program, has been awarded the 2014 E.E. Just Lecture Award from the American Society for Cell Biology (ASCB). This award is given each year in honor of Ernest Everett Just (1883-1941), one of the first African-Americans to earn a doctorate in biology, and recognizes a scientist from an underrepresented background who has demonstrated outstanding scientific achievement. As a P.I. in the BEST program, Dr. August is using his success and insights as a scientist to help prepare early career scientists for a variety of career options in the modern biomedical research workforce through broadening their career and skill development outside  traditional training.
---
Atlanta's BEST Program Provides Hands-on Communication Experience
Trainees in the Atlanta area's Broadening Experiences in Scientific Training (BEST) program, part of the Common Fund's Strengthening the Biomedical Research Workforce Program, developed an online newsletter highlighting their experiences in the program. BEST focuses on preparing early career scientists for a variety of career options in the modern biomedical research workforce through broadening their career and skill development outside of traditional training. Graduate students and postdoctoral scholars from Emory University and Georgia Tech joined forces to write, edit, and produce a monthly online newsletter documenting opportunities and experiences within the program. The newsletter not only showcases the program but also helps trainees develop valuable communication skills. Read more about BEST trainee's experiences in their newsletter, including leadership development, the art of negotiation, job interview tips, and encouraging creativity. 
Reference: 
---