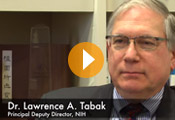 Learn more about the BEST Program and Hear Dr. Lawrence Tabak Address the Importance of Broadening Experiences in Scientific Training (BEST). 
Visit the New Broadening Experiences in Scientific Training (BEST) Awardee Website!
The BEST Consortium has launched its consortium website! This website contains information about the consortium, research, resources, upcoming events, and more. Visit this site at Nihbest.org, and be sure to check back often as new content is added and updated! 
Nihbest.org 
For information on individual BEST site programs, please visit:
Boston University - BU's BEST 
Cornell University - Cornell University BEST Training Program
Emory University and Georgia Institute of Technology - Beyond the Professoriate: Transforming Pathways for Biomedical Research Careers  
New York University School of Medicine - NYU STEP  
Michigan State University - MSU BEST  
Rutgers University - iJOBS Program
University of California Davis - Frontiers of University Training to Unlock the Research Enterprise (FUTURE)
University of California San Francisco - Motivating INformed Decisions (MIND): Careers for the Future Biomedical Workforce 
University of California Irvine- UC Irvine-Graduate Professional Success (UCI-GPS)
University of Colorado Denver Anschutz Medical Campus- Innovative Biomedical Graduate Training for Workforce Readiness   
University of Chicago- myChoice
University of Massachusetts Medical School - An Integrated Curriculum and Community-Based Approach to Career Development 
University of North Carolina - Training Initiatives in Biomedical and Biological Sciences 
University of Rochester-Broadening Experiences in Scientific Training Program (URBEST)
Vanderbilt University Medical Center - Vanderbilt ASPIRE Program  
Virginia Polytechnic Institute and State University - Mentorship and Development Program for Biomedical Trainees 
 
Wayne State University - Broadening Experiences in Scientific Training (BEST) 
Learn more about recent efforts by the University of Michigan to discuss the Future of Bioscience Graduate and Postdoctoral Training  with stakeholders, including representatives of academic institutions, funding agencies, trainees, scientific societies to discuss the biomedical workforce and review Common Fund Program Leader Dr. Trish Labosky's presentation on : "Innovations in Training"
National Reports on Graduate Education and Training
The Path Forward: The Future of Graduate Education in the United States, Commission on the Future of Graduate Education in the United States, 2010
Pathways Through Graduate School and Into Careers, Council of Graduate Schools, 2012
Biomedical Research Workforce Working Group Report, National Institutes of Health, 2012
Advancing Graduate Education in the Chemical Sciences, American Chemical Society, 2012
Research Universities and the Future of America, National Research Council, 2012