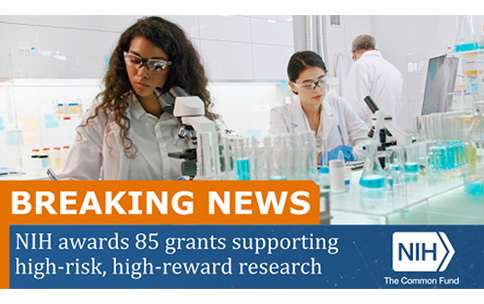 NIH to award over $187 million for exceptionally creative biomedical and behavioral research projects
The 2023 NIH Director's Awards to fund projects with potential to change the trajectory of biomedical science
The National Institutes of Health's High-Risk, High-Reward Research program awarded 85 new research grants to support highly innovative scientists who propose visionary and broadly impactful behavioral and biomedical research projects. NIH-supported research projects include using artificial intelligence (AI) to automate clinical documentation to reduce physician burden and improve patient care; creating a virtual reality (VR) intervention to address online racial trauma among adolescents; and engineering probiotic yeast as a treatment for specific pathogens, including antibiotic resistant bacteria. The 85 awards (totaling approximately $187 million) are supported by the NIH Common Fund, as well as six other institutes, centers, and offices across NIH, beginning in 2023 for five years, pending the availability of funds.
"The HRHR program is a pillar for innovation here at NIH, providing support to transformational research, with advances in biomedical and behavioral science," said Robert W. Eisinger, Ph.D., Acting Director of the Division of Program Coordination, Planning, and Strategic Initiatives, which oversees the NIH Common Fund. "These awards align with the Common Fund's mandate to support science expected to have exceptionally high and broadly applicable impact."
The High-Risk, High-Reward Research program supports investigators at each career stage who propose innovative research that, due to their inherent risk, may struggle in the traditional NIH peer-review process. Investigators seeking program support are encouraged to think beyond traditional bounds and to pursue trailblazing ideas in any area of research relevant to the NIH's mission to advance knowledge and enhance health. 
 
The Common Fund oversees programs that pursue major scientific opportunities and gaps throughout the research enterprise and require collaborations across the agency to succeed. The High-Risk, High-Reward Research program makes awards in four categories, including two awards specifically for researchers in the early stages of their careers. These four awards include:
NIH issued eight Pioneer awards, 58 New Innovator awards, six Transformative Research awards, and 13 Early Independence awards in 2023. Funding for the awards comes from the NIH Common Fund; the National Institute of General Medical Sciences; the National Institute of Mental Health; the National Library of Medicine; the National Institute on Aging; the National Heart, Lung, and Blood Institute; and the Office of Dietary Supplements.
###
About the NIH Common Fund
The NIH Common Fund encourages collaboration and supports a series of exceptionally high-impact, NIH-wide programs. Common Fund programs are managed by the Office of Strategic Coordination in the Division of Program Coordination, Planning, and Strategic Initiatives in the NIH Office of the Director in partnership with the NIH Institutes, Centers, and Offices. More information is available at the Common Fund website: https://commonfund.nih.gov.
About the National Institutes of Health
NIH, the nation's medical research agency, includes 27 Institutes and Centers and is a component of the U.S. Department of Health and Human Services. NIH is the primary federal agency conducting and supporting basic, clinical, and translational medical research, and is investigating the causes, treatments, and cures for both common and rare diseases. For more information about NIH and its programs, visit www.nih.gov.
Press Contact
Rachel Britt, Ph.D.
cfcomms@od.nih.gov
NIH Common Fund
301-435-0968