NeuroTherapeutics Research Institute (NTRI)
The Interdisciplinary Research program has transitioned from Common Fund support. For more information, please visit
http://commonfund.nih.gov/Interdisciplinary
. Consortium activities may continue to be supported via other sources; please visit the Consortium website for details.
Executive Summary
NTRI, the NeuroTherapeutics Research Institute, was an interdisciplinary research consortium whose principal objective was the development of targeted treatments for neurogenetic disorders based on their underlying molecular causes. The research paradigm for NTRI was the neurodegenerative disorder fragile X-associated tremor/ataxia syndrome (FXTAS), which causes balance, tremor and memory problems in some older adult carriers of premutation CGG-repeat expansions (55-200 repeats) in the fragile X (FMR1) gene. Larger (full mutation) expansions in the same gene cause fragile X syndrome, the leading heritable form of cognitive impairment and the leading known genetic form of autism. However, FXTAS and fragile X syndrome arise through entirely separate molecular mechanisms: RNA toxicity giving rise to FXTAS and gene silencing resulting in fragile X syndrome.
The power of FXTAS as a model for neurodegeneration is that the gene causing the disorder is known; thus, many of the features that FXTAS has in common with other late-onset neurodegenerative disorders (e.g., Alzheimer's and Parkinson's diseases) can be addressed using well-defined cellular and animal models. Such models have lead to the transformative discovery that the molecular events leading to FXTAS actually appear in early development, providing a possible explanation for the cognitive and behavioral problems affecting some children who are premutation carriers. Such observations have major practical implications for treatment.
NTRI approached its principal objective with a highly-integrated research team that, in aggregate, involved more than thirty investigators from disciplines as diverse as chemistry, cellular neurophysiology, developmental pediatrics, mouse behavior, neuroimaging, neurology, psychiatry, and cognitive neuroscience. The Consortium used the FXTAS paradigm to address five fundamental questions that are central to any neurodegenerative or neurodevelopmental disorder: (1) how is a clinical disorder characterized or defined; (2) how does one assess the appropriateness of animal and cellular models; (3) how does one effectively deliver therapeutic agents to the brain; (iv) how does one gauge the efficacy of treatment; and (4) how do variations in molecular mechanisms create distinct changes in brain structure and function?

Exit to the Consortium website... 

Consortium Director and Scientists
Hagerman, Paul, 1UL1RR024922-01: NEURO THERAPEUTICS RESEARCH INSTITUTE and 1RL1AG032119-01: DEVELOPMENT OF TARGETED THERAPEUTIC AGENTS FOR THE TREATMENT OF FXTAS
Berman, Robert, 1RL1NS062411-01: MOUSE MODELS OF FXTAS: DEFINING CRITICAL PERIODS AND MOLECULAR TARGETS
Carter, Cameron, 1TL1DA024854-01: INTERDISCIPLINARY TRAINING PROGRAM IN NEUROTHERAPEUTICS
Hagerman, Randi, 1RL1AG032115-01: CHARACTERIZATION AND TREATMENT OF CNS ABNORMALITIES IN PREMUTATION CARRIERS
Simon, Tony, 1RL1NS062412-01: FRAGILE X SPECTRUM AS MODEL FOR NEUROGENETIC MECHANISMS OF COGNITIVE DYSFUNCTION

Selected Publications
Chonchaiya W, Tassone F, Ashwood P, Hessl D, Schneider A, Campos L, Nguyen DV, Hagerman RJ. Autoimmune disease in mothers with the FMR1 premutation is associated with seizures in their children with fragile X syndrome. Hum Genet. 2010 Nov;128(5):539-48. Epub 2010 Sep 1. PubMed PMID: 20809278; PubMed Central PMCID: PMC2955238.
 
Cunningham CL, Martínez Cerdeño V, Navarro Porras E, Prakash AN, Angelastro JM, Willemsen R, Hagerman PJ, Pessah IN, Berman RF, Noctor SC. Premutation CGG-repeat expansion of the Fmr1 gene impairs mouse neocortical development. Hum Mol Genet. 2011 Jan 1;20(1):64-79. Epub 2010 Oct 8. PubMed PMID: 20935171; PubMed Central PMCID: PMC3000676.
 
Goodrich-Hunsaker NJ, Wong LM, McLennan Y, Srivastava S, Tassone F, Harvey D, Rivera SM, Simon TJ. Young adult female fragile X premutation carriers show age- and genetically-modulated cognitive impairments. Brain Cogn. 2011 Apr;75(3):255-60. Epub 2011 Feb 3. PubMed PMID: 21295394; PubMed Central PMCID: PMC3050049.
 
Hashimoto R, Javan AK, Tassone F, Hagerman RJ, Rivera SM. A voxel-based morphometry study of grey matter loss in fragile X-associated tremor/ataxia syndrome. Brain. 2011 Mar;134(Pt 3):863-78. PubMed PMID: 21354978; PubMed Central PMCID: PMC3044831.
 
Hoem G, Raske CR, Garcia-Arocena D, Tassone F, Sanchez E, Ludwig AL, Iwahashi CK, Kumar M, Yang JE and Hagerman PJ (2011) CGG-repeat length threshold for FMR1 RNA pathogenesis in a cellular model for FXTAS. Hum Mol Genet, 10.1093/hmg/ddr101. PMCID In Process.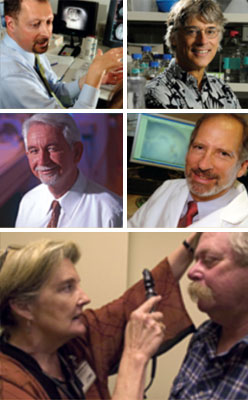 NTRI Consortium Scientists.
From left: Tony Simon, Ph.D., Paul Hagerman, Cameron Carter, M.D., Robert Berman, Ph.D., Randi Hagerman M.D.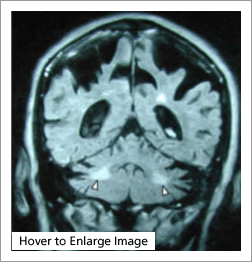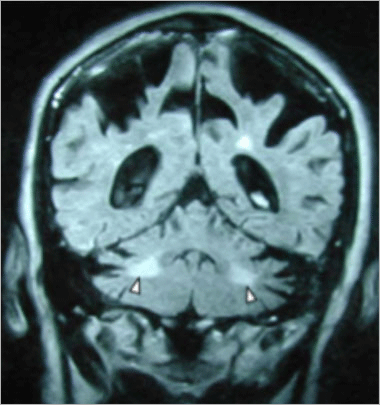 Image depicts the Magnetic resonance image (MRI) of the brain of a man with FXTAS, demonstrating loss of brain volume, and the presence of a characteristic white matter lesion of
the cerebellum and the fiber tracts leading from the brain stem to the cerebellum (arrowheads), termed the "MCP sign". This sign was discovered
by NTRI investigators.
This page last reviewed on June 25, 2014
Connect with the NIH Common Fund