Northwest Genome Engineering Consortium
The Interdisciplinary Research program has transitioned from Common Fund support. For more information, please visit
http://commonfund.nih.gov/Interdisciplinary
. Consortium activities may continue to be supported via other sources; please visit the Consortium website for details.
Executive Summary
Advances in technology have allowed scientists around the world to decode the genes that determine how all kinds of living things work. The Northwest Genome Engineering Consortium worked on the next frontier in biology: learning how to precisely modify those genes. Our work enabled scientists to correct genes that are defective and cause disease, or modify genes to enhance biotechnological processes like food or biofuel production.
Exit to the Consortium website...
Consortium Director and Scientists
Scharenberg, Andrew,
1UL1RR024921-01: NORTHWEST GENOME ENGINEERING CONSORTIUM
and
1RL1CA133832-01: DIRECTED PROTEIN EVOLUTION FOR DESIGN OF LAGLIDADGS WITH NOVEL RECOGNITION SPECIATION
Baker, David,
1RL1GM084433-01: COMPUTATIONAL DESIGN OF AN LAGLIDADGS WITH NOVEL RECOGNITION SPECIFICITIES
Kiem, Hans-Peter,
1RL1HL092554-01: LAGLIDADG DELIVERY AND GENE REPAIR IN CANINE HEMATOPOIETIC STEM CELLS
Maizels, Nancy,
1RL1GM084434-01: TARGETED GENE REPAIR BY HOMOLOGOUS RECOMBINATION
Monnat, Raymond,
1RL1CA133831-01: NEW LAGLIDADG HOMING ENDONUCLEASES FOR GENOME ENGINEERING
Rawlings, David,
1PL1HL092557-01: CELL AND VIRUS CORE
and
LINK MISSING...1RL1HL092553-01: GENE REPAIR IN MURINE HEMATOPOIETIC STEM CELLS
,
1TL1HL092556-01: INTERDISCIPLINARY TRAINING IN GENOME ENGINEERING
Stoddard, Barry,
1RL1CA133833-01: STRUCTURAL AND BIOPHYSICAL CHARACTERIZATION OF ENGINEERED HOMING ENDONUCLEASES
Selected Publications
Ulge UY, Baker DA, Monnat RJ Jr. Comprehensive computational design of mCreI homing endonuclease cleavage specificity for genome engineering. Nucleic Acids Res. 2011 Feb 1. PMID: 21288879
 
Paddock MN, Bauman AT, Higdon R, Kolker E, Takeda S, Scharenberg AM. Competition between PARP-1 and Ku70 control the decision between high-fidelity and mutagenic DNA repair. DNA Repair (Amst). 2011 Mar 7;10(3):338-43. PMID: 21256093
 
Mak AN, Lambert AR, Stoddard BL. Folding, DNA Recognition, and Function of GIY-YIG Endonucleases: Crystal Structures of R.Eco29kI. Structure 2010 Oct 13;18(10):1321-31. PMCID: PMC2955809
 
Thyme, SB, Jarjour J, Takeuchi, R, Havranek, JJ, Ashworth J, Scharenberg AM, Stoddard BL, Baker D. Exploitation of homing endonuclease binding energy for catalysis and design. Nature. 2009 Oct 29;461(7268):1300-4. PMCID: PMC2771326
 
McConnell Smith A, Takeuchi R, Pellenz S, Davis L, Maizels N, Monnat RJ Jr, Stoddard BL. Generation of a nicking enzyme that stimulates site-specific gene conversion from the I-AniI LAGLIDADG homing endonuclease. Proc Natl Acad Sci U S A. 2009 Mar 31;106(13):5099-104. PMCID: PMC2664052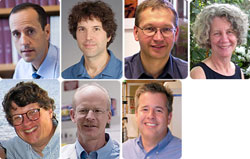 Northwest Genome Engineering Consortium Scientists.
From left, top row: Andrew Scharenberg, M.D., David Baker, Ph.D., Hans-Peter Kiem, M.D., Nancy Maizels, Ph.D.; second row: Raymond Monnat Jr., Ph.D., David Rawlings M.D., Barry Stoddard Ph.D.  
This page last reviewed on September 9, 2014
Connect with the NIH Common Fund