Consortium for Neuropsychiatric Phenomics
The Interdisciplinary Research program has transitioned from Common Fund support. For more information, please visit
http://commonfund.nih.gov/Interdisciplinary
. Consortium activities may continue to be supported via other sources; please visit the Consortium website for details.
Executive Summary
The Consortium for Neuropsychiatric Phenomics (CNP) aimed to enable breakthroughs in understanding of brain and behavior by forging new connections. To fulfill the promise of the Human Genome Project it is now clear that enormous efforts are needed to connect genotype (the genetic blueprint for biological processes) with phenotype (the myriad expressions of genotype at molecular, cellular, and complex systems levels). Phenomics is the emerging transdiscipline dedicated to systematic study of phenotypes. To pursue investigation of phenotypes across levels from genome to syndrome, we assembled a team of more than 50 investigators, most centered at UCLA. Our team focused on cognitive phenotypes (particularly memory and impulse control), because these are connected to healthy and maladaptive human behaviors, and can be examined using the tools of basic science. The CNP connected disciplines by investigating shared themes both across species, and across multiple neuropsychiatric syndromes. In the CNP work, deep phenotyping of brain and behavior in humans for genome-wide association was connected to basic molecular manipulation and physiological study of other species. The CNP also developed new information science (informatics) tools to lay out connections among concepts, and thus permitted the specification, visualization, and testing of hypotheses about genotype-phenotype connections. We believe the CNP advanced understanding of the biological bases of behavior and can serve as a model for trans-disciplinary science on a wide range of complex biomedical problems.
Exit to the Consortium website... 

Consortium Director and Scientists
Bilder, Robert, 1UL1RR024911-01: CONSORTIUM FOR NEUROPSYCHIATRIC PHENOMICS-COORDINATING CENTER and 1PL1MH083271-01: HUMAN TRANSLATIONAL APPLICATIONS CORE
Cannon, Tyrone, 1RL1MH083269-01: MEMORY MECHANISMS AND MENTAL DISORDERS
Evans, Christopher, 1PL1NS062410-01: TRANSLATIONAL METHODS/FACILITIES CORE
Freimer, Nelson, 1RL1MH083268-01: WHOLE GENOME ASSOC. ANALYSIS STRATEGIES FOR MULTI. PHENOTYPES
Jentsch, David (Missing from Photo), 1RL1MH083270-01: TRANSLATIONAL MODELS OF MEMORY AND COGNITIVE CONTROL
London, Edythe, 1RL1DA024853-01: RESPONSE INHIBITION AND DOPAMINE NEUROTRANSMISSION
Parker, Stott, 1RL1LM009833-01: HYPOTHESIS WEB DEVELOPMENT FOR NEUROPSYCHIATRIC PHENOMICS

Selected Publications
Bilder, R. M. (2011). Neuropsychology 3.0: evidence-based science and practice. J Int Neuropsychol Soc, 17(1), 7-13. doi: S1355617710001396
 
Congdon, E., Poldrack, R. A., & Freimer, N. B. (2011). Neurocognitive phenotypes and genetic dissection of disorders of brain and behavior. Neuron, 68(2), 218-230. doi: S0896-6273(10)00831-7
 
Groman, S. M., Lee, B., London, E. D., Mandelkern, M. A., James, A. S., Feiler, K. Dorsal Striatal D2-Like Receptor Availability Co-varies with Sensitivity to Positive Reinforcement during Discrimination Learning. Journal of Neuroscience (in press)
 
Karlsgodt, K. H., Robleto, K., Trantham-Davidson, H., Jairl, C., Cannon, T. D., Lavin, A. (in press). Reduced dysbindin expression mediates N-methyl-D-aspartate receptor hypofunction and impaired working memory performance. Biol Psychiatry, 69(1), 28-34. doi: S0006-3223(10)00948-0
 
Laughlin, R. E., Grant, T. L., Williams, R. W., & Jentsch, J. D. (in press). Genetic Dissection of Behavioral Flexibility: Reversal Learning in Mice. Biol Psychiatry. doi: S0006-3223(11)00062-X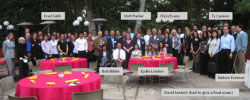 Consortium for Neuropsychiatric Phenomics Scientists.
Clockwise, from upper left: Fred Sabb, Ph.D.; Stott Parker, Ph.D., Chris Evans, Ph.D.; Tyrone Cannon, Ph.D.; Nelson Freimer, M.D.; David Jentsch, Ph.D. (missing);Edythe London, Ph.D.; Robert Bilder, Ph.D.    
This page last reviewed on June 25, 2014
Connect with the NIH Common Fund