A Single Mutation Acts as a Molecular Switch for Sex Determination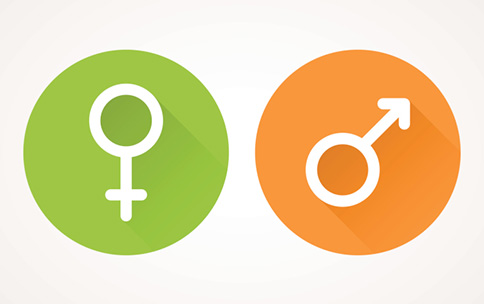 In humans, sex determination is normally regulated by the inheritance of specific chromosomes, with females inheriting two X chromosomes and males inheriting and an X and a Y chromosome. The Y chromosome directs formation of the male reproductive system and without a Y chromosome an individual will develop with a female reproductive system. However, genetic defects can occasionally lead to sexual organ development that does not correspond to the chromosomal makeup of an individual.
A research team including members of the Undiagnosed Diseases Network have identified the cause of a subset of these genetic disorders. By sequencing DNA from four different families they were able to show that remarkably a single specific mutation in a single gene (NR5A1) can act as a molecular switch, causing XX individuals to develop as a male and XY individuals to develop as a female. This study highlights the power of sharing genetic data both inside and outside of the UDN in aiding the generation of a diagnosis for rare disorders.
Reference
A recurrent p.Arg92Trp variant in steroidogenic factor-1 (NR5A1) can act as a molecular switch in human sex development. Bashamboo A, Donohoue PA, Vilain E, Rojo S, Calvel P, Seneviratne SN, Buonocore F, Barseghyan H, Bingham N, Rosenfeld JA, Mulukulta SN, Jain M, Burrage L, Dhar S, Balasubramanyam A, Lee B, Members of UDN, Eozenou C, Suntharalingham JP, de Silva K, Lin L, Bignon-Topalovic J, Poulat F, Lagos CF, McElreavey K, Achermann JC. Hum Mol Genet. 2016 Jul 4. pii: ddw186.