Phase II
In September 2015 through its Regenerative Medicine Program (RMP), NIH established a new Stem Cell Translation Laboratory (SCTL) within the National Center for Advancing Translational Sciences (NCATS). Dr. Ilyas Singec was hired as its new Director. The goal is to create stem cell translational methods, via a more centralized effort, that can be adopted by the scientific community.

Pluripotent stem cells hold great promise as potential novel therapies for various intractable human diseases. However, to fulfill this promise, the stem cell field must evolve more efficiently from basic discovery to translational and therapeutic applications. The SCTL will build upon the knowledge gained from the first phase of the RMP (see below) to address current gaps in the stem cell field. Currently, there are few robust tools, technologies, protocols and paradigms that exist to enable researchers to reproducibly and efficiently generate relevant cell types at desirable quantity, purity and functionality.

The SCTL is designed to tackle top scientific and technological problems, including significant biological unknowns, that currently impede therapeutic use of induced pluripotent stem cells (iPSCs) — adult cells reprogrammed to behave similarly to embryonic stem cells — and to rapidly deliver the resulting protocols, standards, data, tools and molecules to the broader scientific community.
Four major goals for NCATS' SCTL:
   Establish detailed Quality Control (QC) standards to define human pluripotency and differentiated cell types
   Develop methods to assess heterogeneity in cultured cells derived from iPSCs
   Develop standardized methods to produce mature cells meeting the QC standards above
   Discover, validate and disseminate small molecule reagents to replace expensive recombinant proteins, xenogenic material, and undefined media components in cell   differentiation protocols
Within these broad goals, the SCTL will use its unique resources – including state-of-the-art small molecule screening and high throughput microscopy platforms – to pursue specific projects through collaborations with scientists who bring expertise with different cell types. These collaborative projects will be selected through a competitive process that will seek ideas from intramural and extramural scientists.
Phase I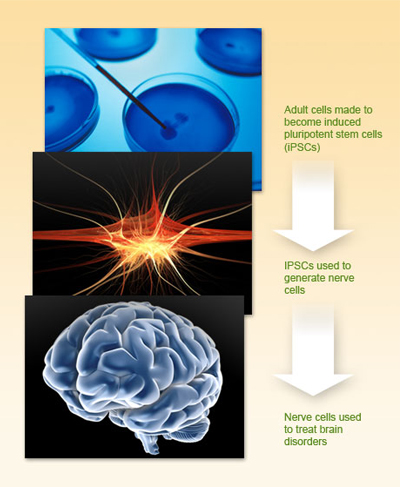 In 2010, the NIH Common Fund launched the NIH Center for Regenerative Medicine with the goal of it serving as a national resource for stem cell science to accelerate the development of new medical applications and cell-based therapies. To better reflect the ongoing activities and mission, the NIH Common Fund recently changed the initiative's name to Regenerative Medicine Program (RMP) and established a new Stem Cell Translation Laboratory (see phase II above).

From Fiscal Year 2010 to Fiscal Year 2013, the RMP supported pilot projects within the NIH Intramural Research Program to bring unique resources to help translate induced pluripotent stem cell (iPSCs) — adult cells reprogrammed to behave similarly to embryonic stem cells — research into the clinic. In addition, through the RMP, NIH has developed multiple stem cell lines, set up contracts for stem cell services and cell banking, developed standard consent forms, compiled the supporting protocols and standard operating procedures used to derive, culture and differentiate stem cells into different cell types, and developed training courses. These resources are available to the scientific community here (methods) and here (cell lines). The RMP also developed a current good manufacturing practice (cGMP) iPSC line that is of high enough quality, purity and safety for pre-clinical and clinical trials. These cells will be available to the scientific community in the near future.

In 2014, Dr. Kapil Bharti (National Eye Institute) received a four-year Therapeutic Challenge Award to move his research beyond the pilot stage toward the clinic. Dr. Bharti's research focuses on developing a stem-cell based therapy to treat age-related macular degeneration, a leading cause of blindness in the elderly. While Dr. Bharti is focused on a single disease, the methodological and regulatory challenges that must be overcome will be relevant to the broader scientific and clinical communities. As the RMP moves forward into phase II, Dr. Bharti's Therapeutic Challenge Award will continue to be an integral part of the RMP.

In September 2015, the NIH Common Fund supported the creation of a Stem Cell Translation Laboratory (SCTL) within the National Center for Advancing Translational Sciences (NCATS) to more efficiently accomplish the RMP goals.
This page last reviewed on September 13, 2016
Connect with the NIH Common Fund