Science of Behavior Change Program Highlights
Happiness Examined From the Molecular Level: New Study Findings Reveal a Link Between Well-Being, Health, and Our Genomes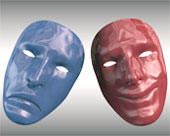 A recent study, supported in part through the NIH Common Fund's Science of Behavior Change program, examined the biological implications of well-being by analyzing the human genome. Well-being has been shown to predict long-term physical and mental health. However, well-being is complex in nature, and until this study it has not been examined at the molecular level. In this unique study of social genomics, the research team from the University of North Carolina, Chapel Hill and the University of California, Los Angeles examined a group of 80 healthy adults, using both questionnaires and blood samples, to track correlations between differences in gene expression in our immune systems and states of well-being. Well-being can be divided into two states: hedonic well-being is the sum of an individual's positive affective experiences while eudaimonic well-being is derived from striving toward meaning and purpose. These two types of well-being are positively correlated, but the researchers discovered that there were distinct differences in their genetic regulation of activity in the cells of our immune systems despite their similar effect on overall well-being. While the findings are not able to resolve which type or what combination of well-being is more healthful, they do suggest specific genetic pathways that are involved in well-being and how they are controlled. The findings also demonstrate that there is a disassociation between molecular and affective well-being in the case of the simple hedonic (self-gratification) well-being, meaning that at times we may feel good but molecularly might not be helping ourselves. These thought-provoking findings suggest that human evolution has occurred in a way that helps us both survive and thrive in our environments through seeking well-being. Future research can work to define what specific sources of well-being best support health.
Reference:
Fredrickson BL, Grewen KM, Coffey KA, Algoe SB, Firestine AM, Arevalo JM, Ma J, Cole SW. A functional genomic perspective on human well-being. Proc Natl Acad Sci U S A. 2013 Aug 13. PMID 23898182. For abstract click here.
A Forty Year Study: Self control behavior largely unchanged from childhood to adulthood

Temptation and self-regulation are issues that everyone experiences. However, a new research study funded in part by the NIH Common Fund's Science of Behavior Change Program has now examined, in detail, delayed gratification responses in a group of subjects over the course of four decades. In their current study, the researchers selected a group of subjects now in their mid forties who were previously tested for delay-of- gratification responses in preschool. Their main objective was to examine the neural basis of self-regulation. In the ~60 subjects tested, the researchers found that those who performed poorly as preschoolers also showed similar performance levels throughout their 20s, 30s, and now 40s. The researchers showed that these "low delaying" participants performed more poorly than high delayers when having to suppress a response to a happy face but not to neutral or fearful faces, suggesting that sensitivity to specific types of cues plays an important role in one's ability to suppress actions. The results show that impulse control is difficult only when the tested cue is alluring to the subject, highlighting that the behavioral response is specific to compelling cues. The study then went on to examine a smaller subset of the participants using functional imaging, something that had not been conducted on any of the subjects previously. Examining both high and low delayers using alluring cues, the authors showed consistent differences in brain circuitry responses. The findings of this study show that the delay-of-gratification test serves as a good method for examining motivational and control processes, which appear to be stable from preschool through adulthood.
Reference:
Casey BJ, Somerville LH, Gotlib IH, Ayduk O, Franklin NT, Askren MK, Jonides J, Berman MG, Wilson NL, Teslovich T, Glover G, Zayas V, Mischel W, Shoda Y. Behavioral and neural correlates of delay of gratification 40 years later. Proc Natl Acad Sci U S A. 2011 Sep 6; 108(36): 14998-5003. PMID: 21876169.