Program Snapshot
The Common Fund's Knockout Mouse Phenotyping Program (KOMP2) provides broad, standardized phenotyping of a genome-wide collection of mouse knockouts generated by the International Knockout Mouse Consortium (IKMC), funded by the NIH, European Union, Wellcome Trust, Canada, and the Texas Enterprise Fund.
Program Highlights
NIH-Funded KOMP2 Program Leads the Way in Efforts to Ensure Reproducibility and Enhance Transparency in Research
Researchers funded by the National Institutes of Health's Common Fund Knockout Mouse Phenotyping Program (KOMP2) are making efforts to improve methods of data collection and reporting in animal research, with the goals of making these processes more accessible and research findings more reproducible.
---
A Comprehensive New Atlas for Knockout Mice Phenotypes
Research supported by the Common Fund's Knockout Mouse Phenotyping Program (KOMP2) have developed a comprehensive atlas detailing gene expression patterns in different mutant mouse lines.
---
Applying a New Method to Generate Knockout Mice
Research supported by the Common Fund's Knockout Mouse Phenotyping Program (KOMP2) has applied a new way to generate conditional knockout mice, which are mice with a gene that can be selectively eliminated in specific cells or tissues at a specific point in time.
---
"Perfect Host" Developed
Investigators at The Jackson Laboratory have developed a novel approach that enables highly efficient generation of mouse strains from Embryonic Stem Cells (ESC). This new technology will be extremely useful for the KOMP2 program, by reducing the number of mice needed for each experiment, and greatly increasing the speed and efficiency of mouse production.
---
Funding Opportunity Announcement to phenotype embryonic lethal knockout mice from the International Mouse Phenotyping Consortium (IMPC)!
The IMPC, a worldwide consortium that includes KOMP2 as a member, is generating an estimated 20,000 knockout mouse strains, up to 30% of which are expected to be embryonic or perinatal lethal. This funding opportunity announcement invites applications to phenotype embryonic lethal mouse strains with a long term goal of revealing important insights into normal development in addition to a variety of diseases. This funding opportunity is supported by several NIH Institutes and Centers, and is related to, but separate from, the Common Fund's KOMP2 program.
Read the Funding Opportunity here.
 
Looking for information about mice phenotyped through KOMP2? Visit www.mousephenotype.org, where you can use the "Search" function to search by gene, phenotype, anatomy, or protocol.

KOMP2 investigators publish important resources, advances, and challenges for mouse phenotyping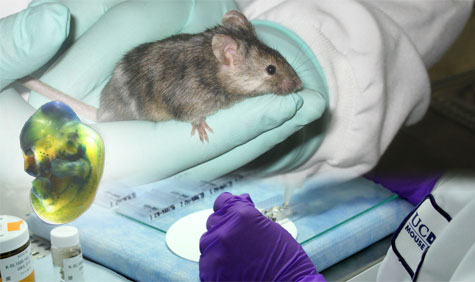 ​
Images showing KOMP2 research (clockwise from top): a genetically modified chimeric mouse; a researcher preparing tissue samples for analysis; a mouse embryo showing expression (in blue) of one member of the TCF/LEF family of genes, a regulator of several important biological pathways.
International Efforts in Mouse Phenotyping
KOMP2 is partnering with organizations from ten countries as part of the International Mouse Phenotyping Consortium (IMPC) in an internationally coordinated effort to undertake a broad-based, systematic genome-wide phenotyping of knockout mice.
Visit the IMPC website here  

Read more about the IMPC Informatics Team here