Program Snapshot
All organs in the body are stimulated by nerves, which send signals that affect the organ's function. Modulation of nerve signals to control end-organ function has recently been recognized as a potentially powerful way to treat many diseases and conditions, such as hypertension, heart failure, gastrointestinal disorders, type II diabetes, inflammatory disorders, and more. However, the mechanisms of action for therapies in which nerves are stimulated to control organ function are poorly understood. The Common Fund's Stimulating Peripheral Activity to Relieve Conditions (SPARC) has the central goal of providing a basic understanding of the peripheral nervous system to catalyze development of therapies based on neuromodulation of end-organ system function. SPARC is uniquely positioned to serve as a community resource that provides the broader public and private research communities with the scientific foundation necessary to create more effective and minimally invasive neuromodulation therapies.
Program Highlight
During the 2013-2014 Common Fund strategic planning process, the NIH community identified the need to understand the mechanisms of action for neuromodulation therapies. Although some neuromodulation therapies are in use, the underlying technologies are not optimal, and so a great opportunity exists to develop improved therapies for a number of diseases and conditions. Improving and developing new neuromodulation therapies requires a better understanding of the neural circuits in end-organ systems, as well as the development of novel electrode designs, surgical procedures, and stimulation protocols. In response to these needs and opportunities, the Common Fund plans to launch the SPARC program in fiscal year 2015.
On Thursday, March 5, 2015 from 3:30 – 4:30 p.m. EST, the NIH Stimulating Peripheral Activity to Relieve Conditions (SPARC) Common Fund Program will host a pre-application informational telephone conference for the new SPARC funding opportunity announcement (RFA-RM-15-002). The purpose of the telephone conference is to provide an overview of the program and the U18 cooperative agreement mechanism, information specific to areas of research interest, and answer participant questions.
Telephone Conference Number: (+1) 866-651-5369
Passcode: 4698680
Those who wish to follow the discussion via their desktop or mobile device, please join as a guest by clicking here. The phone will still be used as the primary source for audio. The slides are available for those who cannot join: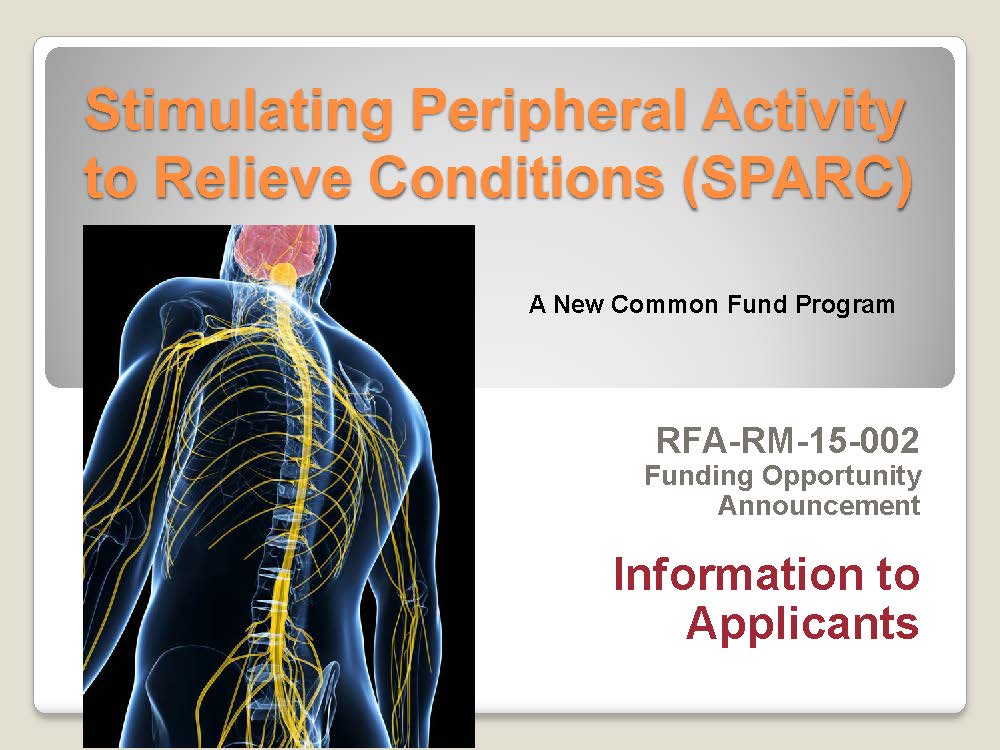 .
NEW!    Stimulating Peripheral Activity to Relieve Conditions (SPARC) Issues Funding Opportunity Announcement!
SPARC has released its first request for applications, RFA-RM-15-002: Exploratory Technologies to Understand the Control of Organ Function by the Peripheral Nervous System for SPARC (U18). This RFA solicits applications to develop new and/or enhance existing tools and technologies tailored to elucidate the neurobiology and neurophysiology underlying autonomic control of internal organs in health or disease, to inform next generation neuromodulation therapies.
This first step will support exploratory studies to develop a broad range of technologies, spanning sensing to stimulation to surgical techniques to model systems. The 2 year awards resulting from this FOA will establish feasibility for further technology development and lay the groundwork to more systematically facilitate biological mapping activities in future SPARC initiatives.
The application due date is April 14, 2015.
Please submit any inquiries regarding this FOA to SPARC_NextGen-Tools@mail.nih.gov.