About the NIH Common Fund
History of the NIH Common Fund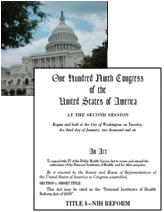 The NIH Common Fund was enacted into law by Congress through the 2006 NIH Reform Act to support cross-cutting, trans-NIH programs that require participation by at least two NIH Institutes or Centers (ICs) or would otherwise benefit from strategic planning and coordination. The Reform Act also requires, as appropriate, that Common Fund programs include milestones and goals for the research, as well as timeframes for funding the research. The requirements for the Common Fund encourage collaboration across the ICs while providing the NIH with flexibility to determine priorities for Common Fund support. To date, the Common Fund has been used to support a series of short term, exceptionally high impact, trans-NIH programs. The Common Fund is coordinated by the Office of Strategic Coordination, one of the six offices of the Division of Program Coordination, Planning, and Strategic Initiatives (DPCPSI) within the Office of the Director. 
 
The intent of NIH Common Fund programs is to provide a strategic and nimble approach to address key roadblocks in biomedical research that impede basic scientific discovery and its translation into improved human health. In addition, these programs capitalize on emerging opportunities to catalyze the rate of progress across multiple biomedical fields. 
Common Fund programs are expected to transform the way a broad spectrum of health research is conducted. Initiatives that comprise Common Fund programs are intended to be catalytic in nature by providing limited term investments in strategic areas to stimulate further research through IC-funded mechanisms. 
About the Office of Strategic Coordination
The NIH Common Fund is overseen by the Office of Strategic Coordination (OSC). OSC is housed within the Division of Program Coordination, Planning, and Strategic Initiatives (DPCPSI), Office of the Director (OD), National Institutes of Health (NIH). All NIH Institutes and Centers are involved with OSC in the design, implementation, and evaluation of Common Fund programs. This OD-IC partnership allows for central management and oversight of Common Fund programs while also tapping into the vast knowledge and expertise housed throughout the ICs. While approvals for funding are provided by the Office of the Director, information must be conveyed to program, grants management, budget, communications, policy, and evaluation staff throughout NIH. In all of these areas, OSC has staff that coordinate and liaise with the larger respective IC communities.
Read more about the 27 ICs here    
Read more about the Division of Program Coordination, Planning, and Strategic Initiatives here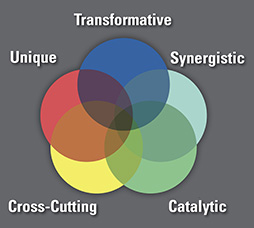 NIH Common Fund programs are intended to be:
​Transformative: Must have high potential to dramatically affect biomedical and/or behavioral research over the next decade


 

Catalytic: Must achieve a defined set of high impact goals within a defined period of time


 

Synergistic: Outcomes must synergistically promote and advance individual missions of NIH Institutes and Centers to benefit health


 

Cross-cutting: Program areas must cut across missions of multiple NIH Institutes and Centers, be relevant to multiple diseases or conditions, and be sufficiently complex to require a coordinated, trans-NIH approach


 

Unique: Must be something no other entity is likely or able to do