SPARC Partnership Opportunity (PO)
Frequently Asked Questions (FAQs) for the current PO
We appreciate your interest in the current SPARC Partnership Opportunity and hope that you and your team will choose to submit an application. In order to maximize your chances of success, we would like to provide some guidance that may be helpful as you put the finishing touches on your application:
Please view the informational webinar slides provided below to be sure that your application is consistent with the information provided.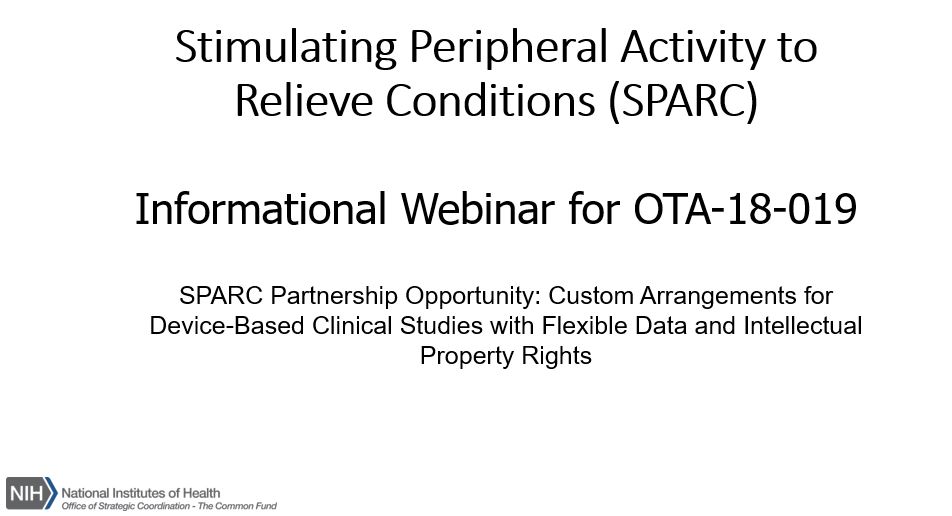 For clarification of these or other issues, we encourage you to submit your questions to SPARC_TPNI@mail.nih.gov. 
Frequently Asked Questions for OTA-RM-18-019
1. Do we need to collaborate with an existing SPARC awardee?
2. Do we have to choose an industry partner from the existing SPARC list?
3. What is an appropriate budget?
4. Is there a required number of patients or human subjects?
5. Does the study need to involve a market-approved device?
6. Does the research data have to be relevant for specific organs?
7. Is new patient recruitment required?
8. Does it have to be an Early Feasibility Study?
9. Does the neuromodulation have to be electrical stimulation? Is device-based delivery of drugs for neuromodulation within scope?
10. What does it mean to advance functional knowledge of the anatomy? To what extent is this a key component of the announcement?
11. Is it reasonable to combine in one proposal an acute short-term study that is deemed non-significant risk by IRB and a higher-risk take-home study under an IDE?
12. What are the HIPAA compliance considerations for sharing of human data with SPARC?
13. If we miss the mark on what SPARC wants in terms of data sharing in the proposal, but the proposed study is otherwise meritorious, can data sharing plans be enhanced and refined in the negotiation phase?
14. Will the announcement support safety testing of devices in support of regulatory submission to initiate a clinical study?
This page last reviewed on August 14, 2018
Connect with the NIH Common Fund