Program Snapshot
Once thought to exist only within cells, RNA is now known to be exported from cells and play a role in newly discovered mechanisms of cell-to-cell communication. The Common Fund's Extracellular RNA Communication (ERC) program aims to discover fundamental biological principles about the mechanisms of extracellular RNA (exRNA) generation, secretion, and transport; to identify and develop a catalogue of exRNA in normal human body fluids; and to investigate the potential for using exRNAs as therapeutic molecules or biomarkers of disease.
Program Highlights ​
Insights into Potential exRNA Biomarkers for Breast Cancer
Researchers supported by the Common Fund's Extracellular RNA Communication program are gaining new insight into the potential for some types of extracellular RNA called microRNA (miRNA) to influence cancer progression.
Read about exRNAs as biomarkers.
---
Extracellular RNA Researcher Discovers "Treasure in Saliva"
Extracellular RNA research is laying the foundation for using exRNA in saliva to diagnose a variety of diseases, such as cancer, diabetes, autoimmune disorders, and potentially many more.
---
Extracellular RNA Shows Promise in Treating Multiple Sclerosis and Other Neurological Conditions
Dr. Richard Kraig and colleagues are exploring how extracellular microRNAs could be used as novel therapeutic for multiple sclerosis and other demyelinating diseases.
---
Extracellular RNA Found in Blood May Reveal Hidden Heart Injury
Dr. Thomas Tuschl and colleagues find microRNAs in blood that may reveal damage to the heart.
Read the press release from The Rockefeller University 

Related Mini-Convention!
 In association with the annual Society for Neuroscience (SfN) meeting, the National Institute on Drug Abuse (NIDA) is hosting a mini-convention on November 14, 2014 on the NIH campus in Bethesda, MD. This mini-convention will include a session on "Extracellular RNAs in Neuroscience: Biology, Biomarkers, and Therapeutics." For more details and to register, please visit Frontiers in Addiction Research: NIDA Mini-Convention.

Related Funding Opportunities! 
NIH has announced several new funding opportunities that are related to, but separate from, the Common Fund's Extracellular RNA Communication program.
Read RFA-DA-15-011 Extracellular Vesicles in HIV/AIDS and Substance Abuse (R01)
Read RFA-DA-15-012 Extracellular Vesicles in HIV/AIDS and Substance Abuse (R21)
Read PA-13-197 The Role of Extracellular RNA in Mediating the Health Effects of Alcohol (R21)
Read PAR-14-259 Parkinson's Disease Biomarker Program (PDBP) Discovery Projects (U01)
​
NEW! ExRNA Research Portal Launched!
The ExRNA Communication Consortium has launched the ExRNA Research Portal. This website contains information about the program, funded research, publications, resources, upcoming events, and a blog about the latest advances in exRNA research. Visit this site at exrna.org 

, and be sure to check back often as new content is added!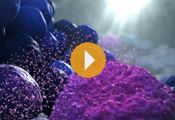 Videos on Extracellular RNA
Learn more about Unlocking the Mysteries of Extracellular RNA Communication here
Watch a mini documentary series on Exosomes by Life TechnologiesCorp, featuring several ExRNA Communication grantees and Working Group members!
Part 1: What is an Exosome?


Part 2: The History and Promise of Exosomes


Part 3: Exosomes in Cancer Research


Part 4: Curiosity and a Passion for Science


Part 5: Collaboration - The Key to Scientific Success


Part 6: Exosomes - The Next Small Thing