Program Snapshot
Once thought to exist only within cells, RNA is now known to be exported from cells and play a role in newly discovered mechanisms of cell-to-cell communication. The Common Fund's Extracellular RNA Communication (ERC) program aims to discover fundamental biological principles about the mechanisms of extracellular RNA (exRNA) generation, secretion, and transport; to identify and develop a catalogue of exRNA in normal human body fluids; and to investigate the potential for using exRNAs as therapeutic molecules or biomarkers of disease.
Program Highlights ​
NEW! NIH Common Fund issues first awards in Extracellular RNA Communication!
The NIH is supporting 24 collaborative, multidisciplinary awards to explore a novel cell communication process.
Read an
interview
with Dr. Dan Tagle about the exRNA awards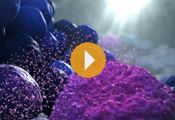 Videos on Extracellular RNA
Learn more about Unlocking the Mysteries of Extracellular RNA Communication here
Watch a mini documentary series on Exosomes by Life TechnologiesCorp, featuring several ExRNA Communication grantees and Working Group members!
Part 1: What is an Exosome?


Part 2: The History and Promise of Exosomes


Part 3: Exosomes in Cancer Research


Part 4: Curiosity and a Passion for Science


Part 5: Collaboration - The Key to Scientific Success


Part 6: Exosomes - The Next Small Thing