Reference Materials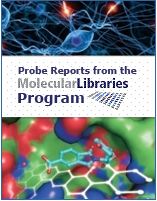 Probe Reports from the NIH Molecular Libraries Program
Probe Reports from the NIH Molecular Libraries Program contains information consisting of structure and biological information on probes produced by the Molecular Libraries Probe Production Centers Network (MLPCN) in collaboration with the investigators who provided the screening assays. This information will be periodically updated with new probe information from the centers in the MLPCN.

Molecular Imaging and Contrast Agent Database (MICAD)
The Molecular Imaging and Contrast Agent Database contains a list of imaging probes which are screened via PubMed/MedLine databases and other appropriate sources. This reference material contains agents used in animal or human studies yielding in vivo data.