Overview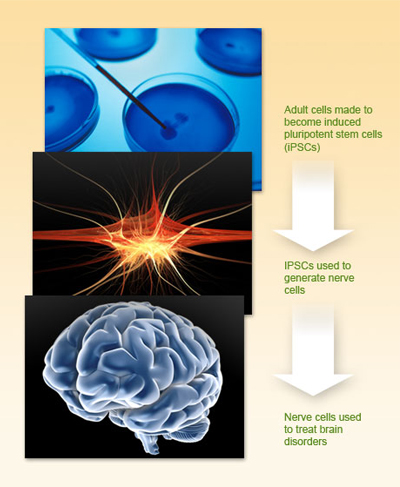 Embryonic stem cells are a unique type of cell because they can self-renew indefinitely and are "pluripotent;" that is, they can turn in to any type of adult cell (e.g. heart cells, bone cells, or neurons). They therefore hold great potential in repairing or building anew a wide range of tissues damaged by disease or injury. A recent pivotal discovery showed that a type of adult stem cell can be made by using viruses to ferry specific genes into skin cells, which induces these cells to revert to an embryonic stem cell-like state. These "induced pluripotent stem cells," or iPS cells, can be coaxed to turn into many different adult cell types in appreciable numbers. This enables a range of explorations from understanding the basic biology of a particular cell type, including those that are hard to obtain directly from the human body, to what goes awry during disease or in response to an environmental pollutant, to rapidly testing the effects of drugs to return a damaged cell to its pre-damaged state. This field has been evolving at a very rapid pace and iPS cells can now be generated using viral-free methods that do not alter the cell's own genetic material. One of the greatest promises that iPS cells hold is their potential to be used in generating specific cell types for use in "regenerative medicine" therapies to repair or replace damaged body parts. The development of viral-free methods for iPS cell derivation reduces the risk of unintended side effects, such as a cell becoming cancerous. However, much remains to be done with respect to developing optimum non-viral methods to produce iPS cells.
To support this field, the Common Fund has established the NIH Center for Regenerative Medicine (NIH CRM), which will serve as a stem cell resource for the NIH intramural program and the broader research community. Dr. Mahendra Rao was hired as the Director in August 2011. The overarching goal of NIH CRM is to accelerate the translation of stem cell-based clinical therapies by providing solutions to specific scientific hurdles that impede research on stem cells and their clinical utilization. The scientific community will be able to organize around these solutions to accelerate progress in stem cell research. Community input was sought on various technical hurdles that the center can help address and services it can provide. Among various potential activities, NIH CRM will help standardize research results across different laboratories by facilitating access to a set of well-characterized stem cell control and reporter lines, including ones produced by viral-free methods. It will also provide supporting protocols and standard operating procedures used to derive, culture, and differentiate stem cells in to different cell types. In addition, the center is negotiating uniform iPS cell deposit and distribution agreements with major human cell and tissue banking facilities for NIH researchers that can be more widely adopted. Moreover, staff from NIH CRM and the NIH Clinical Center Department of Bioethics have jointly authored a manuscript

addressing the need to harmonize donor consent for iPS cell derivation that highlights the pertinent issues, and provides a model consent form for consideration and adoption. The NIH CRM Director has established numerous domestic and international collaborations to help ensure that these efforts are coordinated and that NIH CRM takes advantage of new breakthroughs. In addition to these efforts, a number of intramural iPS cell pilot research projects have been funded to stimulate iPS cell research at the NIH and to help translate findings in to the clinic, in part by serving as "test cases" for newly developed standardized procedures and resources (View the Funded Research).