Program Highlights
H3Africa added to Catalogue of International Genomic Data Initiatives
H3Africa was recently added to the
Catalogue of International Genomic Data Initiatives
, hosted by the Global Alliance for Genomics and Health (GA4GH). This Catalogue provides information on world-wide genomic data initiatives, including national precision medicine initiatives, data-sharing initiatives, databases and repositories, international genomics research consortia and projects, and other genomics data resources.​​
H3Africa & MEPI Featured in Opinion Piece by NIH Director Francis Collins and Wellcome Trust Director Jeremy Farrar.
In an opinion piece in TheScientist, the directors of the NIH and the Wellcome Trust cite Common Fund Global Health initiatives as examples of an increasing proportion of research awards made directly to African scientists and institutions.
Read the Article.
 ​​

H3Africa Grantee Contributes to Ebola Research
Dr. Christian Happi, funded by the H3Africa initiative, contributed to work to trace the Ebola virus origin and transmission during the 2014 outbreak in West Africa.
Read a Press Release about the discovery.
View H3Africa-funded research.
 
H3Africa Scientists Investigate Sex Differences.

Sex and gender play a role in how health and disease differ across individuals, and considering these factors during research informs the development of preventive and therapeutic interventions for both sexes. Learn how supplements to H3Africa grants are enabling researchers to investigate sex as a biological variable.
H3Africa Marker Paper on "Enabling the Genomic Revolution in Africa":

Learn how the NIH and the Wellcome Trust are working together to help African scientists apply genomic and epidemiological techniques in the study of diseases in Africa.​ 
Read "Enabling the Genomic Revolution in Africa" here.

Photos and Videos from the 2015 MEPI Symposium Now Available Online.
Photographs and videos of the plenary sessions from the 2015 MEPI Symposium in Harare, Zimbabwe are now available on the
MEPI website
.
"NIH commits $36M to train junior faculty in Africa."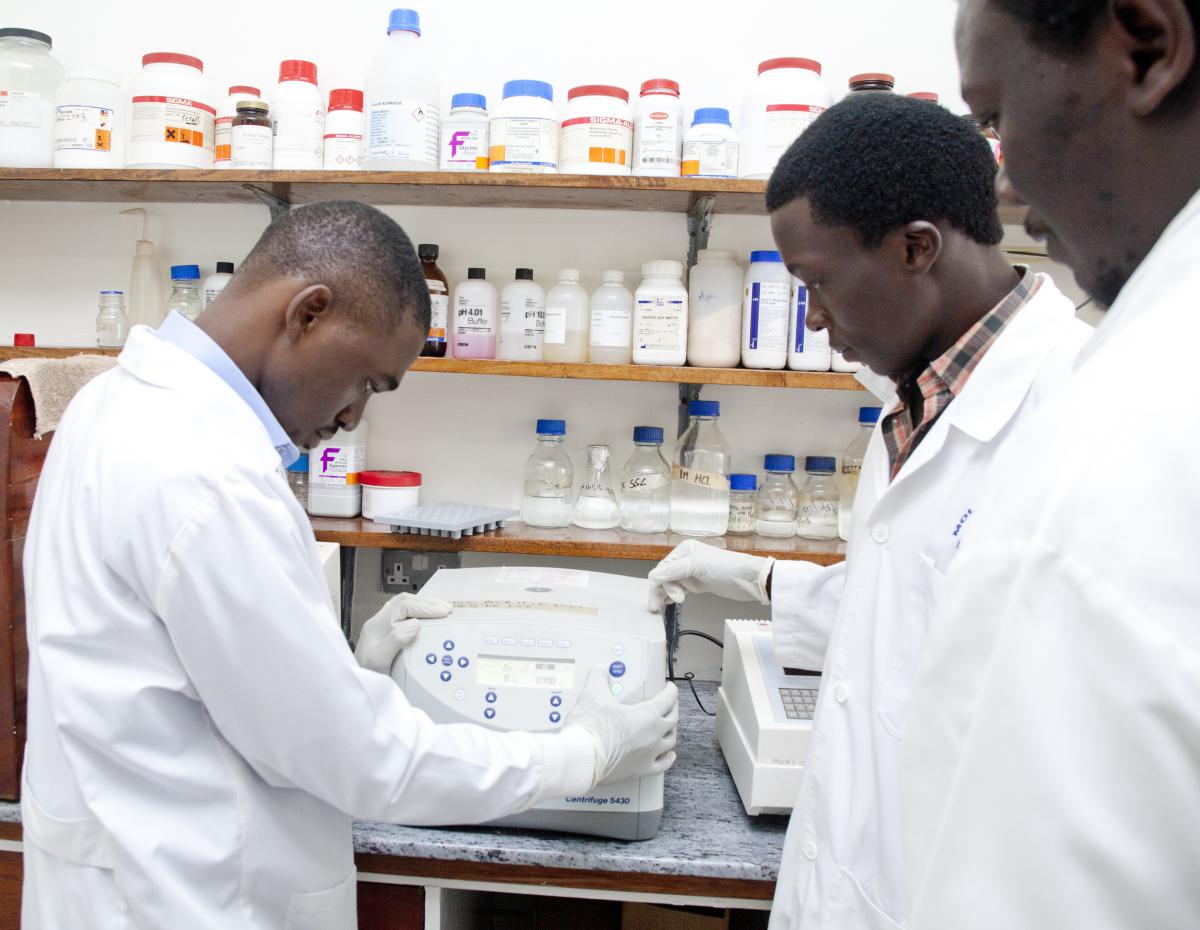 Since 2010, Medical Education Partnership Initiative (MEPI) awards have been a huge success, transforming medical education across the Sub-Saharan African region by strengthening curricula, upgrading community-based training sites, and expanding communications technology and e-learning resources. However, many junior level staff lack the necessary resources to incorporate research into their careers. "These new awards will support advanced training and provide dedicated time so [junior faculty] can conduct investigations that will lay the groundwork for fundable proposals," said Fogarty Director Dr. Roger I. Glass. The $36.5 million in MEPI support over five years will support 11 junior faculty in 8 countries. The funded projects all incorporate research on HIV/AIDS linked with other noncommunicable diseases or risk factors."
Read the full-text article
"Medical education departments: a study of four medical schools in Sub-Saharan Africa."

A New Article from MEPI Participants describes medical education departments established in four sub-Saharan African medical schools using MEPI funding. The article describes the role the departments play in medical education in Africa and highlights factors that support or obstruct establishing and maintaining the departments.
Read the full-text article
in
BMC Medical Education
.
NIH prepares for new MEPI research support in Africa:
The NIH has announced it is committed to continuing to foster the next generation of researchers in sub-Saharan Africa and is planning to issue a second round of grants through the Medical Education Partnership Initiative (MEPI).
Read the Fogarty Interational Center article
for more information.
NIH-supported Component of the Medical Education Partnership Initiative (MEPI): Research Career Development of African Junior Faculty:
The NIH will extend the activities supported under the original MEPI program by providing research training and mentored research opportunities for junior faculty in MEPI-supported African institutions. The goal is to increase the number of faculty with research expertise in order to build the next generation of African researchers.
Read more about the plans for MEPI's future
.
MEPI Helps Strengthen Psychiatric Education in Zimbabwe:
Read the article "
Breathing New Life into Psychiatric Education in Zimbabwe
​" to learn how the MEPI-supported IMHERZ program is helping Zimbabwe expand its mental health training activities. The program also recently contributed to an assessment of Zimbabwe's psychiatric training activities. Read "
Building mental health workforce capacity through training and retention of psychiatrists in Zimbabwe
" published in the
International Review of Psychiatry
.
Special Supplemental Issue of Academic Medicine:
"
The Medical Education Partnership Initiative: Investing in Medical Education in Sub-Saharan Africa
"
The August 2014 - Volume 89 - Supplement 8 of
Academic Medicine
 contains 32 articles about the progress made by MEPI in revitalizing and expanding medical training in sub-Saharan Africa. A
summary of the supplement's articles
is available from the NIH's Fogarty International Center.
MEPI Network Webinar Series:
May 2014 "Getting Published: The Rules of the Game"
A webinar about the unique challenges associated with publishing in Health Professions/Medical Education journals. Available online; click on the image to the right.

Learn More About the 2012 MEPI Symposium Building Partnerships & Enhancing Sustainability
View the Executive Report and Executive Summary
here
. 
The Implementation Science Network (ISN) recently funded three proposals supporting research, evaluation and Implementation Science approaches for adoption and sustained use of clean cooking technologies in Low and Middle Income Countries. More information on the ISN and the funded proposals.
Awards from the first funding opportunity for the HAPIN initiative, the Household Air Pollution (HAP) Health Outcomes Trial, will be announced in September – October 2016. The HAP Health Outcomes Trial sought applications from institutions/organizations to conduct a clinical trial across three or more Low and Middle Income Country settings to test improved stove and fuel interventions on health outcomes in exposed populations and to establish a biomarker center for the development and validation of clinical, physiological, chemical, biochemical and/or microbiological markers of exposure and pathophysiological responses to household air pollution.
This page last reviewed on December 22, 2016
Connect with the NIH Common Fund