Program Snapshot
Common Fund's Global Health program supports biomedical research and training in chronic, non-communicable diseases such as cardiovascular disease, maternal-child health, mental health, emergency medicine, as well as in infectious diseases. The program includes two primary initiatives:
Program Highlights MEPI

Learn more about the 2012 MEPI Symposium:
Building Partnerships & Enhancing Sustainability.
View the Executive Report and Executive Summary here.

Visit the interactive post chronicling MEPI PIs and program accomplishments here..

Program Highlights H3Africa


NEW! H3Africa launches new website for H3Africa BioNet
Learn more about the 2012 The Inaugural Meeting of the H3Africa Consortium.
Learn more about the Five Step Grants Registration Process in the H3Africa Grants Registration Process Guide. View the meeting presentation slides here.

View NHGRI  Director, Dr. Eric  D. Green, M.D. Welcome H3 Africa Message


Learn more about the  Ethics and Genomics
Research in Africa Conference 2011
Read the press release for the H3Africa project…
Learn how multiple NIH programs – including the Common Fund Global Health program –  are working synergistically with outside partners to build biomedical research capacity in Africa  Read more . . .

The Human Heredity and Health in Africa (H3Africa) program announces $17 million in new awards to support genomics research, train genomic scientists, and build scientific infrastructure in Africa. Click the links below or visit the "PUBLICATIONS/NEWS" tab for more information.
Press Release     AllAfrica News Article 
A database on global health research in Africa
Read More...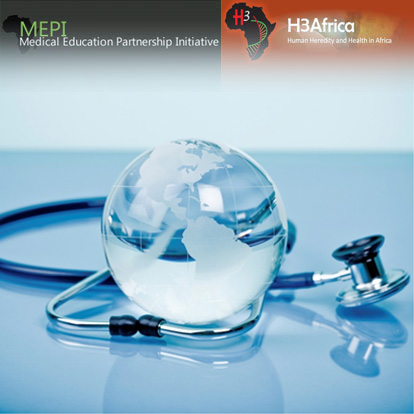 ​