Program Snapshot
Common Fund's Global Health program supports biomedical research and training in chronic, non-communicable diseases such as cardiovascular disease, maternal-child health, mental health, emergency medicine, as well as in infectious diseases. The program includes two primary initiatives:
Program Highlights MEPI
NIH-supported Component of the Medical Education Partnership Initiative (MEPI): Research Career Development of African Junior Faculty will extend the activities supported under the original MEPI program by providing research training and mentored research opportunities for junior faculty in MEPI-supported African institutions. The goal is to increase the number of faculty with research expertise in order to build the next generation of African researchers. Read more about the plans for MEPI's future.
A special supplemental issue of Academic Medicine on MEPI accomplishments contains 32 articles on progress by the program to revitalize and expand medical training in sub-Saharan Africa.
Read a summary of the supplement's articles from NIH's Fogarty International Center. Access the full supplement.

MEPI Press Release: "African Medical Education is Being Transformed by US Program." Learn more about MEPI's accomplishments by reading the release.
Read the monthly MEPI Newsletter 

Program Highlights H3Africa
Press release: NIH Awards Two New Grants to Explore the Understanding of Genomics Research in Africa." Both grants are part of the Ethical, Legal and Social Implications (ELSI) component of H3Africa. One of the grants will support a research project to understand cultural and language concepts of genomics in Nigeria. The other grant will support a project to determine Ethiopians' understanding of gene-environment interactions, with a goal of also increasing awareness about disease susceptibility. Read the press release. View NIH Common Fund-supported Global Health grants.


H3Africa launches website for H3Africa BioNet (click icon above)
Learn more about the Five Step Grants Registration Process in the H3Africa Grants Registration Process Guide. View the meeting presentation slides.

H3Africa & MEPI Featured in Opinion Piece by NIH Director Francis Collins and Wellcome Trust Director Jeremy Farrar. In an opinion piece in TheScientist, the directors of the NIH and the Wellcome Trust cite Common Fund Global Health initiatives as as examples of an increasing proportion of research awards made directly to African scientists and institutions. Read the Article.

H3Africa Grantee Contributes to Ebola Research. Dr. Christian Happi, funded by the H3Africa initiative, contributed to work to trace the Ebola virus origin and transmission during the 2014 outbreak in West Africa.
Read a press release about the discovery.
View H3Africa funded research.
H3Africa Marker Paper on "Enabling the Genomic Revolution in Africa." 

Learn how the NIH and the Wellcome Trust are working together to help African scientists apply genomic and epidemiological techniques in the study of diseases in Africa.​
A database on global health research in Africa
Read More...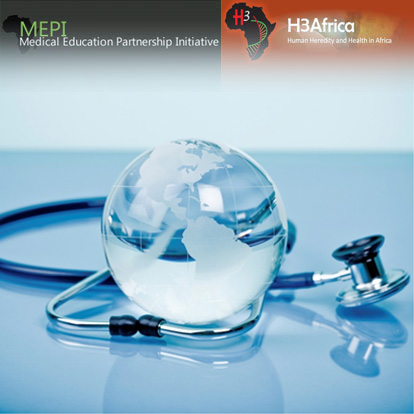 ​