Program Snapshot
Common Fund's Global Health program supports biomedical research and training in chronic, non-communicable diseases such as cardiovascular disease, maternal-child health, mental health, emergency medicine, as well as in infectious diseases. The program includes two primary initiatives:
Program Highlights MEPI
NIH commits $36M to train junior faculty in Africa 
"Research must play an integral part in generating sustainable, quality health care in sub-Saharan Africa, which is the ultimate goal," said NIH Director, Dr. Francis S. Collins. "It is critical that we increase research capacity so Africans can carry out locally relevant investigations themselves, and develop the necessary expertise in areas such as bioethics, informatics, environmental science, and genomics. That will empower their participation in international collaborations." Read the full news article.
NIH-supported Component of the Medical Education Partnership Initiative (MEPI): Research Career Development of African Junior Faculty will extend the activities supported under the original MEPI program by providing research training and mentored research opportunities for junior faculty in MEPI-supported African institutions. The goal is to increase the number of faculty with research expertise in order to build the next generation of African researchers. Read more about the plans for MEPI's future.
A special supplemental issue of Academic Medicine on MEPI accomplishments contains 32 articles on progress by the program to revitalize and expand medical training in sub-Saharan Africa.
Read a summary of the supplement's articles from NIH's Fogarty International Center. Access the full supplement.

MEPI Press Release: "African Medical Education is Being Transformed by US Program." Learn more about MEPI's accomplishments by reading the release.
Read the monthly MEPI Newsletter 

Program Highlights H3Africa
H3Africa Marker Paper on "Enabling the Genomic Revolution in Africa." 

Learn how the NIH and the Wellcome Trust are working together to help African scientists apply genomic and epidemiological techniques in the study of diseases in Africa.​
Press release: NIH Awards Two New Grants to Explore the Understanding of Genomics Research in Africa." Both grants are part of the Ethical, Legal and Social Implications (ELSI) component of H3Africa. One of the grants will support a research project to understand cultural and language concepts of genomics in Nigeria. The other grant will support a project to determine Ethiopians' understanding of gene-environment interactions, with a goal of also increasing awareness about disease susceptibility. Read the press release. View NIH Common Fund-supported Global Health grants.


H3Africa launches website for H3Africa BioNet (click icon above)
Learn more about the Five Step Grants Registration Process in the H3Africa Grants Registration Process Guide. View the meeting presentation slides.

Read the press release for the H3Africa project.
Technical Assistance Webinar
A Technical Assistance Webinar will be held on December 4, 2015 to review the purpose and objectives of the Household Air Pollution (HAP) Health Outcomes Trial. All prospective applicants are invited to participate.
New Funding Opportunity! 
The Household Air Pollution (HAP) Health Outcomes Trial seeks applications from institutions/organizations to conduct a clinical trial across three or more Low and Middle Income Country settings to test improved stove and fuel interventions on health outcomes in exposed populations. In addition, applicants must establish a biomarker center for the development and validation of clinical, physiological, chemical, biochemical and/or microbiological markers of exposure and pathophysiological responses to household air pollution. This Funding Opportunity Announcement (FOA) represents a public/private partnership and unites a variety of partners including the NIH, the Gates Foundation, the Global Alliance for Clean Cookstoves (GACC), and the Global Alliance for Chronic Diseases (GACD). Applications are due January 19, 2016. 
The Seventh Meeting of the H3Africa Consortium was held at the Omni Shoreham Hotel, Washington DC and NIH Campus, Bethesda Maryland on October 11-14. The meeting was an opportunity for scientists to meet and to describe H3Africa's current status and goals and to showcase advances made in the project to the broader research community. The meeting on the NIH campus was open to the public and recorded. A videocast of the symposium can be viewed here. The agenda can be viewed here. 


H3Africa Scientists Investigate Sex Differences. Sex and gender play a role in how health and disease differ across individuals, and considering these factors during research informs the development of preventive and therapeutic interventions for both sexes. Learn how supplements to H3Africa grants are enabling researchers to investigate sex as a biological variable.
Photos and Videos from the 2015 MEPI Symposium Now Available Online. Photographs and videos of the plenary sessions from the 2015 MEPI Symposium in Harare, Zimbabwe are now available on the MEPI website.

​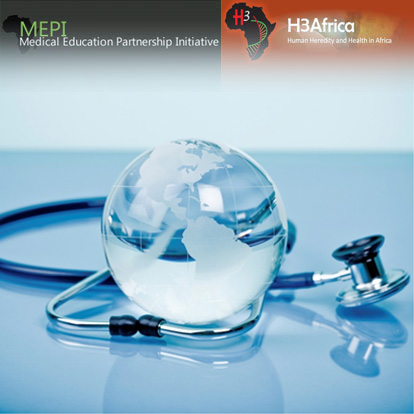 ​