New Funding Opportunities for H3Africa
H3Africa was recently approved for a second 5 years of funding and is soliciting applications for 7 initiatives: Ethical, Legal, and Societal Issues (ELSI) Research Program and ELSI Collaborative Centers, biomedical Research Grants and Collaborative Centers, an Administrative Coordinating Center, an Informatics Network, and a Bioinformatics Research Training Program. Only Investigators at African Institutions are eligible to apply, and awards will be made directly to the African institution. However, investigators at non-African Institutions may participate as collaborators. Applications are due November 15, 2016.​
The 8th H3Africa consortium meeting and the 9th Conference of the African Society of Human Genetics (AfSHG) meeting were held May 12-15 and 16-17, 2016 in Dakar, Senegal. The H3Africa meeting agenda along with other upcoming events can be found here, while the AfSHG meeting agenda can be found here.

H3Africa Scientists Investigate Sex Differences. Sex and gender play a role in how health and disease differ across individuals, and considering these factors during research informs the development of preventive and therapeutic interventions for both sexes. Learn how supplements to H3Africa grants are enabling researchers to investigate sex as a biological variable.
Photos and Videos from the 2015 MEPI Symposium Now Available Online. Photographs and videos of the plenary sessions from the 2015 MEPI Symposium in Harare, Zimbabwe are now available on the MEPI website.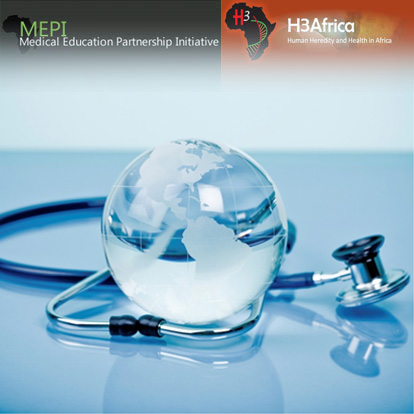 ​