Program Highlights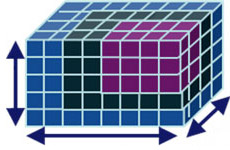 Common Fund Announces Awards for the LINCS Program
The Common Fund is supporting two awards totaling $12.7 million dollars in the Library of Integrated Network-Based Cellular Signatures (LINCS) program. The awards support the high-throughput collection and integrative computational analysis of molecular activity and cellular signatures generated in response to a variety of perturbing agents in a multiple cell types. The new knowledge generated by this program will serve as a long-term resource for the scientific community.
 
One new award, given to Drs. Todd Golub and Wendy Winckler of the Broad Institute, supports the application of a novel approach to analysis of genome-wide expression to catalogue the cellular consequences of 4,000 diverse small molecules and genetic perturbations in an array of twenty different human cell types representing biological diversity and interest in the broad scientific community. The work will establish the information resource needed to support the discovery of unknown components of the genome, annotate the function of small molecules, and link disease states with small-molecule or signatures of genetic perturbation to provide insight into the biological basis of disease and potential new therapeutics (1U54-HG006093-01)
The second award given to Drs. Timothy Mitchinson and Peter Sorger of Harvard University, supports the development of a new research center to advance the knowledge of disease processes, drug mechanisms and selectivity, and ultimately patient-specific responses to therapy. The center will focus on small molecule kinase inhibitors as versatile perturbagens which may be targeted in new therapies. The researchers will characterize the response to these perturbagens in 45 different cell lines known for diverse drug responses and for which genomic data are available, and then in more than 1000 human tumor cell lines (1U54-HG006097-01)

Overcoming Obstacles to Analyzing Complex Biological Data
Biomedical research data generated from genomics analyses, imaging, biochemistry and other assays are abundant yet difficult to integrate using conventional approaches and databases. To address this need, Dr. Peter Sorger and colleagues at Harvard Medical School, Massachusetts Institute of Technology, and the University of Applied Sciences in Germany, researchers supported through the Common Fund's Library of Integrated Network Based Cellular Signatures (LINCS) program, have developed an innovative new adaptable method that allows different types of complex data sets to be stored, analyzed and extended. In a recent paper in Nature Methods, they demonstrate the utility of the approach, which exploits useful aspects of two data file formats (HDF5 and XML), for analyzing a complex imaging data set reflecting 160 experimental conditions in over a million different single cells. The approach led to the discovery of new pharmacological relationships between compounds that bind and inhibit epidermal growth factor receptors (EGFR), providing insights into cell-to-cell variability in response to drugs.
References:
Millard BL, Niepel M, Menden MP, Muhlich JL, and Sorger PK. Adaptive informatics for multifactorial and high-content biological data. Nat Methods. 2011. Vol 8(6):487-493.