Program Snapshot
The Common Fund's Knockout Mouse Phenotyping Program (KOMP2) provides broad, standardized phenotyping of a genome-wide collection of mouse knockouts generated by the International Knockout Mouse Consortium (IKMC), funded by the NIH, European Union, Wellcome Trust, Canada, and the Texas Enterprise Fund.
Program Highlights
"Perfect Host" Developed!
Investigators at The Jackson Laboratory have developed a novel approach that enables highly efficient generation of mouse strains from Embryonic Stem Cells (ESC). This new technology will be extremely useful for the KOMP2 program, by reducing the number of mice needed for each experiment, and greatly increasing the speed and efficiency of mouse production.
Interview with KOMP2 awardee Dr. Monica Justice
Read an interview with KOMP2 awardee Dr. Monica Justice from Baylor College of Medicine, in which she discusses her career path, current work in hematopoietic cancers and genetic syndromes, and future goals for the KOMP2 project. Find out how her early years on the farm inspired a love of biology, what experiences sparked her interest in pediatric medicine, and how she enjoys spending time outside of the lab.
Read Of Mice and Men, and Medicine: an interview with Monica Justice.

Funding Opportunity Announcement to phenotype embryonic lethal knockout mice from the International Mouse Phenotyping Consortium (IMPC)!
The IMPC, a worldwide consortium that includes KOMP2 as a member, is generating an estimated 20,000 knockout mouse strains, up to 30% of which are expected to be embryonic or perinatal lethal. This funding opportunity announcement invites applications to phenotype embryonic lethal mouse strains with a long term goal of revealing important insights into normal development in addition to a variety of diseases. This funding opportunity is supported by several NIH Institutes and Centers, and is related to, but separate from, the Common Fund's KOMP2 program.
Read the Funding Opportunity here.
 
Updates from KOMP2
See what KOMP2 has been doing lately! Download slides about KOMP2 history, current status, and future directions here.
Looking for information about mice phenotyped through KOMP2? Visit www.mousephenotype.org, where you can use the "Search" function to search by gene, phenotype, anatomy, or protocol.

KOMP2 investigators publish important resources, advances, and challenges for mouse phenotyping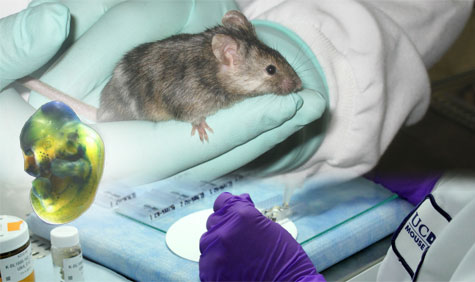 ​
Images showing KOMP2 research (clockwise from top): a genetically modified chimeric mouse; a researcher preparing tissue samples for analysis; a mouse embryo showing expression (in blue) of one member of the TCF/LEF family of genes, a regulator of several important biological pathways.
International Efforts in Mouse Phenotyping
KOMP2 is partnering with organizations from ten countries as part of the International Mouse Phenotyping Consortium (IMPC) in an internationally coordinated effort to undertake a broad-based, systematic genome-wide phenotyping of knockout mice.
Visit the IMPC website here  

Read more about the IMPC Informatics Team here