Geroscience
The Interdisciplinary Research program has transitioned from Common Fund support. For more information, please visit
http://commonfund.nih.gov/Interdisciplinary
. Consortium activities may continue to be supported via other sources; please visit the Consortium website for details.
Executive Summary
Age-related disease is arguably the single greatest challenge for biomedicine in the 21st century. Aging is the most important risk factor for human disease in developed countries and consequently creates an enormous social and economic impact. Our ability to tackle age-related disease is undermined by our lack of understanding of the principles and mechanisms of aging. Aging is a complex biomedical problem that is unlikely to yield to traditional investigative techniques. The Buck Institute is focused on studying the interface of normal aging and aging diseases in an interdisciplinary fashion. We combine experimental approaches to ask how basic aging mechanisms contribute to the earliest events in age-related neurological disease and cancer.

The IRC on Geroscience collaborated to 1) understand the mechanisms of extending lifespan in model organisms with a view to developing interventions to promote healthy aging, 2) develop an interdisciplinary research program on the aging-disease relationship with a focus on cancer, 3) investigate the influence of stochastic events in aging, and 4) train post-doctoral researchers in geroscience.

The demographic trend toward an aged population is a very significant healthcare challenge. Our goal was to explain why aging is such an important factor in human disease. We proposed that by studying the deep mechanisms of aging an understanding of disease will emerge. We proposed this will yield new directions to prevent or cure diseases such as Alzheimer's, Parkinson's or adult cancers.

Consortium Director and Scientists

Lithgow, Gordon, 1UL1RR024917-01: INTERDISCIPLINARY RESEARCH CONSORTIUM IN GEROSCIENCE, and 1RL1ES016655-01: CHECKPOINT FUNCTIONS, LIFESPAN DETERMINATION AND NEURODEGENERATION
Andersen, Julie, 1RL1NS062415-01: SUBCELLULAR LOCALIZATION OF ALPHA-SYNUCLEIN AND ITS IMPACT ON NEURODEGENERATION
Ellerby, Lisa, 1RL1NS062413-01: HDACS IN NEURODEGENERATION AND AGING
Gibson, Brad, 1PL1AG032118-01: MASS SPECTROMETRY AND IMAGING TECHNOLOGIES IN GEROSCIENCE
Greenberg, David, 1RL1NS062414-01: NEURONAL STEM CELLS AND AGING, and 1RL9AG032114-01: POSTDOCTORAL RESEARCH TRAINING AND EDUCATION IN GEROSCIENCE and 1TL1AG032116-01: POSTDOCTORAL RESEARCH TRAINING AND EDUCATION IN GEROSCIENCE
Hughes, Robert, 1RL1GM084432-01: PROTEIN INTERACTIONS AND PROTEIN CONFORMATION IN AGING AND DISEASE
Kapahi, Pankai, 1RL1AG032113-01: MRNA TRANSLATION, TOR AND GEROSCIENCE
Vijg, Jan, 1RL1AG032117-01: STOCHASTIC ASPECTS OF AGING

Selected Publications
Matrix metalloproteinases are modifiers of huntingtin proteolysis and toxicity in Huntington's disease. Miller JP, Holcomb J, Al-Ramahi I, de Haro M, Gafni J, Zhang N, Kim E, Sanhueza M, Torcassi C, Kwak S, Botas J, Hughes RE, Ellerby LM. Neuron. 67(2): 199-212, 2010.
 
Insulin-like signaling determines survival during stress via posttranscriptional mechanisms in C. elegans." McColl G, Rogers AN, Alavez S, Hubbard AE, Melov S, Link CD, Bush AI, Kapahi P, Lithgow GJ. Cell Metab., 12(3):260-72, 2010.
 
ErbB2 trafficking and degradation associated with K48 and K63 polyubiquitination. C. Marx, J. Held, B. Gibson, C. Benz. Cancer Research, 70:3709-17, 2010.
 
Amyloid-binding compounds maintain protein homeostasis during ageing and extend lifespan. Alavez S, Vantipalli MC, Zucker DJ, Klang IM, Lithgow GJ. Nature 472, 226-229, 2011.
 
Zid BM, Rogers A, Katewa SD, Au Lu T, Benzer S, Kapahi P. 4E-BP modulates lifespan and mitochondrial translation upon dietary restriction in Drosophila. Cell 139(1):149-160, 2009.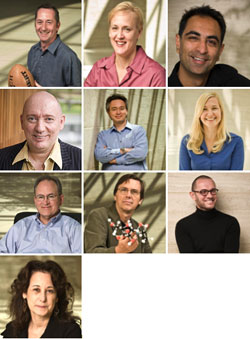 Geroscience Consortium Scientists.
First row, from left: Gordon Lithgow, Ph.D., Julie Andersen, Ph.D., Pankaj Kapahi, Ph.D.; Second row, Jan Vijg, Ph.D., Robert Hughes, Ph.D., Lisa Ellerby, Ph.D.; third row: David Greenberg, M.D. Ph.D., Brad Gibson, Ph.D., Simon Melov, Ph.D. ; fourth row, Judith Campisi, Ph.D.  
This page last reviewed on December 18, 2019
Connect with the NIH Common Fund