Program Snapshot
The Common Fund's Genotype-Tissue Expression (GTEx) program aims to study human gene expression and regulation in multiple tissues, providing valuable insights into the mechanisms of gene regulation and, in the future, its disease-related perturbations. Genetic variation between individuals will be examined for correlation with differences in gene expression level to identify regions of the genome that influence whether and how much a gene is expressed. The GTEx project includes the following initiatives:
Novel Statistical Methods for Human Gene Expression Quantitative Trait Loci (eQTL) Analysis
Laboratory, Data Analysis, and Coordinating Center (LDACC)
caHUB Acquisition of Normal Tissues in Support of the GTEx Project
Program Highlights
The Genotype-Tissue Expression (GTEX) project Commentary is featured in Nature Genetics
The June 2013 issue of Nature Genetics highlights the GTEx project published by the GTEx Consortium.
Read more...
The Genotype-Tissue Expression Project (GTEx) Biospecimens Access Policy is a mechanism recently put in place to allow researchers access to tissues in the GTEx biobank. The policy and related forms can be found on the GTEx Portal. Click here for GTEx Portal.

Click here for GTEx Sample Request Forms.

GTEx moves from pilot to scale up – The GTEx program is creating a comprehensive data and sample resource of genetic variation and gene expression profiles in multiple tissues from post-mortem donors. This resource will aid in the interpretation of Genome Wide Association Studies and help prioritize therapeutic targets by identifying those that affect gene expression.
See how many researchers are utilizing the GTEx data from mid-2012 to mid-2013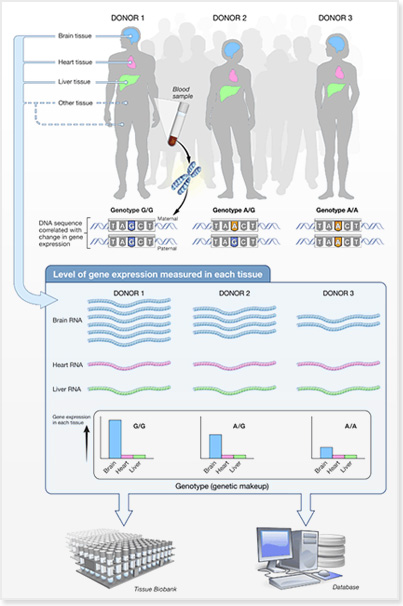 The GTEx (Genotype-Tissue Expression) Project. Correlations between genotype and tissue-specific gene expression levels will help identify regions of the genome that influence whether and how much a gene is expressed. GTEx will help researchers to understand inherited susceptibility to disease and will be a resource database and tissue bank for many studies in the future.