Program Snapshot
The Common Fund's Genotype-Tissue Expression (GTEx) program is providing valuable insights into the mechanisms of gene regulation by studying human gene expression and regulation in multiple tissues from health individuals; exploring disease-related perturbations in a variety of human diseases; and examining sexual dimorphisms in gene expression and regulation in multiple tissues. Genetic variation between individuals – underlying the many differences in gene expression – will be examined for correlation with differences in gene expression level to identify regions of the genome that influence whether and how much a gene is expressed. Identifying unique genomic variations associated with gene expression is expected to stimulate research towards understanding the genetic basis of complex diseases.
The GTEx project includes the following initiatives:
Online data resource (GTEx Portal) for storing, cataloging, searching, and sharing aggregated level data
Novel Statistical Methods for Human Gene Expression Quantitative Trait Loci (eQTL) Analysis
Laboratory, Data Analysis, and Coordinating Center (LDACC) for acquiring and analyzing DNA and RNA from multiple human tissues
Enhanced GTEx projects: including additional dimensions beyond gene expression to the GTEx data
Program Highlights
GTEx data is aiding researchers in uncovering how genetic alterations contribute to schizophrenia
Over 100 different genetic loci are associated with schizophrenia diagnosis. However, researchers do not know how they alter biological processes resulting in risk for or protection from schizophrenia or whether those genetic loci associated with schizophrenia diagnosis are amenable to interventions. Read a brief description of how the GTEx dataset has helped researchers answer this question.
GTEx dataset helps researchers determine how gene duplications potentially lead to genes with new biological functions
New genes arise through duplication of ancestral genes; occasionally the new gene duplicates acquire new biological functions through evolution. However, a majority of the time new gene duplicates quickly become nonfunctional by accumulating debilitating mutations, thus they cannot acquire new biological functions. What mechanisms support the persistence of new gene duplicates long enough for new biological functions to evolve? Read a brief description of how the GTEx dataset has helped researchers answer this question.
GTEx dataset helps researchers uncover biological functions for the small amount of Neandertal DNA present in modern humans
Humans and Neandertals interbred on a few occasions before Neandertals went extinct. A small trace of their DNA still lives on inside us; genomes of modern Eurasians contain ~1.5 to 4% Neandertal DNA. The role, if any, that Neandertal DNA plays in our physiology and disease susceptibility/progression is poorly understood. Read a brief description of how the GTEx dataset has helped researchers answer this question.
GTEx Announcements
GTEx Community Meeting in Barcelona in April!
The GTEx Community meeting is held annually and is open to the scientific community who are interested in learning more about the project and data, or who are already using the data in their research. This meeting will be held in Barcelona in April, following the completion of the main production phase of GTEx data. It will aim to congregate a community of scientists from all over the world that are using, or that plan to benefit from using, the GTEx data. Click here for more information.
GTEx Reaches Midpoint Milestone!
The GTExPortal was updated in October 2015! This latest version of sequence data encompasses roughly half of the anticipated 960 postmortem donors. This release includes genotype data from approximately 450 donors and over 9600 RNA-seq samples across 51 tissue sites and 2 cell lines, with adequate power to detect Expression Quantitative Trait Loci in 44 tissues. Full gene and isoform expression datasets are available for download through the GTEx Portal while genotypes and RNA-seq bam files are available via dbGaP.
GTEx Pilot Phase Data Show How Differences in DNA Affect Gene Activity and Disease Susceptibility. Analysis from the GTEx pilot phase were recently published in Science and other journals. Learn how the GTEx resource is poised to advance our understanding of how genetics and gene activity affect human health and disease. Read a brief summary of the potential of the GTEx resource and some of the pilot phase findings. Read the Press Release.
The Genotype-Tissue Expression Project (GTEx) Biospecimens Access Policy is a mechanism  to allow researchers access to tissues in the GTEx biobank. The policy and related forms can be found on the GTEx Portal. Go directly to GTEx Sample Request Forms.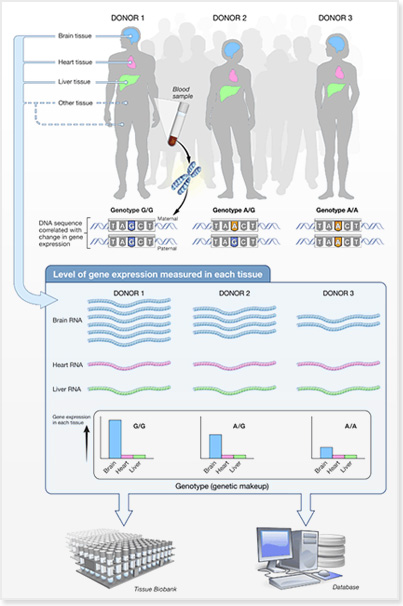 Correlations between genotype and tissue-specific gene expression levels will help identify regions of the genome that influence whether and how much a gene is expressed.Top: DNA and RNA is collected and analyzed from multiple tissues. Each donor has different genetic variants. In this example they are G/G, A/G, and A/A. Middle: Gene expression levels (RNA) are measured in each tissue from each individual and correlated with that individual's genotype. Each donor has different gene expression (RNA) levels. In this example donor 1 has the highest while donor 3 has the lowest RNA levels in brain. Donor 2 is in the middle. RNA expression levels are treated as quantitative traits or expression quantitative trait loci (eQTLs). When eQTLs are correlated with genetic variation new genetic variants associated with, and potentially causal to, gene expression are discovered. In this example the genetic variant G/G is associated with high gene expression in brain while the genetic variant A/A is associated with low gene expression in brain. The genetic variant A/G is associated with intermediate gene expression in brain. When eQTLs between healthy and unhealthy individuals are compared, novel genes contributing to disease can be discovered. Bottom: The eQTL data and the donor tissues are deposited in the GTEx Portal and tissue repository for use by the scientific community.