Program Snapshot
With advances in genomic sequencing and medicine, it is now possible to examine patients with rare genetic diseases at a level that allows physicians and scientists to find the "needle in a haystack". Often times, one small change (mutation) in a genetic sequence can cause an individual to develop disease symptoms. To increase the capacity for this type of research, an Undiagnosed Diseases Network (UDN) is being established across the country to diagnose both rare and new diseases. Furthermore, through the support of mechanistic studies, the Network hopes to aid in management strategies for the patients. This program will advance laboratory and clinical research, building upon the experience and expertise of the NIH Intramural Undiagnosed Diseases Program (UDP) and similar programs, to enhance coordination and collaboration among laboratory and clinical researchers across multiple centers. The Network will benefit from having the capacity to share data and approaches widely throughout the scientific community.
Program Highlights
Expanding the limits of modern medicine. The NIH Undiagnosed Diseases Network will address an abundance of mystery cases. Read a news feature about patients and the network here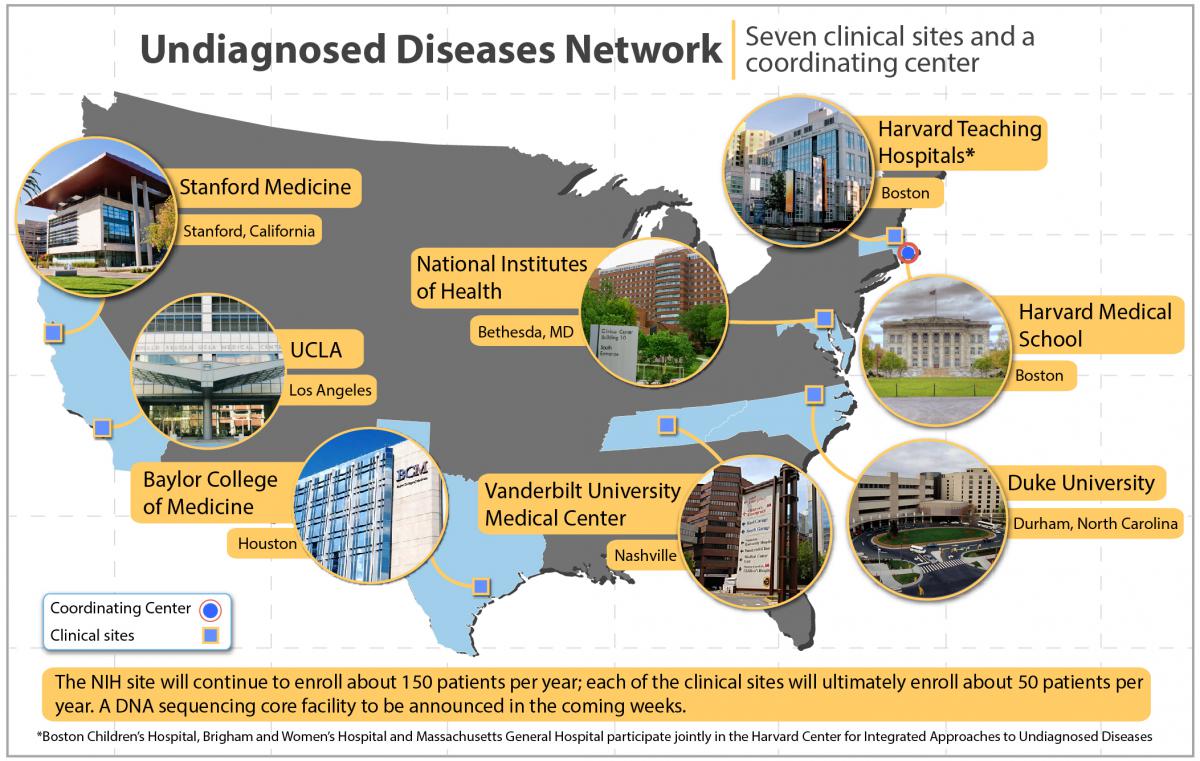 NEW!

NIH names new clinical sites in Undiagnosed Diseases Network
Read more here.

Harvard Medical School Chosen as Coordinating Center for the UDN
The National Institutes of Health (NIH) Common Fund took a major step toward shaping its multi-site Undiagnosed Diseases Network (UDN) with the selection of Harvard Medical School as the UDN Coordinating Center. The $9 million, four-year award begins the expansion of the NIH Undiagnosed Diseases Program to which doctors across the country have turned for help in diagnosing their patients' puzzling conditions.  Read More . . .
Read the Harvard Medical School Press Release here.

View the recording of the NIH Teleconference to Solicit Information on Expanding the Undiagnosed Disease Network by clicking here.