Program Snapshot
With advances in genomic sequencing and medicine, it is now possible to examine patients with rare genetic diseases at a level that allows physicians and scientists to find the "needle in a haystack". Often times, one small change (mutation) in a genetic sequence can cause an individual to develop disease symptoms. To increase the capacity for this type of research, an Undiagnosed Diseases Network (UDN) is being established across the country to diagnose both rare and new diseases. Furthermore, through the support of mechanistic studies, the Network hopes to aid in management strategies for the patients. This program will advance laboratory and clinical research, building upon the experience and expertise of the NIH Intramural Undiagnosed Diseases Program (UDP) and similar programs, to enhance coordination and collaboration among laboratory and clinical researchers across multiple centers. The Network will benefit from having the capacity to share data and approaches widely throughout the scientific community.
Program Highlights
Expanding the limits of modern medicine. The NIH Undiagnosed Diseases Network will address an abundance of mystery cases. Read a news feature about patients and the network here
 

NEW! Funding Opportunity for Undiagnosed Diseases Gene Function Research (R21)!
This Exploratory/Developmental Research Funding Opportunity
(RFA-RM-15-004) intends to support gene function studies in collaboration with the Undiagnosed Diseases Network (UDN) building upon the NIH Intramural Research Program's Undiagnosed Diseases Program (NIH-UDP). Responsive applications will propose to investigate the underlying genetics, biochemistry and/or pathophysiology of newly diagnosed diseases in association with the respective gene variant(s) identified through the UDN. 
Letter of Intent Due Date: May 24, 2015
Application Due Date: June 24, 2015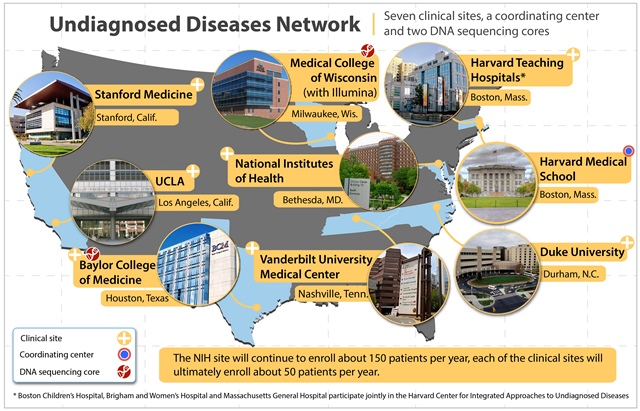 Baylor College of Medicine, Medical College of Wisconsin to conduct DNA sequencing for Undiagnosed Diseases Network
Baylor College of Medicine & the Medical College of Wisconsin Become the DNA Sequencing Core for the UDN
The Baylor College of Medicine in Houston and the Medical College of Wisconsin in Milwaukee will be providing DNA sequencing for the Common Fund's Undiagnosed Diseases Network (UDN). Each site will receive more than $2.5 million over a 4-year period, pending the availability of funds. The National Institutes of Health (NIH) also announced funding for six UDN grants to study the function of genes that are thought to play roles in particular patient conditions. Read more here.