Program Snapshot

With advances in genomic sequencing and medicine, it is now possible to examine patients with rare genetic diseases at a level that allows physicians and scientists to find the "needle in a haystack". Often times, one small change (mutation) in a genetic sequence can cause an individual to develop disease symptoms. To increase the capacity for this type of research, an Undiagnosed Diseases Network (UDN) has been established across the country to diagnose both rare and new diseases. Furthermore, through the support of mechanistic studies, the Network hopes to aid in management strategies for the patients. This program is advancing laboratory and clinical research, building upon the experience and expertise of the NIH Intramural Undiagnosed Diseases Program (UDP) and similar programs, by enhanced coordination and collaboration among laboratory and clinical researchers across multiple centers. The Network also benefits from having the capacity to share data and approaches widely throughout the scientific community.
Program Highlights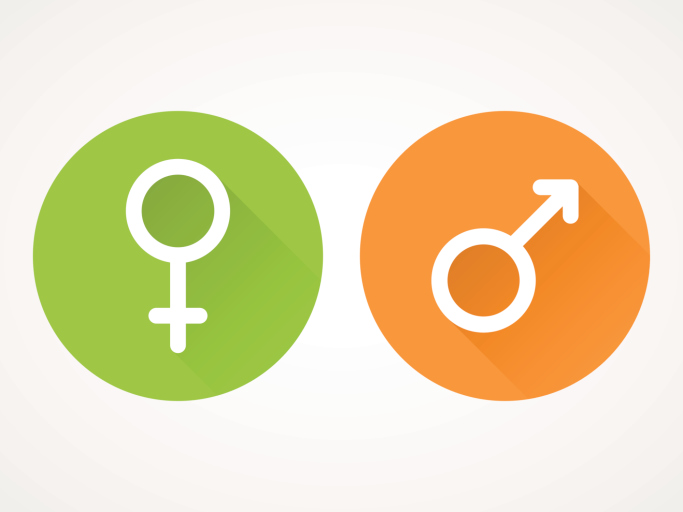 A single mutation acts as a molecular switch for sex determination by comparing DNA sequences from four families with sex development disorders, researchers from the Undiagnosed Diseases Network have found a single mutation that can act as a molecular switch to change the fate of sex determination but only one of these families was from the UDN. Read a brief description of the research.
---
Read More about the Undiagnosed Diseases Network
Quick Links
Help the UDN find a diagnosis!
One of the ways the UDN can obtain a diagnosis for a participant is by finding other individuals with the same genetic change.  While a single participant may have several potential changes in their genetic code that in theory could result in their condition, finding others with the same change and symptoms is strong evidence of a causal link between the mutation and the persons' symptoms. (Note that sharing of this type of information is not a requirement of participation in the UDN.)
Genes of Interest: A list of some of the genetic changes currently under investigation as possible causes for some undiagnosed diseases.
Participant Pages: Profiles of participants who have consented to share information about their conditions in hopes of finding others with similar conditions.
Learn more about applying to be a UDN participant here:

---
Who is in the Network?
The UDN is a group of clinical and research centers across the United States. The clinical sites are the Baylor College of Medicine, Duke Medical Center, Harvard Affiliated Hospitals (Brigham and Women's Hospital, Boston Children's Hospital, Massachusetts General Hospital), the NIH Undiagnosed Diseases Program, Stanford Medical Center, University of California at Los Angeles Medical Center, and Vanderbilt University Medical Center. The Coordinating Center for the UDN is at Harvard Medical School, and the two Sequencing Cores that perform genetic testing for the UDN are at the Baylor College of Medicine and HudsonAlpha Institute for Biotechnology with Illumina. The network also contains a central biorepository at Vanderbilt University Medical Center, a metabolomics core at Pacific Northwest National Laboratory and Oregon Health & Science University, and a model organisms screening center at Baylor College of Medicine.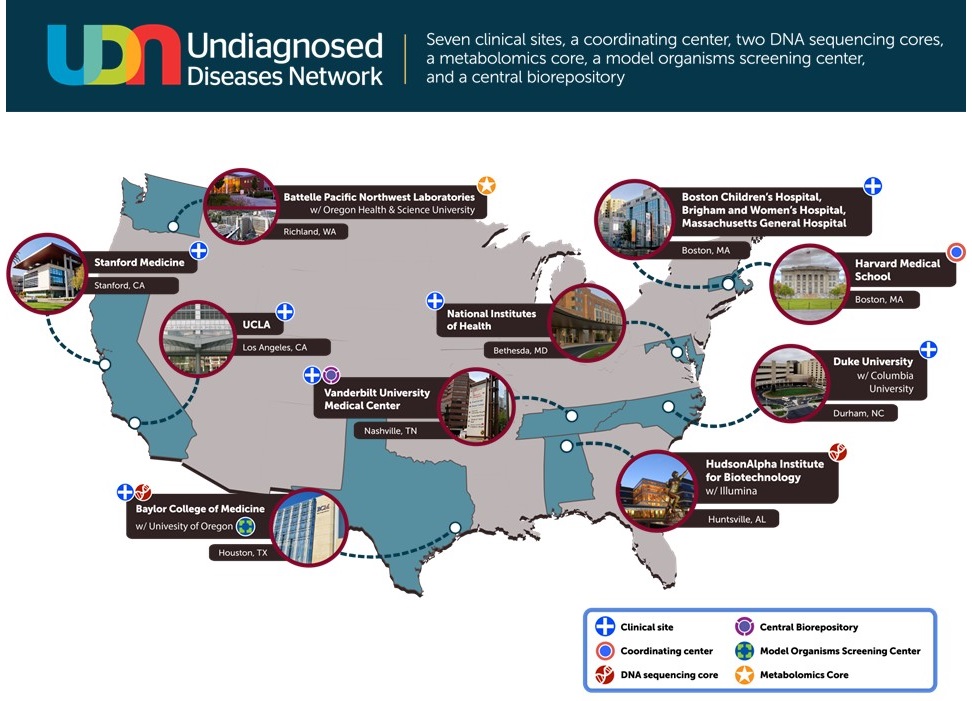 UDN Coordinators William Gahl and Anastasia Wise discuss the network. 
---
Contact
For more information about the UDN or application process, individuals can contact the UDN Coordinating Center by:
Telephone


Toll-free from USA, Canada, Mexico: 1-844-RING UDN (746-4836)
From all other countries: 1-617-432-2344
Email: UDN@hms.harvard.edu