Program Snapshot
The NIH Common Fund's Metabolomics program aims to increase national capacity in metabolomics by supporting the development of next generation technologies to enhance the sensitivity and speed with which specific elements of the cellular metabolome can be identified and quantified, providing training and mentoring opportunities, increasing the inventory of chemically identifiable metabolites through the synthesis and availability of high quality reference standards, and by promoting data sharing and collaboration. Learn more here
Program Highlights

Metabolomics Scientists Tie Metabolites to Lifespan in Mammals Research from a group including NIH Common Fund's Metabolomics Program grantee Sun Hee Yim used the latest metabolomics techniques to look at a wide range of metabolites from 26 diverse species of mammals.  They were able to correlate the levels of specific metabolites with the range of lifespans that exists across the mammals sampled, providing insight into biological mechanisms of longevity. Read more about this research.
---
Features of the Metabolomics Workbench highlighted in a recent publication


A new publication highlights the Metabolomics Workbench, created by the Metabolomics Program's Data Repository and Coordination Center, and describes how to access resources from the Metabolomics Program. For additional information and to read a brief description of the research article.
---
Taming the Torrent of Metabolic Data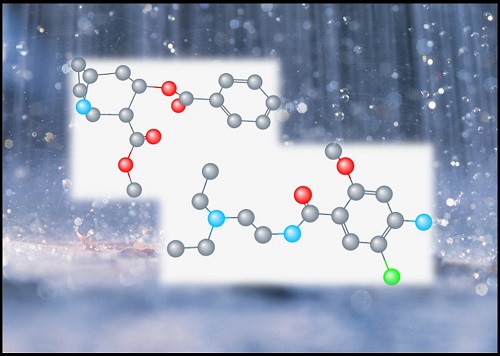 ​Metabolomics Program grantee, Dr. Oliver Fiehn at the NIH West Coast Metabolomics Center at UC Davis, and his colleagues in Japan, have developed open source software called MS-DIAL to help researchers analyze their untargeted metabolomics data. Read a brief description of the research.
---
Study Finds Potential New Drug Target for Lung Cancer
Scientists have long known that the metabolism of tumor cells differs from normal, healthy cells. However, it has been challenging to study tumor metabolism in living tumor cells from a large number of cancer patients. Researchers at the Common Fund-supported Resource Center for Stable Isotope-Resolved Metabolomics (RC-SIRM) looked at how the molecule glucose is broken down as part of the metabolism of patients with non-small-cell lung cancer. They found that the enzyme pyruvate carboxylase is critical for proliferation of this cancer type and may be potential target for future cancer drugs.
Read a brief description of this discovery or watch a video on the topic.
---
Using Metabolomics to Study Cancer Cell Metabolism
Cancer cells have distinctive changes in their metabolism that can be exploited for cancer diagnosis and treatment. One metabolic change that occurs is in the way a cancer cell uses the biological molecule glutamine. This chemical is both broken down for energy and used as a starting point in the synthesis of other biological compounds such as nucleotides and amino acids. Drugs that inhibit glutamine processing by targeting the enzyme glutaminase, which converts glutamine into glutamate, may be promising for cancer therapy. However, these therapies would be most useful if we could easily identify the patients who are mostly likely to benefit from them. Towards this end, a recent study from the West Coast Metabolomics Center examined the glutamate to glutamine ratio (GGR) in breast tissue from 270 breast cancer patients compared to 97 normal controls. They found that this ratio was significantly higher in cancer tissue. Tumor characteristics such as estrogen receptor (ER) status and tumor grade correlated with GGR, such that ER negative breast tumors and higher grade tumors had more elevated GGR levels. The finding that GGR levels are elevated in many breast tumors suggest that this measurement might predict which tumors would be candidates for treatment with newly developed glutaminase inhibitors.
Read the article abstract here.
---
Battling Bad Biofilms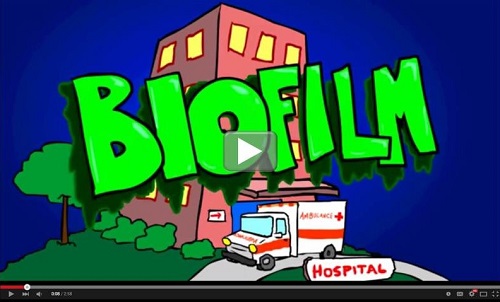 Research from Metabolomics Program Mentored Research Scientist Dr. Mary Cloud Ammons provides insight into the unique metabolism of bacteria that colonize chronic wounds.
Read the abstract of Dr. Ammons' article abstract here​.
Click on the image to view Dr. Ammons' video contest submission that explains her research in plain language with the help of some animated bacteria!​

---
Learn more about Metabolomics Initiatives
The NIH Common Fund is taking a comprehensive approach to increasing the research capacity in metabolomics by funding a variety of initiatives in this area, including training, technology development, standards synthesis, and data sharing capability for this new field.
View the Metabolomics Press Release.
---
Learn more about the Metabolomics Community
The Common Fund Metabolomics program solicits applications for small grants to foster collaboration between bioinformaticians and the metabolomics community.  These one year grants are to support bidirectional collaborations such that in-depth appreciation of both the biology and the informatics would promote the development of new or improved approaches to metabolomics data analysis.  The awards are also intended to complement the current efforts of the Common Fund Metabolomics Program and maximize the value of existing metabolomics databases and resources.  Click for more information.  
The NIH's Common Fund has announced funding opportunities for the Molecular Transducers of Physical Activity in Humans program, including a call for metabolomic analysis.  Read more information about this program and the associated funding opportunities here.  
NEW!  The Common Fund Metabolomics program is soliciting applications for Administrative Supplements. The program aims to support multi-disciplinary research using metabolomics and to help investigators gain experience in metabolomics techniques. The administrative supplements would forge new collaborations between basic biomedical or clinical researchers and metabolomics experts for studies that fall within the scope of the parent grant, but require a metabolomics approach. Click for more information.
Southeast Center for Integrated Metabolomics will host an Advances in Multi-Omics Symposium on October 20, 2015.  The event will be held at the University of Florida's Clinical and Translational Science Institute and will cover topics of interest to researchers using genomics, transcriptomics, proteomics, and metabolomics in their research.  View event and registration details. 


Metabolomics Scientists Investigate Sex Differences. Sex and gender play a role in how health and disease differ across individuals, and considering these factors during research informs the development of preventive and therapeutic interventions for both sexes. Learn how supplements to Metabolomics grants are enabling researchers to investigate sex as a biological variable.
Online Learning Platform: Welcome to Metabolomics in Medicine. Developed by Martin Kohlmeier from the University of North Carolina. Online instruction and other resources at this site

will help researchers and clinicians to catch up with the rapid pace of development in the metabolomic sciences. The learning materials will teach the scientific foundations for understanding current technologies and analytical strategies. Supported by a NIH Common Fund Metabolomics Award (R25 GM103802).
Mayo Clinic will host a Metabolomics Symposium from October 25-27, 2015. The event will take place in Rochester, MN and will feature presentations on the practice and theory of metabolomics applications, latest research in metabolomics, tours and networking opportunities. The workshop is open to beginner and established researchers, students, and postdoctoral fellows. View event and registration details.

Online Metabolomics Training and Education. A variety of metabolomics training and education resources are now available from members of the Metabolomics program consortium online at the Metabolomics Workbench. Training media include Tutorials, Videocasts, and Workshop Materials that span general metabolomics introductions to advanced metabolomics techniques and technologies. Browse the Online Metabolomics Training and Education Materials.  

The metabolomeXchange: the beginnings of international metabolomics data sharing. Over 100 datasets are now accessible from the metabolomeXchange including data from the Metabolomics Workbench funded by the Common Fund. Check it out at: http://metabolomexchange.org/. 

Learn more about the strengths of each NIH-funded metabolomics resource core here! 

Nominations now being accepted for metabolite standards to be synthesized by the NIH's Common Fund Metabolomics program. Read More . . .

For Metabolomics Data and Resources visit the Metabolomics Workbench 


The NIH Common Fund's Increasing Metabolomic Research Capacity program components and goals: