Program Snapshot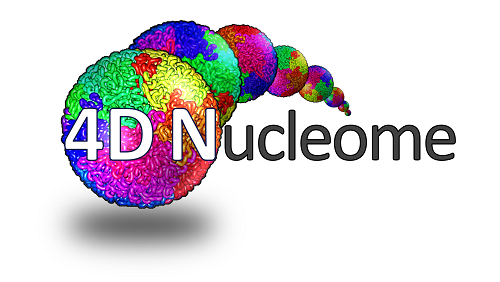 Genetic material, located within the nucleus of a cell, is not randomly organized.  Although the spatial configuration of DNA and DNA-associated proteins is known to influence gene expression and cellular function, how this occurs is currently unknown. The Common Fund's 4D Nucleome program aims to understand the principles behind the three-dimensional organization of the nucleus in space and time (the 4th dimension), the role nuclear organization plays in gene expression and cellular function, and how changes in the nuclear organization affect normal development as well as various diseases.
Program Highlight
NEW! The Scientist publishes article on nuclear cartography!
The Scientist has published an article on the exciting new field of chromosome structure, with a special mention of the 4D Nucleome program. Read the article here.

The Common Fund Launches New 4D Nucleome Program
Read the press release announcing the 4D Nucleome program and other new Common Fund programs! NIH programs to focus on emerging areas of science
During the 2013-2014 Common Fund strategic planning process, the NIH community identified the need to understand how nuclear organization in space and time affects cellular function in health and disease. Recent advances in our understanding of genomics and epigenomics, coupled with technological breakthroughs in tools and methods to study and manipulate nuclear architecture, provide the opportunity to catalyze this nascent field of research. The Common Fund is launching the 4D Nucleome program to address these identified needs and opportunities.