Program Initiatives
The Health Care Systems (HCS) Research Collaboratory is intended to improve the way clinical trials are conducted by developing systems and best practices for trials conducted at the site of care under real-world conditions. The ultimate goal is to ensure that healthcare providers and patients can make decisions based on the best available clinical evidence.
HCS Research Collaboratory Coordinating Center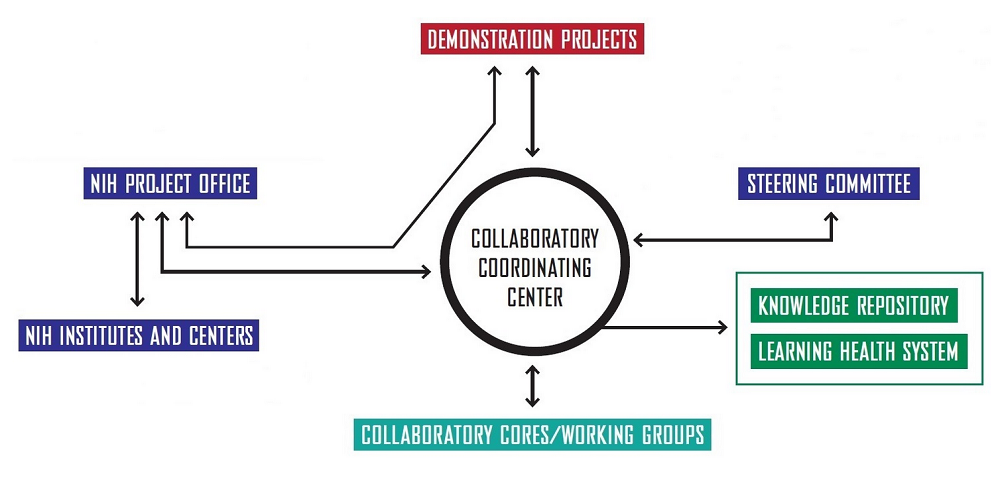 The Coordinating Center for the Collaboratory serves the following functions:
Provide national leadership and technical expertise in all aspects of research with healthcare systems
Work with the NIH to produce, document, and disseminate standards for healthcare systems research
Create durable infrastructure that facilitates multi-center studies and the responsible use of electronic health data
Support synergy among the Collaboratory Cores/Working Groups, Demonstration Projects, and Committees
Coordinate communication and dissemination within the Collaboratory and to the broader research community
Principal Investigator Name:  Adrian Hernandez, MD, MHS
Institution:  Duke University with participation by the Harvard Pilgrim Health Care Institute at Harvard Medical School, the Group Health Research Institute, Johns Hopkins University, and the Center for Medical Technology Policy.
Project Title:  Health Care Systems Research Collaboratory – Coordinating Center
Pragmatic Trial Demonstration Projects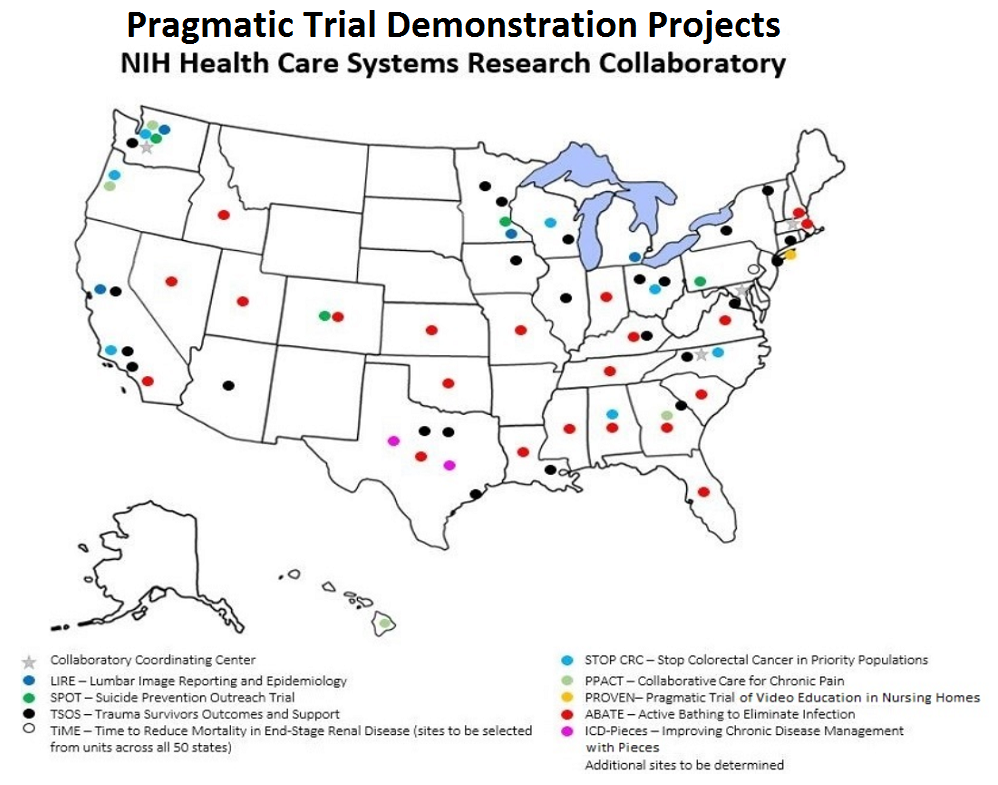 The Collaboratory supports the design and rapid execution of several Pragmatic Clinical Trial Demonstration Projects. These projects address questions of major public health importance — from healthcare-acquired infections to suicide prevention — that engage health care delivery systems in research partnerships. The data, tools, and resources produces by the Demonstration Projects are made available to the greater researcher community to pave the way for future trials conducted as partnerships with health care systems. Read Detailed Descriptions of the Demonstration Projects. Find NIH project descriptions on the HCS Research Collaboratory Funded Research page.
Principal Investigator Name:  Jeffrey Jarvik, MD, MPH
Institution:  University of Washington
LIRE is a large-scale pragmatic trial aimed at providing doctors and patients better information to link lower back pain to imaging data. Imaging procedures, like MRI, can reveal changes in the spine that may be the route cause of lower back pain or may simply be age-related. Doctors frequently lack comparison images that would help them determine whether spinal changes revealed by imaging were normal for the patient's age or were a reason for concern. LIRE will provide "epidemiological benchmarks" that give doctors a frame of reference for comparing their patient's imaging results to those of patients without lower back pain. The hope is that this will help doctors make informed care decisions and avoid unneeded and potentially invasive interventions that do little to decrease a patient's pain.
Principal Investigator Name:  Gregory Simon, MD, MPH
Institution:  Group Health Research Institute
The SPOT pragmatic trial will test treatments intended to reach large groups of adult patients who have serious thoughts of suicide. Patients at risk will be identified and followed through medical records. The research team will test two treatment programs: The first program, a care management approach, draws on two previous efforts, a collaborative care for depression strategy plus an approach developed at the Henry Ford Health System. The second program is an online skills training method designed to help people manage painful emotions and stressful situations. To determine the impact of the two prevention strategies, patients will be compared with another group of patients receiving usual care. This 5-year study is designed to enroll 19,500 patients. In addition to its large scope and the significant problem that it will address, this study is groundbreaking because the study design and intervention programs were developed in collaboration with people with "lived experience," those who have experienced suicidal thoughts or survived suicide attempts themselves.
Principal Investigator Name:  Douglas Zatzick, MD
Institution:  University of Washington
Each year, more than 30 million Americans are treated for physical injuries at trauma centers, emergency departments, and other acute-care settings (i.e., trauma care systems). Multiple long-term conditions, including post-traumatic stress disorder (PTSD), alcohol and drug use problems, depression and associated suicidal ideation, pain, and preexisting long-term medical conditions are common among survivors of physical trauma. Evidence-based treatments for PTSD and associated conditions exist but have yet to be broadly implemented throughout U.S. trauma care systems. TSOS is a large-scale pragmatic trial that will test whether a computer-based decision support tool helps doctors at trauma centers more effectively manage the care of injured patients to reduce the development of chronic PTSD and depressive symptoms, alcohol use problems, and enduring physical disability.
Principal Investigator Name:  Laura Dember, MD
Institution:  University of Pennsylvania
TiME is a large-scale pragmatic clinical trial testing a simple intervention to improve survival and quality of life for patients with kidney failure who require chronic treatment with dialysis. The trial evaluates a minimum dialysis session duration of 4.25 hours compared with usual care for patients with end-stage renal disease initiating treatment with thrice weekly maintenance dialysis. The TiME trial is conducted through a partnership between academic investigators and 2 large dialysis provider organizations in approximately 320 dialysis facilities. The pragmatic design of the trial, the use of multiple electronic health record systems for trial implementation, and the partnership between academia and industry will establish a framework for conducting research within health care delivery systems that will be relevant to a broad range of diseases and research questions.
Principal Investigator Name:  Gloria Coronado, PhD
Co-Principal Investigator Name:  Beverly Green, MD, MPH
Institution:  Kaiser Permanente Center for Health Research
Colorectal cancer (CRC) is the second leading cause of cancer death in the United States. Yet CRC is 90% curable with timely detection and appropriate treatment of precancerous polyps; increased screening could reduce incidence by up to 50%. Rates of CRC screening are extremely low in patients at federally qualified health centers (FQHCs), which serve nearly 19 million patients annually. To address this disparity, the STOP CRC trial tests a culturally tailored, health care system–based program to improve CRC screening rates in OCHIN, a community-based collaborative network of more than 200 FQHCs. Results will provide information on how to use electronic health record resources to optimize guideline-based screening in FQHC clinics whose patient populations have disproportionately low CRC screening rates.
Principal Investigator Name:  Lynn DeBar, PhD
Institution:  Kaiser Permanente Center for Health Research
Common chronic pain conditions are common, expensive, and disproportionately affect vulnerable populations. Pain is the primary reason patients seek medical care, and as the first point of contact, primary care providers (PCPs) deliver the majority of that care. However, PCPs face many challenges in managing patients' care and often have little specific training in pain medicine. Yet with proper system support, PCPs are in the best position to coordinate long-term pain management. PPACT is a large-scale pragmatic trial conducted in 3 regions of Kaiser Permanente health systems: Northwest, Georgia, and Hawaii. The PPACT trial is evaluating integration of different kinds of pain management services within the primary care environment compared with usual care in these settings. The trial combines a number of treatment approaches, including physical therapy and psychological interventions. Patients will be supported in taking a more active role in managing their pain, and primary care providers will receive additional support and guidance in treating patients with chronic pain.
Co-Principal Investigators' Names:  Susan Mitchell, MD, MPH; Angelo Volandes, MD, MPH; Vincent Mor, PhD
Institution:  Brown University School of Public Health
Nursing homes are complex health care systems that serve increasingly sick patients who have multiple advanced conditions. Nursing homes are often charged with guiding patients through decisions about the direction of their treatment. Patients at nursing homes commonly get aggressive care that may be inconsistent with their preferences and of little clinical benefit. Identifying effective approaches that nursing homes can use to better promote goal-directed care is the goal of the PROVEN trial. PROVEN has developed video-assisted advanced care planning (ACP) tools that were effective in small randomized controlled trials. While several large health care systems have begun to adopt the videos, efforts have not rigorously evaluated outcomes — a critical step prior to widespread implementation. PROVEN is conducting a pragmatic trial to evaluate the effectiveness of the ACP video tools in nursing homes by partnering with 2 large health care systems that operate 492 nursing homes nationwide. This work has the potential to improve the care provided to millions of older Americans in nursing homes and enable future pragmatic trials in this setting.
Principal Investigator Name:  Susan Huang, MD, MPH
Institution:  University of California, Irvine
Healthcare-associated infections (HAIs) are one of the most frequent causes of death in the United States and cost more than $6.5 billion annually. Prevention of HAIs is a national priority for patient safety. Most infections are caused by common bacteria that normally live on the skin or in the nose, but overcome the body's normal defenses because of invasive medical devices, surgical incisions, or the effects of hospitalization. Studies in intensive care units (ICUs) indicate that removal of bacteria from patients' skin and nasal passages with a certain kind of anti-biotic soap or ointment can prevent many HAIs. However, evidence is lacking about the effectiveness of this treatment in non-ICU settings, where the majority of HAIs occur. Medical care, risk of infection, patient-to-patient interactions, pathogen transmission, and bathing practices also differ considerably from ICU settings. The ABATE pragmatic trial is testing whether bathing with a certain kind of anti-biotic soap and treating nasal passages with ointment reduces HAIs under non-ICU conditions as compared to normal patient care.
Principal Investigator Name:  Miguel Vazquez, MD
Institution:  University of Texas Southwestern
Chronic kidney disease (CKD), diabetes, and hypertension are common medical conditions that are often present together and cause many complications. Among adults in the United States, the prevalence of CKD has increased from 10% to 14% over the last 2 decades, and diabetes and hypertension are the 2 leading causes of CKD and end-stage renal disease. Important progress in identifying effective treatments for CKD, diabetes, and hypertension has been made, but there is a significant gap in translating these treatments to clinical practice. The goal of ICD-Pieces is to help primary care physicians treat patients in more effective ways to reduce heart problems, hospitalizations, and deaths. This study involves a collaborative primary care – nephrology care model at Parkland Health and Hospital System for patients with CKD in a predominantly minority population. This study will implement a novel technology platform (Pieces) that enables use of electronic health record (EHR) data to improve CKD care within primary care practices or medical homes in the community.
This page last reviewed on June 10, 2016
Connect with the NIH Common Fund