The Oncofertility Consortium®: Fertility Preservation for Women
The Interdisciplinary Research program has transitioned from Common Fund support. For more information, please visit
http://commonfund.nih.gov/Interdisciplinary
. Consortium activities may continue to be supported via other sources; please visit the Consortium website for details.
Executive Summary
Survival rates among young cancer patients have steadily increased over the past four decades in part because of the development of more effective cancer treatments. Today, both women and men can look forward to life after cancer, yet many may face the possibility of infertility as a result of the disease itself or these lifesaving treatments.
The Oncofertility Consortium® was developed to address the complex health care and quality-of-life issues that concern young cancer patients whose fertility may be threatened by their disease or its treatment (http://www.myoncofertility.org).
The Oncofertility Consortium® was a national, interdisciplinary initiative designed to explore the reproductive future of cancer survivors. It was supported by the National Institutes of Health through the NIH Roadmap for Medical Research/Common Fund. The Consortium represented a nationwide, interdisciplinary, and interprofessional network of medical specialists, scientists, and scholars who explored the relationships between health, disease, survivorship and fertility preservation in young cancer patients. Their work and its findings may also extend to patients who have been diagnosed with other serious diseases and who must undergo fertility-threatening treatments.
 
Exit to the Consortium website... 

Consortium Director and Scientists

Woodruff, Teresa, 1UL1RR024926-01: THE ONCOFERTILITY CONSORTIUM: FERTILITY PRESERVATION FOR WOMAN; RL1HD58295: PRESERVATION AND GROWTH OF HUMAN FOLLICLES
Chang, Jeffrey,1PL1CA133835-01: NATL PHYS COOP TO PRESERVE FERTILITY FOR FEMALE CANCER PATIENTS
Coutifaris, Cristos, 1RL9CA133838-01: TRAINING THE GLOBAL READY SCHOLAR, and 1TL1CA133837-01: TRAINING THE GLOBAL READY SCHOLAR
Emanuel, Linda (Missing from Photo),1RL1HD058296-01: R01D: AN INTERDISCIPLINARY PERSPECTIVE: A SOCIAL SCIENCE EXAMINATION OF ONCOFERTILITY
Gracia, Clarisa, 1KL1CA133839-01: MEASURES OF FERTILITY IN YOUNG CANCER PATIENTS
Jona, Kemi, 1RL5CA133836-01: LEARNING MODULES IN ONCOFERTILITY
Shea, Lonnie, PL1EB8542: BIOMATERIALS CORE
Stouffer, Richard, 1RL1HD058294-01: BIOENGINEERING PRIMATE FOLLICLES: FROM IMMATURE EGGS TO LIVE BIRTHS
Zelinksy, Mary, RL1HD58293; NOVEL METHODS FOR CRYOPRESERVATION AND RECOVERY OF FEMALE FOLLICLES (formerly under CRITSER, J.)

Selected Publications
Clayman, M and Galvin, K. 2010. Whose Future Is It? Ethical Family Decision Making About Daughters' Treatment in the Oncofertility Context. Cancer Treat Res. 156:429-46, 2010. NIHMSID: NIHMS283620
 
Gracia CR. Reproductive health after cancer. Cancer Treat Res. 2010;156:3-9. PMC336230
 
Jeruss JS, Woodruff TK. Preservation of fertility in patients with cancer. N Engl J Med. 2009, Feb 26. 360(9):902-911. NIHMSID: 137503
 
Xu J, Bernuci MP, Lawson MS, Yeoman RR, Fisher TE, Zelinski MB, Stouffer RL. Survival, growth, and maturation of secondary follicles from prepubertal, young and older adult, rhesus monkeys during encapsulated three-dimensional (3D) culture: effects of gonadotropins and insulin. Reproduction, Nov; 140 (5): 685-97, 2010. PMID 20729335.
 
Xu J, Lawson MS, Yeoman RR, Pau KY, Barrett SL, Zelinski MB, Stouffer RL. Secondary follicle growth and oocyte maturation during encapsulated three-dimensional culture in rhesus monkeys: effects of gonadotropins, oxygen, and fetuin. Hum Reprod, Feb 2011. PMID 21362681.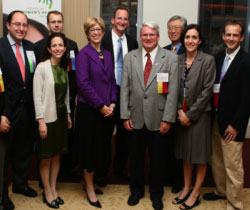 The Oncofertility Consortium: Fertility Preservation for Women Scientists.
From left to right, bottom row: Cristos Coutifaris, M.D., Ph.D., Jacqueline Jeruss, M.D. Ph.D, Teresa K. Woodruff, Ph.D., Richard Stouffer, Ph.D., Clarisa Gracia, M.D., Lonnie Shea, Ph.D.; top row: Robert Brannigan, MD, Kemi Jona, Ph.D., Jeffrey Chang, M.D. Missing, Mary Zelinsky, Ph. D., Linda Emanuel, Ph.D. M.D.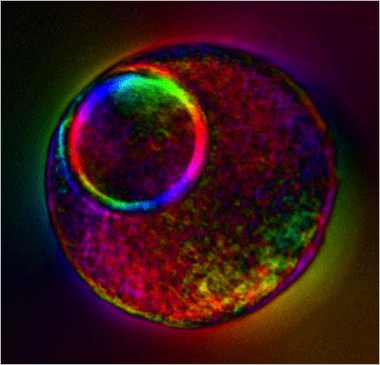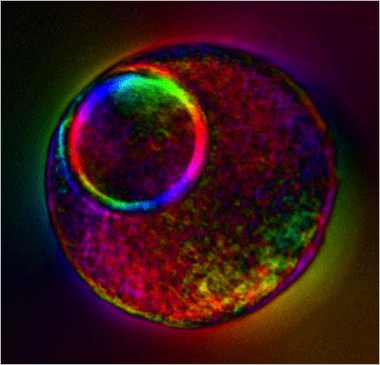 Image depicts human secondary follicle
containing an immature oocyte, cultured
for 6 days in 0.5% alginate. The image
shows the birefringence characteristics
of the zona pellucida surrounding the oocyte,
including the presence and organizations
of transzonal projections, which are
essential for follicle growth.
This page last reviewed on June 25, 2014
Connect with the NIH Common Fund