Common Fund Program Lifecycle

Strategic Planning: Phases 1 and 2
Overview
The Common Fund is intended to be a flexible resource for NIH to make strategic investments in programs that will have high impact NIH-wide. Strategic planning is undertaken regularly to identify research areas that address key roadblocks in biomedical research or that represent emerging scientific opportunities ripe for Common Fund investment.
Process
Strategic planning involves the identification of trans-NIH challenges and opportunities that address the Common Fund criteria. Broad topics identified in Phase 1 are refined into a series of well-defined programs and initiatives in Phase 2. The Council of Councils for the Division of Program Coordination, Planning, and Strategic Initiatives (DPCPSI) acts as an external advisory panel to the DPCPSI and NIH Directors for consideration of Phase 1 concepts.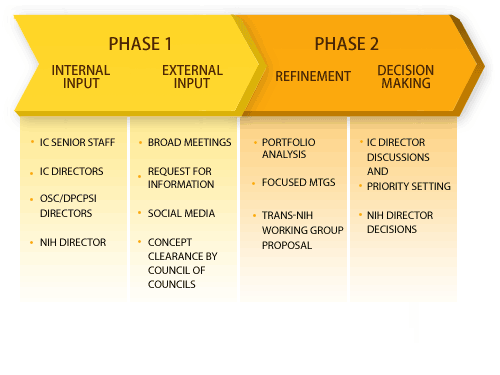 FY 2018 Strategic Planning Updates!
As part of Phase 1 planning for potential new Common Fund programs in fiscal year 2018 and beyond, ideas are being solicited via several activities:
"Innovate to Accelerate" strategic planning workshop with external scientific experts from a broad range of biomedical research disciplines, nominated by the NIH Institutes and Centers for their record of scientific creativity and visionary thinking (July 2015)
Online discussion forum for invited participants nominated by the NIH Institutes and Centers based on their proven ability to think broadly about important scientific questions (July - September 2015)
Solicitation of ideas from the NIH Institutes and Center Directors (July - October 2015)
To effectively evaluate the responsiveness of the proposed idea to Common Fund criteria, as well as the potential impact of the program, ideas nominated through the activiites above are addressing the following questions:
What is the major obstacle/challenge/opportunity that the Common Fund should address? Why is now the right time to address this topic?
What would the goals of the program be?
Why is a trans-NIH strategy needed to achieve these goals?
What initiatives might form the strategic plan for this topic?
If a Common Fund program on this topic achieved its objectives, what would be the impact?
Concepts emerging from Phase 1 strategic planning activities will be discussed and prioritized by NIH Leadership in the fall and winter of 2015. Ideas that generate the most enthusiasm will be referred to the Council of Councils for concept clearance in January 2016. Following concept clearance, decisions about concepts moving to Phase 2 planning are anticipated in early 2016.
New FY 2016-2018 Common Fund Activities!
The Common Fund plans to launch a new program, Molecular Transducers of Physical Activity in Humans in FY 2016 or 2017 (read the press release). Additionally, a pilot project to generate reagents and assays for the Enabling Exploration of the Eukaryotic Epitranscriptome program has been approved to begin in FY 2017 or 2018. The Knockout Mouse Phenotyping program (KOMP2) will be supported for a second stage to further develop and capitalize on the successful resources generated in the first stage of support. Planned activities for FY 2016 and beyond are contingent upon availability of funds.

  Implementation
As each Common Fund program is unique, the implementation of each program varies. To read more about the currently supported Common Fund programs, see Common Fund Programs.
  Transition

 

Common Fund programs are designed to achieve a set of high-impact goals within a 5-10 year time frame. At the conclusion of each program, deliverables will either stimulate IC-funded research or will transition to support by ICs or other entities that find these resources useful. Programs that have transitioned from Common Fund support can be found on the Former Programs page.

 

Common Fund programs are evaluated throughout the lifecycle as the need arises.