Common Fund Program Lifecycle

Strategic Planning: Phases 1 and 2
Overview
The Common Fund is intended to be a flexible resource for NIH to make strategic investments in programs that will have high impact NIH-wide. Strategic planning is undertaken regularly to identify research areas that address key roadblocks in biomedical research or that represent emerging scientific opportunities ripe for Common Fund investment.
Process
Strategic planning involves the identification of trans-NIH challenges and opportunities that address the Common Fund criteria. Broad topics identified in Phase 1 are refined into a series of well-defined programs and initiatives in Phase 2. The Council of Councils for the Division of Program Coordination, Planning, and Strategic Initiatives (DPCPSI) acts as an external advisory panel to the DPCPSI and NIH Directors for consideration of Phase 1 concepts.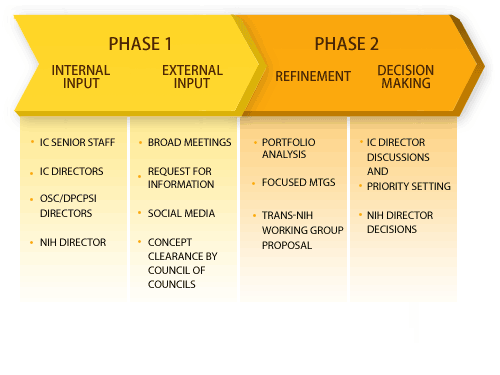 FY 2015 Strategic Planning updates!
As part of Phase 1 planning for potential new Common Fund programs in fiscal year 2015, ideas were solicited from NIH Institutes and Centers in the spring of 2013. Through their extensive and continuous interactions with external scientists, the ICs are well positioned to develop ideas that reflect the needs of both the broad scientific community as well as within NIH. Additionally, ideas from the 2012 Forward Focus strategic planning process involving both internal and external stakeholders were reconsidered. To effectively evaluate the responsiveness of the proposed idea to Common Fund criteria, as well as the potential impact of the program, idea submissions addressed the following questions:
What is the major obstacle/challenge/opportunity that the Common Fund should address?
What would the goals of the program be?
Why is a trans-NIH strategy needed to achieve these goals?
What initiatives might form the strategic plan for this topic?
If a Common Fund program on this topic achieved its objectives, what would be the impact?
Concepts emerging from Phase 1 strategic planning activities were referred to the Council of Councils for concept clearance in the spring of 2013. Cleared concepts were reviewed by NIH leadership to select several ideas to move on to Phase 2 planning. Two concepts have now been approved for a potential launch in FY 2015 (pending availability of funds). These programs may change in nature or scope depending on scientific opportunities and/or available funding. Approved programs are:
4D Nucleome: To study nuclear architecture and its relationship to gene expression and cellular function; to investigate how the three-dimensional nuclear conformation changes over time (the fourth dimension); to explore the role of epigenetic modifications and chromatin remodeling in nuclear architecture; to uncover mechanisms governing lineage specific nuclear conformations and their perturbation in disease states; and to develop tools and databases to enable the study of the 4D nucleome.
Glycoscience: To facilitate the functional analysis of sugar compounds which are attached to most proteins.  Currently, such analyses require highly specialized expertise. This program, if implemented, would develop tools and methods that would extend the analysis to a wider group of scientists.
Additionally, two concepts are continuing planning activities for a potential launch in FY 2015 or beyond (pending availability of funds). These programs may change in nature or scope depending on scientific opportunities and/or available funding. Programs currently undergoing planning are:
Bioelectronic Medicines: To establish precise and effective methods to stimulate the peripheral, autonomic, and enteric nervous systems and thereby control the function of physiologic systems and treat multiple diseases and conditions. This potential program, if implemented, will be DARPA-like in nature, representing a high risk, goal-driven endeavor to develop proof of concept for an entirely new class of neural control devices that have the potential to precisely treat a wide variety of diseases and conditions (note, this program is still pending concept clearance by the Council of Councils).
Mechanisms Underlying Benefits from Physical Activity: To explore the molecular and cellular mechanisms that underlie benefits of physical activity; to identify functions of genetic networks activated by physical activity; to determine common physiologic and biochemical mechanisms by which physical activity improves health and well-being, and the thresholds needed for benefits to occur; and to develop standardized protocols, tools, measures, etc. to allow for generalizability and meta-analyses.  
Planning Years
PHASE 1 Activities and Summary Reports
PHASE 2 Concepts
2013-2014

NIH IC Submissions
 

Revisit ideas from Forward Focus meetings

Concepts:

4D Nucleome
Glycoscience
Bioelectronic Medicines
Mechanisms Underlying Benefits from Physical Activity

2012-2013
Meetings:

Forward Focus: Chicago Regional Meeting
Forward Focus: San Francisco Regional Meeting
Forward Focus: Local Meeting

 

 

NIH IC submissions

Concepts:
2011-2012
Meetings/Social Media:

 

NIH IC submissions

Concepts:
2010-2011
Big Think Meeting Summary Report

 

Concepts:
  Implementation

 

As each Common Fund program is unique, the implementation of each program varies. To read more about the currently supported Common Fund programs, see "Common Fund Programs."
  Transition

 

Common Fund programs are designed to achieve a set of high-impact goals within a 5-10 year time frame. At the conclusion of each program, deliverables will either stimulate IC-funded research or will transition to support by ICs or other entities that find these resources useful.

Four Common Fund programs have undergone this transition:

Common Fund programs are evaluated throughout the lifecycle as the need arises.