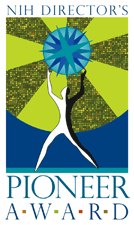 Sixth Annual NIH Director's
Pioneer Award Symposium
September 30 – October 1, 2010
Bethesda North Marriott Hotel & Conference Center 
5701 Marinelli Road, Bethesda, Maryland

Featuring

Presentations by the "Graduating Class" of
2005 Pioneer Award Recipients

Poster Sessions by Pioneer and New Innovator
Award Recipients
 
The symposium is free, open to the public, and no registration is required.
The conference center is near the Metro Red Line White Flint Station. On-site parking is available at hourly and daily rates.
Send questions and requests for reasonable accommodations to Pioneer@nih.gov or call 301-594-3555.
The symposium presentations will be Webcast.
 
Agenda – Thursday, September 30, 2010
8:30 - 9:15 a.m.
Welcome and Introductions
 
9:00 – 9:30
Giulio Tononi, M.D., Ph.D.
University of Wisconsin-Madison Medical School
 
9:30 – 10:00
Karl Deisseroth, M.D., Ph.D.
Stanford University
 
10:00 - 10:15
Break
 
10:15 – 10:45
Hollis T. Cline, Ph.D.
Scripps Research Institute
 
10:45 – 11:15
Erich D. Jarvis, Ph.D.
Duke University Medical Center
 
11:15 – 11:45
Leda Cosmides, Ph.D.
University of California, Santa Barbara
 
11:45 – 1:15
Lunch Break (on your own)
 
1:15 – 1:45
Titia de Lange, Ph.D.
Rockefeller University
 
1:45 – 2:15
Vicki L. Chandler, Ph.D.
University of Arizona
 
2:15 – 2:30
Break
 
2:30 – 4:30
Poster Session and Reception – New Innovator Award Recipients
 
4:30
Close
 

Agenda – Friday, October 1, 2010
8:30 - 8:50 a.m.
Thomas A. Rando, M.D., Ph.D.
Stanford University School of Medicine
 
8:30 – 9:00
Junying Yuan, Ph.D.
Harvard Medical School
 
9:00 - 9:30 a.m.
Pehr A.B. Harbury, Ph.D.
Stanford University School of Medicine
 
9:30 – 9:45
Break
 
9:45 – 10:15
Derek J. Smith, Ph.D.
University of Cambridge and Erasmus Medical Center
 
10:15 – 10:45
Nathan D. Wolfe, D.Sc., University of Chicago
Global Viral Forecasting Initiative, Inc.
 
10:45 – 12:15
Moderated Poster Session – 2009 Pioneer Award Recipients
 
12:15 – 1:30
Lunch Break (on your own)
 
1:30 – 3:30
Poster Session and Reception – Pioneer Award Recipients
 
3:30
Adjourn
This page last reviewed on January 10, 2014
Connect with the NIH Common Fund